About 7000 km long Indian coastline is one of the longest in the world studded with incredibly scenic and exotic beaches. Beaches are one of the amazing creations of nature, where Sun, Sand and Sea come together to celebrate their love. These stunning beaches are among the best Honeymoon destinations in India and also one of the top Places to visit in India. The beaches in India are an amalgam of spectacular beauty, serenity and a wide variety of beach activities. An outing at a beach is always memorable, and more so if the beach has certain unusual characteristics or qualities like different coloured sand or unique natural structures that cannot be found anywhere else in the country.
Trawell.in listed 7 unique beaches in India here.
St. Mary's Island – Basaltic Rocks
Also known as Coconut Island, St. Mary's Island is a cluster of four small islands situated in the Arabian Sea off the coast of Malpe near Udupi in Karnataka. It is a volcanic palm-fringed island with feral goats, pristine water, a crunchy beach of seashells and hexagonal basalt rock columns that make St Mary's Island a National Geological Monument. The monument is considered an important site for "Geo Tourism" and also one of the top places to visit in Udupi.
The unique aspect of this island beach is that one would find huge crystallized basalt rock formations scattered throughout the island which gives a special landscape to the place. The rock formations are one of rarely found in the world, which was formed by sub-aerial sub volcanic activity, because at that time Madagascar was attached to India. St. Mary's Island can be reached by 30 minutes boat ride from Malpe Beach which is about 10 km from Udupi.
---
Arambol Beach – Sweet Water Lake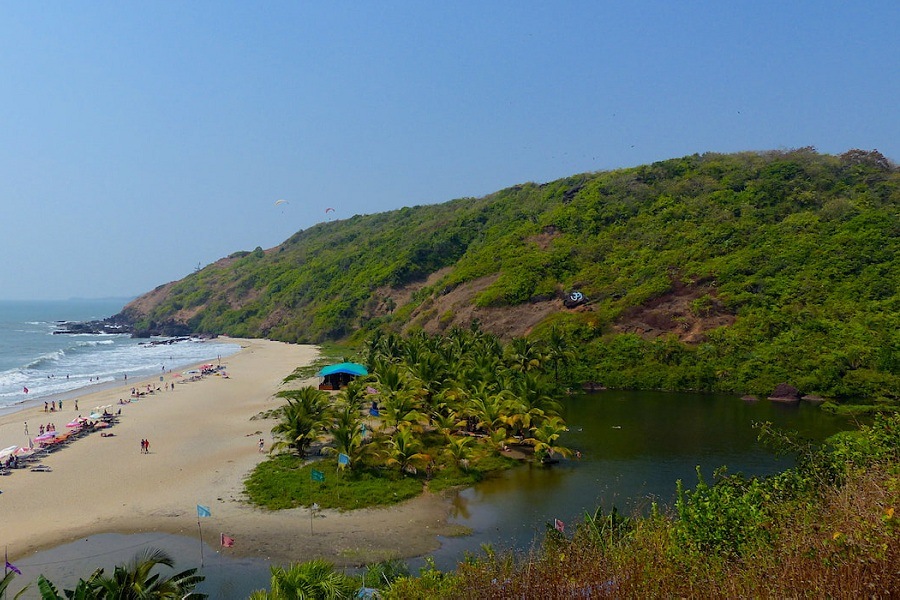 Arambol, also known as Harmal beach, is a secluded beach situated in North Goa. It is one of the must visit Goa beaches and also among the most unusual beaches in India. The astonishing fact about Arambol Beach is that it is the only beach in India where one would find a Sweet Water Lake that extends along the bottom of the valley into a thick jungle offering a picturesque view. Officially named Vagkolam, the lake is fed by boiling hot springs and is lined with sulphurous mud and mud-smeared hippies basking in the sun.
Untouched by the tourists, it is a place perfect for people who looking for peace and tranquility. The beach has a long stretch of curving sand which serves as a perfect spot for swimming. Arambol Beach is less commercialized when compared with the popular beaches of North Goa like Baga, Calangute and Anjuna. Besides a peaceful walk and dolphin watching at the beach, visitors can also go in for paragliding and other water sports.
Also Read: Local Drinks to Taste in Goa
---
Most Popular Beach Tours
---
Laxmanpur Beach, Neil Island – Coral Bridge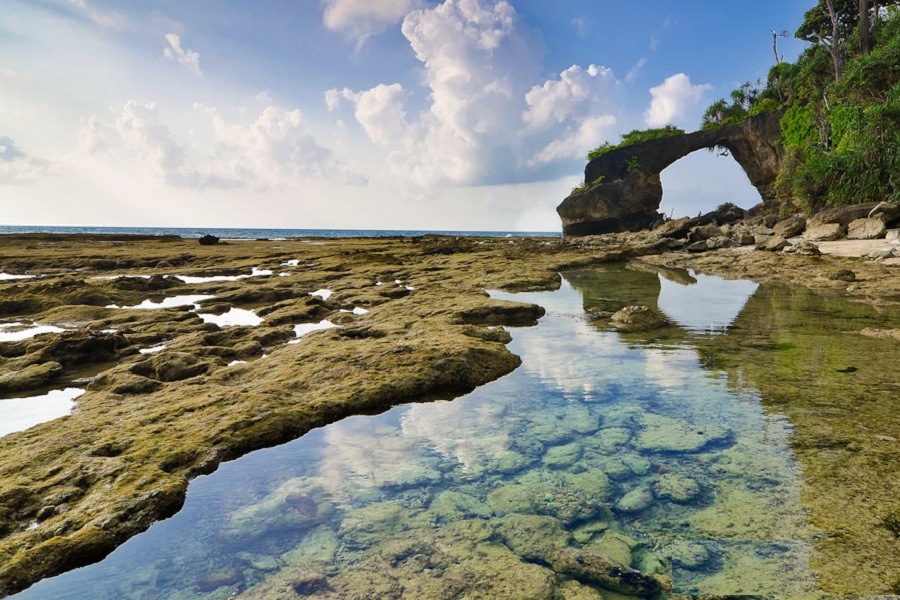 Laxmanpur Beach is a gorgeous white sand beach situated at Laxmanpur of Neil Island in Andaman Islands. Also known as the 'vegetable bowl' of Andamans, Neil Island belongs to Ritchie's Archipelago. With unexplored coral reefs, brilliant bio-diversity, white sandy beaches and tropical forests, Laxmanpur is one of the best beaches in Neil Island and among the popular places to visit in Andamans. It has 4000 varieties of corals and a shimmering underwater marine life along with an impressive sunset view.
The most interesting fact about Laxmanpur Beach is the natural unique bridge rock formation. It has living natural corals formed just like a bridge. During low tide, the sea retreats back giving a splendid view of the corals spread across the bridge. Popularly called as Howrah Bridge, the bridge looks unique and goes well with scenic island. This is one of the most romantic places in Andaman for honeymooners as one can enjoy the cool breeze of the sea and the beautiful greenery of the forests together while having a unique coral walk at low tide towards the bridge.
---
Chandipur Beach – Vanishing Beach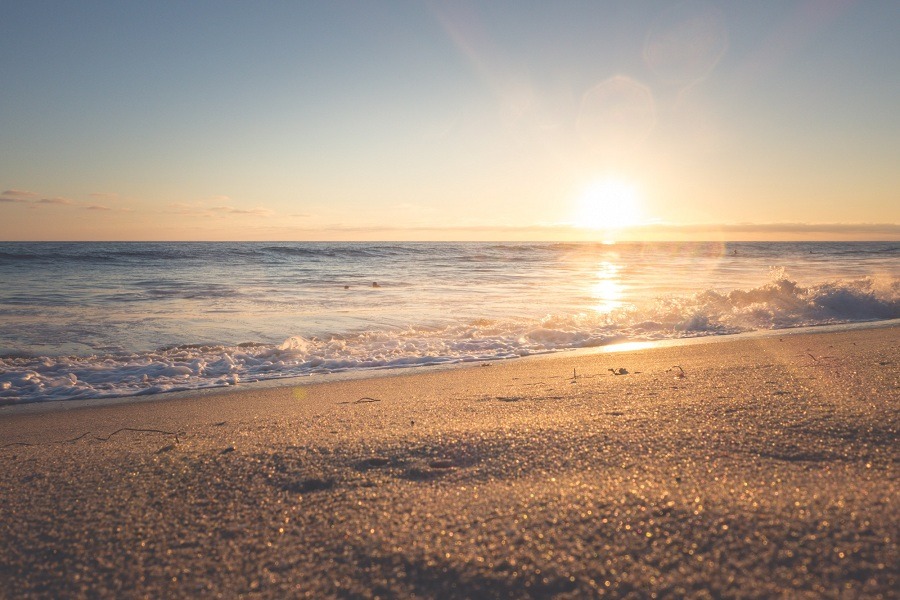 Chandipur Beach or the Vanishing Beach is a mysterious sea beach situated near Balasore in Odisha. Also known as the magical hide and seek beach, Chandipur Beach is one of the most unique and unusual beaches in India and among the best beaches in Odisha. The unique phenomenon at the beach is the sea recedes by almost 5 to 6 km every day during low tide and then comes back at high tide. This phenomenon happens twice a day.
Watching the sea disappear and miraculously reappear is an unforgettable experience that will leave you spellbound. With the receding sea, it is possible to walk deep into the actual seabed or even drive a car. The beach has casuarina groves and white sand dunes adding to its beauty. One can easily find horseshoe crab or red crab crawling around the shore. Chandipur Beach is also well known for its proximity to the Defence Research and Development Organization (DRDO). Akash, Shaurya, Agni and Prithvi ballistic missiles have been launched from here.
---
Bangaram Island Beach, Lakshadweep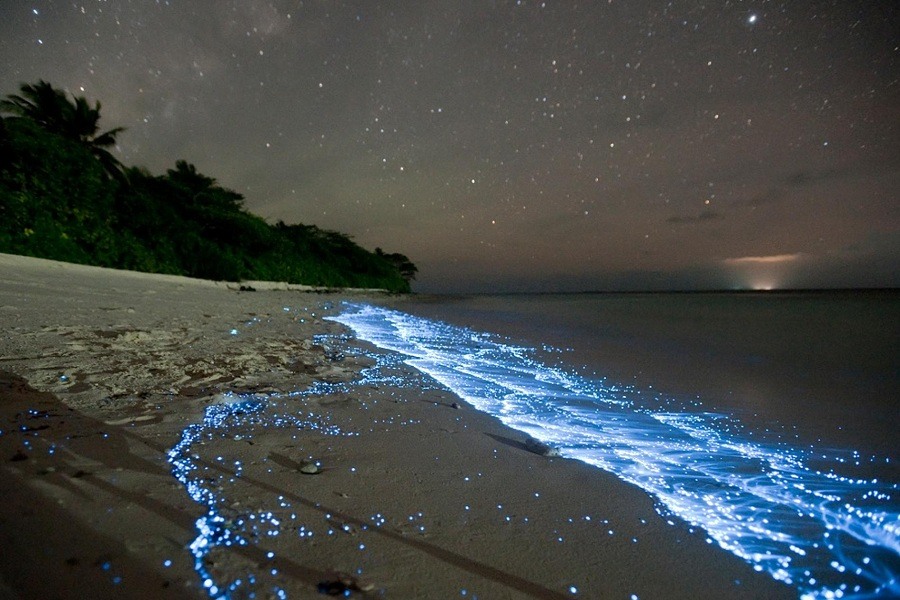 Close to Kavaratti and Agatti, Bangaram Island is one of the few untouched and unspoiled tropical islands in the Union Territory of Lakshadweep, India. Bangaram Island is known for its lovely and unique beach. This beach experiences a rare phenomenon of bio-luminescence, which makes it look magically blue at night. The ocean contains free-floating phytoplanktons and the sea waves disturb these microorganisms during high tide and make them release a blue light due to the water look like a sea of stars. This is one of the popular tourist places in Lakshadweep not to miss in your honeymoon tour packages.
Bioluminescents are found throughout marine habitats like algal, fish, squid, shrimp and jellyfish. Dark sky, magical blue lights and the sound of the waves make it a dream like vision. Visitors can get the magnificent bioluminescence from July to February (especially during the dark nights of the new moon) in this Island. Interestingly, the best way to enjoy this gorgeous natural phenomenon is to go night kayaking. Bangaram is also known for the bird population making the place truly memorable for the travelers.
---
Nagoa Beach, Diu – Hoka Trees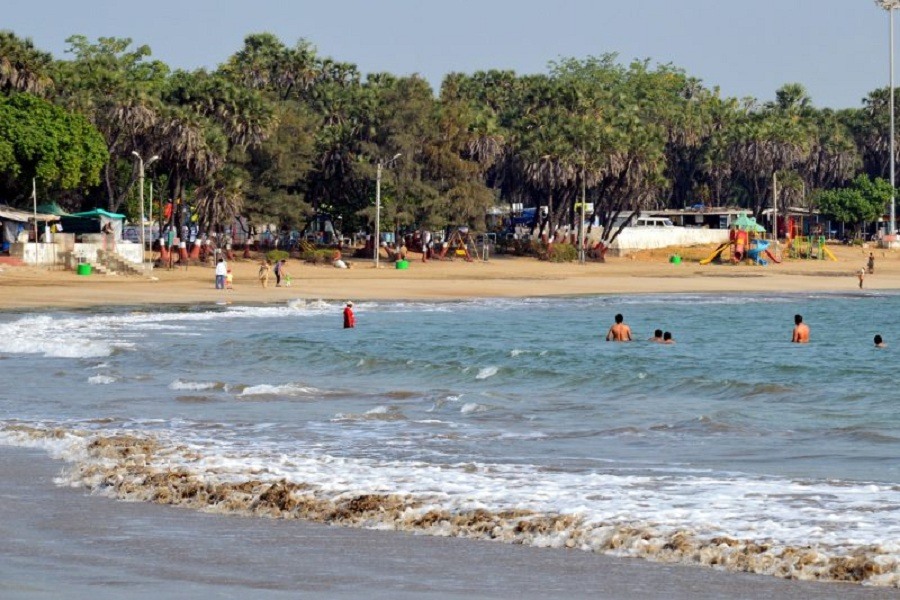 Nagoa Beach is one of the most popular places to visit in Diu. This beach is one of the most unique beaches in India as it is lined with rare Hoka trees which are not found anywhere else in the country. These trees were planted by the Portuguese which they brought from Africa. The trees were sacred to the Ancient Egyptians, evident from the discovery of Hoka seeds in several rulers' tombs.
Known for its unique crescent shape, Nagoa Beach is also famous for its exotic ambiance and scenic beauty. This palm-fringed beach of Diu Island witnesses a huge tourist traffic throughout the year. Nagoa Beach is characterized by an enclosing cove with white sands. Various water sports like parasailing, water-skiing, jet skiing and wind surfing are available for visitors here. Tourists can enjoy swimming in the calm waters of the Arabian Sea and also enjoy camel and pony rides at this beach. The beach can be reached by a 20 minute ferry ride from the beautiful town of Diu. Explore Diu tour packages offered by Trawell.in.
---
Muzhappilangad Beach – Drive in Beach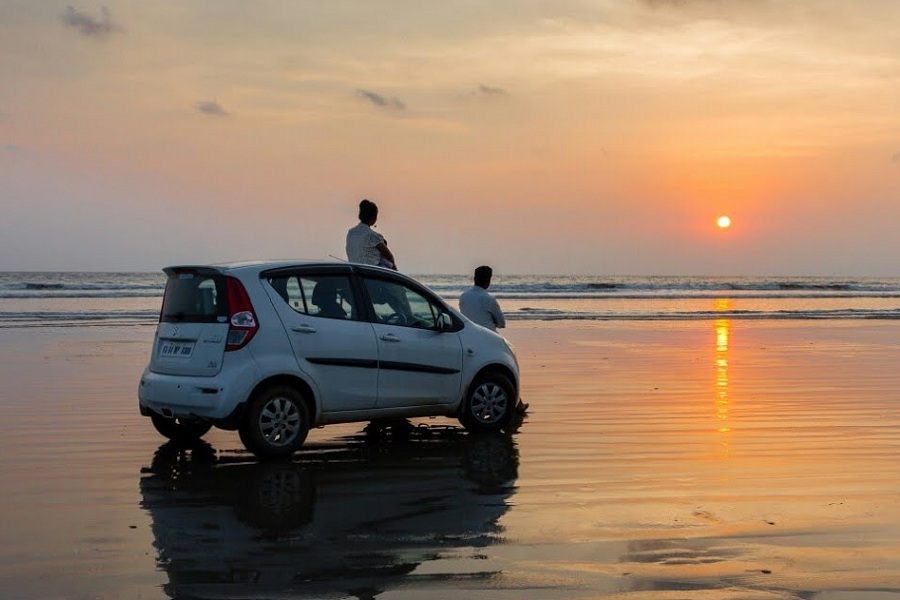 Situated between Thalassery and Kannur, Muzhappilangad beach is a beautiful beach along the coast of Arabian Sea in Kerala. Muzhappilangad is one of the most unusual beaches in India as it is the longest drive-in beach of India and is featured among the top 6 best beaches for driving in the world in BBC article for Autos. Running parallel to the National Highway 66, Muzhappilangad Beach stretches across 5 km and it can be driven down the entire length.
Being the longest beach in Malabar region, it offers a chance to drive along the sea in your vehicle with views of Dharmadom Island and fishing boats bobbing on the sea. Driving stunts in car like drifting and wheeling in bikes is a common sight here. Its shallow waters are ideal for swimming as the black rocks protect this pristine beach from deep currents. One can also try many adventure options like paragliding, parasailing and microlite flights. This is one of the best places to visit in Kerala.
Santhi is an avid traveler and primary contributor to the blogs at Trawell.in. She has explored most of the states in India and gained vast knowledge on tourist destinations in India and abroad. She also contributes content to other travel websites.