Asia is a land of myriad hues with an eclectic mix of various cultures, exotic wildlife, enchanting beaches, stunning hill stations and fascinating architectural legacy. Of all these, Asia's beautiful beach destinations are close to being heaven on earth with crystal clear waters, white sandy beaches, palm trees and lush green hills, surfing spots, incredible underwater life and best diving sites. These are the perfect places for those looking for moments of relaxation and freedom out of the hustle and bustle of cities. Travelers from across the world came to Asia to make their holidays the most cherished moments. Maldives, Mauritius, Thailand, Andamans, Vietnam, Sri Lanka and Philippines are the top beach destinations to experience Asia Tourism to its best.
Trawell.in listed Asia's 7 most stunning beach destinations here.
Maldives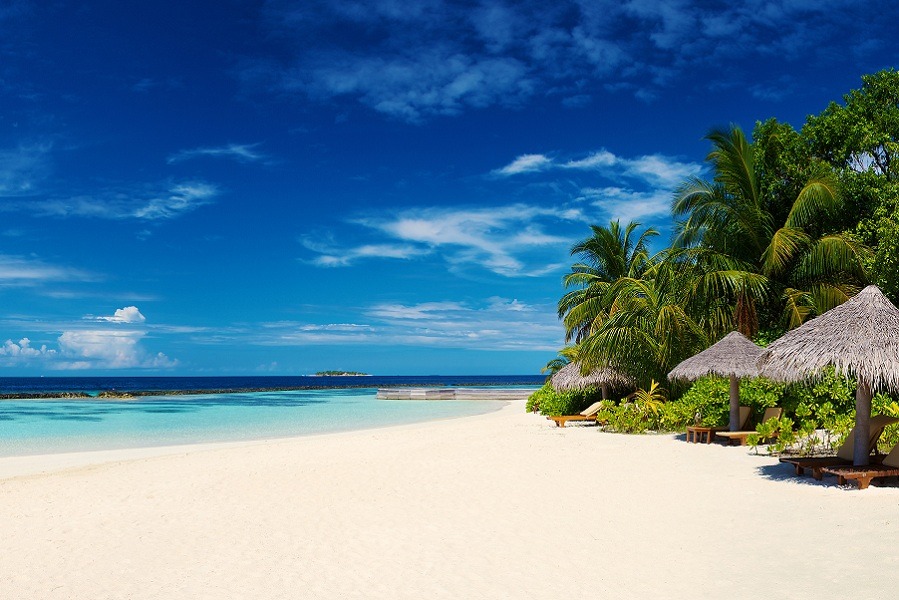 Comprising of 26 coral islands, known as atolls, Maldives, officially known as the Republic of Maldives, is an island nation in the Indian Ocean located south-west of the Indian subcontinent. Male is the capital city of Maldives and also the major shopping hub. A tropical paradise on the earth, Maldives is the perfect destination to create memories of a lifetime, explore the underwater, connect with nature, unwind and cherish moments. Numerous sun kissed beaches, deep blue seas, azure skies and tropical climate make Maldives one of the top beach destinations in the world and also an ideal destination for a honeymoon trip. Choose your Maldives Tour Package from wide range of options on Trawell.in.
Home to some of the best beaches in the world, Maldives offer a number of exciting and varying options for visitors looking for the perfect beach vacation. Whether you are looking for a lovely spot to sunbathe, a thrilling area to scuba dive or an ideal fishing location, the beaches in Maldives offer all of the perfect traits. Veligandu Island Beach, Cocoa Island Beaches, Hulhumale Beach, North Male Atoll Beaches and Maafushi Island Beaches are the top beaches in Maldives. Apart from beaches, Old Friday Mosque, Alimatha Island, Grand Friday Mosque, National Museum and Utheemu Ganduvaru are the other popular Places to visit in Maldives.
With some of the best diving and snorkeling sites in the world, the clear waters of the Maldives is the great spot for those looking to explore the underwater life. HP Reef, Banana Reef, Maafushi, Velidhu, and Mirihi are the great places for spotting various reef fish, manta rays, dog tooth tunas and other marine life. One can also go for canoeing, catamaran sailing, water skiing, fun tube, kayaking, banana boat towing, wakeboarding, Jet Ski tours, parasailing, windsurfing, kite surfing, and knee boarding at Maldives.
Also Read: Maldives Visa Guide for Indians
---
Bali, Indonesia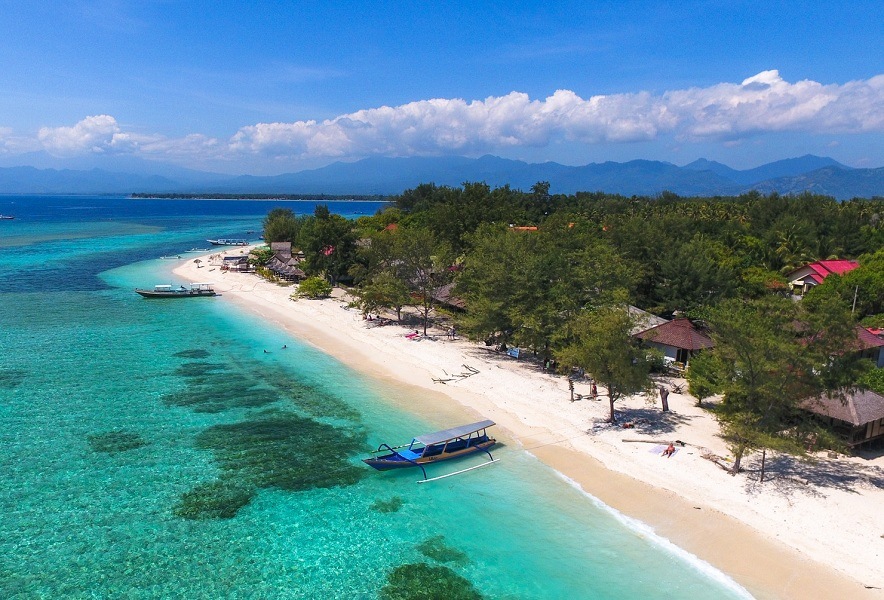 Bali, the famed Island of the Gods, is an island province of Indonesia. One among 17,500 Indonesian islands, Bali is filled with picturesque mountains, beautiful coastline, mesmerizing waterfalls, lush green rice terraces, barren volcanic hillsides and beautiful remnants of old architecture. Bali has long been Indonesia's premier tourist destination and among the world's most popular island destinations. Tourists may enjoy an idyllic day at the beach, surf, dive, take a dolphin boat trip, explore the many beautiful temples, the local markets and the waterfalls, or go to the silent yoga retreats, Bali has something for everybody. There are several beaches & temples that need to be included in every Bali Tour Packages.
Watch Video - Tourist Places in Bali
The island not only has a large number of cultural, historical and archaeological attractions, but is also home to world famous beaches. Bali beaches range from palm-fringed white sand coasts on the island's south such as Kuta, Nusa Dua and Sanur, to the cliff-guarded shores of Uluwatu, Padang Padang, Dreamland and Bingin. Bali beaches also comprise striking black sands on the north and western shorelines. Beside beaches, Tanah Lot Temple, Uluwatu Temple, Besakih Temple, Tegallalang Rice Terraces, Ubud Monkey Forest, Mount Batur, Goa Gajah and Bali Safari & Marine Park are the other popular places to visit in Bali.
With long sandy coastline and calm blue waters, Bali offers an expansive list of watersports that you can indulge in. Whether you are a beginner or a water sports junkie, there is something for everyone that the beautiful island has to offer. Surfing remains the main feature at most of the breaks around the famous beach resort areas like Kuta and the more challenging reefs around the Bukit Peninsula. Apart from that, snorkeling, water skiing and scuba diving are the best watersports in Bali, especially due to the clean waters and exquisite corals.
Must Read: Bali Visa Guide for Indian Tourists
---
Most Popular Beach Tours
---
Thailand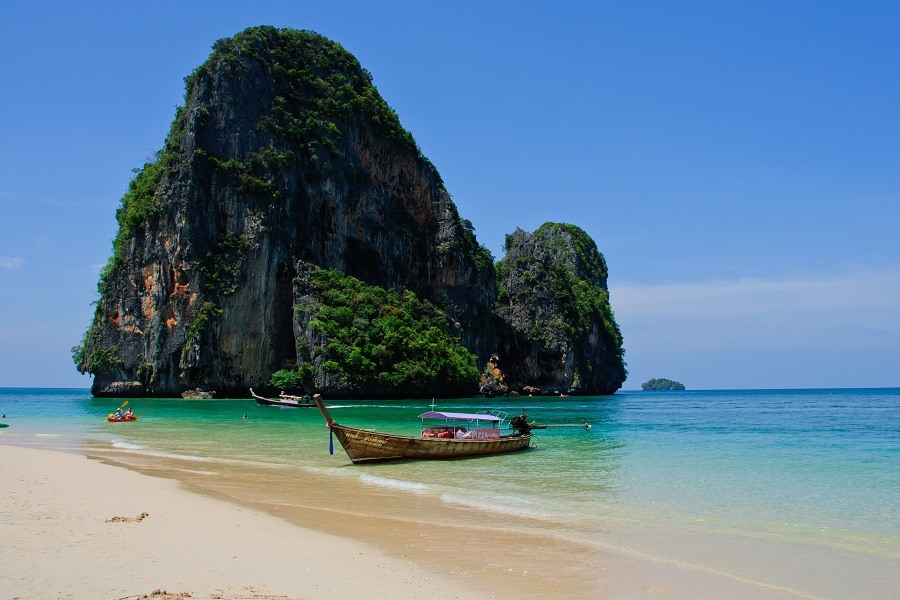 Often referred to as the Land of Smiles, Thailand is a gorgeous country located at the center of the Indochina peninsula in the mainland of Southeast Asia. Bangkok and Chiang Mai are bustling hives of activity and commerce in Thailand. With its sparkling blue waters, tropical white sand beaches, high lime stone cliffs, picturesque valleys, glittering Thai temples and beautiful wildlife reserves, Thailand is one among the top destinations in Asia and undoubtedly among the best beach destinations in the world.
Thailand's attractions are diverse and each provides once-in-a-lifetime travel experience. With over 2,000 miles of coastline and 8,000 tropical islands, Thailand is famous for its beautiful white sand beaches and stunning, clear blue seas. The tropical beaches of Thailand attract throngs of visitors every year. Rai Leh Beach, Koh Phangan, Phra Nang Beach, Patong Beach, Maya Bay, Ko Nang Yuan, Hat Pramong and To Pho Beach are the top beaches in Thailand. Also known for its massages, it may be a good idea to get a relaxing back massage from one of the masseuse by the beach. Beside beaches, Bangkok, Chiang Mai, Khao Yai National Park, Sukhothai Old City, Ayutthaya, and Doi Suthep are the top places to visit in Thailand.
Provide most comforts and adventure activities, Thailand beaches offer memorable experience for adventure travelers. Snorkeling, diving, kite surfing, rock climbing & kayaking are some famous activities for adventure travelers. The popular places like Pattaya and Phuket, offer the best water sports Thailand tour packages. Diving and snorkeling is popular in Thailand, with many good diving sites such as Phi Phi Island and Ko Nang Yuan. The waters of the Andaman Sea are ideal for snorkeling as large underwater boulders are encrusted with coral and brightly coloured fish.
Also Read: 9 Popular Festivals Celebrated in Thailand
---
Andamans, India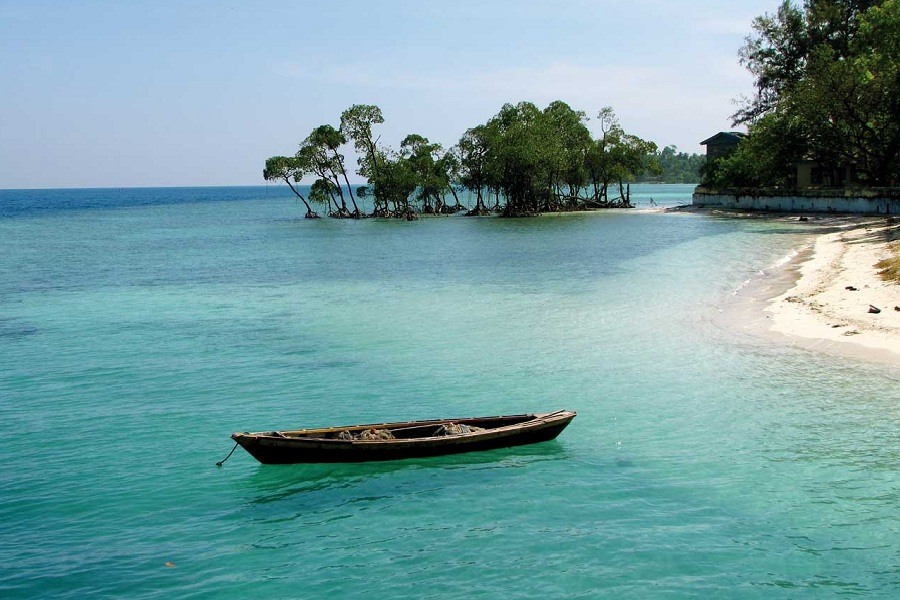 Andaman & Nicobar Islands are a group of islands in the Bay of Bengal between India and Myanmar. Port Blair is the capital and the hub for Andaman tours. With its exotic beaches, secluded islands, evergreen tropical rain forests, gorgeous corals, fascinating marine life, and adventurous watersports, Andaman is amongst the most trending honeymoon destinations in India and also one of the best beach destinations in the world.
The most striking thing about Andaman is its beaches, tucked in the various pristine islands. Shimmering blue waters, smooth sands, pretty cottages, and exciting watersports make Andaman beaches are among the best beaches in Asia. Havelock Island, Radhanagar Beach, Neil Island Beaches, Cinque Island and Mahatma Gandhi Marine National Park are some of the popular beaches in Andaman. Radhanagar Beach on Havelock Island is ranked as one of the best beaches in Asia and 7th best beach in the world by Time Magazine. Popularly known as Beach 7, Radhanagar Beach is a Grade A beach of outstanding quality and is a must visit place in Andaman Islands. The beach is very safe for swimming due to low currents. Cellular Jail, Ross Island, Chidiya Thapu, Viper Island, the Chatham Saw Mill, and Mount Harriet are the other top places to visit in Andamans.
These island beaches also offer various watersports for adventure lovers. Scuba Diving & Snorkeling are the great ways to explore the beautiful underwater marine life. Havelock Island, Neil Island and Mahatma Gandhi Marine National Park – Wandoor, are the popular places for scuba diving & snorkeling in Andaman & Nicobar Islands. The sea walk is also one of the most unique attractions that one must experience when visiting Andaman Islands.
---
Vietnam
Vietnam, officially the Socialist Republic of Vietnam, is the easternmost country bordered by China in the north, Laos to the northwest, and Cambodia to the southwest in Asia. Brimming with history, stunning landscapes, cultural highlights and authentic cuisine, Vietnam is one of the most exciting destinations in Asia and also among the best beach destinations in the world.
Vietnam has several attractions ranging from stunning natural landscapes to serene beaches, quaint villages to war museums and colonial structures to ancient citadels. Of these, beaches in Vietnam are the prime places for every traveller due to its crystal clear water, white sand stretch, multiple water activities, fresh seafood and luxury resorts. Nha Trang, Doc Let Beach, Danang Beach, An Bang Beach, Mui Ne Beach and Phu Quoc beaches are the top beaches to visit in Vietnam. Besides, Imperial Citadel of Thang Long, Hoi An Ancient Town, Ho Chi Minh's Mausoleum, Cu Chi Tunnels, My Son Sanctuary, Hue Monuments, and Phong Nha-Ke Bang National Park are the top Vietnam places to visit.
Nha Trang is amongst the most picturesque beaches in the world and also the best diving site in Vietnam as it is home to Rainbow Divers, first PADI-certified dive center in Vietnam. Snorkeling, kite surfing, water skiing, sea walking, parasailing and banana boat rides are the other adventures activities at Vietnam beaches. Kayaking in Ha Long Bay, with its beautiful islands and caves is also popular in Vietnam.
Also Read: 9 Fascinating Pagodas in Vietnam
---
Sri Lanka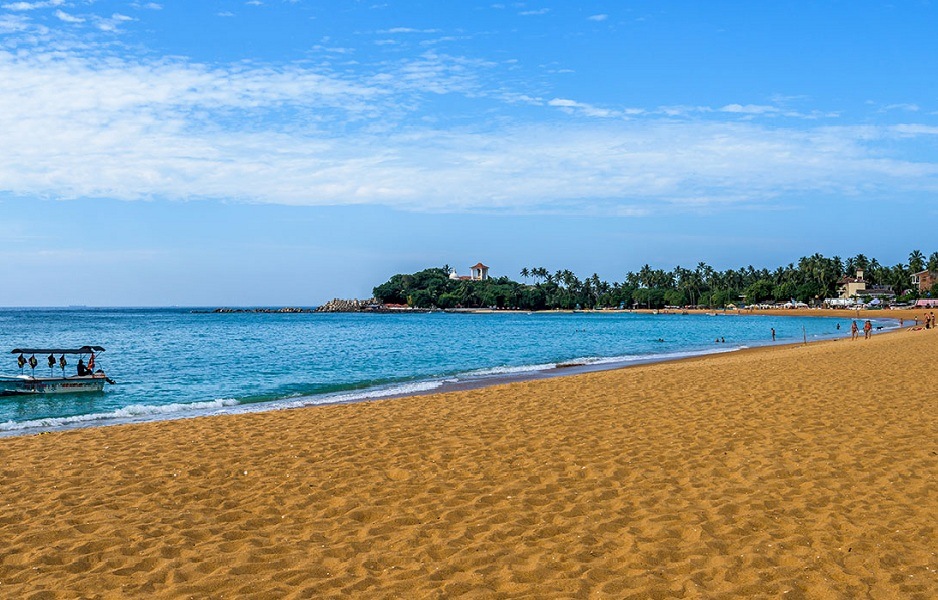 Sparkling like a gem in the Indian Ocean, Sri Lanka is an island country in South Asia. Sri Lanka has maritime borders with India to the northwest and Maldives to the southwest. Known for its enchanting ancient ruins, endless soft-sand beaches, imposing mountains, colourful festivals, inviting watersports, and extensive wild-life, Sri Lanka is one of the most admired tourist destinations in the world and among the best beach destinations in Asia.
Surrounded on all sides by the Indian Ocean, Sri Lanka has plenty of beautiful beaches. People from all around the world come to explore the beaches in Sri Lanka to experience the gorgeous sandy shores, mesmerizing sunsets, sumptuous seafood and its adventure watersports. Unawatuna, Bentota, Mirissa, Induruwa, Hikkaduwa, Negombo, Arugam Bay, Uppuveli, Nilaveli and Trincomalee are the top places to experience beach tourism in Sri Lanka Holiday Packages. Apart from beaches, Kandy, Anuradhapura, Sigiriya, Galle, Nuwara Eliya, Ella, Polonnaruwa, Dambulla Cave Temple and Yala National Park are the other popular Places to visit in Sri Lanka.
With long sandy coastline, Sri Lanka beaches offer an extensive list of watersports that you can indulge in. Surfing, jet skiing, snorkeling, scuba diving, kite surfing, and sailing are the popular watersport activities here. Arugam Bay is the ideal place for a surfing in Sri Lanka. Bentota has a water sports center that offers jet skiing. Unawatuna beach, Negombo beach, and Nuwara Eliya are famous for jet skiing while Trincomalee, Hikkaduwa and Unawatuna beach are the places where one will find the services of snorkeling.
Also Read: Sri Lanka Visa Guide for Indian Tourists
---
Philippines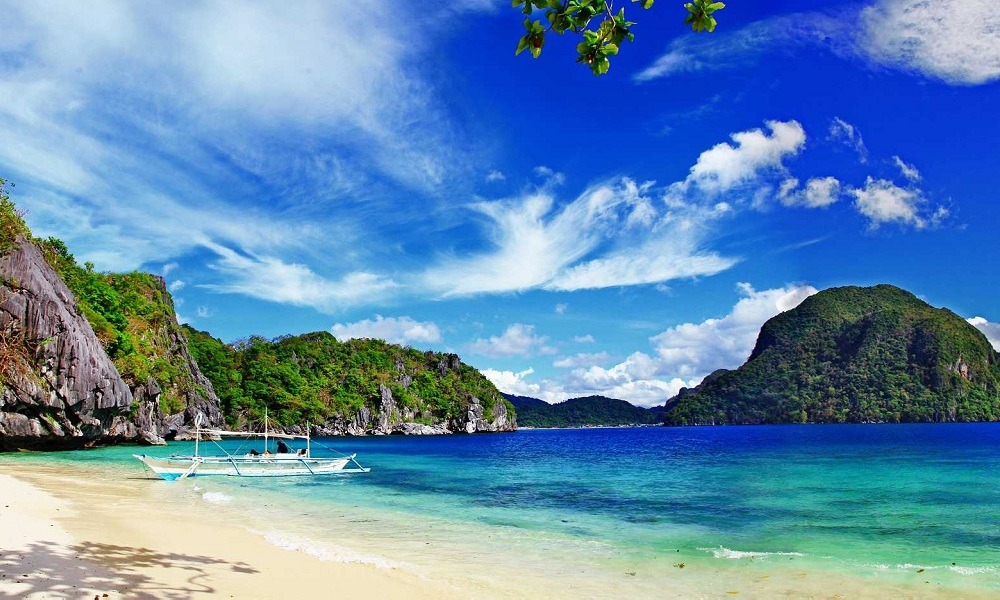 An archipelago of 7000 islands, Philippines, officially the Republic of the Philippines, is an island country located between the Philippine Sea and the South China Sea at the very eastern edge of Asia. The capital city of the Philippines is Manila. Emerald green rice fields, pristine beaches, tropical rain forests, smoldering volcanoes and breathtaking flora and fauna make Philippines an idealistic destination for travellers who seek adventure, nature and unique culture. Sits on the 'Ring of Fire', Philippines itself is home to 20 active volcanoes.
With 5th longest coastline in the world, the Philippines is a beach bum's delight and among the best beach destinations in Asia. Boracay is famed for its pristine beaches, beach activities and vibrant nightlife. The Island of Cebu is a beach resort ideal for diving. El Nido, Panglao Island, Coron, Calaguas, Samal, Siargao Islands, Pagudpud and Panglao are the other popular Philippines beaches. Besides beaches, San Agustin Church, Mayon Volcano, Puerto Princesa Underground River, Chocolate Hills and Banaue Rice Terraces, Taal Lake and Siquijor are some of the best Philippines Tourist Places.
The beaches in Philippines have something for everyone, from watersports, scuba diving and snorkeling to nightlife with great pubs, bars, and restaurants. El Nido, the 4th best beach in the world, is the largest marine reserve and sanctuary in the Philippines which is famous for scuba diving and snorkeling. Often referred to as Asia's Dive Capital, Philippines has the highest density of coral species in the world. Tubbataha Reef, Coron, Verde Island, Apo Reef National Park, Negros Oriental, Balicasag and Pamilacan Islands in Bohol and Malapascua in Cebu are the popular diving spots in Philippines. Apart from diving, Surfing, kayaking, canoeing, windsurfs, kite surfing and wakeboard are the other must do watersport activities at Philippines beaches.
Santhi is an avid traveler and primary contributor to the blogs at Trawell.in. She has explored most of the states in India and gained vast knowledge on tourist destinations in India and abroad. She also contributes content to other travel websites.