Since the days of Indus Valley Civilisation, handicrafts play an integral part in the lives of Indian people. With unique, intricate, eye-catching, and expressive, handicrafts in India differ according to the regions, culture, and traditions. From jewellery and pottery to furniture and textiles, the handicrafts of India have been loved and respected worldwide and have left everyone awestruck. Even today, many rural people still earn their livelihood from their creative pieces of art and India has still managed to preserve its artisans, its art, and its handicrafts. If you are an art lover, then your trip to India would be incomplete without getting a glimpse of the beautiful Indian handicrafts that depict the mind-blowing talent of its craftsmen. Check out these interesting places to buy authentic Indian handicrafts as part of India tour packages.
Dilli Haat, Delhi
Located in Delhi, Dilli Haat is an open-air craft market that gives you a glimpse of various handicrafts practiced in India. Among the top places to visit in Delhi, it is inaugurated in 1994 by Delhi Tourism in collaboration with the Ministry of Textiles, Government of India, to promote tourism and provides an opportunity for craftsmen from all over the country to showcase their skills. Spread over an area of almost six acres, it recreates the village atmosphere with its thatched roof cottages and kiosks. One can buy a variety of handicraft items in this market such as carvings on sandalwood and rosewood, fabrics, silk, beads, gems, embroidered footwear, metal crafts, brassware, and many more. There is also an exhibition hall inside the Dilli Haat where visitors can watch shows on the history of handlooms and handicrafts of India.
                                   Book Here : Delhi Tour Packages
---
Rajasthan Handicrafts, Jaipur
Fondly called the Pink City, Jaipur is famous for its distinctive blue pottery which was brought to Jaipur in the 19th century during the reign of Maharaj Sawai Ram Singh II. He was so impressed with this technique, he decided it should be taught at his art school in Jaipur, among the must-include places in Golden Triangle Tour Packages. The Rajasthan Handicrafts market offers blue pottery that will make a perfect addition to your dinner set or a gift for pottery lovers. Other prominent handicrafts that you can buy are metal sculptures, leather clothing, lac work, block printed textiles, and stone carvings at this bustling Rajasthan Handicrafts market, one of the top places to visit in Jaipur, especially for art lovers.
                                     Book Here : Jaipur Tour Packages
---
Hogg's Market, Kolkata
Hogg's Market, also known as New Market, is an oldest and most well-known market located on Lindsay Street of Kolkata. Built in 1903, it is one of the favorite hangout spots for shopaholics in Kolkata and among the best places to visit in Kolkata. Comprises of over 2000 shops, the market offers a wide range of clothes, jewelry, make-up, electronic gadgets, toys, crockeries, groceries, handicrafts, flower shops and decor items at a reasonable rate. Silver jewelry and Bengali traditional sarees are a must buy on a visit to the New Market in Kolkata. Besides fulfilling your shopping spree, you can refuel from any of restaurants and food stalls serving some amazing variety of delicacies like kathi rolls, cutlets, chowmein, phuchkas, pastries and samosas.
                                 Also Read : Best Places for Street Shopping in India
---
Clock Tower Market, Jodhpur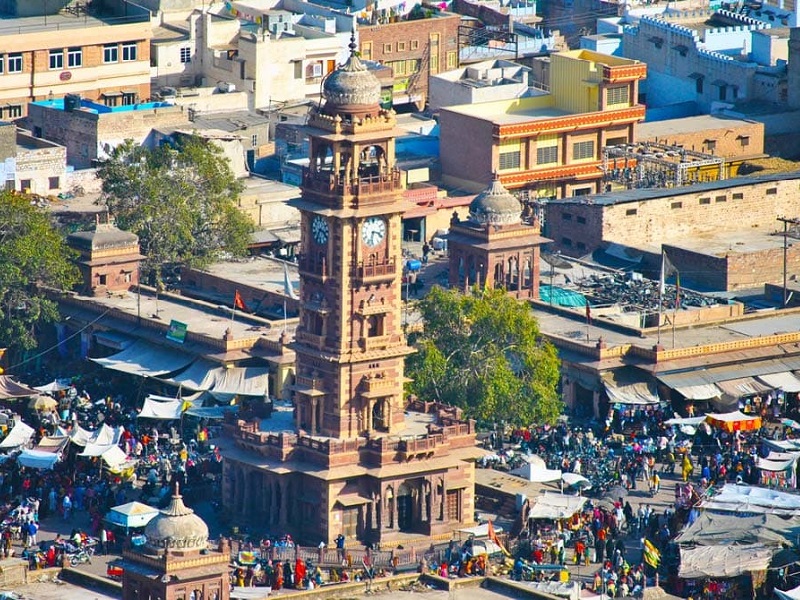 Clock Tower is one of the major landmarks in Jodhpur and among the must-include places in Jodhpur tour packages. The Clock Tower is surrounded by one of the oldest yet colorful markets of Jodhpur with well-adjusted 7,000 plus match-box-sized shops. Also called Sardar Market, it is a great place to purchase Rajasthani textiles, clay figurines, miniature camels and elephants, embroidered fabrics, marble inlay work, and classic silver jewelry. One can also shop here for the finest variety of spices. The flavored tea, embroidered fabrics, and Makhania Lassi shouldn't be missed out on. Besides, one can also visit some prominent tourist places in Jodhpur like Mehrangarh Fort, Umaid Bhawan Palace, and Jaswant Thada.
                                  Book Here : Rajasthan Tour Packages
---
Hazratganj Market, Lucknow
Lucknow is renowned for the art of Chikankari, believed to have been introduced by Nur Jehan, the wife of Mughal emperor Jahangir. Done using various techniques and a variety of textile fabrics, it is a popular choice among tourists visiting the city of Nawabs, among the must visit places as part of Uttar Pradesh tour packages. Comprises several small and big shops, Hazratganj Market is one of the popular places o visit in Lucknow for premium Chickenkari handlooms. Hazratganj is also the hub for various other handicrafts and handmade objects like brassware handicrafts and Jadau jewelry which means jewelry studded with gems.
                                   Book Here : Lucknow Tour Packages
---
Arpora Saturday Night Market, Goa
Located at Arpora in North Goa, Arpora Saturday Night Market is one of the famous night markets and among the best places to visit in Goa. Situated between Baga and Anjuna Beach, shopping at Arpora night bazaar is a great weekend activity where one can shop for clothes, bags, spices, funky jewelry, handicrafts, leather accessories, shoes, rugs, carpets, exotic lamps, and many more. The woodcarvings of Goa are an aesthetic blend of Portuguese and Indian cultures, and the designs are primarily floral, animal, and human figures. Besides, Goa is also famous for shell handicrafts. Popular with foreign tourists and the hippie culture, it is a great place to spend some quality time on Saturday as part of Goa tour packages.
                                    Must Visit : Goa Beaches
---
Police Bazar, Shillong
Police Bazar is the main market area located at the heart of Shillong in Meghalaya. It is one of the best places to visit in Shillong for shopping. Along with modern shops, this market has an array of traditional shops selling exquisite handicrafts from Meghalaya that lures a huge number of handicraft lovers as part of Shillong Tour Packages. Artifacts made of bamboo and cane are found in abundance here along with cotton and silk products like hand-woven shawls, ethnic design-bearing jackets, traditional Khasi dresses for women, and trendy head gears. The ones who love to cook and keep on experimenting with various ingredients will bag some orange honey, black mushrooms, pineapples, oranges, and other fruit products. With several hotels, shops, and eating joints, Police Bazar is also a one-stop market for every kind of tourist visiting Shillong, especially considered ideal for leisure seekers, shopping enthusiasts, and food lovers.
                                   Book Here : North - East India Tour Packages
---
Jew Town, Kochi
Dotted with antique shops on both sides, Jew Street in Kochi offers an unusual and attractive shopping experience in India. It is situated between Mattancherry Palace and the Paradesi Synagogue, among the top places to visit in Kochi. Jew Street is a perfect place for antique lovers as the street is lined up with antique shops that sell curios, antique crockery, carved wooden furniture, bronze and brass sculptures, remnants of traditional houses, jewelry, etc. from the Dutch, French and Portuguese era. One can also taste delicious mouthwatering seafood here as part of Kochi tour packages. Apart, Kochi is the best place in India to experience the lifestyle and culture of the Jewish community.
                                   Book Here : Kerala Tour Packages
---
Begum Bazaar, Hyderabad
Located in the Old City, Begum Bazaar is the biggest commercial market, and among the top places to visit in Hyderabad, especially for shopaholics. Established during the Qutub Shahi rule, it is an old retail and wholesale market where one can shop for gold and silver jewelry, household items, dry fruits, crockery, spices, religious articles, sweets, clothes, and footwear, and more at wholesale rates. One can also find several popular brassware merchants and copper brassware traders here as part of Hyderabad tour packages.
                                   Book Here : Telangana Tour Packages
---