Holidaying in India is incomplete without shopping. It is hard to resist shopping in India whether you are a compulsive shopper or not. The diversity and colours of the country is captured in its local markets. The local culture, the latest fashion and absolutely nominal prices with great bargaining in street markets make India a street -shopaholic's paradise among the domestic and foreign travelers as everyone likes bringing back little goodies from the places they visit for friends, family, or just to keep as memory.
Trawell.in presents the list of 12 best street shopping destinations in India here where one can find the most pocket-friendly deals.
Sarojini Market, Delhi

Delhi, the capital of India, comes first in the list of street shopping in India as it has the best markets. Sarojini Nagar, popularly known as SN by Dehliites is one of the biggest and most important markets in Delhi. Often called as the bargaining paradise of Delhi, it is a destination for every girl who is out on a hunt for trendy clothes at affordable prices. Sarojini market sells the export surplus material that ranges from stylish clothes to designer bags and fashionable jewellery to trendy footwear. The vast expanse of choices will make sure you have the best street shopping experience ever! The market closed on Mondays. One can visit Sarojini Nagar as part of Golden Triangle Tour.
Also Read: 12 Best Street Food Places in Delhi
---
Anjuna Flea Market, Goa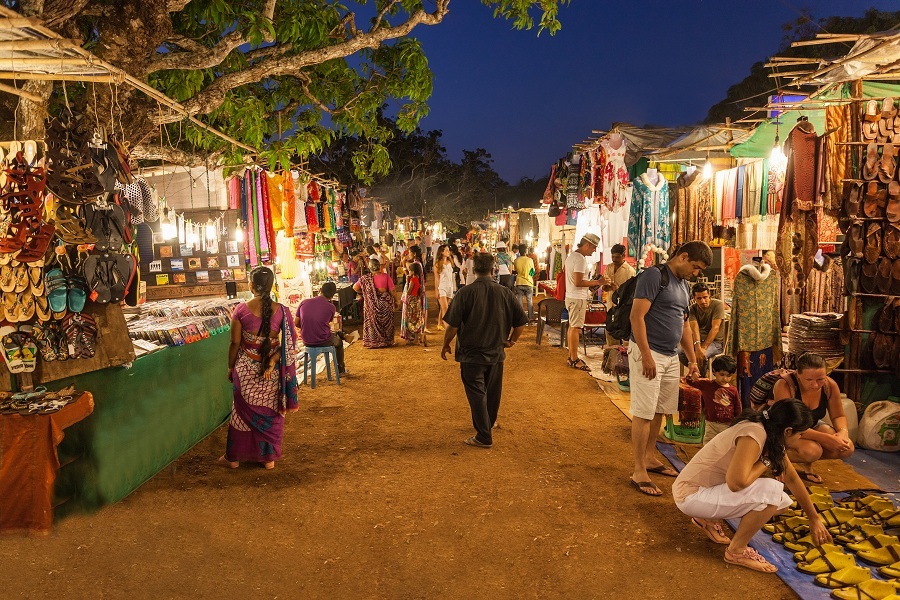 Apart from Goa beaches, Flea markets are the most happening and lively places in Goa. Whether you like to shop or not, you should surely visit them for the experience. Originally started by the hippies in the 1960's, the flea market in Anjuna is held every Wednesday from October to March. It is a huge market and is a haven for fashion lovers and tourists.
Every Wednesday, many artisans from not just all over India, but also from all over the world set up stalls here. Here one can buy different kind of things like massive collection of clothes, jewelry, bed sheets, wall hangings, hammocks, etc. This market starts at 9 am and ends at 6 pm on every Wednesday. The Anjuna Beach also has stores which are experts in making body tattoos.
Must Read: 7 Unique Local Drinks to Taste in Goa
---
Most Popular Tours
---
Commercial Street, Bangalore

Besides IT boom, Bangalore is also famous for its street shopping at Commercial Street. Placed between Shivaji Nagar and Kamraj Road right in the heart of the city, Commercial Street is a shopper's paradise with full of branded and non-branded shops. It is among the oldest and busiest shopping areas of Bangalore. The stores in Commercial Street have the most colourful variety of assorted goods that ranges from clothes, footwear, jewellery and electronics. From the simplest traditional clothes to the trendiest western styles, visitors will find them here. The famous Mysore silk can easily be bought here. Commercial Street also has a decent book and food stalls.
Book Here: Car Rentals in Bangalore
---
Colaba Causeway, Mumbai

Mumbai is yet another popular street shopping destination in India that is a favorite among the shoppers. The shopping streets of Mumbai reflect with the latest fashions and styles. Colaba Causeway is the most sought after street shopping market in Mumbai which is jam packed with street vendors, antique shops, and other similar establishments line the street, offering deals on everything from jewelry and handicrafts, to clothes, books, and souvenirs. Explore the collection of top tourist places near Mumbai.
Colaba is the best place to shop for beads, slippers, shoes, chains, clothes, bags and purses. If you are a fashion lower with good bargaining skills, then your shopping in this high-fashion market of Mumbai would be great. It is an ideal destination for fashionistas and youngsters not only because of the overwhelming collection of fashionables but also because of plenty of food stalls where visitors can take little breaks in between the shopping. One can even find the great book and handicrafts stalls here. The best time to visit this place is on Friday at 6 am when all the new merchandise comes in!
Book Here: Car Rentals in Mumbai
---
New Market, Kolkata
Situated on Lindsay Street, New Market also known as Hogg's Market is Kolkata's oldest and most well-known market. The market was built in 1903 during the British rule in India but it still stands proud as one of the best shopping destinations of the city. With over 2000 shops, the market offers a wide range of clothes, jewellery, make-up, electronic gadgets, toys, crockeries, groceries, flower shops and decor items. Silver jewellery and a Bengali traditional sarees are a must buy on a visit to the New Market in Kolkata.
Amidst the chaos of vendors and shoppers, visitors can find their favorite and fashionable items at a reasonable rate as it is a perfect hunting ground for bargain lovers. There is also a separate section of the market which is dedicated only for the sale of various meat products like chicken, mutton, pork, beef and turkey during the festival of Christmas. Besides fulfilling your shopping spree, you can refuel from any of restaurants and food stalls serving some amazing variety of delicacies like kathi rolls, cutlets, chowmein, phuchkas, pastries and samosas. The market open from Monday to Friday from 10 AM to 8 PM and open till 2.30 PM on Saturday but remain closed on Sunday.
Also check: Top places to visit in West Bengal
---
Baapu Bazaar, Jaipur
Apart from royal forts and palaces, Jaipur is also one of the ultimate shopping paradises in India. Among the numerous flourishing flea markets of Jaipur is the Baapu Bazaar which is situated in the heart of the Pink City between Sanganer Gate and New Gate. Baapu Bazaar is known for its appeal, liveliness, and variety of Rajasthani products including textiles, handicrafts, brass works and precious stones. It attracts tourists from all over India and worldwide owing to its authenticity, diversity in the products and giveaway price products. One can visit Baapu Bazaar as part of Jaipur tour packages.
The vivacious market is mostly famous for Mojari footwear made from camel skin. Coming with unique embroidery patterns, this kind of footwear is unique to this state and these shoes preferred by many tourists. One can also buy traditional Rajasthani lehenga- cholis, Bandhej salwar suits, carvings made from marble and sandalwood, lac bangles, hand-crafted decor and paintings, bedspreads, cushion covers, and fabrics here. Apart from this, the market is also very famous for its ayurvedic digestives, natural henna and chaats.
Also Read: 8 Largest Forts in Rajasthan You Must Visit
---
Fashion Street, Pune

Modeled after Mumbai's Fashion Street, Fashion Street in Pune is one of the most popular local markets for street shopping. Consists of about 450 small shops, Fashion Street in Pune is a multi-purpose shopping place where one can get anything, ranging from clothes to footwear and from fashion accessories to artificial jewelry. People who are interested in buying stylish goods can check out the stores at Fashion Street as they brought all their stuff from Mumbai.
What really makes the fashion street in Pune famous is its ability to offer a wide variety of clothing items belonging to the latest trends in fashion, and that too at highly affordable prices. This is a market for good bargainers as the vendors quote prices depending on the type of customer. Some of the most popular items to buy from the narrow crowded lanes of Fashion Street are jeans, kurtis, jewellery, watches, tops, footwear, electronics, toys, cosmetics, and bags.
Book Here: Car Rentals in Pune
---
Hazratganj, Lucknow
A trip to Lucknow is incomplete without shop the famous Chicken Kari handloom at Lucknow's famous street markets. Without doubt Hazratganj is the best place for premium shopping experience in Lucknow. It has small and big shops selling the best of the culture of the state at reasonable prices. It enables people to have a delightful shopping experience as it has much to offer both for the premium shoppers as well as budget shoppers. At Hazratganj, you can find a variety of Chikan work materials, believed to have been introduced by Nur Jehan, the wife of Mughal emperor Jahangir. The city of Nawabs is also famous for its Jadau jewelry which means jewellery studded with gems.
---
Jew Street, Kochi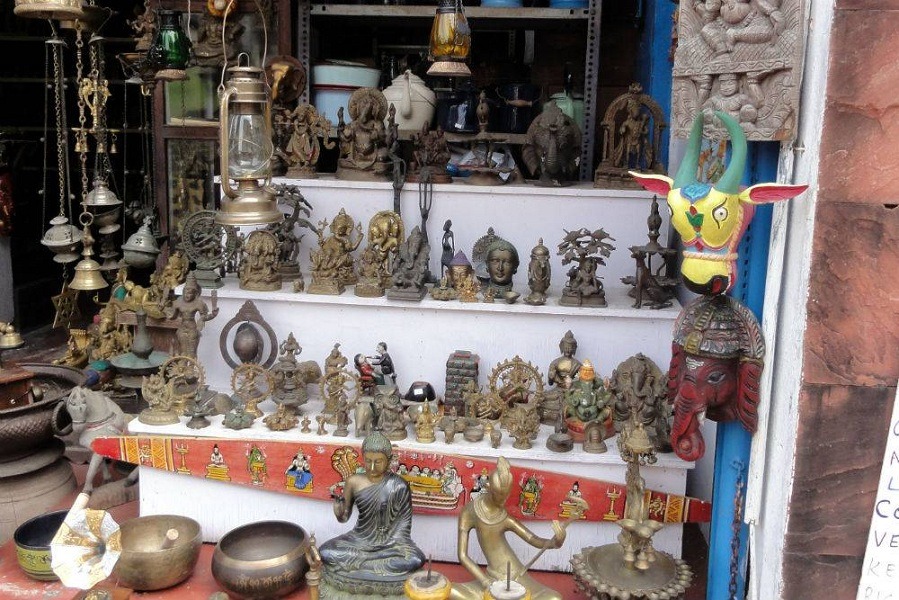 Image Source
Lined with antique shops on both sides, Jew Street in Kochi offers an unusual and attractive shopping experience in India. Situated between Mattancherry Palace and the Paradesi Synagogue, Jew Street in Kochi is famous among foreigners as well as domestic tourists. This is the fantastic destination for antique lovers as the street is jutted with antique shops that sell curios, antique crockery, carved wooden furniture, bronze and brass sculptures, remnants of traditional houses, jewellery etc. from the Dutch, French and Portuguese era. With its famous Paradesi Synagogue and Jew Street, Kochi is the best place in India to experience the lifestyle and culture of the Jewish community. Like all the other shopping destinations, Kochi is also famous for the road side eateries that serve delicious mouthwatering sea food recipes.
Also Check: Places to visit near Kochi
---
Charminar, Hyderabad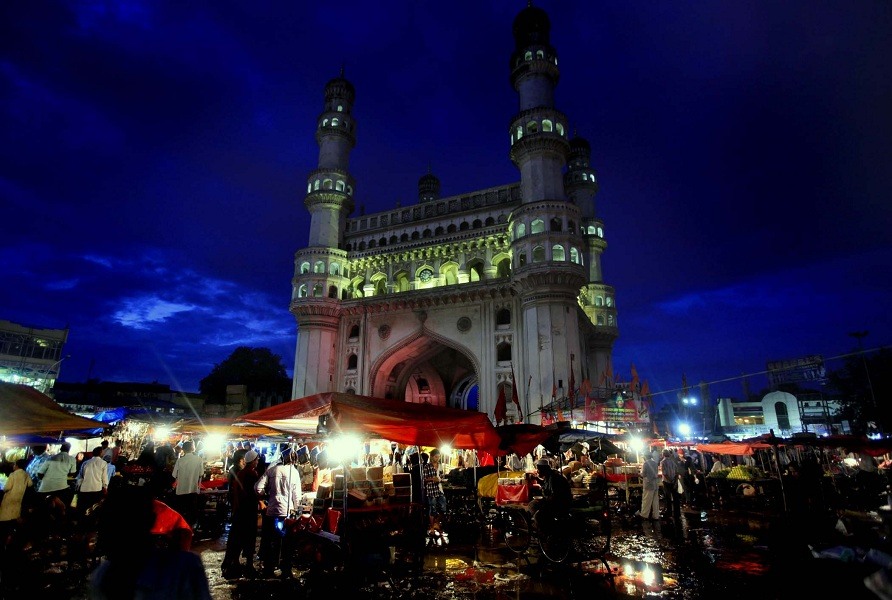 Fashion and style are not just about clothing, but accessories also play a major role. Charminar Area is the major fashion shopping street in Hyderabad and is a must-visit site to satisfy your shopping dreams, especially if you are a woman. Famed for its exquisite pearls, Charminar Bazaar is one of the oldest markets in Hyderabad, probably from the times of Nizam's. Laad Bazar, right next to the iconic Charminar, is famous for its bangles and pearls. From handmade lac bangles studded with stones and pearls, gold embroidered fabrics and Kalamkari paintings, Charminar has it all and the bangles sold here are popular all over the country. One can also buy embroidered sherwanis, saris, cotton clothes and shiny silverwares.
Also Read: 50 Best Tourist Places to visit near Hyderabad for Weekend Trips
---
Law Garden, Ahmedabad

Law Garden is a lush green garden and a popular night shopping street in the middle of Ahmedabad in Gujarat. The Garden is filled with a large number of shops where tourists and locals indulge in shopping and find great deals. This is an ideal place for shopaholics who are interested in Kutch embroidery. The night market is a treat for shoppers as it is a fabulous place to buy traditional Gujarati apparel, accessories, ornaments and handicrafts with traditional handwork on them. Explore Ahmedabad tour packages offered by Trawell.in.
The market open after 6 PM and go on till midnight throughout the year and is a true paradise for bargainers where one can bargain with a sharp tongue and leave this Night market with bags full of things. Visitors can also buy some exclusive bandhni textiles and terracotta toys at affordable prices here. One can find delicious Chaats, Pani Puris, Buttas, Dosas, Uttapams, Idlis, Dhoklas, Paav Bhaji, Dabelis, Kulfi, Ice cream etc. here.
Also Read: Best Places to visit in Ahmedabad
---
Pondy Bazaar, Chennai
Officially known as Soundarapandian Angadi, Pondy Bazaar is one of the prime shopping areas of Chennai. Being the one-stop destination for Chennai people, the winding lanes of the market are filled with shops of many national and international brands in clothing, accessories and footwear. Pondy Bazaar is mainly known to sell ethnic wear at large and at extremely reasonable prices. The kurta collections, sarees and chappals are the best daily wear outfits to survive the climate in Chennai. There are many branded stores are also present in Pondy Bazaar, but the chief attraction of Pondy Bazaar remains the hundreds of street-side vendors.
Also Read: Best Places to visit near Chennai within 200kms
Santhi is an avid traveler and primary contributor to the blogs at Trawell.in. She has explored most of the states in India and gained vast knowledge on tourist destinations in India and abroad. She also contributes content to other travel websites.