RAJGIR TOURISM | TOP PLACES TO VISIT & TRAVEL GUIDE TO RAJGIR

Heritage |
Pilgrimage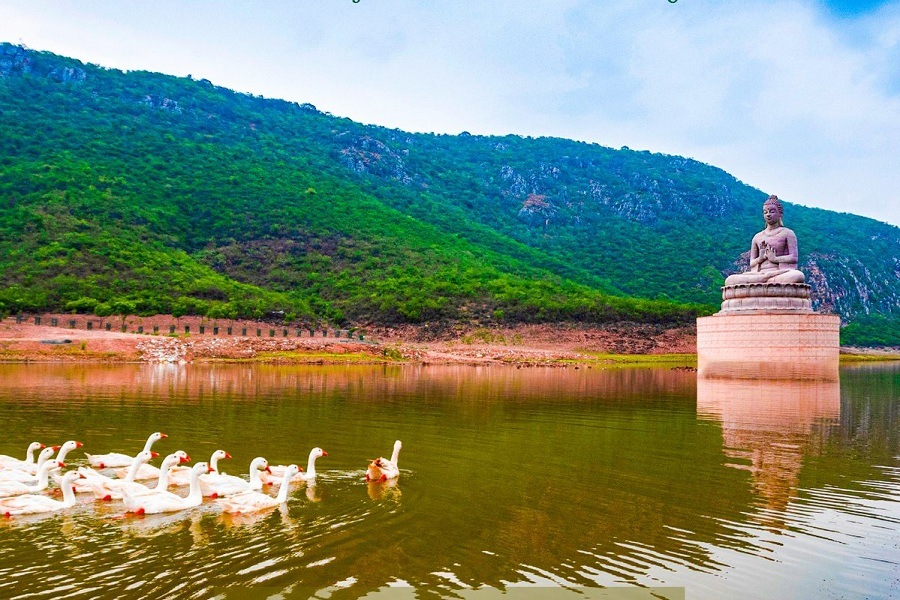 Ideal Trip Duration:
1-2 Days

Nearest City to Rajgir:
Patna (103 Kms)

Best Time to Visit Rajgir:
October to March

Peak Season:
November to February
At a distance of 12 km from Nalanda, 32 km from Bihar Shariff, 71 km from Bodhgaya, 103 km from Patna, 153 km from Muzaffarpur, 197 km from Darbhanga, 225 km from Dhanbad, 247 km from Ranchi, 295 km from Purulia, 310 km from Varanasi, 431 km from Allahabad, Rajgir is an ancient city in Nalanda district of Bihar. Known for its holy sites, it is one of the popular places of pilgrimage in India and among the must include places in Bihar Tour Packages.

Rajgir is a spiritual town set in a green valley and surrounded by rocky hills. The town finds its mention in the Mahabharata as the kingdom of Jarasandha, the arch-nemesis of Krishna and his Yadava clan. While the exact date of Rajgir's foundation is not known, ceramics dating to about 1000 BC have been found in the city. The famous 2500-year-old Cyclopean Wall (Cyclopean masonry) is also located in the city.

The city of Rajgir was the first capital of the kingdom of Magadha, until the 5th century BC when Udayin (460-440 BC), son of Ajatshatru, moved the capital to Pataliputra. In those days, it was called Rajgriha, which translates as 'the home of Royalty'. Notable in Jainism and Buddhism, it was the birthplace of the 20th Jain Tirthankara Munisuvrata, and closely associated with the Arihant Mahavira and Gautama Buddha. Both Lord Mahavira and Lord Buddha taught their beliefs in Rajgir during the 6th and 5th centuries BC. After Buddha's death, his disciples held their first Buddhist Council in the cave of Saptparni.

Set in a green valley and surrounded by rocky hills, Rajgir is a spiritual town with natural serenity in the form of dense forests, mysterious caves, and springs. Vishwa Shanti Stupa, Griddhakuta Peak, Rajgir Hot Springs, Venu Van, Ghora Katora Lake, Veerayatan Museum, Swarna Bhandar, Bimbisar Jail, The Cyclopean Wall, Ajatshatru Fort, etc., are some of the prominent places to visit in Rajgir.

Rajgir Dance Festival, also known as Rajgir Mahotsav, is one of the major and important events celebrated in Rajgir. Started in 1986, it is a 3-day annual cultural fest held in October or November every year at Qila Maidan in Rajgir. The event is organized by the Department of Tourism, Bihar for the promotion of the rich cultural classical and folk dances of India. Makar Sankranti is another popular festival in Rajgir celebrated with great pomp and fervor.

About 107 km from Rajgir, Patna Airport is the nearest airport which has well-connected flights from all the major cities of India. Rajgir Railway Station has well rail connectivity with cities like Danapur, Delhi, Fatuha, Gaya, Bakhtiyarpur, Tilaiya, Patna, and Kolkata. Rajgir is well connected by road as well with frequent buses plying to and from Patna, Bodh Gaya, and other nearby towns.

October to March is the best time to visit Rajgir when the climate is pleasantly cool and perfect for sightseeing. Besides, one can also visit the ancient city of Rajgir during monsoons as the city receives irregular rainfall. The occasional rains seem to add a natural shade to the city as it appears washed and fresh in this season. Avoid visiting summers as it is quite hot and it becomes really difficult to explore the city under the scorching heat of the sun.
Internet Availability:
Average
Languages Spoken:
Magadhi, Hindi, Maithili & English
Major Festivals:
Makar Sankranti & Rajgir Dance Festival