Having about 320-kilometre of coastline, Karnata is home to some of the best beaches in India. The beaches in Karnataka are well known for their clean and beautiful nature with splendid views and best suited for a peaceful holiday. Also, the beaches offer spectacular sunsets as it lies on the west coast. Besides, the beaches in Karnataka offer tourists and city-dwellers some much-needed peace and quiet away from the noise of their urban lives. Gokarna Beach, Om Beach, Murudeshwara Beach, Devbagh Beach, etc., are some of the popular beaches in Karnataka that lure a huge number of tourists from all over the globe as part of Karnataka Tour Packages.
Here is the list of some stunning beaches in Karnataka.
Gokarna Beach
Perched in the Uttara Kannada district of Karnataka, Gokarna Beach is one of the cleanest beaches in Karnataka and among the famous places to visit in Gokarna tourist places. Surrounded by emerald green forests, the beach is a favorite among travelers who seek a peaceful vacation with their loved ones. Besides, the beach attracts numerous travelers from all over the globe because of its famous water sports such as Parasailing, surfing, etc. Besides, one can also visit the famous Om Beach, Kudle Beach, Half Moon Beach, and Paradise Beach as part of Gokarna Tour Packages.
            Also Read : Best Places to Visit in Karnataka
---
Panambur Beach
One of the most popular beaches in Karnataka, Panambur Beach is a beach located along the Arabian Coast in Mangalore. This is the only beach in India managed and run by a private enterprise for tourism development. Situated close to New Mangalore Port, this beautiful beach in Karnataka has been awarded the cleanest and best-maintained beaches in India, and among the top places to visit in Mangalore. With its scenic and natural beauty, it is an ideal place for picnics or a day out with friends. Also, the beach offers various outdoor activities from camel, buggy, and horse rides to water sports, including jet-skiing, surfing, boating, and parasailing, which attracts thousands of tourists every year as part of Mangalore Tour Packages. Besides, the beach is famous for the International Kite Festival conducted during the last week of April.
                   Book Here : Karnataka Cab Packages
---
Om Beach
Renowned for its Om shaped appearance, Om Beach is one of the prime attractions of Gokarna, and among the best beaches in Karnataka. The beach attracts a huge number of tourists with its long stretch of white sandy beach, and mesmerizing view of the sunset. It is also an ideal place for sunbathing and swimming. Known for its beautiful rock creations, the beach is the center for several water sport activities such as boating, surfing, water-skiing, parasailing, and banana boat rides, which will surely spike your adrenaline to an altogether new level. Also, its azure waters are ideal for an exciting dolphin spotting trip. Gokarna is one of the best places to experience Karnataka Tourism.
                 Also Read : 20 Stunning Beaches in India
---
Murudeshwara Beach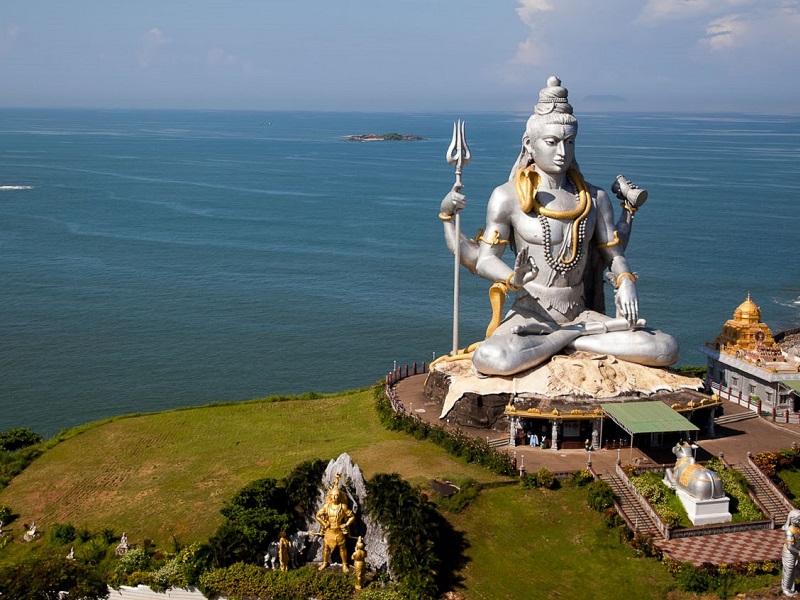 Situated near Murudeshwar Temple, Murudeshwar Beach is one of the best and prime places to visit in Murudeshwar. Sandwiched between the sea and a river, this beach is home to the giant Shiva statue. Surrounded by hills, the wide Arabian Sea on the west, coconut and areca groves close by, this splendid and clean beach attracts tourists throughout the year as part of the Murudeshwar Tour. The gentle waves are suitable for swimming, but strong currents do frequent the shores during high tides. Also, the beach is popular for its spectacular sunset. Besides, tourists can indulge in several water sports activities which include Speed Boat, Water scooter, Paragliding, etc.
---
Malpe Beach
One of the finest beaches in Karnataka, Malpe beach is located near Udupi and among the must include places in Udupi Tour Packages. The endless stretch of golden sand, graciously swaying palm trees, the clear blue sky, and the clean waters of the Arabian Sea all set a perfect mood for an unforgettable holiday. With a plethora of fun things to do on this beach, you can go for a camel ride or indulge in some exciting water sports. Besides, one can also visit St. Mary's Island located nearby which is one of the top Udupi tourist places.
---
Devbagh Beach
Sandwiched between the magnificent Western Ghats and the mighty Arabian Sea, Devbagh Beach is one of the most beautiful and enthralling beaches in India and also one of the best Karwar tourist places. Known for its endless stretch of golden sand, the clear blue waters of the Arabian Sea, and the line of casuarina trees, the beach is an ideal place for beach lovers that lures a number of tourists as part of the Karwar Tour Packages. Besides, tourists can experience a variety of water sports like fishing, dolphin watching, snorkeling, speedboat rides, banana boat rides, water scooter rides, kayaking, parasailing, and more. Apart, this is the place where the renowned poet Sri Rabindranath Tagore had visited and lost in the scenic beauty of nature way back in 1916.