The Indian coastline is one of the longest in the world with incredibly scenic beaches. Beaches are one of the best creations of nature, where Sun, Sand and Sea come together to celebrate their love. The beaches in India are an amalgam of pristine beauty, serenity and a wide variety of beach activities. The Indian Beaches receive huge tourist footfall all around the year, especially in winter season. Beaches in Goa and Kerala Beaches are considered as best beaches of India, while Andamans and Lakshadweep are well regarded for their clean blue waters and diving opportunities. These exotic and gorgeous beaches are best as Honeymoons destination in India as well as for adventures water sports.
Trawell.in presents most scenic and exotic beaches in India, spread across different states:
Colva Beach, Goa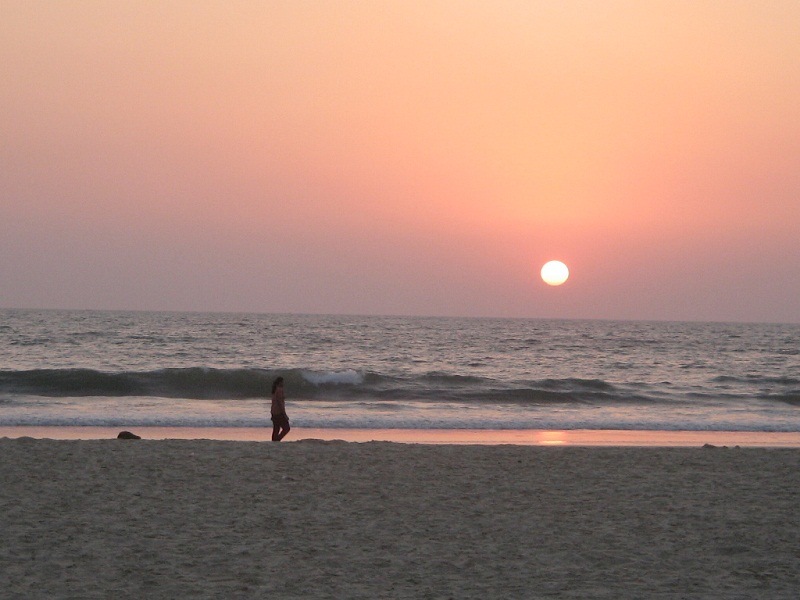 Colva Beach, located in South Goa is the largest and one of the most spectacular and top beaches in Goa. This beautiful beach has white sands dotted with thick coconut palms and several water sports activities. In the colonial days it used to be the retreat for Margao's high society. Colva Beach is famous for rave parties and is one of the top beaches to visit in Goa as part of Goa tours. Colva's nightlife is livelier and vibrant. One can also visit the local Church of Our Lady of Mercy, established in the year 1630.
Nearest City: Panjim (33 km)
Also Read: 9 Stunning Hidden Beaches in Goa
---
Vagator Beach, Goa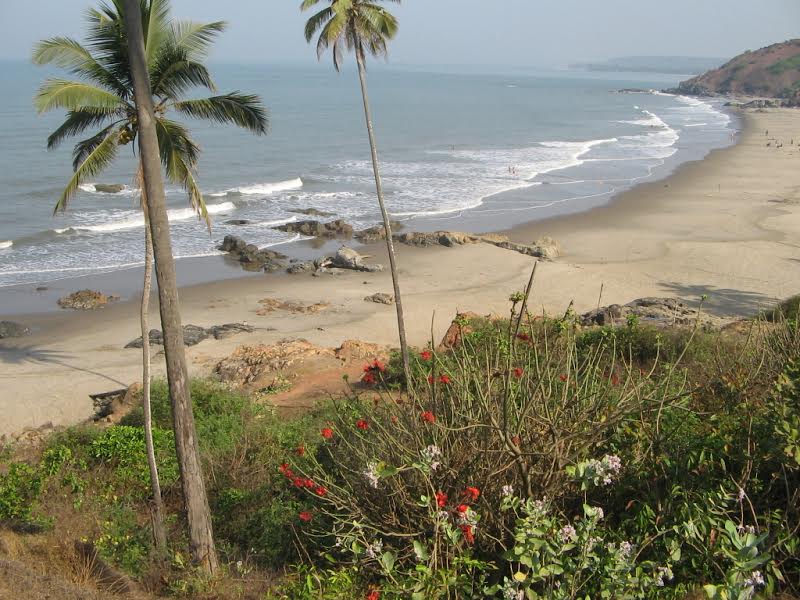 Vagator Beach is situated in North Goa, near Chapora Fort. Vagator is one of the best beaches in Goa, noted for sunset viewing and is visited by large number of tourists as part of Goa 2 day trip and Goa 3 day tour. Vagator Beach is divided into Big Vagator or North Vagator and Little Vagator (Ozran) by a few rocks. The Big Vagator Beach is a long white sandy beach and is considered safer for swimming than the Ozran Beach. There are several adventure activities at Vagator including speed boat & water scooters. Vagator is also among the best places to visit in Goa.
Nearest City: Panjim (19 km)
---
Most Popular Tours
---
Baga Beach, Goa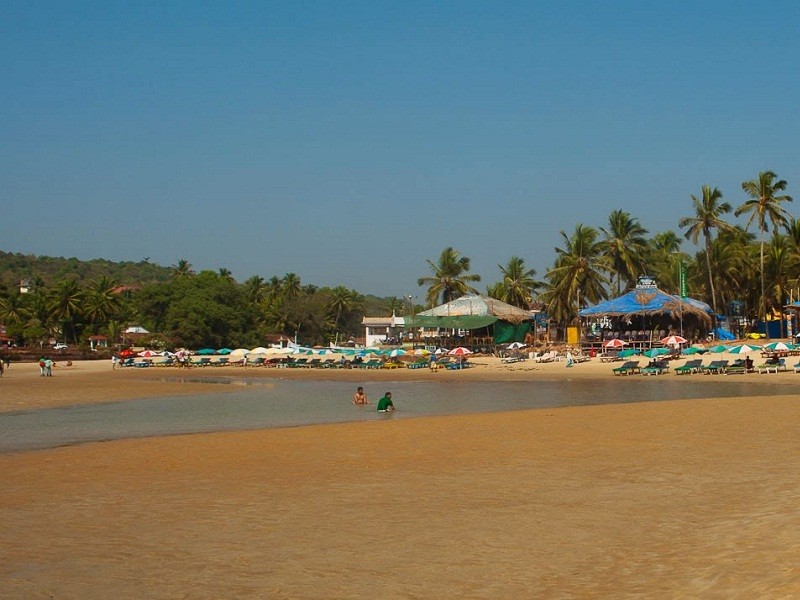 Baga Beach, located in North Goa, is one of the most famous Goa beaches and also one of the most happening beaches in India. Known for its beach parties, nightlife and amazing seafood served at the beach shacks and restaurants, Baga Beach is the must visit place in Goa as part of Goa tour packages. The sea here is not safe for swimming from May end to early October. Baga Beach also one of the prime Goa tourist places. It is famous for water sports like parasailing, water skiing, windsurfing, snorkeling, kayaking and much more. This beach is also popular for its spectacular sunsets and fishing.
Nearest City: Panjim (15 km)
Also Read: 5 Alternate Beach Destinations to Goa
---
Palolem Beach, Goa
Palolem Beach is one of the top beaches in Goa and top tourist attraction in South Goa. Also known as Paradise Beach, this beach stretches between two magnificent headlands and is lined with towering coconut palms. Palolem is also ideal for young families as the atmosphere is relaxed, friendly and safe. Every season bamboo hut resorts and restaurants are erected along the beach allowing tourists to stay right on the sand. Palolem Beach is considered to be the safest beach for swimming with absolutely few currents. Beach activities involve Canyoning, Kayaking and trekking tours. Palolem is an ideal place for a mesmerizing sunset and Dolphin watching trips.
Nearest City: Panjim (70 km)
---
Kovalam, Kerala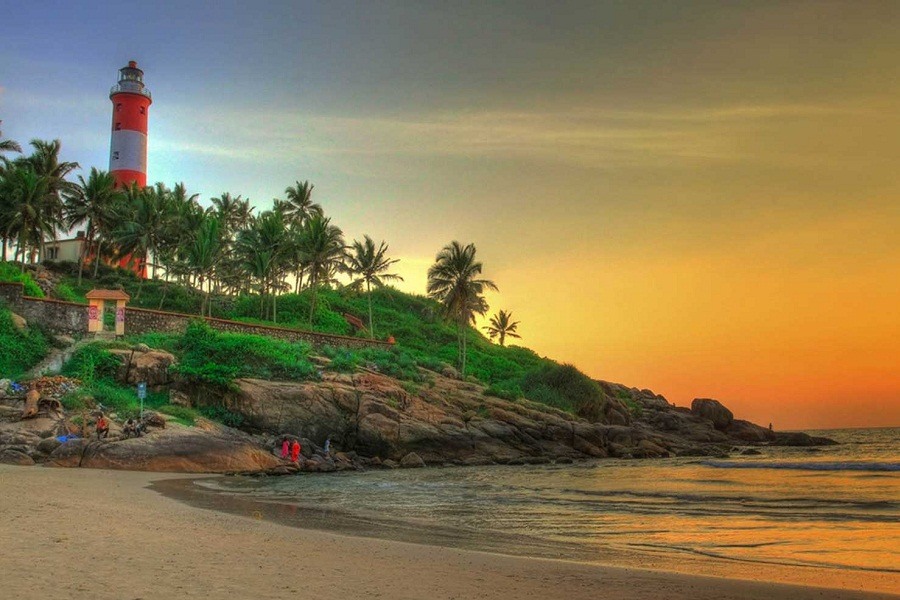 Kovalam, on the shores of Arabian Sea, is one of the most famous Beaches in Kerala and also one of the most popular Kerala tourist places. The beautiful Kovalam Beach is also known as the 'Paradise of the South'. Kovalam means 'A grove of coconut trees' and the whole area beyond the shores around Kovalam is literally filled with endless sight of coconut trees offering magnificent views while approaching the beach. Kovalam is visited by tourists in great number during their Kerala packages.
There are three beaches in Kovalam, among the top places to visit near Trivandrum. The most popular beach is the Lighthouse Beach and offers an amazing sight of Vizhinjam Mosque. Samudra Beach on northern side is a nice place to hangout despite of less commercial activity. The middle one is called Eve's Beach, which was earlier famous with European tourists. Eve's Beach is ideal to spend a quiet evening. There are several activities for tourists like sun bathing, swimming, herbal body massage and cultural programs. Water sports like kayaking, surfing, fishing and water skiing are some of the activities that can be enjoyed in Kovalam. Kovalam is also famous for its Ayurvedic massages and many yoga resorts.
Nearest City: Trivandrum (13 km)
---
Varkala, Kerala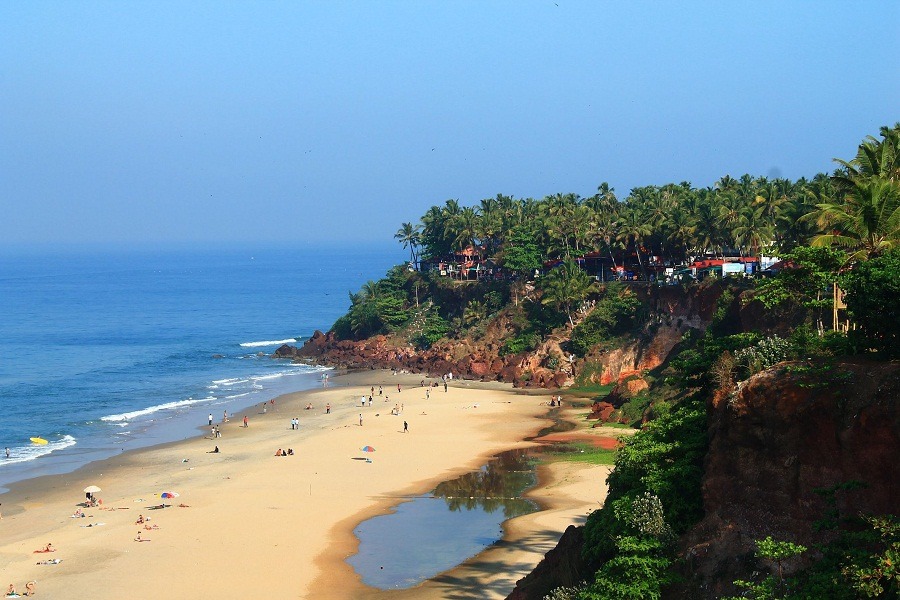 Varkala Beach also known as Papanasam Beach is situated at Varkala, a coastal town on the banks of Arabian Sea in Kerala. Varkala is one of the best Kerala beaches and also a popular weekend getaway from Trivandrum. Varkala Beach is the only place in southern Kerala where cliffs are found adjacent to the Arabian Sea. Varkala is among prominent places to visit in Kerala.
Varkala Beach is a quite clean beach and is less commercialized. This long sandy beach is popular for the evening views of the sunset. Varkala Beach is a haven for sun-bathing and swimming. It is very much safe to swim & play in the waters of the beach here. Dolphins are also spotted at this place. One can also visit 2,000-year-old Janardana Swami Temple which is an important Vaishnavaite shrine in India. Kappil Beach and Thiruvambadi are the other attractions near Varkala Beach.
Nearest City: Trivandrum (48 km)
---
Bekal Beach, Kerala
Bekal Beach is situated near Bekal Fort in Kasargod district of Kerala. It is one of the top Kerala Beaches and also one of the best maintained beaches in Kerala. The beach is a vast expanse of white sand dotted with palm trees. Two huge sculptures of Theyyam and a rock garden also adorn the beach in Bekal, among the top places to visit near Kochi. This is the only Special Tourism Area declared by the Govt. of India, in Kerala.
The beach is illuminated with electric bulbs during night so that people can enjoy the beach even after dusk. Tourists can spend quality time with the loved ones and enjoy some memorable sunset views. There is a water park for children on the premises which is an added attraction. The beautiful walkway allows the visiting tourists to explore the beauty of the Arabian Sea and panoramic view of the surroundings including Bekal Fort.
Nearest City: Mangalore (73 km)
---
Om Beach (Gokarna), Karnataka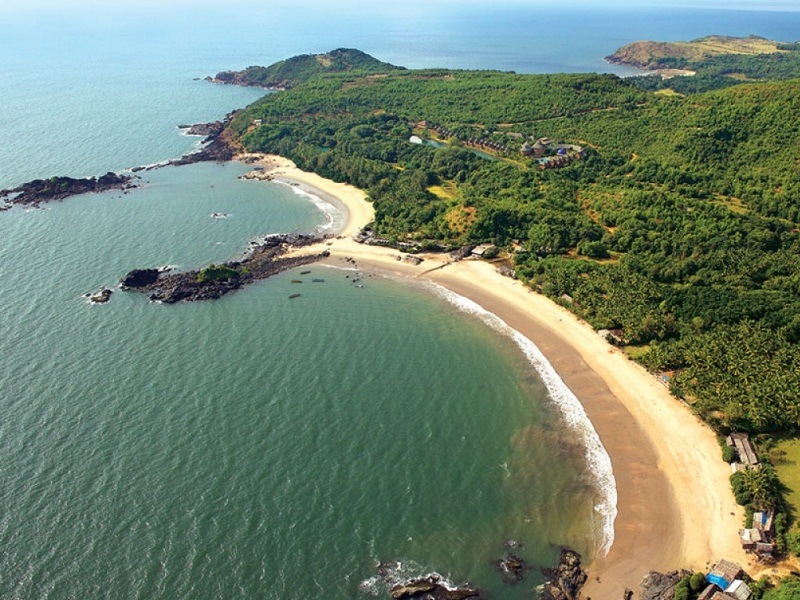 Om Beach is beautiful beach situated near Gokarna in Uttara Kannada district of Karnataka. Om Beach is one of the prime attractions of Gokarna and also one of the most famous beaches in Karnataka. Two semi-crescent shapes that join together resembling the Hindu religious symbol 'OM' is the reason behind the name of the beach. It is a very long beach with rocks jutting out and serenity at its best.
Gokarna is one the top Tourist places in Karnataka, and among the scenic places to visit near Mangalore. This beach is usually visited by several foreign tourists as well. The curve of the symbol forms a pool which can be a safe bathing area for even non-swimmers. The beach is well maintained and there are commercial establishments like restaurants and resorts in close vicinity. Om Beach is the center for several water sport activities such as boating, surfing, water-skiing, parasailing, and banana boat rides. Gokarna Beach, Half Moon Beach, Kudle Beach, and Gokarna Temple are the other attractions near the Om Beach.
Nearest City: Hubli (165 km)
---
Devbagh Beach (Karwar), Karnataka
Devbagh is a beautiful beach located near to Karnataka-Goa border in Karwar. This is a private beach and is an ideal place for the beach lovers. Devbagh is one of the most beautiful and enthralling beaches in India and also one of the best places to visit in Karwar. It is known for its endless stretch of golden sand, the clear blue waters of the Arabian Sea and the line of casuarina trees which dot the beach.
Devbagh Beach is not only famous for the cool breeze and the golden sands, but is also famous for the water sports and fun. Here one can see people engaged in a variety of water sports like fishing, dolphin watching, snorkeling, speedboat rides, banana boat rides, water scooter rides, kayaking, parasailing and more. One can also cruise up the Kali River from the point where river meets sea. Karwar Beach, Majali Beach, Tilmati Beach and Durga Bhavani Temple are some top attractions near Devbagh.
Nearest City: Panjim (108 km)
---
St. Mary's Island (Udupi), Karnataka
St. Mary's Island is a group of small beautiful islands situated to the north of Malpe Beach near Udupi, among the top pilgrimage places to visit near Mysore. This is one of the best Karnataka beaches and also one of the top beaches in India. It is said that Vasco da Gama first reached this Island before reaching the Kappad Beach (near Calicut) while finding sea route to India. The island has two beautiful beaches and crystallized basalt rock formations.
This unspoiled island is a very beautiful place with white sands, coconut trees, blue waters & pleasant atmosphere. St. Mary's Island can be reached by 30 minutes boat ride from Malpe Beach which is about 10 km from Udupi. This island is uninhabited and there is no possibility to stay overnight there. One can also visit Udupi Sri Krishna Temple, Kaup Beach, Malpe Beach and Anegudde Vinayaka Temple.
Nearest City: Mangalore (108 km)
Also Read: Popular Weekend Getaways from Bangalore
---
Alibaug, Maharashtra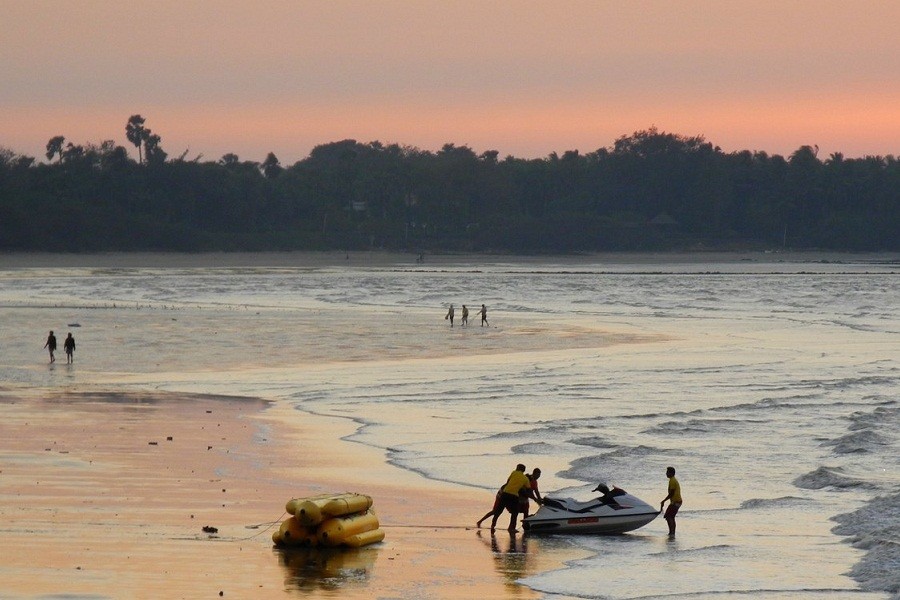 Alibaug or Alibag Beach is a serene beach situated at Alibaug in Maharashtra. Alibaug Beach is one of the prominent beaches in Maharashtra and also one of the most visited beaches in India as part of Maharashtra tour packages. It is also the popular weekend places to visit near Mumbai and Pune. Popular among locals as well as tourists, the Alibaug beach is well known attraction for its clean coastline. The beach has primarily blackish sand and lot of rocky stretches.
Alibaug Beach is one of the most popular beaches with the sight of Kolaba Fort providing the perfect view during sunset. Alibaug Beach has lot of entertainment with horse rides, paragliding and road side vendors selling tender coconut water and chats. Nagaon Beach, Mandwa Beach, Kashid Beach, Murud Beach, Rewas Beach, Kasim Beach and Varsoli Beach are the other popular beaches near Alibag Beach. This is also one of the popular 2 day trip near Mumbai.
Nearest City: Mumbai (103 km)
Also Read: 5 Beaches that can be visited along with Mahabaleshwar
---
Ganpatipule, Maharashtra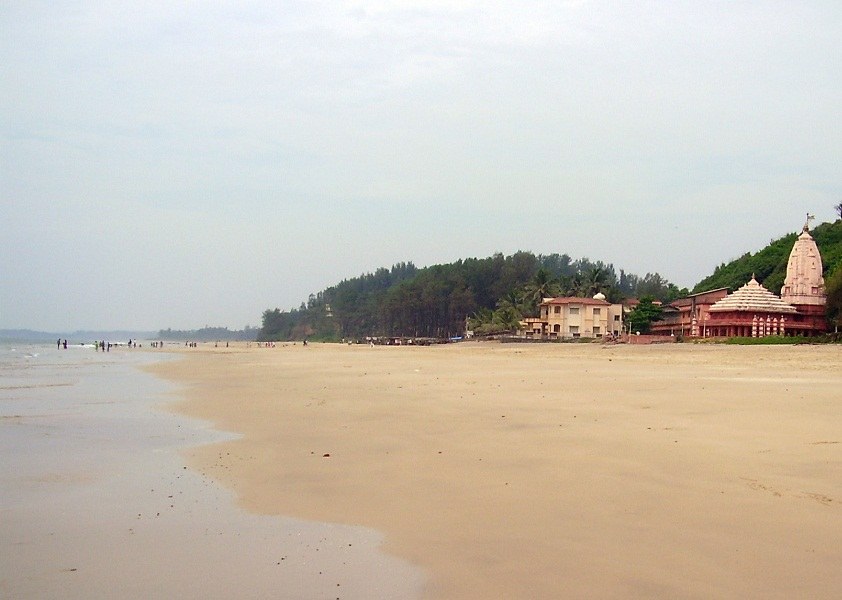 Ganpatipule Beach is a spectacular paradise along the Konkan coast in Maharashtra. It is one of the top tourist places in Maharashtra apart from being the most popular among Maharashtra Beaches. It is a perfect gateway that captivates beach lovers, adventure enthusiasts, and pilgrims as well. The 6 km long beach simply looks stunning with the Ganapathi Temple on the shores that offers a soothing atmosphere.
The pristine Ganpatipule Beach is the main attraction among tourists and mainly the adventure enthusiasts. Paragliding, swimming, motorboat, water scooter and pedal boat rides, and camel rides are some of the popular adventure water activities in Ganpatipule. Among the top places to visit near Pune, the Ganpatipule Beach is clean and the sea is also clear though swimming is not advisable because of the rocky stretches. It is however ideal spot for sunbathing and mesmerizing sunsets. Bhandarpule Beach, Aare Ware Beach, Guhagar Beach and Jaigad Fort are the some famous attractions nearby.
Nearest Cities: Mumbai (345 km), Pune (307 km)
---
Radhanagar Beach, Andamans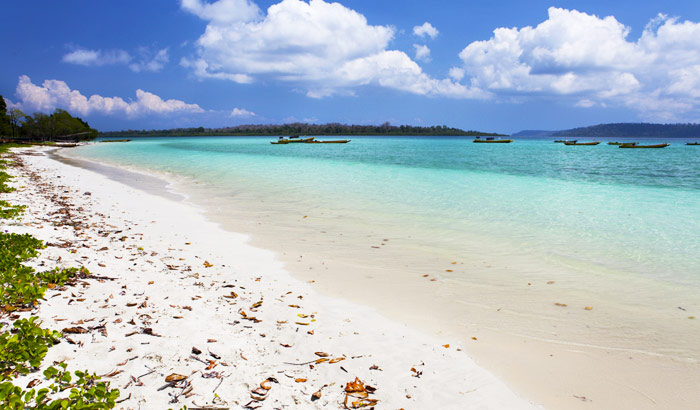 Radhanagar Beach a beautiful beach lies on the south coast of Havelock Island in Andaman Islands. This is the most famous beach in the Andaman Islands and also one of the popular beaches in India. Radhanagar, popularly known as Beach 7, is a Grade A beach of outstanding quality and is a must visit place in Andaman tour packages. This beach is also rated as one of the best beaches in Asia and 7th best beach in the world by Time Magazine. It has an overall length of 2 km and an average width of 30 to 40 m. The sand is white and very fine in grain.
The turquoise blue sea and silky white sand make this beach a perfect spot to bask in the midst of nature's bounty. This is an ideal place for water sports enthusiasts, as the beach offers some excellent opportunities for snorkeling and its waters boasts of some superb coral reefs. The beach is also very safe for swimming due to low currents.
Nearest City: Port Blair (72 km)
---
Minicoy Island, Lakshadweep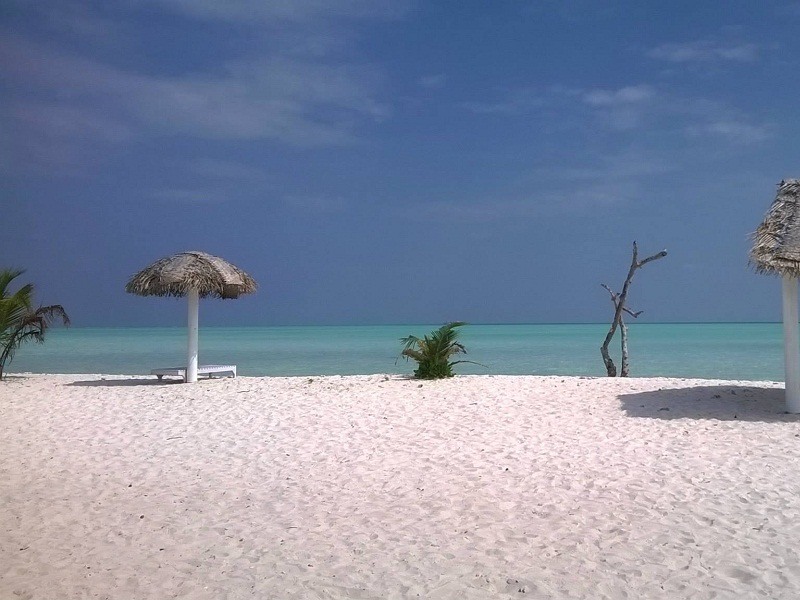 The Minicoy Island is the southern-most island of Lakshadweep. The island is in crescent shape and has one of the largest lagoons. The place has been blessed by abundant natural beauty and is the only island which is open to foreign tourists. This is one of the top places to visit in Lakshadweep islands and among the must include places in your honeymoon trip.
This wonderful place surrounded by the blue waters of the islands offers a colossal view. Juma Masjid and Lighthouse are the major attractions of this Island. Built in 1885 by the British, the lighthouse is one of the oldest surviving structures in entire Lakshadweep. From the top of the lighthouse one can get mesmerizing views of the unending sea and the lush green Minicoy Island.
Nearest City: Kochi (398 Kms)
---
Dhanushkodi Beach (Rameshwram), Tamil Nadu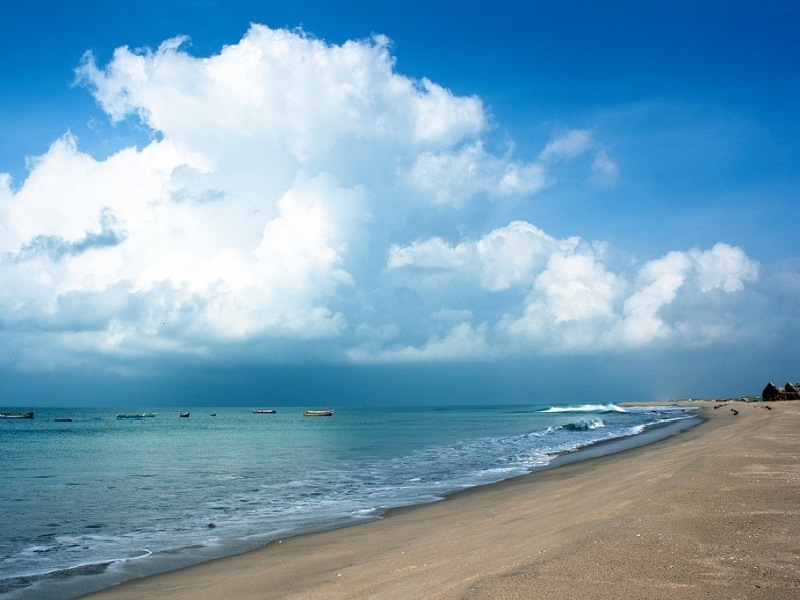 Dhanushkodi Beach is serene beach situated at Dhanushkodi located southeast of Pamban in Rameshwaram. Dhanushkodi Beach is one of the popular tourist places in Tamil Nadu and also one of the best places to visit near Madurai for beach lovers. The beach of the Dhanushkodi extends up to 15 km long. One can get awe-inspiring views during sunrise and sunset at this beach. The shore in the place called Mukundharayar Chathram is safest region for taking baths and playing in the high tide sea. At this beach, visitors can also indulge in sea surfing.
Nearest City: Madurai (181 km)
---
Paradise Beach, Pondicherry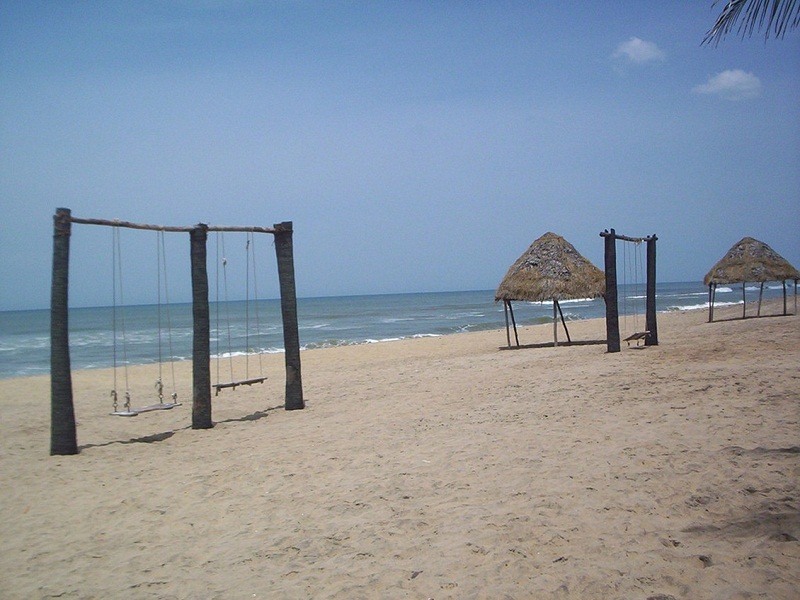 Paradise Beach, also known as Plage Paradiso, is an isolated beach located at Chunnambar near Pondicherry, among the best scenic places to visit near Chennai. The beach is extremely attractive as the sands are very clean and the water is crystal clear. The Paradise Beach is one of the most famous beaches of Pondicherry and also one of the popular 2 day trip from Chennai. Visitors have to cross the Chunnambar backwaters by boat to reach Paradise Beach.
The tides at the beach are strong at times and it is not advisable to go deeper into the sea. This beach is famed for its lovely sunbathing options and resting under the cool breeze of palm trees. Beach volleyball, water sports equipment, beach umbrellas, nets and fishing rods are also available at this beach for tourists. Pondicherry Beach, Pondicherry Museum, Botanical Garden and Manakula Vinayagar Temple are some of the best places to include in Pondicherry packages.
Nearest City: Pondicherry (8 km)
Also Read: Most Popular Weekend Getaways from Chennai
---
Mandvi Beach, Gujarat
Mandvi Beach is a beautiful beach located at Mandvi town in Kutch and is one of the most visited tourist places in Gujarat. This is a private beach which once belonged to the erstwhile Maharaja of Kutch. The white sand Mandvi Beach looks serene with its pristine water, rich flora and fauna, tranquil ambience and fishing hamlets. The beach is ideal for beach walks and swimming. This beach is believed to be the heaven for water sports lovers. From Para sailing, skiing, surfing, water scooting to speed boat trips, visitors can enjoy a number of water activities here. Visitors can also enjoy camel and horse rides at the beach. It is one of the most prominent places to visit near Ahmedabad for beach lovers.
Nearest City: Ahmedabad (390 km)
---
Digha Beach, West Bengal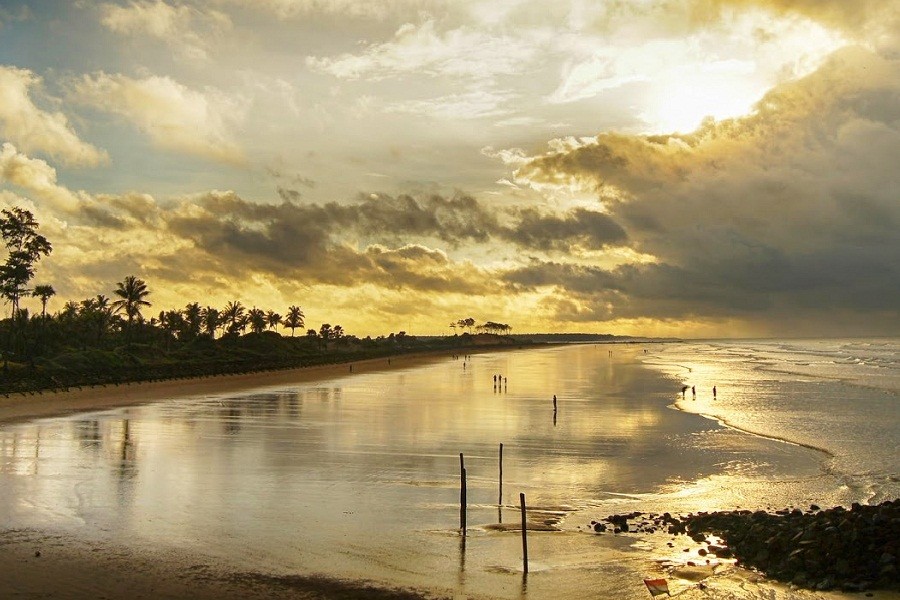 Digha is a beautiful beach located at the northern end of the Bay of Bengal in West Bengal. Digha is the most popular sea resort of West Bengal and also one of the famous beaches in India. The beach is divided into two parts, the New Digha Beach and the Old Digha Beach. While the Old Digha Beach has most of the tourists to itself for it encompasses the beauty that is unmatched, the New Digha Beach is mainly for the couples who are looking for privacy.
The Digha Beach is popular for its views of the Bay of Bengal amidst many casurina plantations along the seaside. The sea at Digha is mostly calm and shallow upto a mile off the beach, which makes it safe for various marine activities like swimming, scuba diving, jet skiing and surfing. The beach is also host to a four-day festival held every year in January. It is among most popular tourist places in West Bengal
Nearest City: Kolkata (188 km)
---
Rishikonda Beach (Vizag), Andhra Pradesh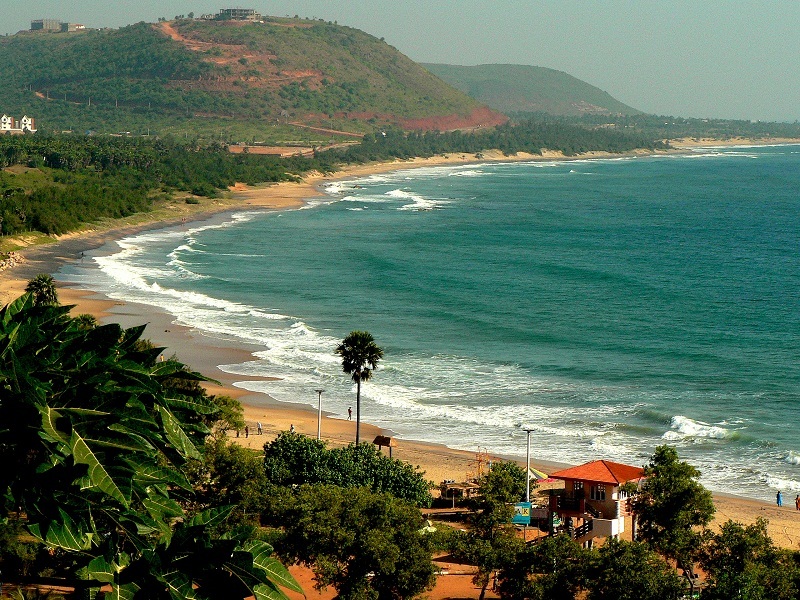 Rishikonda Beach is a fascinating place near Vizag in Andhra Pradesh. Rishikonda Beach is one of the top places to visit in Vizag city and also one of the famous beaches in India. The unspoiled beauty of the beach is its main attraction and offers a unique opportunity to relax and enjoy the golden sands, palm trees and cool breeze.
Rishikonda Beach is a haven for watersports lovers and one can enjoy water skiing, speed boating, sunbathing, wind surfing and swimming. The waves at the beach are peaceful compared to RK Beach. But a sudden increase in depth can surprise the visitors and is advised to be careful while swimming at the beach. On Holi, the beach gets transformed to a hue of vibrant colours, with people splashing color and water on each other. One can also visit Submarine Museum, Kailasagiri, Simhachalam and Bheemili Beach near Rishikonda Beach as part of Vizag tour packages.
Nearest City: Vizag (15 km)
---
Puri Beach, Orissa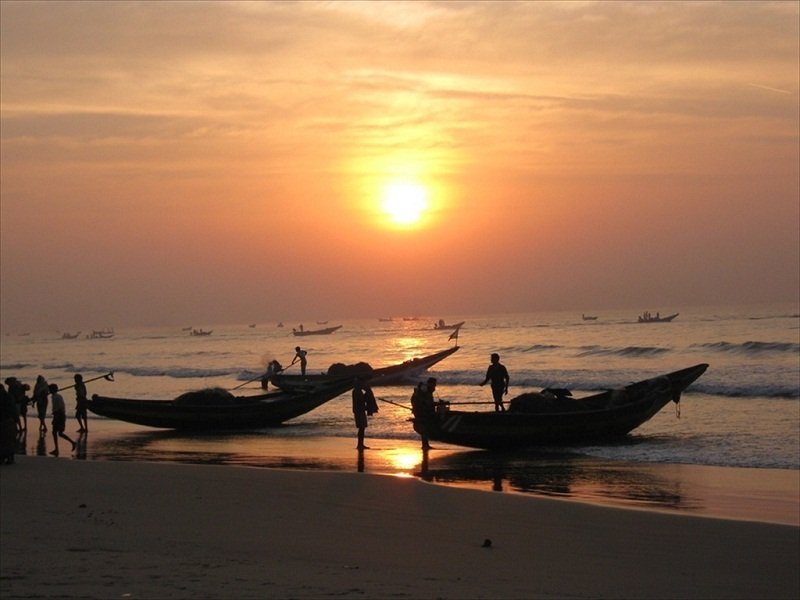 The Puri Beach lies in the city of Puri, Odisha, on the coastal region of the Bay of Bengal. Puri is one among the most important sacred spots for Hindus and also one of the popular tourist places in India. The splendid beach stretches up to 7 km and is a round-the-year destination for both domestic and international travellers. The Jagannath Temple is the most popular temple here and is famous for its car festival.
The annual 5 day Puri Beach festival is held 5th -9th November every year. Cultural and traditional feasts presented during the festival days are a treat to watch due to the variety of the programs held. The Puri Beach is must include in Puri Packages and is also renowned for the sand sculptures created particularly by the internationally famed Sudarshan Patnaik. The beach at Puri offers a unique opportunity to witness the striking sunrise and the sunset on the same beach. The long sandy Puri beach is picturesque and the water is shallow, offering excellent swimming and bathing facilities. Explore wide range of Orissa tour packages offered by Trawell.in
Nearest City: Bhubaneswar (60 km)
Reference: Places to visit in Puri
---
Santhi is an avid traveler and primary contributor to the blogs at Trawell.in. She has explored most of the states in India and gained vast knowledge on tourist destinations in India and abroad. She also contributes content to other travel websites.