Kerala, the God's own country, has some of the best tourist places in India for any kind of holiday. The scenic hill stations, enchanting backwaters, cascading waterfalls, sandy beaches and exotic wildlife are the major attractions of Kerala Tourism. Kerala has been one of the top honeymoon destinations in India for a long time. Kochi is the main tourist hub for many Kerala tours.
Watch Video - Most Visited Tourist Places in Kerala
From the stunning beaches along the Malabar Coast to the maze of backwater canals cutting through huge rice fields to the glorious rolling hillside tea plantations in the Western Ghats, Kerala's landscapes are almost as diverse as its people and the culture of Kerala is a major factor in attracting the tourists. Munnar, Alleppey, Kumarakom, Cochin, Kovalam, Thrissur, Athirapally, Trivandrum, Wayanad and Thekkady are the popular places to visit in Kerala.
Trawell.in presents top 10 amazing destinations in Kerala.
Munnar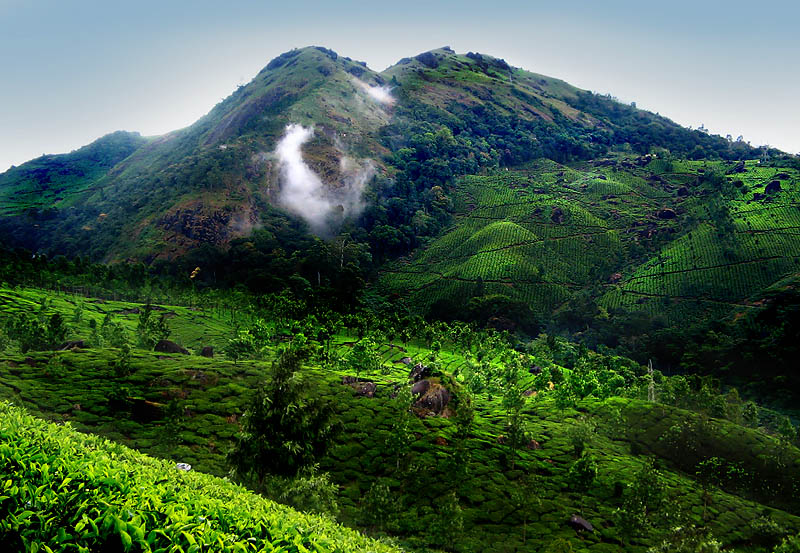 Munnar is one of the most popular hill stations in Kerala located in Idukki district. It is one of the best hill station in India and also one of the top places to visit in Kerala. Munnar is also called as the Swiss of South India. It was once the summer resort of the British Governors of South India. Munnar also has the highest peak in South India – Anamudi, which towers over 2695 meters. Munnar is also known for Neelakurinji flowers, which blooms once in 12 years. This is also one of the best weekend getaways from Kochi, Coimbatore & Madurai and also among the most visited places as part of Kerala tour packages.
Munnar is a trekker's paradise too, which offers both soft and mountain trekking. Visit the wildlife sanctuaries around Munnar. Some of the major attractions of Munnar are Mattupetty Dam, Echo point, Kundala Lake, Top Station, Anamudi peak, Devikulam, Nyayamkad falls, Thoovanam falls, Eravikulam National Park and Attukal Waterfalls are the top places to visit as part of Munnar tour packages. Munnar offers different experience throughout the year, while March to May is the peak season.
Distance from Kochi: 120 Km
---
Alleppey

Alappuzha also known as Alleppey is situated on the shores of Arabian Sea close to the banks of Vembanad Lake. Alleppey is among the most famous Kerala tourist places and is also one of the ideal weekend getaways from Kochi & Trivandrum. Along with Kumarakom, Alappuzha is among the most famous destinations of Backwaters in Kerala as part of Kerala 6 day tour and Kerala 7 day trip. A houseboat cruise in these backwaters is a delightful experience not to miss in your honeymoon trip.
Popularly known as the 'Venice of the East', Alleppey is also known for the annual Nehru Trophy Boat Race held on the Punnamada Lake on the second Saturday of August every year. This is the most competitive and popular of the boat races in India. Kuttanad, Alappuzha Beach, Ambalappuzha Sri Krishna Temple, Arthunkal Church, Mannarasala Temple, Chettikulangara Devi Temple, Thakazhy Shree Dharmashastha Temple, Mullakkal Temple, Champakulam and Krishnapuram Palace are the some popular tourist places in Alleppey.
Distance from Kochi: 63 Km
---
Most Popular Kerala Tours
---
Kochi / Cochin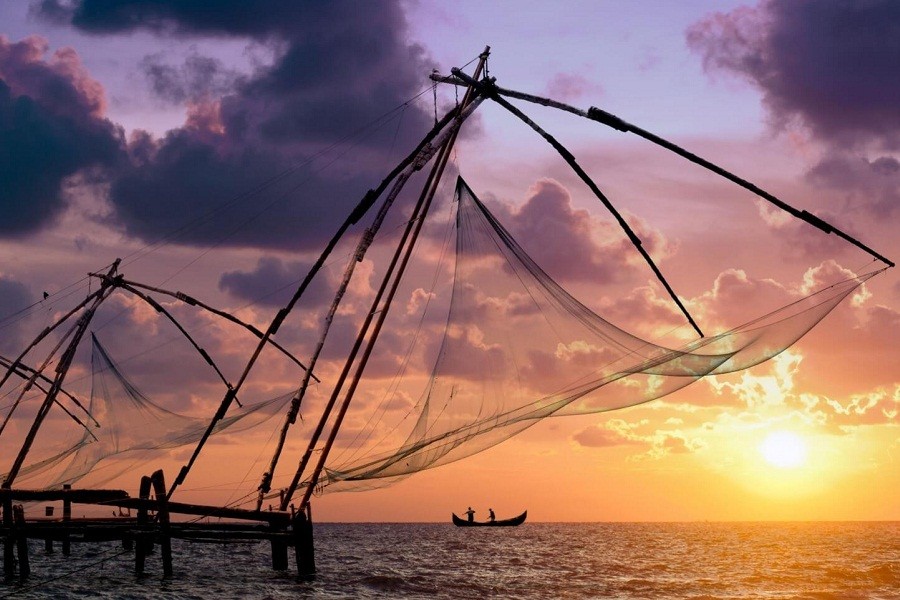 Kochi, also known as Cochin is a port city in Ernakulam district of Kerala. It is one of the prime tourist places in Kerala and also a good place for Kerala Lakes & Backwaters trip. Well known as the 'Queen of the Arabian Sea', Kochi is considered one of the finest harbors in the world. Nothing can be fascinating than cruising through the serene lakes of Cochin that are lined up with coconut trees. Kochi is the main tourist hub for many Kerala tours.
The tourism in Kochi is admired for its scenic beauty, traditional architecture and cultural diversity. This city is home to the oldest synagogue in the Commonwealth as well as numerous old churches and temples. Attracting tourists from all around the world, Fort Kochi, Bolghatty Palace, Marine Drive, Mangalavanam Bird Sanctuary, St. George Ferona Church – Edappally, Cochin Jewish Synagogue, Matancherry Palace, and Chinese Fishing Nets are the popular places to visit in Kochi.
---
Kumarakom
Kumarakom is a cluster of little islands on the famous Vembanad Lake in Kerala. Also known as the Queen of Vembanad, Kumarakom is the most famous Kerala Backwaters destination for traditional houseboat rides and it is among the best places to experince Kerala Tourism Places. This is also one of the ideal weekend getaways from Kochi & Trivandrum. Along with Alappuzha, Kumarakom is among the most famous destinations of Backwaters in Kerala as part of Kerala 5 day Tour and Kerala 6 day tour.
The major sightseeing option at Kumarakom is the backwater cruises in Vembanad Lake. A houseboat cruise along the backwaters is really an amazing experience for every traveler to Kumarakom. Kumarakom Bird Sanctuary, Kumaramangalam Temple, Vaikom, Pathiramanal Island, Aranmula, Vagamon, and Erumeli are the popular Kumarakom tourist places. Kumarakom is an unbelievably beautiful paradise of mangrove forests, emerald green paddy fields and coconut groves. It is also famous for Ayurvedic massage, yoga, and meditation. Kumarakom is the venue for Sree Narayana Jayanthi Boat Race held in September during Onam festival.
Distance from Kochi: 56 Km
Must Read: 7 Most Spectacular Boat Races in Kerala
---
Thekkady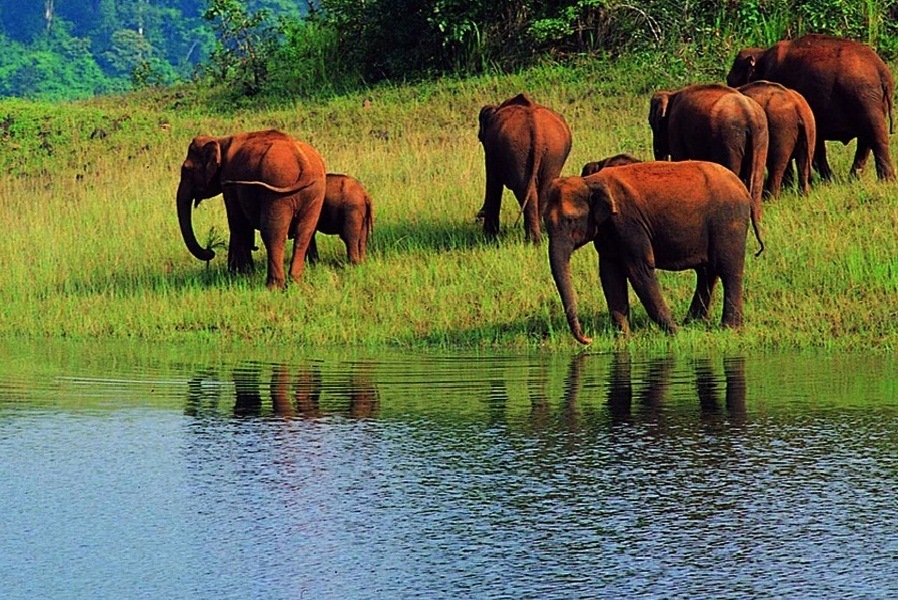 Periyar Wildlife Sanctuary, one of the best wildlife sanctuaries in India, is located at Thekkady in Idukki district of Kerala. It is located at a distance of 4 km from Kumily on Kerala – Tamilnadu boarder. It is one of the most famous tourist places in Kerala and also a well know summer getaway in Kerala. The park was established in 1950 and was declared as Tiger Reserve in 1978. The splendid artificial lake formed by the Mullaperiyar Dam across the Periyar River adds to the charm of the park. Along with Kumarakom & Alappuzha, Thekkady is among the most famous destinations of Backwaters in Kerala as part of Kerala 6 day tour and Kerala 7 day trip.
There are a few watch towers inside Periyar Tiger Reserve which are excellent for viewing wildlife. Thekkady is famous for Asian Elephants, Tigers, Gaurs, Sambars, Lion-tailed Macaques, Nilgiri Langurs, Wild Boars, Spotted Deer, Barking Deer, Stripe-necked Mongoose, Wild Dogs, Sloth Bears, Malabar Giant Squirrel, Civet, Nilgiri Tahr, etc. This is the only sanctuary in India where you can watch wildlife at close quarters from the safety of a boat from the lake. The park offers elephant rides, jeep safari, boating in the lake, tiger trails and forest treks. Periyar Wildlife Sanctuary also attracts a lot of pilgrims every year who come here to visit the Sabarimala Temple. Murikkady, Chellar Kovil, Anakkara, Mangala Devi Temple, Suruli Falls and Pullumedu are the popular Thekkady tourist places.
Distance from Kochi: 156 Km
---
Kovalam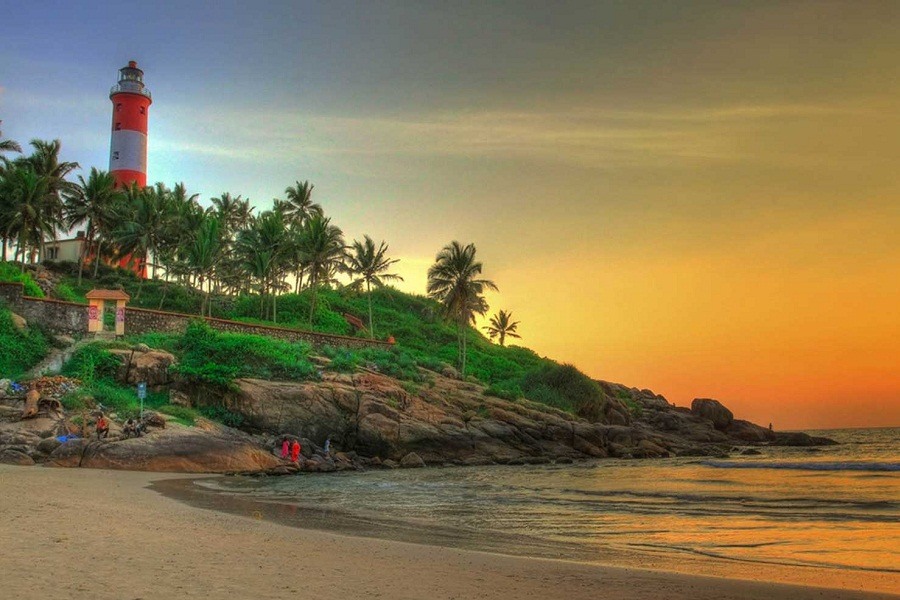 Kovalam, on the shores of Arabian Sea, is one of the most famous Beaches in Kerala and also one of the most popular beaches in India. The beautiful Kovalam Beach is also known as the 'Paradise of the South'. Kovalam means 'A grove of coconut trees' and the whole area beyond the shores around Kovalam is literally filled with endless sight of coconut trees offering magnificent views while approaching the beach. Kovalam is visited by tourists in great number during their Kerala tour packages.
There are three beaches in Kovalam. The most popular beach is the Lighthouse Beach and offers an amazing sight of Vizhinjam Mosque. Samudra Beach on northern side is a nice place to hangout despite of less commercial activity. The middle one is called Eve's Beach, which was earlier famous with European tourists. Eve's Beach is ideal to spend a quiet evening. There are several activities for tourists like sun bathing, swimming, herbal body massage and cultural programs. Water sports like kayaking, surfing, fishing and water skiing are some of the activities that can be enjoyed in Kovalam. Kovalam is also famous for its Ayurvedic massages and many yoga resorts.
Distance from Kochi: 63 Km
---
Wayanad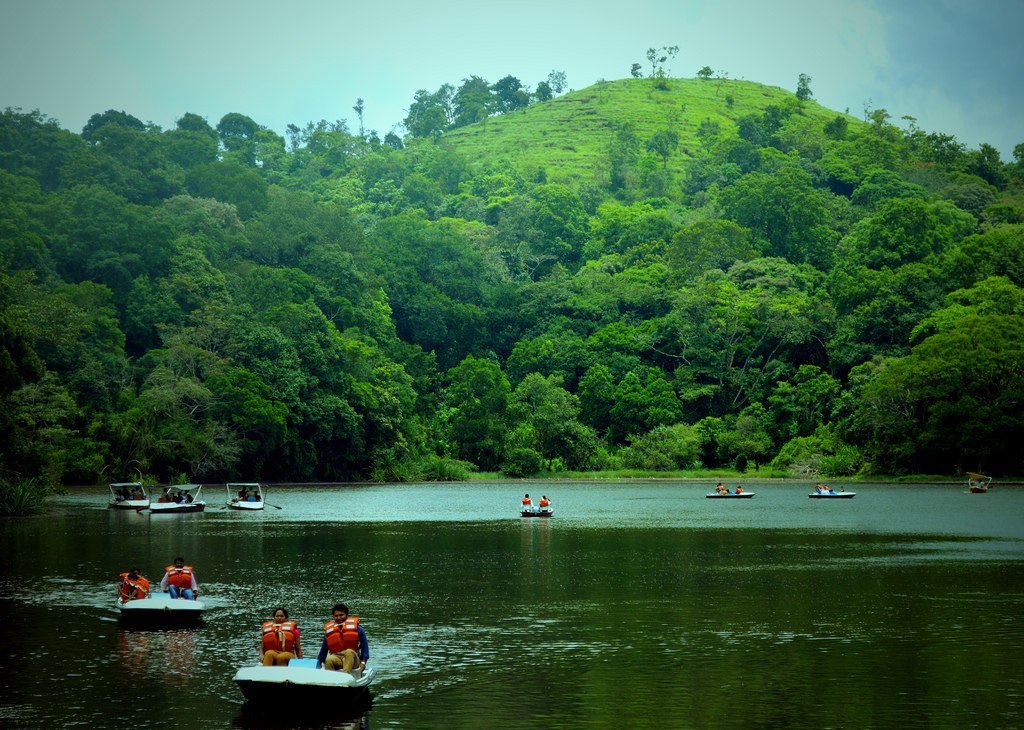 Wayanad is one of the fabulous hill stations in Kerala. At an altitude ranging between 700m to 2100m, Wayanad is the biggest foreign exchange earners of Kerala with its production of cash crops like pepper, cardamom, coffee, tea, spices and other condiments. Wayanad is one of the popular tourist places to visit in Kerala and also one of the least expensive hill stations in India. Kalpetta, Sulthan Bathery and Mananthavady are the largest towns in Wayanad and are the base stations to visit different parts of the Wayanad district. This is also one of the popular 2 day trips from Bangalore.
With several rain forests, Wayanad is also a wonderful monsoon destination in India. Meenmutty Falls, Soochipara Falls, Kanthampara Falls, Pookote Lake, Banasura Sagar dam, Karappuzha Dam, Wayanad Wildlife Sanctuary, Brahmagiri / Pakshipathalam, Chembra Peak, Lakkidi, Edakkal Caves and Thirunelly Temple are the prime places to visit in Wayanad.
Distance from Kochi: 246 Km
Also Read: Most Popular Weekend Getaways from Bangalore
---
Thrissur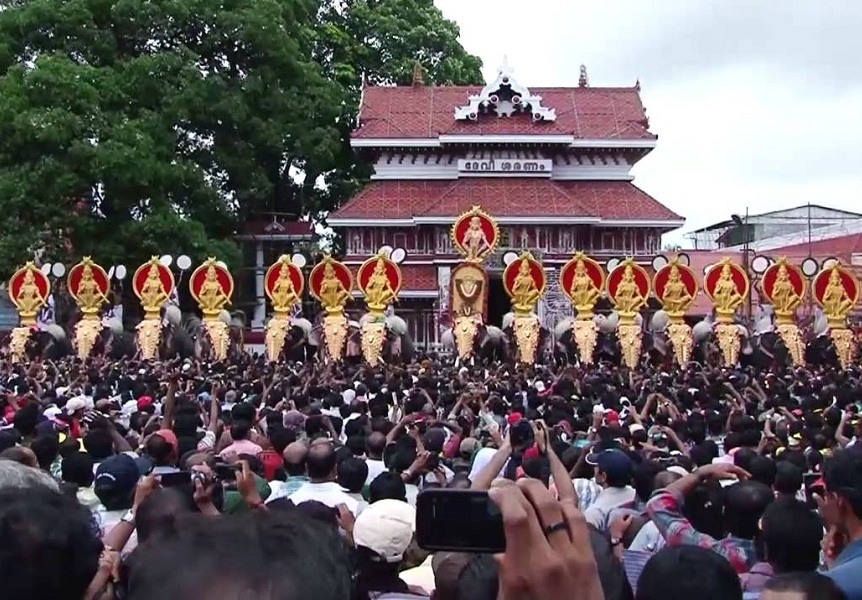 Thrissur, also known as Trichur, is a city situated in central Kerala. It is one of the most popular Kerala places to visit and also one of the famous pilgrimage sites in Kerala state. This is one of the ideal weekend getaways around Kochi & Coimbatore. Thrissur is also known as the Cultural Capital of Kerala because of its cultural, spiritual and religious leanings throughout history. Thrissur hosts the world famous Thrissur Pooram festival in the month of April / May. This festival is the most colorful and spectacular temple festival in Kerala. UNESCO has awarded Thrissur Pooram as the most spectacular festival event on the planet.
The Vadakkumnathan temple, Thiruvambadi Sri Krishna Temple and Paramekkavu temple, and Guruvayur Temple, Our Lady of Lourdes Syro-Malabar Catholic Metropolitan Cathedral and Our Lady of Dolours Syro-Malabar Catholic Basilica are the important pilgrimage sites in Thrissur. Athirapally Falls, Elephant Sanctuary near Guruvayur, Peechi Dam & Sanctuary, Chimmony Wildlife Sanctuary, Chettuva Backwaters, Thrissur Zoo, Vilangankunnu and Shakthan Thampuran Palace and Kerala Kalamandalam are other top places to visit in Thrissur.
Distance from Kochi: 68 Km
---
Athirapally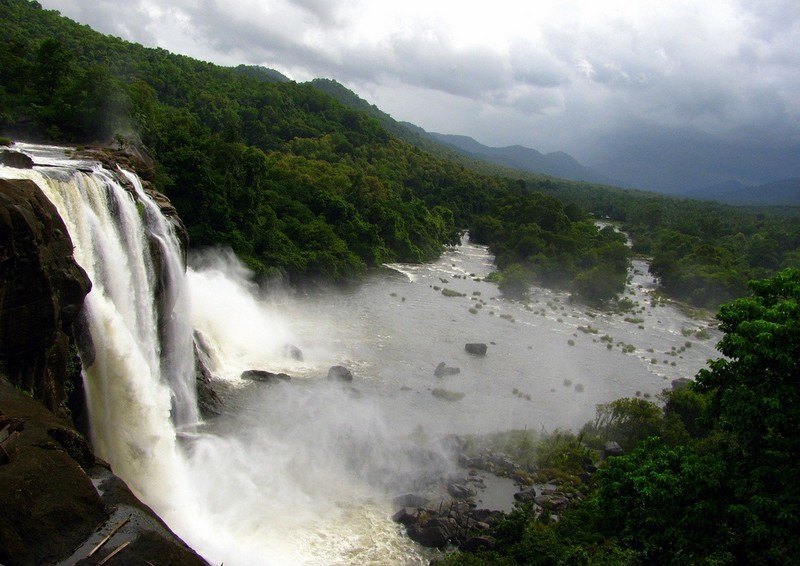 Athirapally Waterfalls is one of the best waterfalls in India and one of the top tourist places in Kerala state. This magnificent waterfalls formed on Chalakudy River at the entrance to Sholayar hill range in Thrissur district of Kerala. This waterfall drops from a height of 80 feet through several streams offering a great scenic beauty. In monsoon season, the water gets strength and all the streams join together and appear like Niagara Falls. This is the biggest waterfalls in Kerala and one of the top places to visit in rainy season in the months of June, July & August as part of South India Trip.
One can reach top of the falls with about 15 minutes' walk from the falls entrance. It offers spectacular views of the Sholayar hills and a unique view of the waterfalls from this spot. About 10-15 minutes trek down from top of the falls will take you to bottom of the falls where the greatest beauty of the falls can be experienced. Swimming is possible in the stream at bottom of the falls. The Vazhachal Waterfalls, Chapra Falls, Anakkayam, Sholayar Dam, Valparai and Malayattur Wildlife Sanctuary are the nearest attractions to Athirapally. It also offers adventure activities like river rafting, trekking, etc.
Distance from Kochi: 73 Km
---
Trivandrum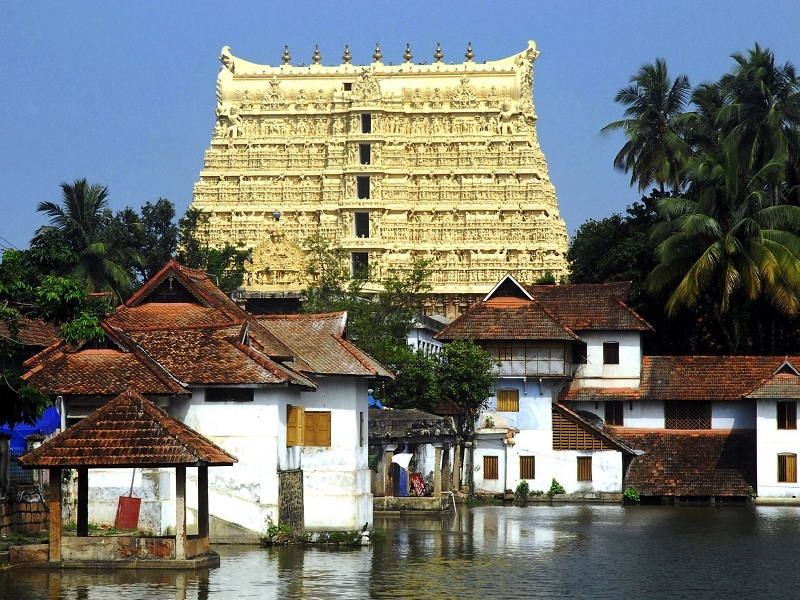 Trivandrum, also known as Thiruvananthapuram, is the capital of the state of Kerala and the headquarters of Thiruvananthapuram district. It is also one of the popular Kerala places to visit and one of the popular pilgrimages in India. The city once formed a part of the kingdom of Travancore, which had its capital at Padmanabhapuram. Even now most of the buildings in the city possess the royal heritage of the Travancore Kings. Trivandrum is a popular medical tourism destination and is also considered as one of the cleanest cities in India.
Trivandrum is famous for its enchanting tourist spots including internationally renowned beaches like Kovalam, historic monuments with Gothic architecture, lakes / backwaters, unexplored mountain ranges etc. Sri Padmanabha Swamy Temple, Napier Museum, Kanakakkunnu Palace, Science and Technology Museum, Kowdiar Palace, St. Joseph's Cathedral, Thiruvananthapuram Zoo, Happyland Amusement Park, etc. are some of the top tourist places in Trivandrum.
Distance from Kochi: 204 Km
---
Santhi is an avid traveler and primary contributor to the blogs at Trawell.in. She has explored most of the states in India and gained vast knowledge on tourist destinations in India and abroad. She also contributes content to other travel websites.