DIU TOURISM | TOP PLACES TO VISIT, BEACHES & TRAVEL GUIDE TO DIU

Beach |

Heritage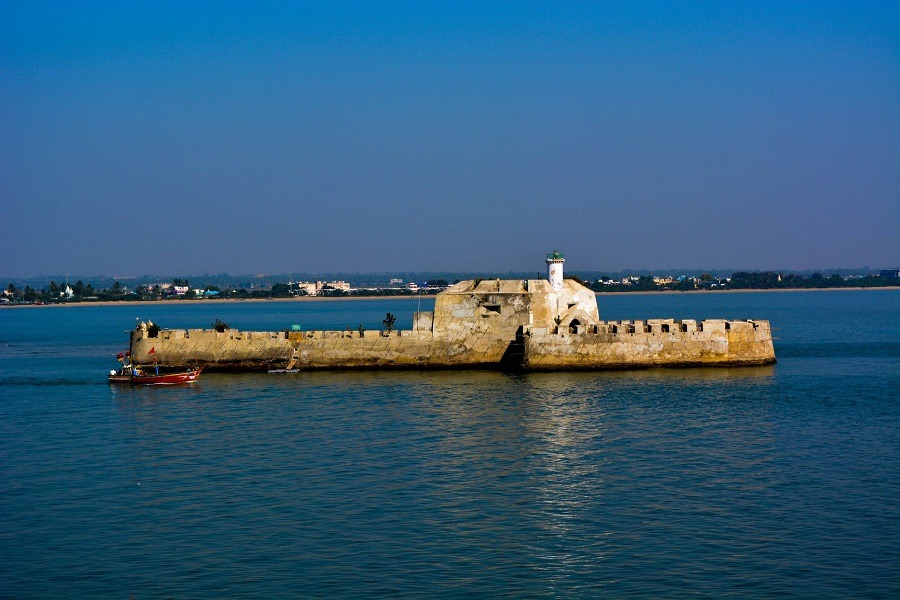 Ideal Trip Duration:
1-2 Days

Nearest City to Diu:
Somnath (82 Kms), Bhavnagar (209 Kms)

Best Time to Visit Diu:
October to March

Peak Season:
November to February
At a distance of 82 km from Somnath, 122 km from Amreli, 135 km from Keshod, 149 km from Junagadh, 173 km from Palitana, 209 km from Bhavnagar, 210 km from Porbandar, 232 km from Rajkot, 305 km from Jamnagar, 313 km from Dwarka, 343 km from Okha, 369 km from Ahmedabad, 427 km from Vadodara, 564 km from Surat and 842 km from Mumbai, Diu is a small island in the Union territory of Daman and Diu. Lies near the coast of Kathiyawad region of Gujarat, Diu is one of the popular tourist destinations in India you must include in honeymoon packages and among the must include places in Gujarat Tour Packages.

Diu, the picturesque isle located off the coast of Gujarat is surrounded by the Arabian Sea on three sides. The name Diu is derived from the Sanskrit word 'dweep' meaning island. Diu is separated from the mainland by a narrow channel and two tiny mainland enclaves. It boasts some stunning beaches, limestone cliffs, and shimmering golden sand beaches. Diu is one of the oldest Portuguese colonies of the world and among the least populated districts of India. It is also a major fishing town popular for delectable seafood.

Diu was once an important port on the Arabian Sea trade route and was considered a part of Saurashtra in Gujarat. According to ancient history, Diu was ruled by Maurya dynasty from 322 to 320 BC, followed by the Kshatrapas, Guptas, Maitrakas, Chalukyas and finally the Portuguese. Diu remained under the colonial regime from 1535-1961 and was liberated alongside Goa and Daman in 1961 under Government of India. After Statehood of Goa in the year 1987, Daman and Diu became a separate Union Territories. After being under the colonial regime for so long, a lot of the Portuguese influence can be seen in the architecture and culture that the people of Diu follow.

Diu is more popular as a tourist place because of the natural beaches, bold history, many other attractions, and sightseeing. The Diu Fort, a primary imprint of the Portuguese on the area's heritage and architecture makes up a popular tourist attraction. Skirted by the sea on three sides, it stands tall like an island of courage with frightening canons atop, aiming in different directions. Diu Museum, Gangeshwar Temple, Nagoa Beach, Shell Museum, INS Khukri Memorial, St. Paul's Church, Naida Caves, Jalandhar Beach, Ghoghla Beach, and Zampa Gateway are the other important tourist places to visit in Diu which are frequented by large numbers of tourists. Besides, the beaches of Diu offer multiple opportunities to engage in water sport activities like Parasailing, sunbathing, surfing and swimming. Nightlife in Diu is also quite enjoyable and safe.

The people of Diu celebrate almost all the festivals with lots of enthusiasm starting with Makarsankranti in January till Christmas and New Year eve in December. Among those, Festa De Diu is the most famous one as it is the longest beach festival in Asia. Organized by Diu Tourism Department, it is held every year from December to February. The festival has tons of fun events and lots of performances by artists.

Diu Airport is the nearest airport which is about 6 km from Diu Bus Station. It has well-connected flights from Mumbai. Somnath Railway Station is the nearest railhead which is 82 km from Diu. It has well-connected trains from Ahmedabad, Rajkot, Jabalpur, Okha, and Porbandar. While, Veraval is the nearest major railhead to Diu that has well-connected trains from Somnath, Jhansi, Okha, Bandra, Rajkot, Porbandar, Thiruvananthapuram, Pune, Jabalpur, Indore, and Ahmedabad. One can hire a bus or cab to reach Diu town. Diu Bus Stand is well connected by buses with Porbandar, Ahmedabad, Mumbai, Jamnagar, Somnath, Veraval, Bhavnagar, Vadodara, Surat, and Junagadh.

Being a coastal town, Diu remains humid for most of the time but winter is the best time when the weather is ideal for sightseeing. It is also the time to witness the Festa De Diu, the longest beach festival in Asia.
Internet Availability:
Average
Languages Spoken:
Gujarati, Hindi, English & Portuguese
Major Festivals:
Makarsankranti, Festa De Diu & Christmas