HYDERABAD TOURISM | TOURIST PLACES TO VISIT & TRAVEL GUIDE TO HYDERABAD

Heritage |

City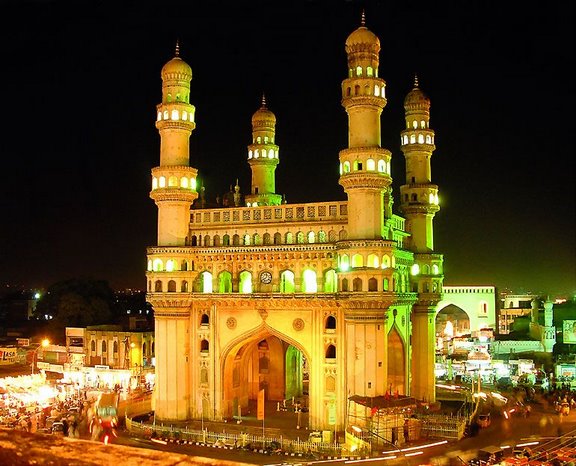 Ideal Trip Duration:
2-3 Days

Nearest City to Hyderabad:
Hyderabad

Best Time to Visit Hyderabad:
November to March

Peak Season:
April to May & October to December
Hyderabad (also known as Bhagya Nagaram) is the fifth largest metropolis of India and the capital of the states of Telangana and Andhra Pradesh. It is known for its rich history and culture with monuments, mosques, temples, a rich and varied heritage in arts, crafts and dance. Also known as The City of Nizams and The City of Pearls, Hyderabad is today one of the fast developing cities in the country and a modern hub of IT, ITES, and Biotechnology. Hyderabad is often referred to the twin cities of Hyderabad and Secunderabad together which are commonly referred as a single city. Hyderabad is one of the top places to experience Telangana tourism.

Muhammad Quli Qutb Shah, a ruler of the Qutb Shahi dynasty (the ruling family of the Golconda - previously a feudatory of Bahmani sultanate that declared independence in 1512) founded the city of Hyderabad on the banks of the Musi River in 1591. The Mughal emperor Aurangzeb captured Hyderabad in 1687, but the Mughal-appointed governors of the city soon gained autonomy. In 1724, Asaf Jah I, who was granted the title Nizam-ul-Mulk ('Governor of the country') by the Mughal emperor, defeated a rival official to establish control over Hyderabad. Asaf Jah's successors ruled as the Nizams of Hyderabad. The rule of the seven Nizams saw the growth of Hyderabad both culturally and economically.

Hyderabad is the financial and economic capital of the state of Andhra Pradesh. Hyderabad is known as the city of pearls, lakes and, lately, for its IT companies. Hyderabad is home to the second largest film industry in India, Telugu cinema, also known as Tollywood which produces approximately 150 movies every year.

Hyderabad is one of the top tourist destinations in South India with wonderful historical sites dating back to 16th century, palaces, museums, temples, gardens and lakes. Charminar is the most identified landmark of Hyderabad which was built in the year 1591 with Chowmahalla Palace, Falaknuma Palace and Ladbazar being nearby attractions. Golconda Fort and Qutb Shahi tombs are breathtaking sites to experience the history of Hyderabad. Mecca Masjid, Birla Temple, Sanghi Temple and Chilukur Temples are most notable pilgrimage sites in the city. Hussain Sagar Lake, Necklace Road, NTR Park, Lumbini Park, Buddha Statue, Charminar, Golkonda Fort, Qutubshahi Tombs and Chowmahalla Palace are the top tourist places in Hyderabad. Ramajo Film City in the outskirts of the city is one of the largest film cities in the world and it's a great one day trip from the city center.

Hyderabad has great connectivity from major cities in India and countries like Dubai, Thailand, Malaysia, Singapore, USA & Europe. The bus connectivity is also good from major cities in central and south India like Bangalore, Vijayawada, Chennai, Pune, Mumbai, etc. Hyderabad has three major railway stations - Secunderabad, Hyderabad Deccan & Kachiguda. Two major bus stations serve Hyderabad - MGBS (also called Imliban) and Jubilee Bus Station.

It usually takes 2-3 full days to visit the major Hyderabad points of interest. November to March is the best season to visit Hyderabad.
Internet Availability:
Very Good
Languages Spoken:
Telugu, English, Hindi
Major Festivals:
Ganesh Chaturthi(Sep/Oct),
Dusshera (Oct),
Holi (Mar),
Kite Festival (Jan)
Notes/Tips:

Long distance, inter-state buses and buses towards AP and southern towns start from MGBS (Vijag, Vijayawada, Tirupathi, Nalgonda, Bangalore, Chennai, Hubli, etc) while buses to northern parts of Telangana start from Jubilee Bus Station (Karimnagar, Medak, Warangal, Nizamabad, Adilabad, etc).