With a quiet cold, suffused with pleasant sunshine and lots of festive cheer ripe in the air, December is considered one of the most preferred months in India for vacation. This month sees the most tourist influx in many of the coveted cities in the subcontinental region as it is the perfect time to visit any of the places in India like hill stations, heritage places, beaches, and deserts. If you are a nature lover, mountain explorer, or just a laid back traveler, each and every traveler can meet his travel need during this month. Also, December hosts many festivals and events include Christmas, Rann Utsav as well as New Year, that give you holiday cheer in thick waves. Here is the list of places to visit in December for a perfect year-end trip as part of India Tour Packages.
Goa
Situated on the Western Coast, Goa is one of the popular destinations to visit in December in India. Goa is bustling with high-energy in December and is the perfect time to indulge in the pleasures of beach parties, music festivals, food, free-flowing booze, water-sports, sightseeing, and other adventures. Goa has an excellent selection of the New Year and Christmas parties in December making it the perfect destination to bring on the New Year with a bang! Further, it is the time to witness the most happening Sunburn Festival as part of Goa Tour Packages. The casinos in Goa become wilder during this month which is why the place got its name as the 'Las Vegas of India'. Also, Goa in the month of December takes you back on the spiritual road as it observes the Feast of St. Francis Xavier. However, it is recommended to book hotels in advance as the state remains crowded with tourists during this time.
Book Here: Goa Cab Packages
---
Shimla
Often referred to as Queen of Hill Stations, Shimla is one of the most beautiful and popular hill stations to visit in December in India. During winter, this place is covered with layers of snow which will make every tourist fall in love with it, especially honeymooners. Travel in Shimla – Kalka toy train, shopping in the Mall Road, a leisure walk at the Ridge, a visit to Christ Church, partaking in adventure activities and going for an excursion to Kufri, Naldehra and Tattapani are some highlights of Shimla Tour Packages. Skiing, snowball fights, snowman creations are extremely fun.
Ooty
Cradled in the beautiful Nilgiri Hills, Ooty, fondly called as 'Queen of hill stations', is one of the most scenic hill stations in India. The charm of this colonial hill town lies in its laid-back luxurious grace, awe-inspiring Nilgiri hills, lush tea gardens, serene waterfalls, dense forests, beautiful lakes, splendid green deep valleys, and the misty landscapes. Although Ooty is a summer destination, January is just the perfect time to visit this honeymoon capital as the cool, and misty weather of this tinsel town allows you to spend hours simply walking on the winding country lanes and the charm of colonial architecture infuses fresh air into the souls of travelers. Ooty Lake, Botanical Garden, Rose Garden, Wenlock Downs, Doddabetta Peak, Toy Train, Pykara Dam & Falls, and Avalanche Lake are the must include places in Ooty Tour Packages. There are many astounding resorts in Ooty that will make your stay even more worthwhile in this magical land of Ooty.
Book Here: Ooty Cab Packages
---
Shillong
If you want to enjoy the spirit of Christmas in a peaceful way, then Shillong is the best place in India. Popularly known as the 'Abode of Clouds', the capital town of Meghalaya is blessed with lush greenery, exciting mountain peaks, breathtakingly beautiful waterfalls, attractive wildlife, crystal clear lakes, and rustic village life. The light drizzles and the cooling gentle wind in December in Shillong add to the joy of visiting this hill station. Go hiking to the Nohkalikai & Elephant Falls, Umiam Lake, Living roots bridges, etc. are the top things to do in Shillong.
Mahabaleshwar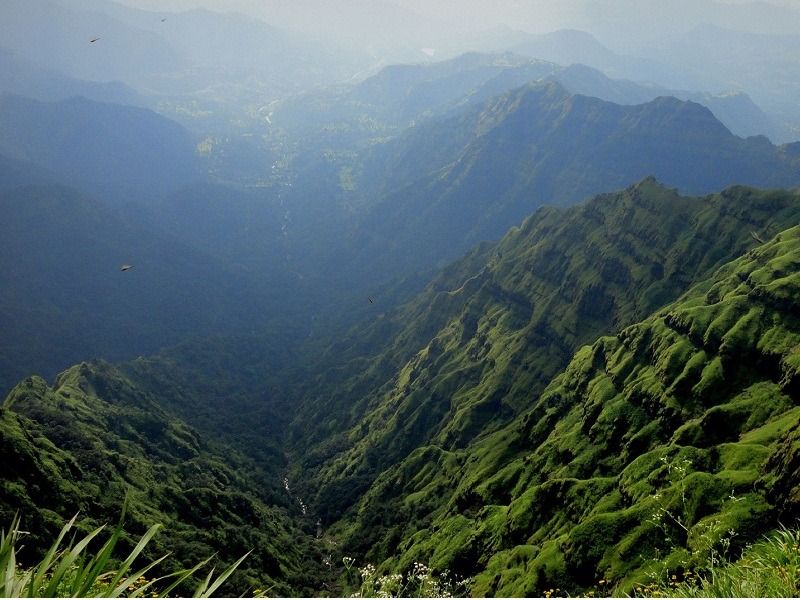 Often referred as Queen of hill stations in Maharashtra, Mahabaleshwar is one of the top monsoon destinations in India. If you want to enjoy the cool, foggy, lush green environment, then head over to Mahabaleshwar in December to enhance the beauty of this pretty hill station. Visit Arthur's Seat, Wilson Point, Kate's Point & Elephant head Point, Connaught Peak and Bombay Point for stunning views of surrounding hills, gushing waterfalls and meandering rivers through the valleys during your Mahabaleshwar Tour. Besides, one can also visit Panchgani, the Strawberry County of Maharashtra, as part of Mahabaleshwar Tour Packages.
Book Here: Maharashtra Cab Packages
---
Rann of Kutch
Our December list is incomplete without Rann of Kutch, one of the most beautiful places to see in India. The unique white salt-marsh of Rann is extremely amazing to explore in the winter month of December. The vast white desert against the backdrop of the mesmerizing sunset will make your day quite special. Particularly, the spectacular sight of the boundless white desert under the moonlight offers the stunning creation of nature, unique to this world. Kutch becomes alive during December with loads of celebrations— the Rann Utsav. Escape to the amazing surreal landscape that glows an eerie white in the moonlight during this 2 months long festival as part of Gujarat Tour Packages.
---
Also Read: Top Tourist Places in Gujarat
Andamans
Located far away from mainland India, the Andaman & Nicobar Islands are a tropical island paradise escapade in December in India. With its azure waters, exotic beaches, secluded islands, evergreen tropical rain forests, vibrant flora, and fauna, Andamans is among the most trending honeymoon destinations in India. Winter is considered to be one of the best times to visit Andamans, as the weather is favorable and it allows travelers to fully explore the crystal clear waters and stunning coral reefs. Havelock Island, Radhanagar Beach, Cellular Jail, Ross Island, Neil Island, and Mahatma Gandhi Marine National Park are the top places to visit in Andamans. Besides sightseeing, scuba diving, snorkeling, sea walk, wind-surfing, and water scooter are the top things to do in Andamans as part of the Andaman Tour Packages.
---
Manali
Often called as the Valley of Gods, Manali should be on your list when you are looking for places to visit in December in India. Though Manali is a year-round destination, winter is so special when the entire landscape is carpeted by a blanket of snow. Cozying up to the chilly nights of Manali with bonfires & with views of the gigantic ice-capped Himalayan mountains makes your trip more memorable. Solang Valley, Rohtang Pass, Hidimba Temple, Manu Temple, Vashist Hot Springs, Naggar Castle, and Manikaran are the must include places in Manali Tour Packages. Besides, one can also enjoy the exciting winter sports such as skiing and snowboarding at Gulaba, Lamadugh Meadows, and Solang Valley in December.
Coorg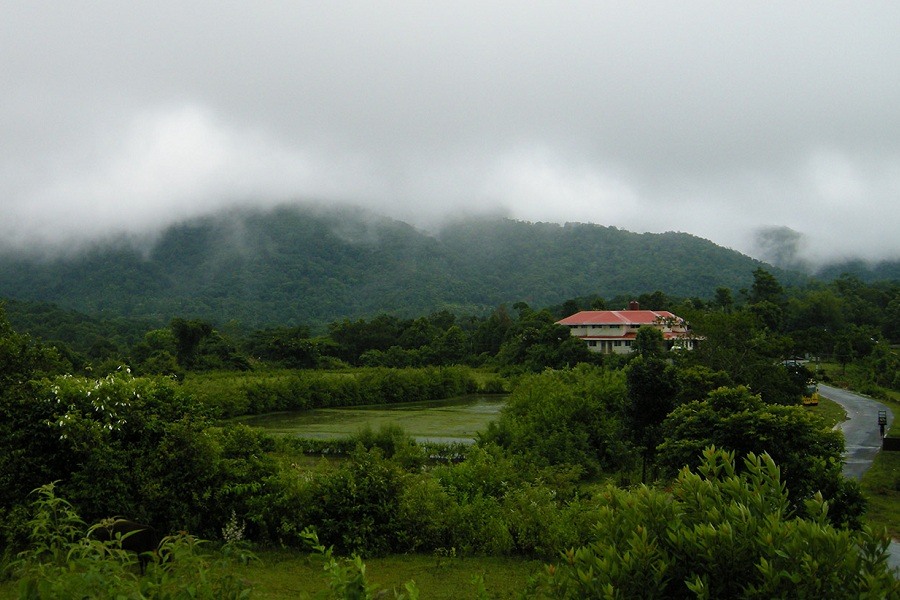 Among the top places to experience Karnataka Tourism, Coorg is one of the prettiest places to visit in India when it is raining. In July, the surrounding mountains and valleys filled with lush vegetation and little sprouts of vibrant-hued flowers soothe the eyes. Besides, the waterfalls like Abbey Falls and Iruppu Falls come alive during this time and offers a spectacular panorama. Raja's Seat, Nagarhole National Park, Bagamandala Temple, Nisargadhama, Dubare, Talacauvery and Omkareshwara Temple more the other notable places not to miss in your Coorg Tour Packages. While in Coorg, travelers must enhance their trip by choosing the best Coog Resorts to pamper themselves with opulence amidst picturesque vistas.
Book Here: Coorg Cab Packages
---
Jaipur
Fondly called the Pink City, Jaipur is one of the best heritage places in India to visit in December. The capital city of the desert state of Rajasthan is an amalgamation of old and new. This city has a vibrant culture backed up with majestic forts and natural beauty. Winters in Jaipur have warm sunny days and colder nights making the place perfect for sightseeing in December. Nahargarh Fort, Amer Palace, Hawa Mahal, Albert Hall, Jantar Mantar, Jal Mahal are the top places to visit in Jaipur. Along with Delhi and Agra, Jaipur forms the Golden Triangle Tour. It is one of the popular tourist places to visit in India and serves as a gateway to other tourist destinations in Rajasthan such as Jodhpur, Jaisalmer, and Udaipur.
---
Dalhousie
Surrounded by snow-capped mountains, mighty trees and quaint passages, the charming hill station of Dalhousie is another destination to visit India in December. Combined with Khajjiar, Dalhousie is a dream destination for those who want to experience snowfall in India. Ganji Pahari, Dainkund Peak, Khajjiar, Noorwood Paramdham, Bara Pathar Temple, Hariraya Temple, St. Patrick Church, Chamera Lake, Satdhara Falls, Kalatop Sanctuary, and Panchpula are the must-visit places in Dalhousie as part of Himachal tour packages. Though the winters here are extremely harsh, it is an amazing experience to see the meadows of Khajjiar and legendary Himalayan peaks blanketed in snow. December is also the time for all trekking enthusiasts as the place hosts the National Himalayan Winter Trekking Expedition.
---
Alleppey
Known for its scenic beaches, stunning backwaters, serene temples, and traditional houseboats, Alleppey is one of the most famous backwater destinations in Kerala. With the beginning of December, the weather will be pleasingly warm which is suitable to explore the various waterways in a leisurely way and enjoy the scenic beauty in and around Alleppey. A houseboat cruise in the backwaters of Alappuzha is a delightful experience as part of Kerala Holiday Packages. If you are looking for Ayurveda treatments, then December is the right time when medicinal herbs will be rich after the heavy rains and the massages are very special during this season. Also, December is the time when Alappuzha celebrates a 10-day festival called Mullackal Chirap.
Book Here: Car Rentals in Kochi
---
Auli
If you love adventure and luxury vacation with snow throughout your vacation, Auli, among the best hill stations in Uttarakhand, is the perfect destination for you. December is the best time to witness the incredible amount of snowfall and partake in some skiing adventure in Auli. With 2500 to 3000 m high tantalizing slopes dotted with skiing resorts, Auli is a popular destination for skiing in India and has been the venue for Skiing Festivals since 1986. If you are not the person who likes daredevil acts, Auli also serves as a silent retreat for those looking for time away from their busy lives. Gurso Bugyal, Auli Lake, Chattrakund, Bhavishya Badri Temple, Tapovan and Joshimath are some of the interesting places to visit in Auli.
---
Wayanad
Perched atop the Western Ghats in northern Kerala, Wayanad is one of the picturesque places to visit in December in India. The place will be enveloped in mist during this time and the weather will be pleasant and suitable for sightseeing. Walking through the sprawling spice plantations, take a jeep safari to spot wild elephants, trek to the Chembra Peak, visit the pre-historic Edakkal Caves, scaling the gorgeous waterfalls and experiencing a resort holiday are one of the many things you can do here as part of Wayanad Tour Packages. Apart from its tourist image, the place is also known for its spice plantations like cardamom, pepper, and vanilla along with tea and coffee. Wayanad is also famous for Tea and Coffee plantations. It has a pleasant weather throughout the year and is one of the best 2 day trips from Bangalore. If you are looking to escape from the noisy city life to the lap of nature to revitalise your senses and nourish your souls, then the resorts in Wayanad amidst the mist laden mountains and lush paddy fields stretching to the horizon are the ideal places to spend few relaxed days.
Book Here: Kerala Cab Packages
---
North Sikkim
There is no better place in India than North Sikkim to witness snow in December. Though it is not as popular as north Indian states for witnessing snowfall, the winter experience in North Sikkim is unparalleled with its snow-covered Himalayan peaks, frozen lakes and picture-postcard worthy winter landscapes. Lachung, Yumthung, Nathula Pass, Tsomgo Lake, and Gurudongmar Lake are some popular places to experience snowfall in North Sikkim as part of Gangtok Tour Packages. Yumthang Valley is known for experiencing snow almost all year round but sometimes shut down due to heavy snow so, it's advisable to check and confirm before you plan a trip to this place.
---
Kohima
Snuggled amid the picturesque landscape of lush forests, hills, valleys, and jungles of rhododendron, Kohima is the capital city of India's northeastern state of Nagaland. December is one of the best months to visit Kohima as the very famous Hornbill festival, among the most popular festivals of India, occurs during this time. The local tribes of the region come together to celebrate and showcase their culture and people from all over India travel to Nagaland to see this festival. Traditional dances, folk songs, and theatrical performances are held, which will make you fall in love with the local culture. Also, December is the time to celebrate the Hornbill Rock festival where bands from all over the country would perform.
---
Tawang
A hidden beauty in North-east India, Tawang is a beautiful town situated in the extreme northwest corner of Arunachal Pradesh. Steep hilly roads with grassy valleys, snow-clad mountains, colorful monasteries, alpine lakes, and unique culture, make Tawang a favorable destination to visit in December in India for travelers looking for something out of the ordinary. The snowfall season in Tawang is primarily during December and January and it looks like the piece of heaven has fallen on earth. Apart from its natural scenic beauty, Tawang also houses the 400-year-old monastery Tawang Monastery, Sela Pass, Taktsang Gompa, Gorichen Peak, Shonga-tser Lake, Nuranang Waterfalls, and Bumla Pass.