France is a beautiful country that is known for its spectacular cities with picturesque topography, sophisticated culture, fairy-tale castles, glorious cathedrals, romantic chateaux, picturesque countryside, free-spirited people, and exquisite cuisine. France is undoubtedly one of the top tourist destinations in the world that draws almost 82 million travelers annually as it is home to some of the most beautiful destinations right from the boulevards of Paris to the fashionable seaside resorts of the Cote d'Azur, rolling vineyards of Loire Valley to the French Alps and majestic villages. These places have been the muse of many poets and artists, and continue to be awe-inspiring hubs for tourists from all over the world. Indulge in it all and savor the country's irresistible charm with our list of the top attractions in France as part of Europe tour packages.
Paris
Paris is a picturesque dream destination spread on the banks of the Seine River in Northern France. Often called the City of Lights, Paris is one of the most visited tourist destinations in Europe as it is home to some iconic historical monuments, world-class museums, centuries-old churches, expansive landscaped gardens, and scrumptious food. Eiffel Tower in Paris is the most iconic monument in the world which draws millions of visitors every year with its unforgettable ambiance. Apart from Eiffel Tower, Louvre Art Museum, Notre-Dame Cathedral, Arc de Triomphe, Montmartre, Palace of Versailles, Palais Garnier, Quartier Latin, Disneyland, Place de la Concorde, Sainte-Chapelle and Musee d'Orsay are some popular places to visit in Paris. Besides, Paris is also known for its rich culture, haute couture, stylish shopping hubs, and gastronomy.
---
Provence
Provence, a region in southeastern France bordering Italy and the Mediterranean Sea, is one of those magical places to visit in France that inspires all travellers due to its lush forests, fields of lavender, farmers' markets, and colorfully painted houses. This region in central Provence rose to fame after Peter Mayle published his books about life in Provence. Every summer, the seemingly endless ocean of lavender fields makes Provence one of the most beautiful as well as fragrant places to visit in France. The Valensole Plateau, the Sault Plateau, and the Luberon Valley are some of the most scenic spots to enjoy this heavenly scented crop. Nestled in the tranquil countryside near the village of Gordes, the stunning 12th-century church is shrouded in a sea of purple every June and July.
Mont St-Michel, Normandy
France is home to many beautiful villages, and Mont Saint-Michel in Normandy is one of them. The breathtaking island commune of Mont Saint-Michel was once served as a great Christian pilgrim site back in the 8th century and is now a UNESCO World Heritage Site that attracts more than three million tourists a year. Enclosed by natural fortification, this island houses the striking medieval monastery that looks like something lifted straight from the pages of a children's fairytale.  In fact, the magnificent setting actually inspired Rapunzel's Tower and the Kingdom of Corona in Disney's Tangled movie. Besides, the vast ocean and sandbank that surround the island offer breathtaking scenic views to travelers.
---
French Riviera
Situated on the Mediterranean Coast of France, French Riviera is one of the most famous places to visit in France. Also called Cote d' Azur, the most fashionable stretch of coastline in France that extends from Saint-Tropez to Menton near the border with Italy, is known for charming scenic beauty, mesmerizing shoreline, vacation retreats, and health resorts. Cannes, which has a dazzling beachfront promenade and an alluring Old Town, Monaco, a tiny royal principality that is synonymous with luxury and decadence, and Saint-Tropez, a happening summer vacation spot with exclusive private beaches, as well as public beaches, are the most famous French Riviera tourist attractions. Also, there are many other lesser-known destinations, such as the perched villages of Eze and Saint-Paul de Vence, and the perfumeries of Grasse to name a few. The Riviera has been the inspiration for many well-known artists such as Picasso and many of their works are on display in local museums and art galleries.
---
Loire Valley
Often referred to as the garden of France, the Loire Valley is a region in the center of France known for its spectacular scenery, splendid chateaux, picturesque vineyards, and historic villages. Stretches 175 miles along the Loire River, the valley's biggest attraction is its large number of chateaux scattered throughout the rolling green hills. Ranging from grand country manors to defense fortresses and luxurious palaces, these chateaux were built by French nobility. Some of the most famous chateaux include Chambord, Amboise, Rivau, Chinon and Chenonceau. Many of these have been listed as UNESCO World Heritage Sites. Also, the historic villages in the region include Tours, Chinon, Anglers, Saumur, and Orleans. It is one of the most iconic France tourist places.
---
Bordeaux
Bordeaux is a major port city built upon the River Garonne just half an hour inland of the Atlantic Ocean. Filled with amazing museums, churches, cathedrals, and vintage mansions, this picturesque city is a perfect place to unwind and rejuvenate. The region has two exceptional UNESCO World Heritage Sites: the elegant city of Bordeaux, with more than 350 buildings classified as historical monuments, and the little country village of Saint-Emilion, 51 kilometers from Bordeaux, which is packed with notable churches and monasteries. Besides, Bordeaux is widely esteemed as one of the world's largest wine-producing regions, generating more than 800 million bottles of prestigious wine brands annually. A visit to Bordeaux would not be complete without a drive through the surrounding wine country where tourists can admire incredible scenery, picturesque villages, vineyards, and chateaux. The city also hosts its spectacular Festival of Wine in tandem with the Festival of the River every year in the month of June.
---
Chamonix
Chamonix-Mont-Blanc (usually shortened to Chamonix) is a resort area near the junction of France, Switzerland, and Italy. At an altitude of 4,810 m, the majestic Mont Blanc is the highest mountain in Europe, and among the must-visit places in France. This iconic snowcapped peak boasts of a sublime landscape, with crystal-clear lakes, dramatic rushing waterfalls, peaceful valleys, and refreshing pine forests. Chamonix is a great base for skiing, hiking, rock climbing, outdoor adventures, or just relaxing. Renowned for its Skiing, the area has many of France's top-rated ski resorts that attract many adventure enthusiasts. Besides the spectacular mountain terrain, the region also has a rich cultural heritage linked to the ancestral territory of the Italian royal House of Savoy, as well as the historic Dauphine region.
---
Strasbourg
Situated near the border of Germany, Strasbourg is the capital city of the Alsace region in northeastern France. It serves as the seat of the European Parliament and numerous other important European institutions such as the European Court of Human Rights and the Council of Europe. Quaint and cultured, Strasbourg enchants visitors with its narrow cobblestone streets, scenic canals, and ornate cathedral which features pink sandstone, intricate carvings, and a 300-year-old working, astrological clock. Strasbourg Museum of Modern Art, Palais Rohan Strasbourg, Quartier des Tanneurs, Maison Kammerzell, and Eglise de Saint-Thomas are some of the key attractions in Strasbourg.
---
Nice
Nice is one of the most beautiful cities located on the French Riviera, France. Known for its pleasant sunny climate, picturesque scenery, and the perfect blend of contemporary and medieval styling in the city's profile, the place draws a huge number of tourists all throughout the year. The beach spotted with fantastic eating joints and shacks, a busy market, and stunning architecture has made it one of the most famous places to visit in France. Promenade des Anglais, Vieille Ville, Russian Orthodox Cathedral, Opera de Nice, Colline du Château, Musée Matisse, Monastère Notre-Dame-de-Cimiez, Musée d'Art Moderne et d'Art Contemporain, and Jardin Albert I are some of the top places to visit in Nice. It also acts as a base for exploring more of the French Riviera on day trips.
---
Carcassonne
Carcassonne is a hilltop town located in southern France's Languedoc area. It is a UNESCO World Heritage Site since 1997. Famous for its medieval citadel, La Cite, with numerous watchtowers and double-walled fortifications, the place flocks huge number of tourists every year to explore France Tourism. The first walls were built in Gallo-Roman times, with major additions made in the 13th and 14th centuries. Chateau Comtal, a 12th-century castle within the Cite, offers archaeological exhibits and a tour of the inner ramparts.
---
Marseille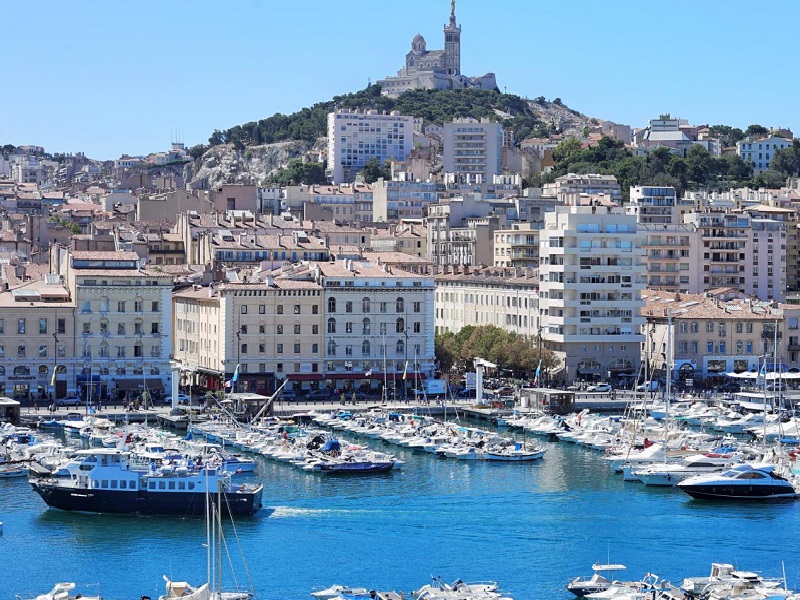 Marseille is a major Mediterranean seaport located off the southeast coast of France. It is one of Europe's oldest cities blessed with an idyllic climate, Roman ruins, medieval architecture, and distinguished cultural venues. At the core of Marseille is its old port, Vieux Port. Dominated by two historic forts, this bustling harbor is lined with waterfront cafes, shops, and bars. The best natural attraction of Marseille is the Calanques, a series of small inlets with astonishing blue water and majestic limestone cliffs. Also, Marseille is a thriving regional center of arts and culture with numerous museums, art galleries and historic buildings like La Vielle Charite and the Basilique Notre-Dame-de-la-Garde. The city also hosts a large concentration of opera houses and theatres such as Theatre Toursky.
---
Rocamadour
Rocamadour is a small cliff-top village located in south-central France that seems to aspire towards heaven. This amazing site was the third most important Christian pilgrimage destination in the 11th century, only third to Jerusalem and Rome. It was an important stop on the way of Saint James route to Santiago de la Compostela, which is situated in Spain. The village has seven medieval-era sanctuaries, accessible by steep pedestrian staircases. The most famous is the Chapelle Notre-Dame (Chapelle Miraculeuse), which contains the precious 12th-century 'Black Virgin', carved out of walnut wood, and is said to make miracles. Besides, the Rocamadour's largest church, the Basilique Saint-Sauveur is a UNESCO-listed historic monument built during 13th century displays the architectural transition from Romanesque to Gothic. It is one of the best France tourist places.
---
Burgundy
Burgundy is a historical region located in east-central France. Characterized by plenty of crisscrossing winding canals, palaces, museums, lush pastures, medieval villages and rolling green hill slopes, it is one of the most visited France tourist places. The historic city of Dijon is among the top attractions of the Burgundy with its aristocratic palaces, ornate Gothic churches, and excellent museums. The charming medieval town of Beaune and the monumental Abbey of Cluny, which was the largest church in Christendom until the 16th century when Saint Peter's Basilica was built in Rome are the other attractions. Besides, Burgundy is renowned for gastronomy; the traditional cuisine includes a repertoire of famous specialties such as escargot, Boeuf Bourguignon (Beef Burgundy), and Coq au Vin.
---
Lyon
Located in east-central France, Lyon is the capital of the Rhone department in the Rhone-Alpes region. Boasting a long history, Lyon today is the third-largest city in France and is known for its historic architecture, gastronomy and vibrant cultural heritage. The city is also designated as a UNESCO World Heritage Site. Since Lyon is at the heart of French gastronomy, one must try Lyonnais cuisine, renowned for its delicious regional specialties such as quenelles (fish dumplings served in a creamy sauce), steak, and Bresse chicken with morels, sausages, and salads. Museum of Fine Arts, Vieux, Lyon Cathedral, Parc de la Tete d'Or, Palace Bellecour, Fourviere, and Basilica of Notre Dame de Fourviere are some of the must-visit places in Lyon.
---
Santhi is an avid traveler and primary contributor to the blogs at Trawell.in. She has explored most of the states in India and gained vast knowledge on tourist destinations in India and abroad. She also contributes content to other travel websites.