Positioned at an altitude of 2100 m, Wayanad is a scintillating hill station with rolling grasslands, blue skies, dense forest, mystifying hills, rugged trails, gushing waterfalls, and exotic wildlife. It is one of the top hill stations in South India, and among the must-include places in Kerala tour packages. Lies in the backdrop of the majestic mountains of the Western Ghats, one can witness the unusual contrast of thrill and tranquility here. Wayanad is a true paradise for trekking enthusiasts as this scintillating hill station offers some of the best trails in all of Kerala ranging from easy to moderate. Besides, it is also a place with a beautiful landscape where one can relax and rejuvenate from hustle and bustle of city life.
Here is the list of some best trekking trails in Wayanad.
Chembra Peak
Perched at an elevation of 2100 m in the Western Ghats, Chembra Peak or Chembra Mala is the highest peak in the Wayanad hills and the third highest peak in South India. Chembra Peak is a popular spot for intrepid trekkers and rock climbers to venture out and experience a thrill like never before. Being nestled amidst the beautiful Wayanad hills and the adjoining Nilgiri hills, trekking to Chembra Peak is one of the top things to do in Wayanad. If you are an adventure junkie, then try this trek while holidaying in Wayanad as part of Wayanad Tour Packages. The Heart-shaped Lake remains the main attraction of the Chembra Peak as it is bound to capture your heart at first sight. Trekking to the Chembra Peak is a moderately difficult task and is recommended for trekkers with good physical fitness. Now, trekkers can trek up to the heart-shaped lake. The trek starts from the watchtower at the foothill of Chembra Peak which is about 4 km one way and takes about 2 hours to trek (one way). Visitors need to get permission from the entry gate itself.
                            Also Visit : Best Hill Stations near Mysore
---
Edakkal Caves
A UNESCO World Heritage Site, Eddakal Caves is a combination of two natural caves located at an altitude of 4000 feet. Dates back to 5000 BC, it is one of the most prominent places to visit in Wayanad. The walls of these pre-historic caves are adorned with intriguing carvings that will take your breath away, and archaeology enthusiasts will love the intricate designs and elements of this creation. The history of Wayanad and even the entirety of Kerala is said to have been covered in these beautiful carvings. The Edakkal Caves can be accessed through a 1.5 km trek from the parking area that will take an hour to reach the summit. The trekking path comprises a well-laid staircase but it is a difficult one for old age people. This trek is suitable for those who want to go for a short trek in Wayanad.
                           Also Read : Popular Heritage Sites in Kerala
---
Pakshipathalam Trek
Pakshipathalam is an eco-tourist spot situated in the Brahmagiri Hills of the Wayanad district. Situated at an altitude of 1740 m, Pakshipathalam is one of the best places for trekking in Kerala as well as Wayanad. Pakshipathalam is an ornithologist's paradise as it is the abode of a large population of several species of birds. The deep rock caves, formed among the thick blocks of rocks at the northern top end of the Brahmagiri, are home to various birds and wild beasts. Pakshipathalam is a challenging tourist spot for any adventure-seeking tourist. It can be accessed only by trekking from Thirunelly Temple (about 8 km one way). The 3 hours trek to Pakshipathalam takes you through moist deciduous forests, rolling hillocks, open grasslands, slippery trails, and narrow rocky caves. There is also a watchtower in this place which can be used for watching birds and animals.
                          Must Visit : Splendid waterfalls in Wayanad
---
Brahmagiri Peak
Situated on the border of Wayanad district of Kerala and Kodagu district of Karnataka, Brahmagiri Peak is a mountain peak that lies at an altitude of 5357 in the Western Ghats. It is one of the famous sites for trekking in Wayanad, and among the popular places to visit in Coorg. Brahmagiri Peak, located inside the Brahmagiri Wildlife Sanctuary, is abundant in all kinds of rare flora and fauna. The 10 km Brahmagiri trek starts from Irupu Falls. The first part of the trek from Irupu to Narimala runs through a thick forest & some grasslands and relatively moderate. The later part from Narimala to Brahmagiri Peak is mostly through grasslands & steep mountains and is a little tough. Camping is allowed only at Narimala Forest Camp which is on the mid-way to Brahmagiri Peak (about 5 km from Irupu falls & 1.5 to 2 hours one way). Brahmagiri Peak is about 5 km from Narimala Camp (2 hours one way).
                         Also Read : 5 Places that can be visited along with Wayanad
---
Thusharagiri Trek
Thusharagiri is one of the popular waterfalls in Kerala, and among the best places for trekking near Bangalore. Two streams originating from the Western Ghats meet here to form the Chalippuzha River. The river diverges into three waterfalls creating a snowy spray, which gives the name – Thusharagiri. The highest of the three falls is the Thenpara Fall dropping from a height of 75 meters. The first waterfall can be reached easily while the remaining two falls can be reached from the first one by trekking through thick forest. A 5 km upstream trek will take one to the origin of the stream. Widely known as the trekker's paradise, the place offers challenging trekking and rock-climbing opportunities. There is a trek path from Thusharagiri to Vythiri in Wayanad and it is not for the faint heart. Starting from Thusharagiri Falls in the morning, and reached Vythiri by evening.
                             Must Visit : Stunning Waterfalls in Kerala
---
Banasura Hills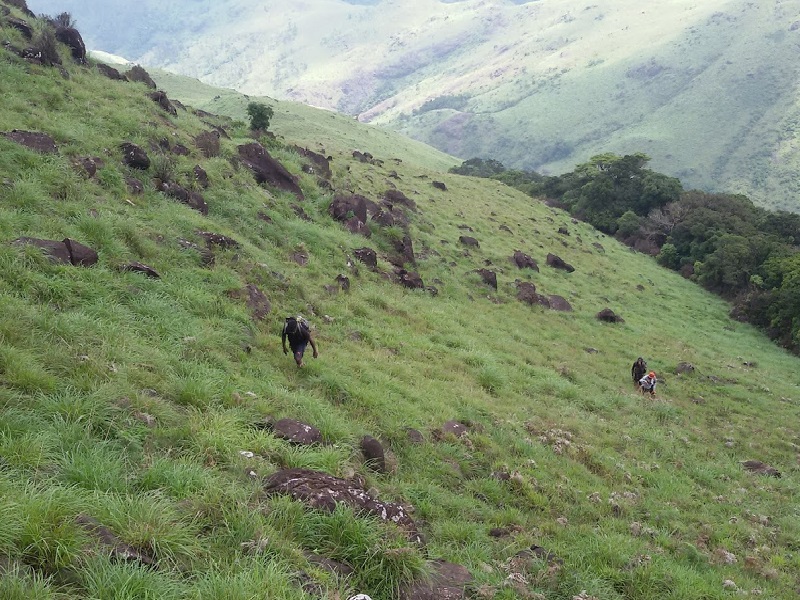 Perched at a challenging altitude of 6,600 feet, the conical-shaped Banasura Hill is the second highest peak between Nilgiris and the Himalayas and is located in Wayanad, one of the best Kerala tourist places. As it is not an easy trek, trekkers must be prepared to face the challenges it poses. With an 18 km long trek, it is a two-day activity as it takes 4 to 5 hours to ascend and 3 to 5 hours to descend. The trek starts inside the dense forest and continues through steep rocky terrain and plain grasslands with few ridge walks. After reaching the summit, one can have splendid views of a breathtaking landscape which consists of green hills, Banasura Sagar Dam, and a cloudy sky. One has to obtain prior permission from the North Wayanad Forest Division office at Mananthavady before trekking up Banasura Hill.
                            Must Read : Reasons to visit Wayanad

---
Kalladi Forest
Regardless of whether you are trekking in a group or solo, the Kalladi Forest trek in Wayanad is another one that you won't miss. This trek takes you through spice gardens, tea estates with the trail finally leading you to the captivating Kalladi forest in Wayanad, among the top places to visit near Bangalore. This 10 km long trek takes around 6 hours that passes through beautiful tea gardens and spice towns to the old rain forests of Wayanad. This is an ideal trek for everyone as there are no steep roads and slopes.
                              Must Read : Top Unexplored Places in Wayanad
---
Santhi is an avid traveler and primary contributor to the blogs at Trawell.in. She has explored most of the states in India and gained vast knowledge on tourist destinations in India and abroad. She also contributes content to other travel websites.