Often called as the City of Pearls, Hyderabad is famous for its rich history and modernity. Besides, the city of Nizams is an absolute paradise for foodies as it is home to sumptuous Hyderabadi Cuisine. Flourished under the patronage of Nizams, the Deccani Cuisine is loaded with meat, rice, herbs, spices, nuts and pure ghee. From mouthwatering biryani to juicy haleem and from amazing kebabs to finger-licking sweet dishes, the royal Hyderabadi Cuisine has it all and always lured food lovers from all parts of the country as part of Hyderabad Tour Packages.
Here is the list of 11 must try foods of Hyderabad that make your taste buds tickling.
Book Here: Car Rentals in Hyderabad
Hyderabadi Biryani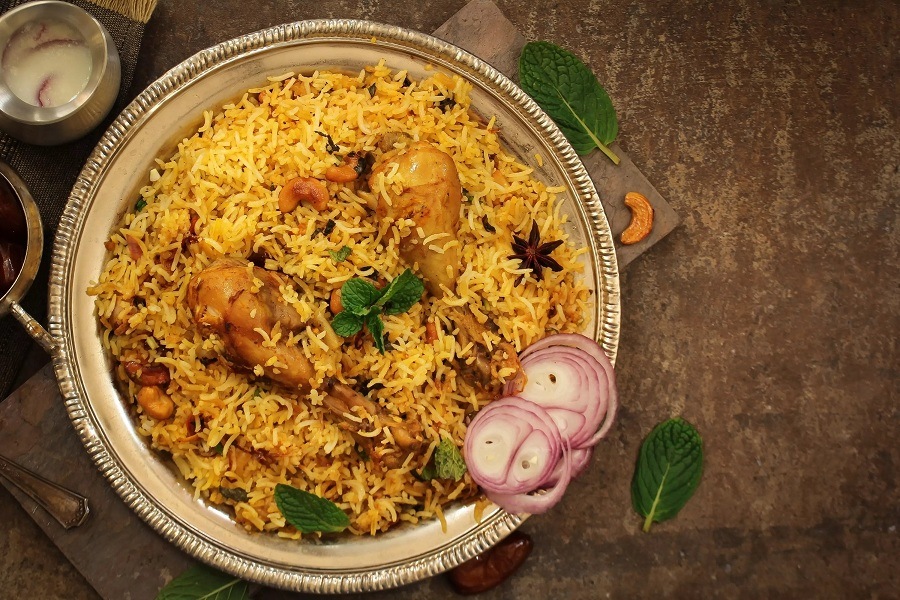 Of course, the world famous Hyderabadi Biryani should be the first item everyone must try in Hyderabad because nowhere in the country biryani is prepared the way it is done in Hyderabad. Originated in the kitchen of "Nizams of Hyderabad", it is a blend of Mughlai and Iranian cuisines. It is prepared in the form of Kachay Gosht ki Biryani and Dum ki Biryani. A delicious blend of exotic spices that are perfectly cooked with long grain Basmati Rice and succulent mutton or chicken pieces, this yummy recipe is every non-vegetarian's favourite. It is usually served with Mirchi ka Salan and Dahi Chutney along with Onion Salad. Paradise Biryani (Secunderabad), Bahaar Cafe, Bawarchi (RTC X Roads), Pista House and Shadab are the best places to try biryani in Hyderabad.
---
Haleem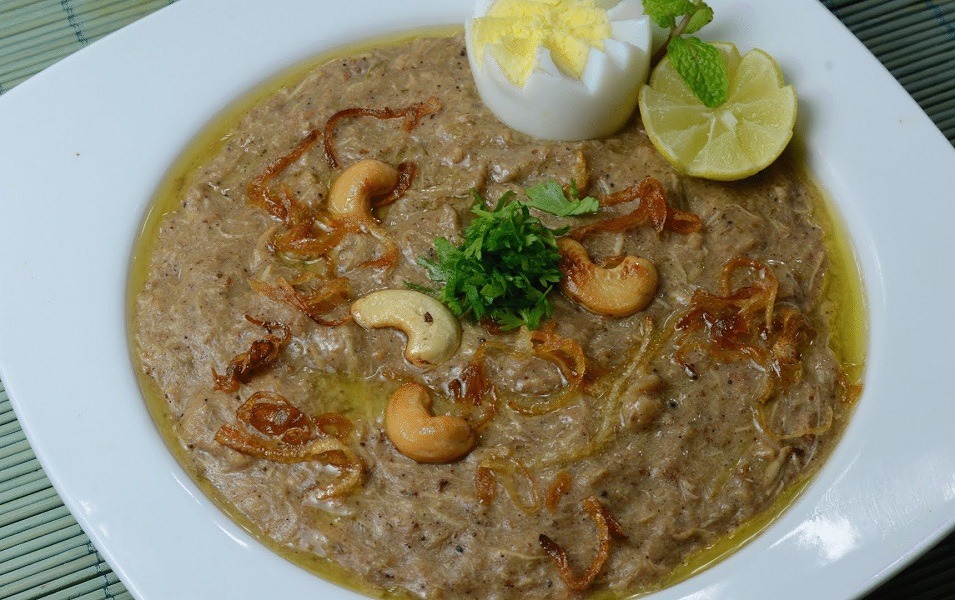 Haleem is the next most popular dish of Hyderabad after Biryani. Originally an Arabic dish, it was introduced to the Hyderabad by the Arab diaspora during the rule of the Nizams and has been localized by adding traditional spices thus evolving to the famous Hyderabadi Haleem. Cooked on the low-flame of firewood for up to 12 hours in a bhatti, this stew is prepared with lentils, ghee, and meat along with pounded wheat. It is an authentic and traditional Ramadan special delicacy served as an evening meal by Muslims during iftar after fasting as this high-calorie dish instantly energizes the body. Hundreds of stalls spring up all over the city during this holy Ramadan period to offer the meat and wheat delicacy while Pista House Haleem and Shah Ghouse are the best in Hyderabad.
---
Irani Chai & Osmania Biscuits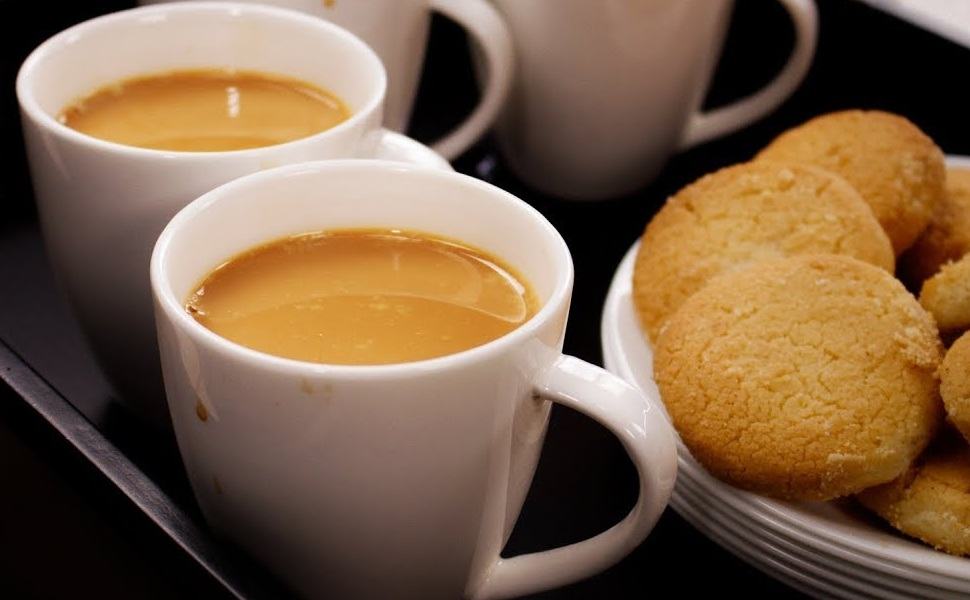 Like Biryani, Hyderabad is also synonymous with the famous Irani Chai. Introduced by Persian immigrants, it is different from other variants of tea prepared all over the world.  This utterly delicious chai is best enjoyed with Osmania biscuits, another famous delicacy that Hyderabad has to offer. The biscuits were named after Mir Osman Ali Khan, the last Nizam of Hyderabad. In fact, people say that this biscuit was invented for him! Though they are available in almost every tea stall in Hyderabad but Subhan Bakery (Nampally), Nimrah Café (Charminar) and Karachi Bakery are some of the go to places for these.
---
Qubani ka Meetha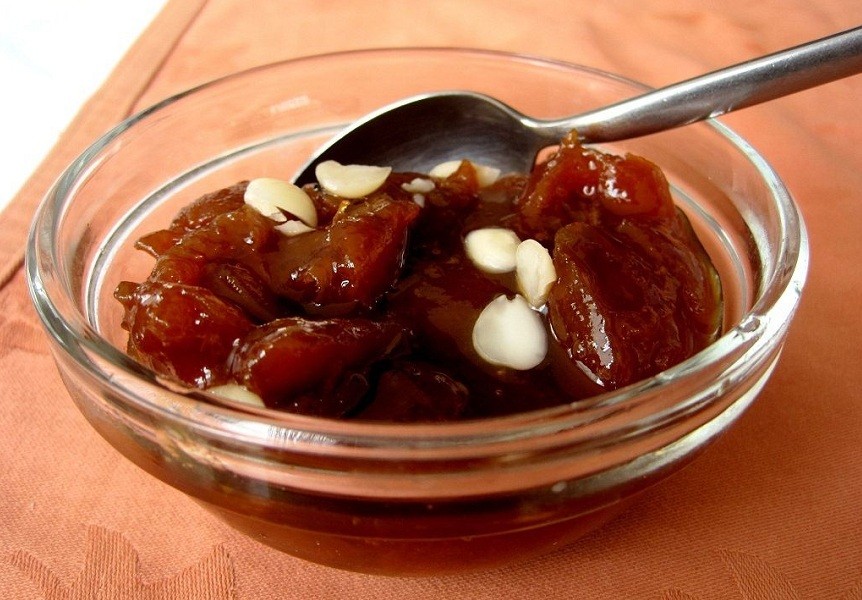 Khubani ka Meetha or Qubani ka Meetha is a traditional and very special dessert of the city of Nizam's.  Khubani is the Urdu term for Apricots while Meetha means sweet. As the name suggests this authentic Hyderabadi dessert is made from dried apricots, topped with crunchy almonds and other dry fruits. A meal in Hyderabad is incomplete without this dessert as it is considered as the king of sweets in this region. This recipe is relatively healthy, with very little sugar and no ghee. Sarvi (Banjara Hills), Hotel Shadab, Paradise, Cafe Bahar, Jewel of Nizam, Bawarchi, and Minerva Coffee shop are the best places to have this mouth-watering dessert in Hyderabad. Traditionally, Khubani ka Meetha is served with a scoop of ice-cream or with malai (thick cream).
---
Pathar ka Gosht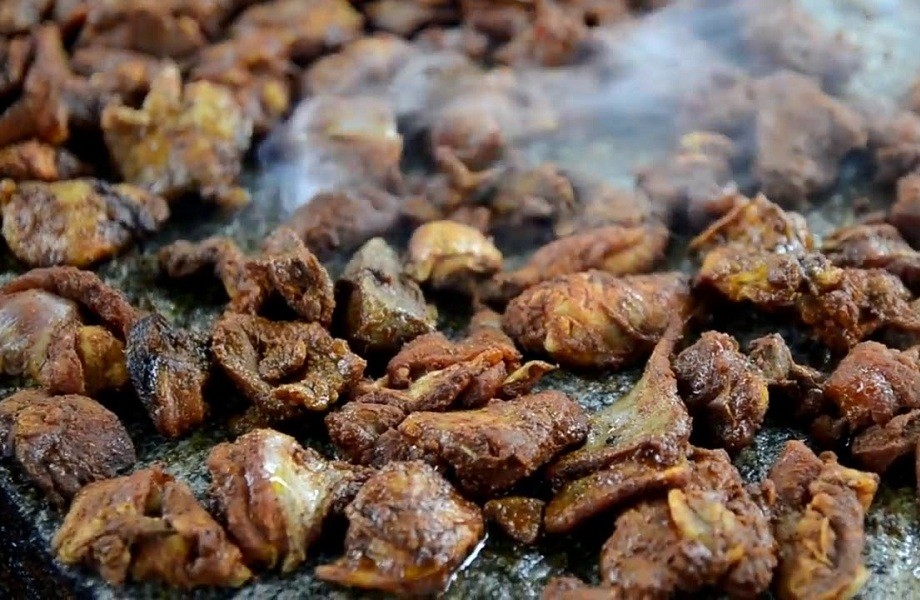 Hyderabadi Cuisine has many popular dishes whose preparation methods are markedly different from those in other regions. Apart from Haleem, another popular dish in this category is Pathar Ka Gosht, a classic Hyderabadi dish where boneless marinated mutton pieces are cooked on a hot Granite stone over charcoal. A prominent dish that was invented during the Nizam Era, this dish is still much sought-after by locals as well as visitors. Bade Miyan Kebabs at Tank Bund is the best place for Pathar Ka Gosht that can be tasted as part of your Hyderabad Packages. It is traditionally garnished with Onion rings and Lemon wedges!
---
Hyderabadi Marag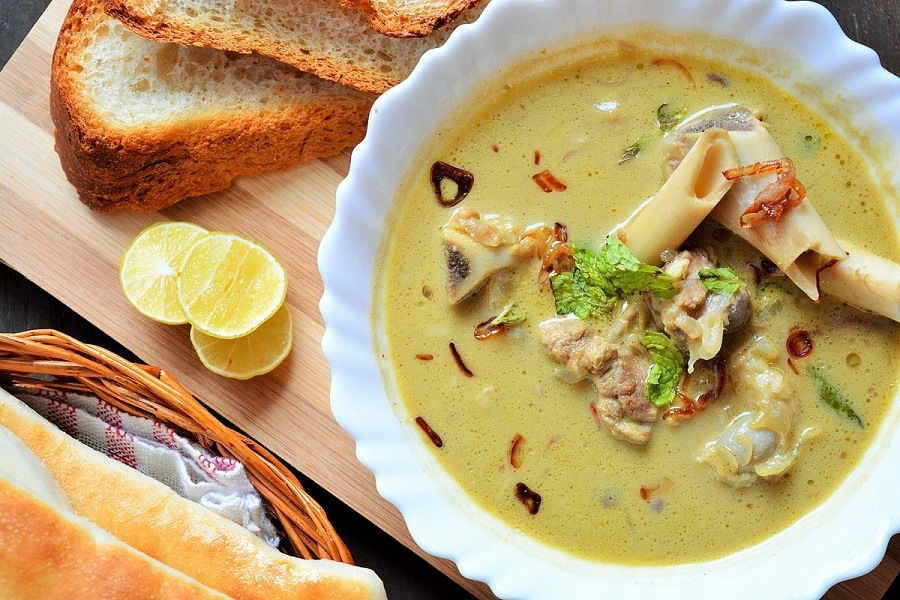 The Hyderabadi Marag is a spicy mutton soup made with tender mutton attached to bones which has become quite popular in Hyderabad. Basically an Arabic dish, this spicy mutton dish is a must have starter in most of the Muslim weddings. The meaty soup from Hyderabadi kitchens would make you dive into it, headfirst, and never surface. Jewel of Nizam, Zaiqa E Hyderabad, Daawat E Hyderabad, Chichas, and Sohail Hotel at Malakpet are the best places to try this lip smacking mutton dish and is usually served with roomali rotis.
---
Double ka Meetha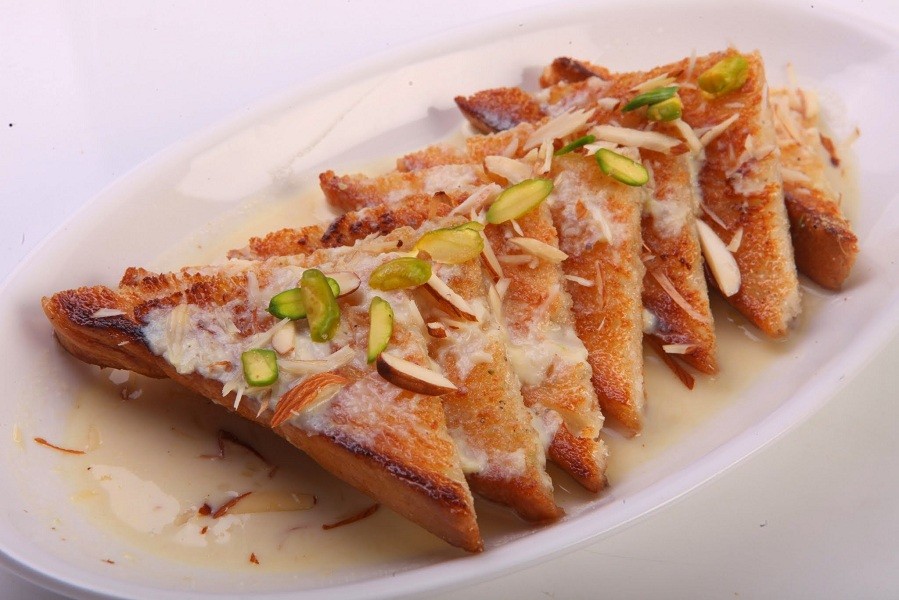 Like Kubani ka Meetha, Double Ka Meetha is a delicious dessert of Hyderabadi Cuisine. As the name implies, this dessert is made using bread slices which are also called double roti in some parts of India. This soft bread-pudding dessert made of bread slices soaked in saffron and cardamom, dried fruits and condensed milk is similar to Shahi Tukda which has its roots in Awadhi cuisine. It is particularly prepared during the festive month of Ramadan and on Eid. This sumptuous bread and cream dessert is served both hot and cold. So, try tasting the dessert either ways and choose which one you like better! Cafe Bahar, Paradise, Exotica, Bidri, Pista House, and Sarvi are the best places to try this delicious dessert in Hyderabad.
---
Paaya
Another Eid special, Paaya or Paya is a traditional and nutritious food from the Indian Subcontinent. It literally translates into hoofs or feet and mostly prepared using Mutton or lamb and a myriad of spices.  A mix of South and Central Asian cuisine, the dish was adapted to the local cuisines by the Muslim cooks of the South Asian subcontinent. Known for its luxurious taste, it is a must try dish and will bring you down to restaurant on every rainy day or on a chilly winter night. The fresh baked flat bread will go great with the Mutton Leg Soup. Hotel Shadab, Shah Ghouse, Sahib's Barbeque, Khan Saab, Rayalaseema Ruchulu, and Pi- Hotel Avasa are the top places to taste this spicy mutton stew in Hyderabad.
---
Boti Kebab
A Hyderabad Trip is incomplete without tastings its kebabs. Similar to Pathar ka Gosht but entirely different in taste, the Boti Kebab is the next best dish to try while you are holidaying in Hyderabad. It was a very significant dish during the Nizam's era. In this dish, small pieces of chicken or lamb are marinated in yogurt, butter and spices which are cooked under the intense heat of a tandoor. This Hyderabadi delicacy is too juicy and delicious to resist and a must try for any meat lover. The best places to try Boti Kebab in Hyderabad are Paradise Restaurant, Bawarchi, Bade Miyan, and Shadab.
---
Lukhmi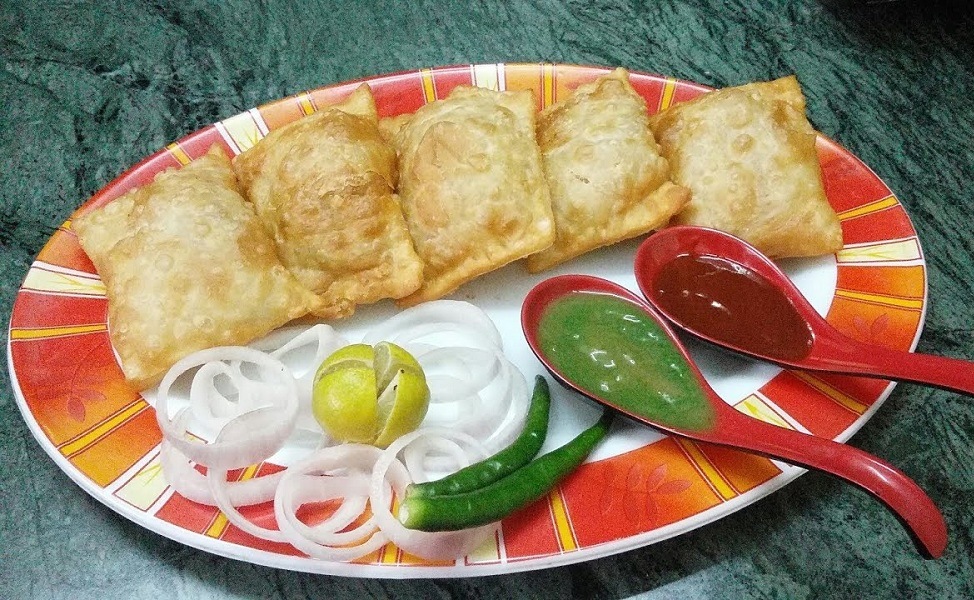 The Cuisine of Hyderabad has a variety of scrumptious snacks, and Lukhmi is definitely one of them. The name lukhmi originates from the word luqma, which means a small bite or a morsel in Urdu. A popular starter at Hyderabadi marriages, it is the local variation of samosa. This flat square patty is filled with spicy minced lamb meat, onions and other veggies. Also called Kheema Lukhmi, it is best-savoured with Mint Chutney. The snack had lost some of its popularity over several decades, as many places in the old city stopped serving it. Alpha Hotel, Paradise, Rio, Shahran, Shadab, Nayaab, Zaiqa-E-Hyderabad and SodaBottleOpenerWala are some places in Hyderabad to serve this dish.
---
Falooda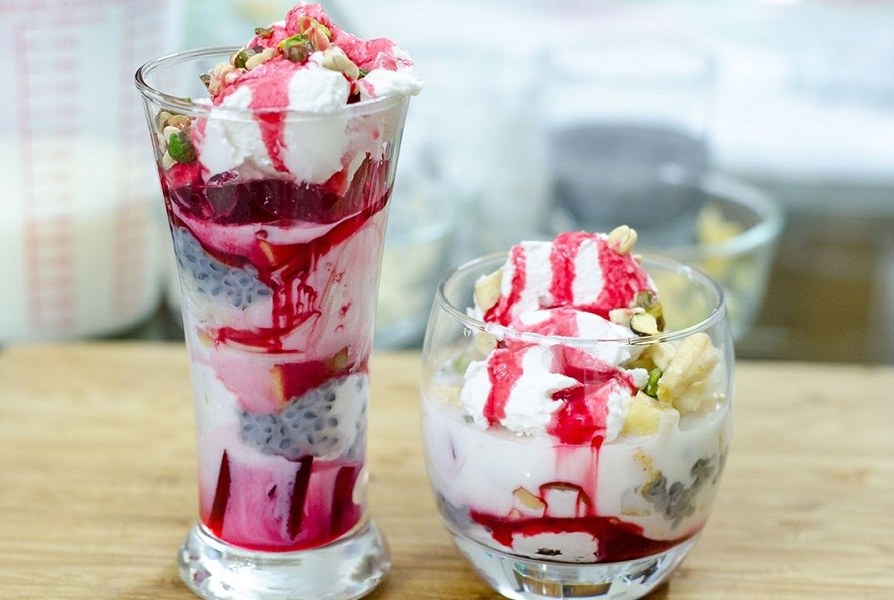 Falooda, also spelt as Faluda, is one of the fabulous desserts of Hyderabad that you are sure to fall in love! Made from mixing rose syrup, vermicelli, sabza seeds, milk, cream and sugar, this saffron and the cardamom flavored sweet dish has the heart of most Hyderabadis. Originally a Persian dessert, it came to India with the many Muslim merchants during the Mughal Empire. Muslim rulers who succeeded from the Mughals patronized the dessert with their own adaptations, specifically in Hyderabad Deccan and the Carnatic areas of present-day India. Don't miss to try this when you're traveling in and around Hyderabad city. Paradise Bakery, Shadab, SodaBottleOpenerWala and Shah Ghouse are the best places to try this awesome dessert.
Santhi is an avid traveler and primary contributor to the blogs at Trawell.in. She has explored most of the states in India and gained vast knowledge on tourist destinations in India and abroad. She also contributes content to other travel websites.