India was once known as 'The Golden Sparrow', a coveted land of wealth and wisdom, visited by seekers from all parts of the world. Fast forward to modern times, nothing has changed. The world traveller still places India at the top of his bucket list of 'must-see countries in a lifetime'.
In 2017, over ten million foreign tourists visited India. Even though the number of amazing places to see in India is astronomical, there are certain destinations that take the cake. What are the most visited tourist destinations in India by foreigners? Here are the top 10:
1. Agra

There is a desire among travellers to visit all wonders of the world in their lifetime. That surely includes the Taj Mahal at Agra, one of most main destinations of Golden Triangle Tour Packages. The crowning jewel of the Mughal Era, The Taj Mahal is obviously the major draw, however other Agra attractions such as Agra Fort, Akbar's Tomb, Tomb of Itimad-ud-Daulah, Mehtab Bagh, Jama Masjid, Fatehpur Sikri also see significant foreign tourist footfall and it is one of the popular places to visit near Delhi.
Must Read: 14 Most Romantic Places to visit on Valentine's Day
---
2. Delhi
The national capital comes close to Agra in terms of foreign visitors. Apart from diplomatic and business visits, foreigners flock to high value architectural wonders like Qutub Minar, India Gate, Jama Masjid, Humayun's Tomb and Red Fort.
Also Read: 12 Best Places for Street Food in Delhi
---
Most Popular Tours Foreign Tourists Visit
---
3. Hampi

When a foreign tourist decides to visit India, he/she looks at the most distinctive locations in India that are likely to enrich their journey. The celebrated UNESCO Heritage site, group of monuments at Hampi are high up on foreign tourist radar owing to their otherworldly appeal and stunning architecture. Virupaksha Temple, Vijaya Vittala Temple, Stone Chariot, Krishna Temple, Royal Enclosure, Zenana Enclosure and Hazara Rama Temple are the most visited and highly revered in the foreign tourist circuits as well as architecture and history aficionados. Explore Hampi tour packages offered by Trawell.in.
Must Read: 45 Popular Places to visit near Bangalore
---
4. Goa

The party hub of India, incessantly swarmed by foreign tourists, Goa is one of the most visited destinations in India, and among the best places to visit near Mumbai, especially for beach lovers. The myriad night beach party zones, cozy little shacks, pristine beaches of international standards, thrilling adventure sports, delectable cuisine and a thriving young culture makes Goa a foreign hotspot. Numerous Russians and Europeans visit Goa every year as a rule. Goa's hospitable locals certainly help the footfall. Goa is also one of the best destination for couples for their Honeymoon tour.
Suggested to Read: 7 Unique Local Drinks to Taste in Goa
---
5. Kerala

The healing and rejuvenating luxurious Ayurvedic spa treatments in Kochi and Trivandrum, the calm and serene backwaters of Alleppey, the tea estates of Munnar, beaches of Kollam, the lush forests, flora and fauna of Wayanad, the breathtaking views in Thekkady – Kerala has always offered a unique slice of India to international travellers.
Foreigners especially love the greenery that abounds in the state as well as delicious, authentic Kerala cuisine and its unique South Indian cultural heritage.
Also Read: 11 Most Romantic Honeymoon Destinations in India
---
6. Jodhpur

International tourists love the ethnic charm of Jodhpur. The ethereal 'Blue City' of India, known for its majestically constructed massive fort of Mehrangarh steeped in history, has always fascinated foreign tourists looking to explore the quintessential historic gems of India. Tourists are also drawn to ancient Clock Tower, Jaswant Thada and Umaid Bhawan Palace, aside from the gorgeous Rajasthani handcrafted art jewellery, ethnic clothing and specialty souvenir items. The 'Blue' homes of Jodhpur are the photographer's delight.
Also Read: 8 Largest Forts in Rajasthan You Must Visit
---
7. Jaipur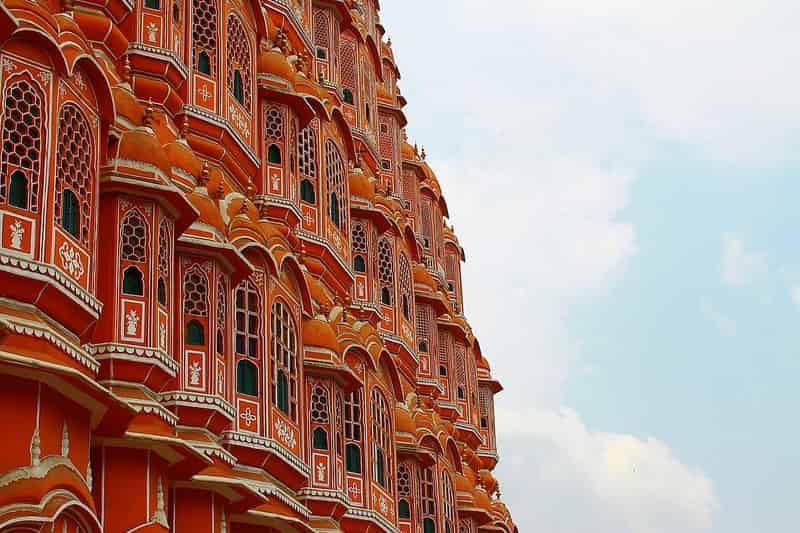 The most treasured jewel of historical India, the 'Pink City' of Jaipur charms the foreign tourists with its unparalleled architectural landmarks the pink sand-stoned Hawa Mahal that looks like a surreal honeycomb and the hill fort called Amer Fort that is the finest example of Rajputana military architecture, along with Jaigarh Fort, City Palace and the astronomical designs of Jantar Mantar. The city is a thriving hub of traditional Indian handicraft, jewellery, art and sculpture. Explore Jaipur tour packages offered by Trawell.in.
---
8. Dharamshala

The seat of Buddhism in India, Dharamshala is one of the most loved foreign tourist spots in India. Spiritual seekers, expats, and regular foreign tourists throng the place to learn about Buddhism and practice it under a master. It is also famous because of its quiet charm, spectacular mountain landscape, adventure activities, local cafe culture, and generally relaxed vibe. Foreign visitors are especially interested in Norbulingka Monastery, Triund Hill trek, and the Dalai Lama Temple Complex.
---
9. Varanasi

India's most famous religious and pilgrimage destination, known in the west as a photographer's mecca, Varanasi is visited by foreign nationals for several reasons. It offers a newness that common tourist spots fail to do – its unique ghats with awe-inspiring evening aartis, the sunrise and sunset boat rides in the holy waters of the Ganges, the sights of Indian mystics and sadhus performing yoga and meditation, its old world charm and the transformative experience of observing the Indian culture at its liveliest.
Also Read: 15 Most Famous Festivals of India
---
10. Rishikesh

The Yoga capital of India, Rishikesh is one of the most favorited destinations by foreign tourists visiting India. Apart from its exciting water sports opportunities, Rishikesh offers affordable yoga retreats in India. A lot of people come to enjoy the meditative ambience of the town set against the backdrop of the Ganges and indulge in Ayurvedic spa treatments. You will find the streets of Rishikesh drenched in holy chants, local Indian folks and plenty of bohemian cafes where foreigners just chill and enjoy the views.
As a foreigner in India, the tourist looks for heritage, spiritual, ethnic and historical delights. India caters to them all equally and then some. As far as accommodation is concerned, majority of foreign tourists prefer a budget stay that offers cleanliness, amenities and convenience. Treebo Hotels is India's top-rated budget chain hotel. No matter where your destination, Treebo's promise is 'Perfect Stay Or Don't Pay.' Enjoy comfortable rooms, best in-class service, wholesome breakfast and assured room amenities. Book from any part of the world & experience the best stay.
Also Read: 8 Popular Yoga Retreats in India for a Spiritual Escape
Here's to fulfilling and exhilarating adventures in India. Feel free to leave comments or suggestions below.
Santhi is an avid traveler and primary contributor to the blogs at Trawell.in. She has explored most of the states in India and gained vast knowledge on tourist destinations in India and abroad. She also contributes content to other travel websites.