Sparkling like a gem in the southern Indian Ocean, Mauritius is an island nation located east of Madagascar and southeast of Seychelles. Port Louis is the capital city and the largest port of the nation. Mauritius is one of the top holiday destinations in the world and also among the best honeymoon packages. Mauritius is well known for it's breathtaking beaches. Apart from beaches, Exhilarating mountainous landscapes, rolling valleys, a dormant volcano and easily accessible waterfalls makes Mauritius Tourism so charming and ideal for a memorable holiday. The amazing beauty and natural aesthetics of this country will definitely leave you spellbound. There are so many places of attractions in Mauritius and all of them are worth visiting.
Watch Video - Mauritius Tourist Places -Video
Trawell.in presents top places to visit in Mauritius here.
Grand Bay / Grand Baie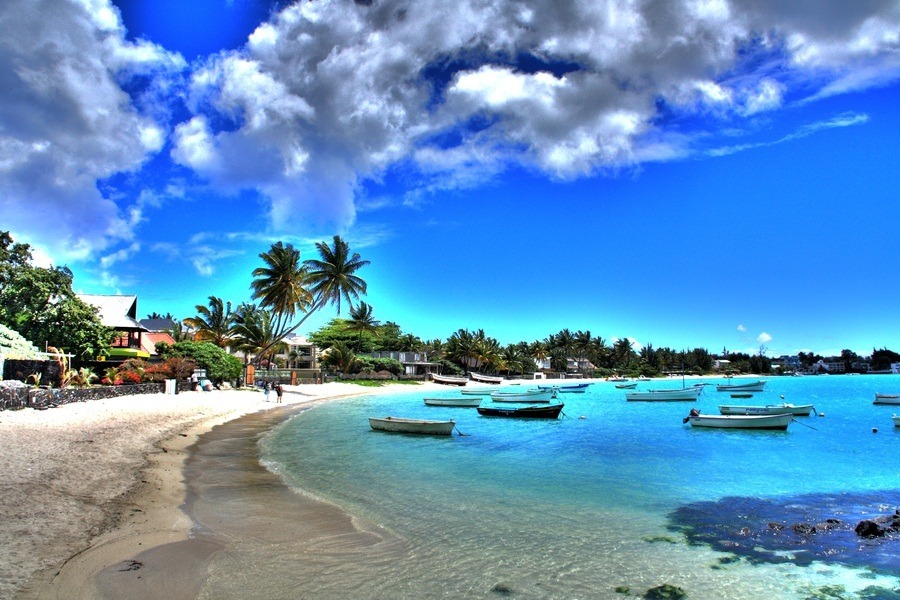 Grand Bay or Grand Baie is a seaside village and a large tourist beach in Riviere du Rempart district of Mauritius. Once called De Bogt Zonder Eyndt (Bay without End) by the Dutch in the 17th century, the resort town of Grand Bay is popular for its enchanting quality of emerald waters and is the most popular holiday destination in Mauritius.
It offers facilities for safe swimming, sailing, windsurfing and water skiing. It is the departure point for deep sea fishing trips and for boat excursions to the islands to the north of Mauritius like Gunners' Quoin, Flat Island, Round Island, and Serpent Island. This is also a great place to discover the breathtaking underwater marine life of Mauritius with underwater sea walk, submarine excursion and the underwater scooter. Grand Bay and its surroundings also offer a large choice of fashion and craft shops. It is also popular for its bay view Mauritius hotels and restaurants. It is also known for its night-life as it hosts most of the island best bars and night-clubs.
Must Read: 9 Reasons to Explore Mauritius beyond the Beaches
---
Ile aux Cerfs Island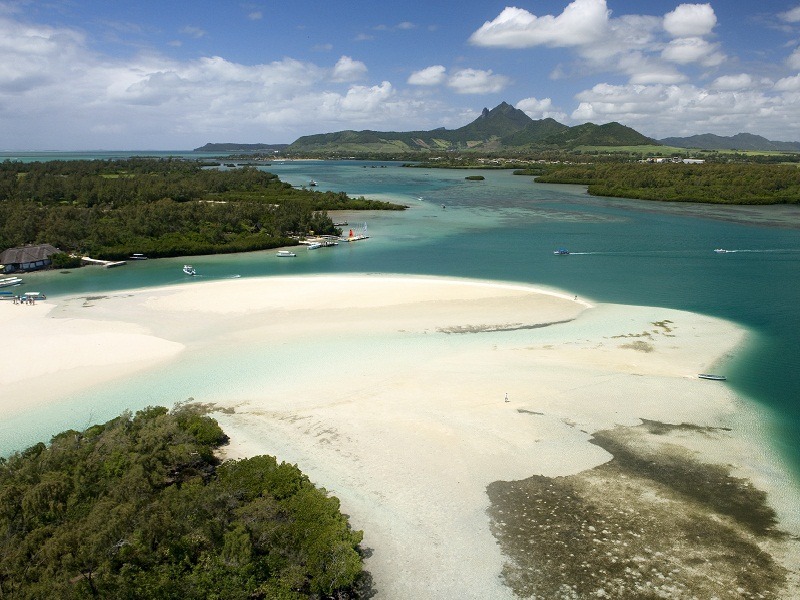 Ile aux Cerfs Island, also known as Deer Island is a beautiful island near the east coast of Mauritius in the Flacq district. This Mauritius Island is sprawling over an area of 100 hectares. The island has an undulating terrain and natural vegetation and is dotted with outcrops of volcanic rock, little lakes and magnificent white sandy beaches. It is one of the must include places in Mauritius Tour Packages.
It is famous for the sandy beaches, beautiful lagoon and various activities. Considered as water sports paradise, Ile aux Cerfs Island offers various water sports like swimming, snorkeling, water skiing, glass bottom boats and more. The coral reef is beautiful and full of marine life, and together with the large black rocks that protrude into the water, it is an ideal place to snorkel and to enjoy the rich underwater world. It also has restaurants, and a five stars hotel with a golf course. The island hosts the world renowned Bernard Langer 18-hole championship golf course managed by Le Touessrok hotel.
---
Most Popular Mauritius Tour Packages
---
Black River Gorges National Park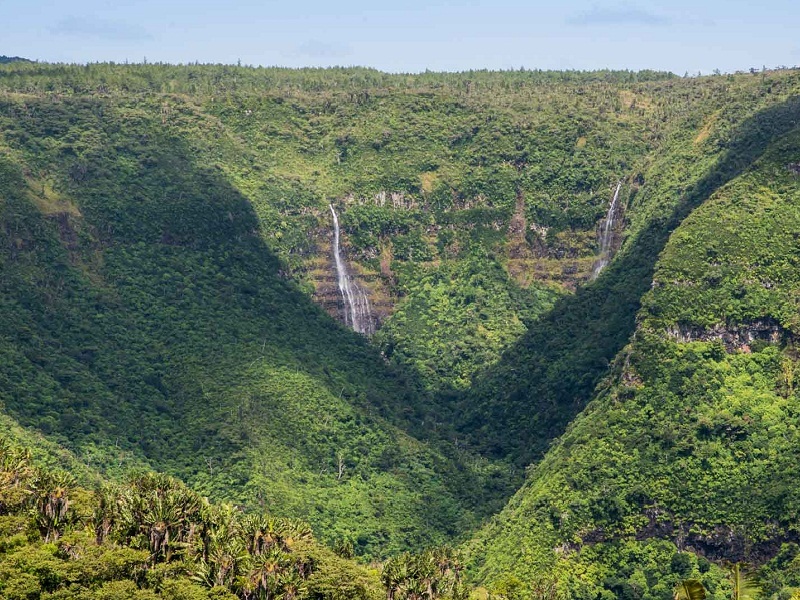 Black River Gorges National Park is the only national park situated in south-western part of Mauritius. Spread over 6754 hectares, the park covers around 3.5% of the total land area of Mauritius and conserves the remains of the island's indigenous tropical forests. It is famous for its waterfalls, vistas and hiking trails. It can be a spectacular place for all the bird watchers and also one of the top places to experience Mauritius Tourism.
Many endemic plants and animals can be found in the park including the Mauritian flying fox, Mauritius kestrel, pink pigeon, Mauritius parakeet, cuckoo-shrike, Mauritius bulbul, etc. It nurtures around 311 rare species of plants out of the 700 of the Mauritian Islands. The Black River Gorges National Park is the largest protected forest of Mauritius, providing over 50 km of hiking trails.
---
Mauritius Botanical Garden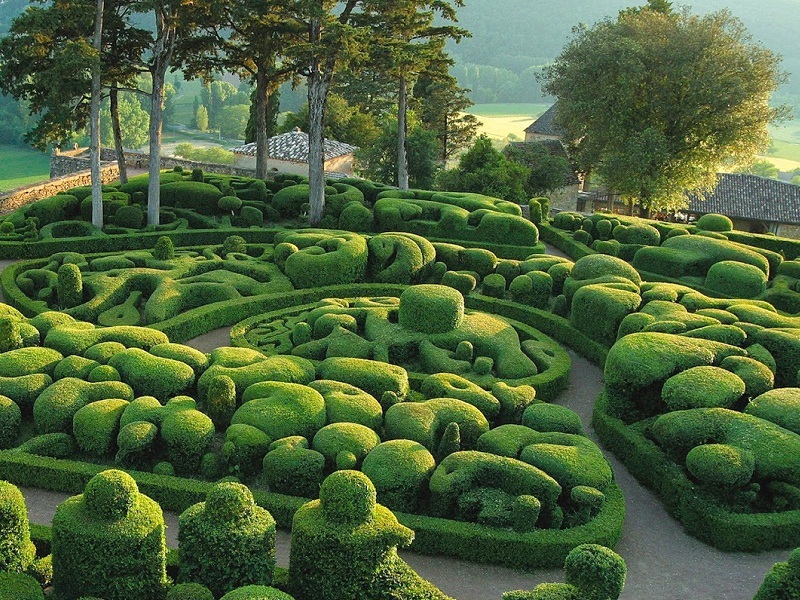 The Botanical Garden, formally known as Sir Seewoosagur Botanical Garden, is located in the proximity of Port-Louis in the district of Pamplemousse. After London's Kew Gardens the SSR Gardens is one of the world's best botanical gardens and also one of the most visited attractions in Mauritius. The garden was initially opened as a private garden by the French governor of Mauritius nearly 300 years ago, later it became the national botanical garden of Mauritius.
The botanical garden stretches over endless acres of land. It is populated with more than 650 varieties of plants among which the famous ones are Baobabs, Palmier Bouteille, Giant Water Lilies, dozens of medicinal plants, a large spice garden and many more. The centerpiece of the gardens is a pond filled with giant Victoria Amazonica water lilies, native to South America. Various international dignitaries have planted trees in the garden, including Nelson Mandela, Indira Gandhi and a host of British royals. Besides a wide variety of trees and plants, one can also find an old colonial castle called 'Chateau Mon Plaisir', a sugar mill and a farm with deer and turtles here.
---
Chamarel Falls & Seven Coloured Earths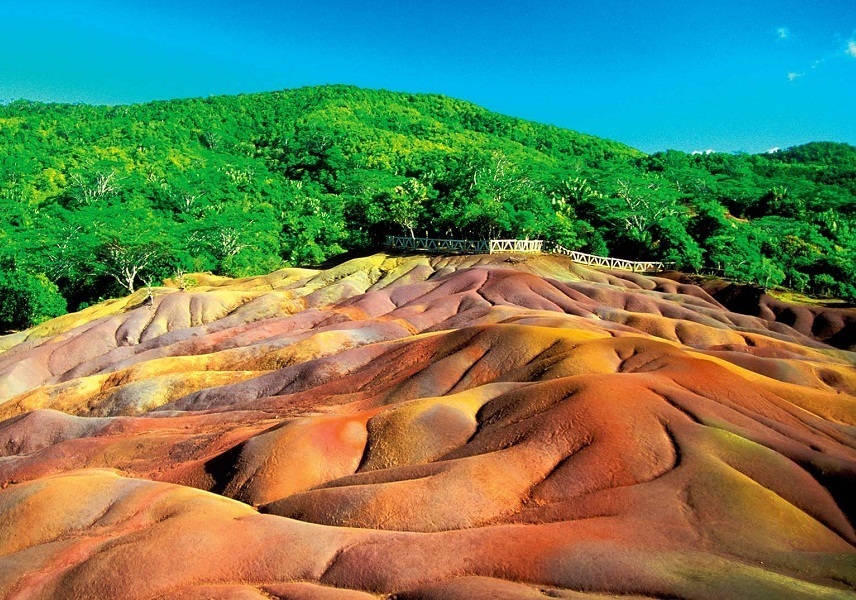 Chamarel is a small village on the west coast of Mauritius, near Tamarin and Le Morne. However, Chamarel is better known for Coloured Earths and Chamarel Falls. The seven colored earth is a natural phenomenon and a prominent places to visit in Mauritius. The colors evolved through conversion of basaltic lava to clay minerals. It is said that if you mix the colours together, they will separate on their own.
Another interesting place to see at Chamarel is the Chamarel Falls on the St. Denis River. There are three distinct streams of water plunging down from a height of 272 feet into a gorge. Many consider this is the most beautiful waterfall of Mauritius. The sight of this impressive waterfall against the scenic forest and mountains is truly breath-taking.
---
La Vanille Nature Park
Located in the southern village of Riviere des Anguilles, La Vanilla Nature Park unfolds a sanctuary hosting species such as Nile crocodiles, Alligators, Giant tortoises from Seychelles and Madagascar respectively. La Vanille is also the largest Giant Aldabra tortoises' center of reproduction in the world with more than 500 tortoises of all ages roaming freely in the park. Its insectarium uncovers the different butterflies and insects. Mr. Jacques Siedlecki the conservative of this collection has spent more than 30 years to collect these species of insects, Paguroidea from all over the globe.
The Vanille Nature Park of Mauritius features also an Aquarium, a tortoise museum, an ammonite fossils museum including an incursion in the world of Mauritian marine mammals. There is also a 'Jungle Adventure Playground' in the park which offers fun attractions and activities for children.
---
Trou aux Cerfs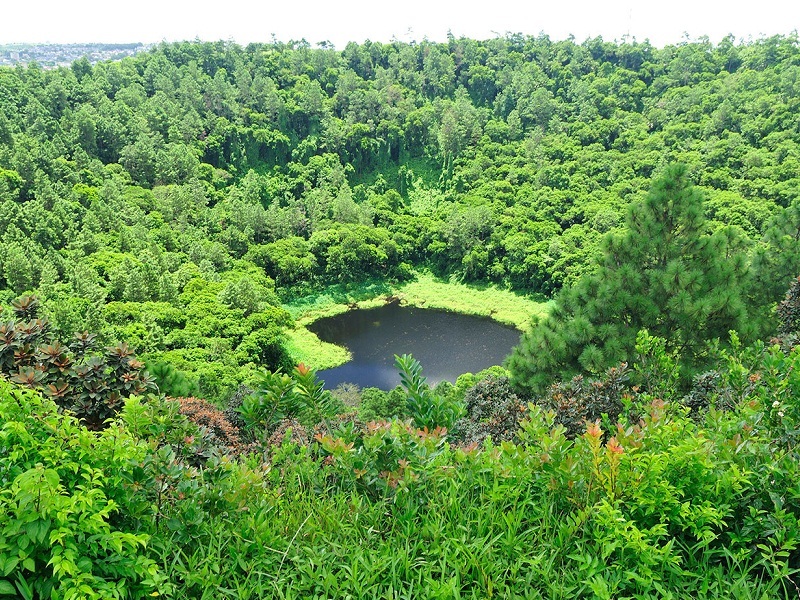 Trou aux Cerfs, also known as Murr's Volcano, is a dormant volcano located about half a mile west of the city of Curepipe, Mauritius. The astonishing natural formation is a fantastic example of 'cone and crater' volcano, which essentially means that it has a large concave valley at the peak of the volcano. This imposing dormant volcano stands nearly 2,000 feet above the surrounding landscape and is 80 m deep. It is covered with lush flora and is a favourite spot for joggers. According to experts, the volcano is lying dormant but could become active at any time within the next thousand years. The crater is only accessible down a steep embankment which is considered dangerous. Water and silt have clogged the crater, making it even less accessible. From here, one can get lovely views of the surroundings.
---
Grand Bassin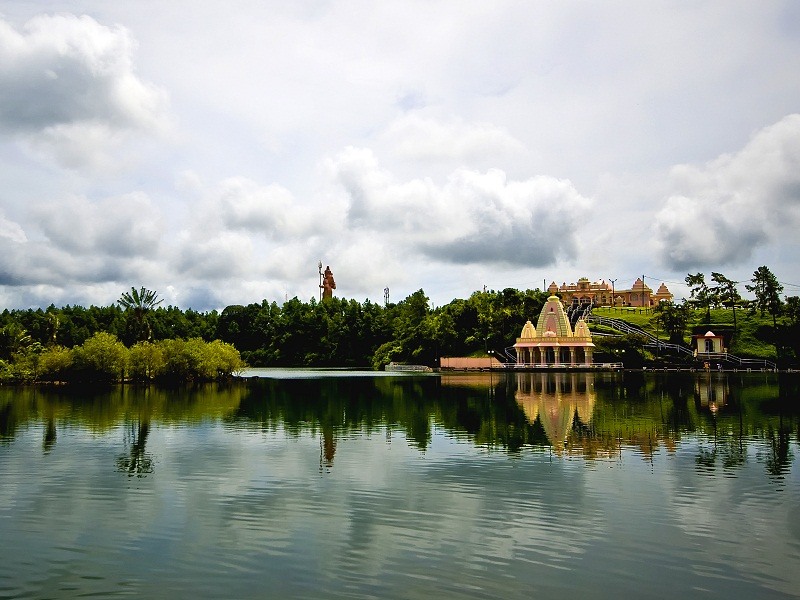 Grand Bassin or Ganga Talao is a crater lake situated in a secluded mountain area in the district of Savanne, Mauritius. Situated at an altitude of 1800 feet, Ganga Talao is considered the most sacred Hindu place in Mauritius and one of the most important Hindu pilgrimage sites outside of India. The Sagar Shiv Mandir is located on the bank of the lake and is dedicated to Lord Shiva.
There are temples dedicated to other Gods including Lord Hanuman, Goddess Ganga, and Lord Ganesh along the Grand Bassin. There is also a 108 foot tall statue of Lord Shiva at the entrance which is a faithful copy of the Shiva statue of Sursagar Lake in Vadodara, Gujarat, India. During Shivaratri, many pilgrims in Mauritius walk bare feet from their homes to the lake.
---
Casela World of Adventures / Casela Nature Park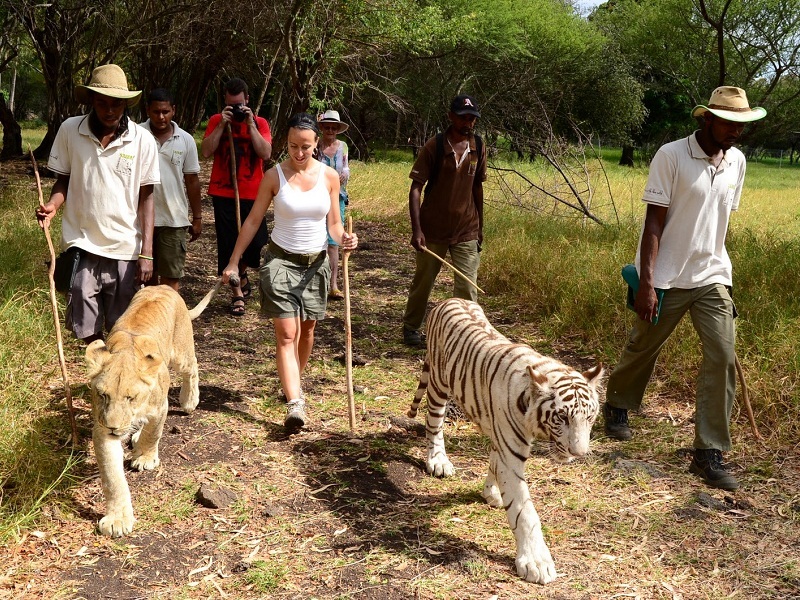 The Casela World of Adventures is a scenic nature park situated beside the Rempart Mountain in the southwest region of Mauritius. Casela, is one of the two animal parks of the island, the other one being La Vanille. It is the oldest park and also one of the top sightseeing places to visit in Mauritius. Casela World of Adventures forms part of the Yemen Reserve.
The Casela World of Adventures is spread over an area of 250 hectares of rugged terrain, lush forest, scorched-earth safari and breath-taking gorges in the mountain area. It is a haven for indigenous and exotic species like Java deer, wild boars, hares, macaque monkeys, mongoose and fruit bats, as well as to ebony, cassias, tamarind and pink pepper plants. The dynamic and vibrant park stands out for its diversity of leisure activities including authentic safari tours, speedy rides on off-road vehicles and extreme adventures. 'Interaction with big cats' and the hour-long 'walking with lions' are the popular activities at Casela and also one of the top things to do in Mauritius.
---
Ile aux Aigrettes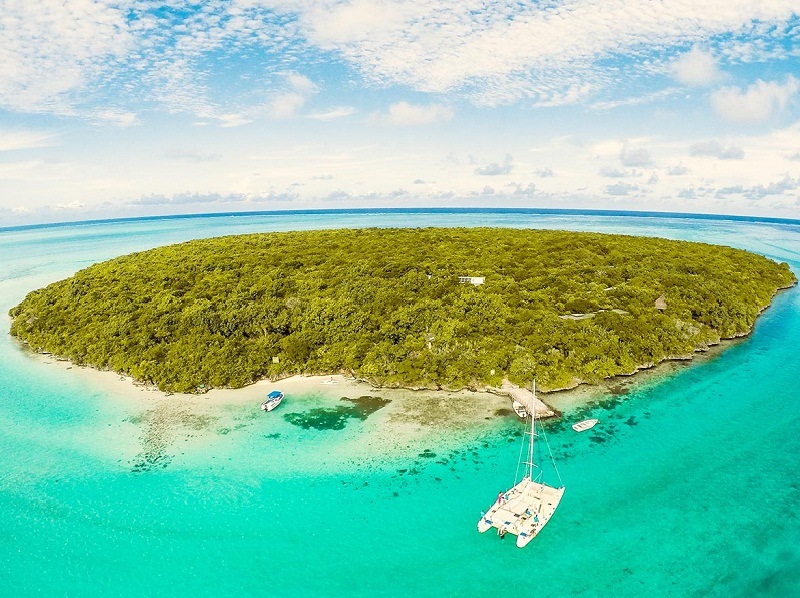 Ile aux Aigrettes is a tiny coral island 800 m off the south-east coast of Mauritius near the small town of Mahebourg. The island has been declared a nature conservation site and is being preserved by the Mauritian Wildlife Foundation. It has an area of 27 hectares and is the largest islet in the Grand Port bay. It is made of coralline limestone partially overlain by sand and soil deposits and is the last refuge of dry, coastal forest remaining on Mauritius.
Ile aux Aigrettes became a nature reserve in 1965. The Mauritian Wildlife Foundation (MWF) has put tremendous efforts in this coral island, to get rid of exotic species and let the original forest recover. A few of the world's rarest birds, including the kestrel, rare Pink Pigeon, the Green Gecko Phelsuma and the Aldabra giant tortoise can be seen here. Other species such as birds and the giant tortoise have also been re-introduced. Thus Ile aux Aigrettes has become a beautiful ecological spot that is worth discovering.
Top International Tour Packages
---
Santhi is an avid traveler and primary contributor to the blogs at Trawell.in. She has explored most of the states in India and gained vast knowledge on tourist destinations in India and abroad. She also contributes content to other travel websites.