TIRUNELVELI TOURISM | TOURIST PLACES TO VISIT & TOUR PACKAGES
Pilgrimage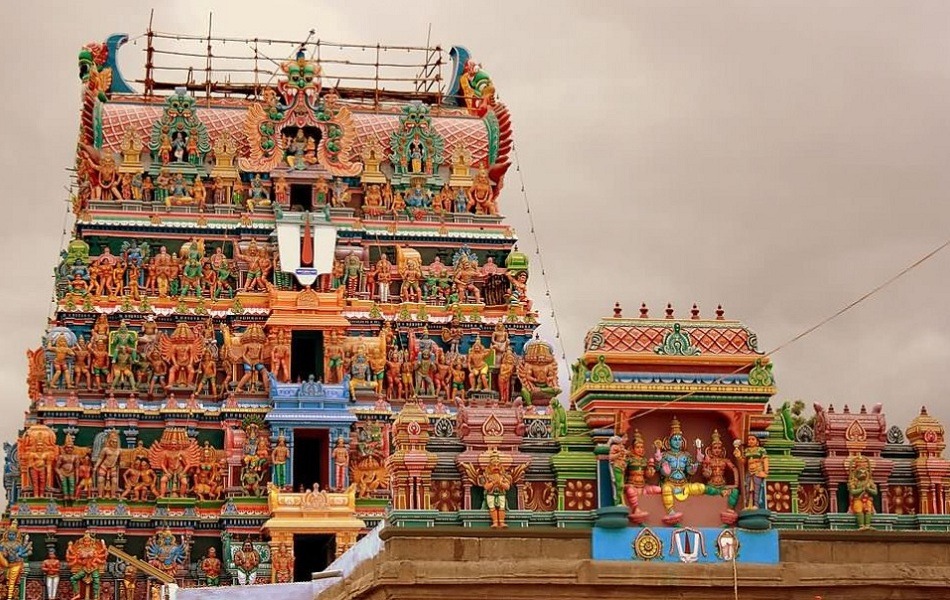 Ideal Trip Duration:
1-2 Days

Nearest City to Tirunelveli:
Madurai (158 Kms)

Best Time to Visit Tirunelveli:
October to March

Peak Season:
December to February
At a distance of 53 km from Thoothukudi, 84 km from Kanyakumari, 158 km from Madurai, 291 km from Trichy and 623 km from Chennai, Tirunelveli is a city situated on the banks of the river Thamirabarani in Tamilnadu. Also known as Nellai, Tirunelveli is the administrative headquarters of the Tirunelveli district and also the sixth largest city in Tamilnadu.

Tirunelveli is positioned close to the southern tip of India and is very eminent for various geographical features. It comprises of 5 geographical territories which include mountains, forests, paddy fields, coastal and deserts. The name Tirunelveli is derived from three Tamil words, thiru, nel and veli, meaning 'sacred paddy hedge'. The freedom fighters of 18th to 20th century Veera Pandiya Kattabomman, Pulithevan Veeran AzhagumuthuKone and Vanachinathan were born in Tirunelveli district.

Tirunelveli is believed to be an ancient settlement. This town was once the capital of the Pandiyas and it has a history that goes back 2000 years. It has been ruled at different times by the Early Pandiyas, the Medieval and Later Cholas, the later Pandiyas, the Malabar and Tirunelveli Sultanates, the Vijayanagara Empire, the Madurai Nayaks, the Carnatic kingdom and the British. The early Pandiyas named the city Thenpandiyanadu, the Cholas Mudikonda Cholamandalam and the Nayaks Tirunelveli Seemai. It was known as Tinnelvelly by the British and Tirunelveli after independence.

Tirunelveli has a rich cultural and architectural heritage which is evident from the various temples, and churches located here. Nellaiappar Temple, Venkatachalapathy Temple, Sankaranainar Kovil, Allagammai Kashi Vishvanathar, Holy Trinity Cathedral, the Mela Tiruvenkatanathapuram Temple and Mundanthurai-Kalakad Wildlife are some of the top places to visit in Tirunelveli. The city is also famous for Tirunelveli Halwa and also known as Halwa city and Oxford of South India.

Tuticorin Airport is the nearest airport, about 40 km away from Tirunelveli, which has daily flights from Chennai. The nearest international airport is at Madurai, 153 km away from Tirunelveli. Being a railway junction, Tirunelveli is well connected to all the major cities of India such as Delhi, Mumbai, Bangalore, Chennai, Trivandrum, Madurai, Coimbatore, Trichy, Kanyakumari, Pondicherry, Rameswaram, Guruvayur, Nagercoil, Hyderabad and Kolkata by rail. Tirunelveli is well connected by bus with Chennai, Madurai, Kanyakumari, Trichy, Coimbatore, Trivandrum, Pondicherry, Bangalore, Kochi and Thanjavur.

Annual Car Festival of Nellaiappar Temple is the major festival celebrated at Tirunelveli. Also known an 'Aani festival', it falls in the month of June-July and is celebrated for 10 days with great pomp and fervor. Skanda Shasti, Adi Thapasu Festival and Kodaivizha are the other popular festivals of Tirunelveli.

Being located in the southern end of the country, the place has very harsh summers and cooler winters. The winters do not get chilly and serve as an ideal time to visit. Hence, the best time to visit Tirunelveli is from October to March.

Internet Availability:
Good
Languages Spoken:
Tamil and English
Major Festivals:
Aani festival,Skanda Shasti & Adi Thapasu