AMRITSAR GOLDEN TEMPLE | TOURISM PLACES TO VISIT & TRAVEL GUIDE TO AMRITSAR

Heritage |
Pilgrimage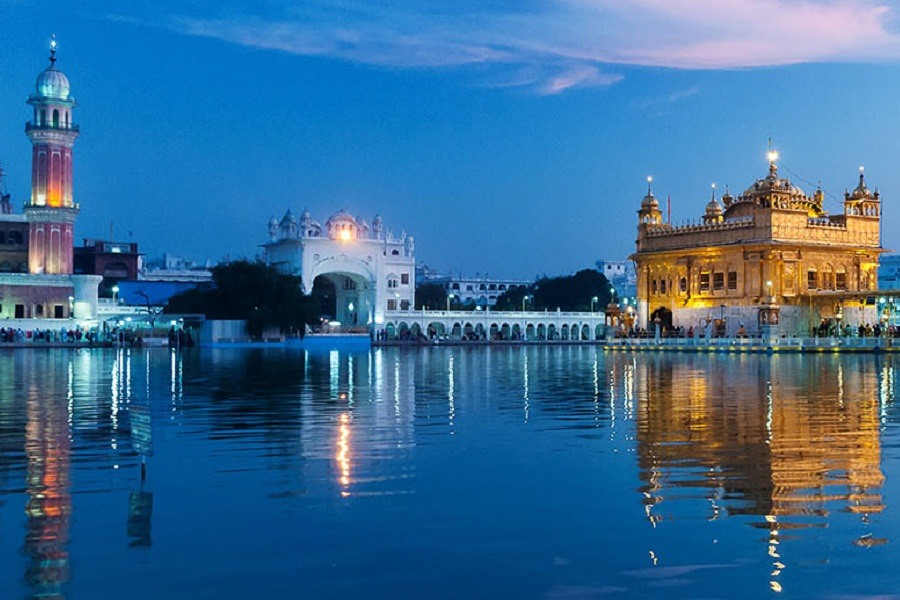 Ideal Trip Duration:
1-2 Days

Nearest City to Amritsar:
Amritsar

Best Time to Visit Amritsar:
November to March

Peak Season:
November & February
At a distance of 82 km from Jalandhar, 140 km from Ludhiana, 240 km from Chandigarh, 207 km from Dalhousie, 244 km from Patiala, 366 km from Shimla, 443 km from Srinagar and 466 km from New Delhi Amritsar is an ancient pilgrimage town and headquarters of Amritsar district in Punjab state. It is the most popular Sikh shrine in Punjab and also one of the top places of pilgrimage in India.

Amritsar literally means 'the pool of nectar'. The name Amritsar is derived from Amrit Sarovar, the holy tank that surrounds the marvelous Golden Temple. The town of Amritsar was founded in 1577 CE by Guru Ram Das, the 4th Sikh guru and the village was named as Ram Das Pura after him. Amritsar is the place where the tragic episode of the Jallianwala Bagh Massacre took place under the British rule. It also witnessed Operation Blue Star in 1984 under the late prime minister of India, Smt. Indira Gandhi.

Amritsar is world famous for its Golden Temple, the seat of Sikh religion. Also known as Harmandir Sahib, the Golden Temple in Amritsar is famous for its full golden dome and is one of the most popular places of pilgrimage in Punjab. Jallianwallah Bagh, Durgiana Temple, Gobindgarh Fort, Central Sikh Museum, Maharaja Ranjith Singh Museum, and Wagah Border are the other popular places to visit in Amritsar.
 
There are many fairs and festivals celebrated in Amritsar. One of the most famous festivals of Amritsar is Guru Nanak Jayanti held in the month of October/November. Lohri is another major festival celebrated with much enthusiasm in the month of January.

Guru Ram Das International Airport is the nearest airport which is about 11 km from Amritsar Junction. It is well connected with flights from Srinagar, New Delhi, Mumbai and Jammu. Amritsar is well connected with trains from New Delhi, Chandigarh, Ludhiana, Mumbai, Jammu Tawi, Gorakhpur, Chhattisgarh, Dehradun, Howrah, Nagpur, Pathankot, Ahmedabad, Vaishnodevi Katra, Kolkata, Trivandrum, Tata Nagar, Haridwar, Vizag, Hyderabad and Ajmer. Amritsar has good bus connectivity with Ludhiana, New Delhi, Jaipur, Gurgaon, Chandigarh, Jammu, Manali, Shimla, Jalandhar, and Patiala.

The city experiences extreme weather with very hot summers and chilly winters. The best time to visit Amritsar is between November and March, when the weather is comparatively pleasant and ideal for sightseeing and visiting the Golden Temple.
Internet Availability:
Good
Languages Spoken:
Punjabi, Hindi, Urdu and English
Major Festivals:
Guru Nanak Jayanti and Lohri