RAMESHWARAM TOURISM | TEMPLES, PLACES TO VISIT & TRAVEL GUIDE TO RAMESHWARAM
Pilgrimage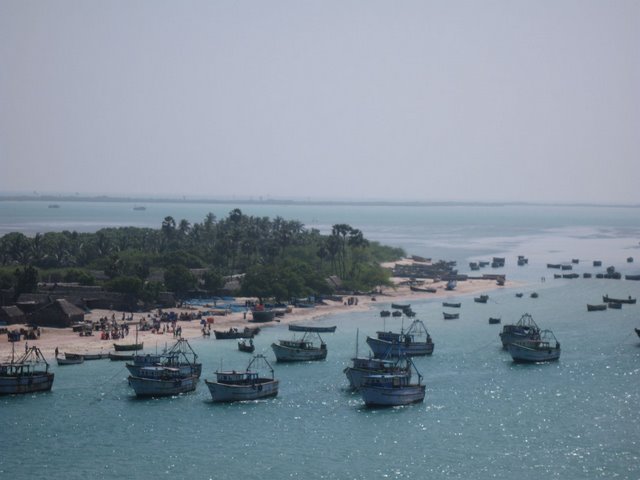 Ideal Trip Duration:
1-2 Days

Nearest City to Rameshwaram:
Madurai (174 Kms)

Best Time to Visit Rameshwaram:
July to August & November to March

Peak Season:
July to August & February to March
At a distance of 171 km from Madurai, 230 km from Trichy, 227 km from Tirunelveli, 311 km Kanyakumari, 387 km from Pondicherry, 371 km from Trivandrum, 562 km from Chennai, and 607 km from Bangalore, Rameshwaram is a religious town situated in Ramanathapuram district of Tamil Nadu. It is one of the most famous places of pilgrimage in India, and among the best places to visit in Tamilnadu.

Rameshwaram Temple is one of the most famous Shiva shrines in India and is one of the top attractions you must include in Rameshwaram tour packages. It is significant for Hindus as a pilgrimage to Banaras is incomplete without a Pilgrimage to Rameswaram. According to the legend, Rameswaram is the place from where Lord Rama, built a bridge across the sea to rescue his consort Sita from Ravana. This is also the place where Rama worshipped Lord Shiva to cleanse away the sin of killing Ravana. Both the Vaishnavites and Shaivites visit this pilgrimage which is known as the Varanasi of South. Rameswaram along with Dwarka, Puri and Badrinath form the four Char Dhams.

Sri Ramanathaswamy Temple, Agnitheertham, Gandamadana Parvatham, Dhanushkodi, Kothandaraswamy Temple and Erwadi are the popular places to visit in Rameshwaram. Sri Ramanathaswamy temple (Rameswaram Temple) is one of the most fascinating temples in entire India. This is renowned for its magnificent corridors and massive sculptured pillars. The third corridor of Ramanathaswamy temple is the longest one in the world. The presiding deity here is in the form of a Linga with the name Sri Ramanathaswamy, it also happens to be one of the 12 Jyotirlingas. This temple stands as an epitome of Dravidian architectural style of the medieval ages.

Rameshwaram is one of the popular pilgrimage places to visit near Madurai. There are about 64 thirthas situated in Rameshwaram, of which, 24 are considered as important. Bathing in these Tirthas is a major aspect of the pilgrimage to Rameswaram and is considered equivalent to penance. Twenty-two of the Tirthas are within the Ramanathaswami Temple. Ramanathapuram, Tirupullani, Uthirakosamangai, Sethu are the nearby attractions to Island of Rameshwaram. Beautiful beaches at Olaikuda, Danushkodi and Pamban are other attractions apart from the religious point of view. Scuba diving and Migratory birds watching during winter are the activities here.

Rameshwaram is located on the Pamban Island, which lies at the very tip of the Indian peninsula in the Gulf of Mannar. Pamban Island, which is separated from the mainland of India by the Pamban Channel, is connected by the Pamban Bridge or Annai Indira Gandhi Bridge.

The nearest airport to Rameshwaram is at Madurai, which is located at a distance of 176 km. Rameshwaram Railway Station is well connected by rail to major cities of Tamil Nadu like Chennai, Madurai, Coimbatore, Thanjavur and Trichy. Rameshwaram is well connected by bus with Chennai, Bangalore, Coimbatore, Kanyakumari, Madurai, Pondicherry, Trichy and Thanjavur.

The best time to visit Rameshwaram is July to August & November to March while the peak season is July to August & February to March. Usually it takes 1-2 days to visit Rameshwaram.
Internet Availability:
Average
Languages Spoken:
Tamil, Hindi & English
Major Festivals:
Maha Shiva Ratri (Feb-Mar),
Vasanthotsavam (May-June),
Thiru Kalyanam (July-Aug),
Navarathri Festival (Sep-Oct)
Notes/Tips:

Avoid peak summer if you are travelling with kids when the weather is too hot & humid.