DHANAULTI TOURISM | TOP PLACES TO VISIT & TOUR PACKAGES
Hill Station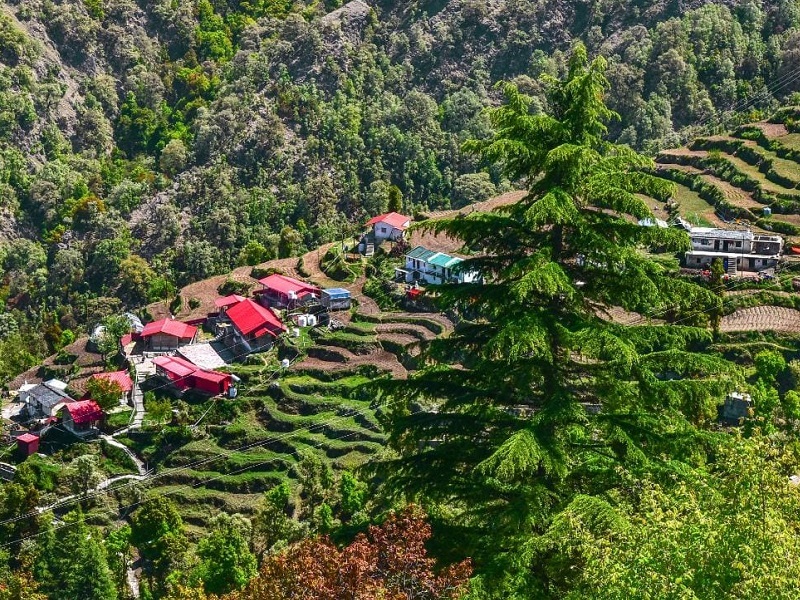 Ideal Trip Duration:
1-2 Days

Nearest City to Dhanaulti:
Dehradun (60 Kms)

Best Time to Visit Dhanaulti:
October to June

Peak Season:
November to January & March to May
At a distance of 29 km from Mussoorie, 30 km from Chamba, 60 km from Dehradun, 89 km from Rishikesh, 112 km from Haridwar, 141 km from Srinagar, 224 km from Chandigarh, 258 km from Patiala, 283 km from Shimla, and 309 km from Delhi, Dhanaulti is a picturesque hill station situated in the Tehri Garhwal district of Uttarakhand. Lies on Mussoorie - Chamba Road, it is one of the popular weekend getaways from Delhi and among the best offbeat destinations to visit in Uttarakhand.

Situated at an altitude of 2286 m, Dhanaulti is known for its quiet environment and tranquility. Sitting on the edge of Tehri Garhwal District, Dhanaulti shares its west-side border with Dehradun. The long wooded slopes, relaxed outdoors, cool crossing breeze, warm and hospitable inhabitants, lovely weather, and fabulous view of snow-capped mountains, makes Dhanaulti an enticing hideaway for tourists. It is still untouched and becoming an alternative to the crowded Mussoorie and Dehradun.

As per the history, Dhanaulti was a princely state in the Tehri Garhwal region before India's Independence. It was reigned by King Sudarshan Shah from 1815 to 1949 with Tehri as his capital. People from this region actively participated in the freedom struggle and were part of the Quit India Movement. The people also revolted against the rule of the king of Tehri Riyasat. After the revolt, they were successful in getting independence from the Maharaja, and later, the district was merged with the state of Uttar Pradesh in India. After the bifurcation of Uttar Pradesh in the year 2000, the district of Tehri Garhwal became a part of the new state of Uttarakhand.

Away from the city hustle-bustle, devoid of fancy hotels and modern cafe-style eateries, Dhanaulti is the place for those who seek a weekend of privacy in the hills. Eco Park is the main attraction of Dhanaulti. There are two Eco-parks, Amber and Dhara about 200 m apart. There is a facility for visitors to plant a sapling in the memory of their beloved, which is called as memory sapling plantation in Eco Park. Besides, Surkhanda Devi Temple, Camp Thangdhar, Potato Farm, Dhanaulti Adventure Park, Dashavatar Temple, Deogarh Fort, Kanatal Adventure Camp, and Tehri Dam are some of the top places to visit in Dhanaulti as part of Uttarakhand Tour Packages.

Also, Dhanaulti is the base point for numerous treks into the snow-capped Himalayas like Surkanda Devi, Chandrabadni, and Kunjapuri. Camp Thangdhar in Thangdhar village at a distance of 14 km from Dhanaulti is an adventure camp for those interested in mountain adventure.

Jolly Grant Airport, Dehradun is the nearest airport which is about 87 km from Dhanaulti. It has well-connected flights from all the major cities in India. About 60 km Dhanualti, Dehradun Railway Station is the nearest railhead that has well-connected trains from New Delhi, Ujjaini, Madurai, Varanasi, Amritsar, Kochuveli. From here, one can hire a bus or taxi to reach Dhanaulti. Dhanaulti is well connected by a road which is having both AC and Non-AC buses that conveniently operate from the major destinations like Rishikesh, Roorkee, Haridwar, Mussoorie, Nainital, and Dehradun as well.

Being a small hideaway, Dhanaulti has very limited accommodation options. There are few deluxe hotels, and budget hotels along with a couple of guest houses for tourists who want to stay and explore nearby places. Apart from this, one also has the option of staying in Mussoorie and Kanatal, both of which are situated quite close to Dhanaulti that has many hotels in varied budgets.

The best time to visit Dhanualti is winter for sure when this tiny hill station is completely covered in the thick blanket of snow providing varied opportunities to dwell into several adventure activities and camping. For the ones, who are not fond of winters can visit this quaint hill town in summer. during summer, Dhanaulti boasts blooming of rhododendrons, lush deodar and oak trees enveloped in the tranquilizing charm. So, the best months to visit Dhanaulti is from October to June.
Internet Availability:
Poor
Languages Spoken:
Garhwali, & Hindi
Major Festivals:
Details Not Available