KULLU VALLEY TOURISM | TOURIST PLACES TO VISIT & TRAVEL GUIDE TO KULLU
Hill Station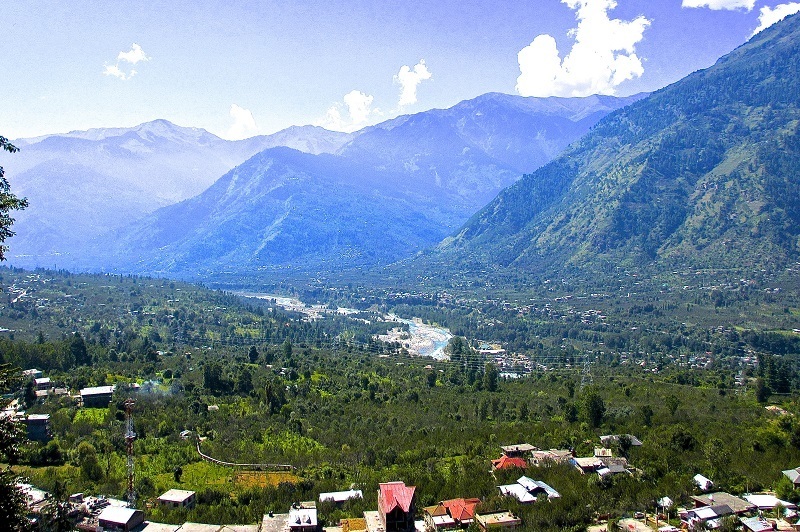 Ideal Trip Duration:
2 Full Days

Nearest City to Kullu:
Shimla (215 Kms), Chandigarh (258 Kms)

Best Time to Visit Kullu:
April to June & October to December

Peak Season:
December to January & May to June
At a distance of 40 km from Manali, 500 km from Delhi, 215 km from Shimla and 258 km from Chandigarh, Kullu is the capital town of Kullu district in the state of Himachal Pradesh. It is located on the banks of the Beas River in Kullu Valley at an altitude of 1230 meters. Kullu Manali is one of the top summer resorts to visit as part of Himachal tour packages and among the wellknown honeymoon destination in India.

Kullu is a broad open valley formed by the Beas River between Manali and Larji. This valley is famous for its temples, beauty and its majestic hills covered with Pine and Deodar Forest and sprawling Apple Orchards.

Kullu was earlier known as Kulant pith meaning 'the ending point of inhabitable world'. The beautiful valley is also mentioned in epics like Ramayana, Mahabharata and Vishnu Purana. Chinese traveler Huien Tsang visited Kullu in 634 or 635 AD and described it as a region completely surrounded by mountains. The place had a stupa built by Asoka. In ancient days Kullu had several Buddhist monasteries. There were Hindu temples too and people of both faiths lived peacefully together.

Kullu valley is the largest valley in Kullu district. The Beas River runs through the middle of the valley. It is also called the 'Valley of the Gods' or 'Dev Bhumi'. It connects with the Lahaul and Spiti valleys via Rohtang Pass. Kullu was an ancient kingdom of hill states and it was ceded to the British in 1846 along with other trans-Sutlej states. The first motorable road was built here only after independence. Due to long years of isolation, this area was able to retain its traditional charm and beauty.

Kullu is also famous as a hotspot for adventure sports. Trekking, river rafting, mountaineering, paragliding and hiking over the Himalayan glaciers are some of the activities that Kullu offers. Angling is another activity enjoyed a lot by locals as well as tourists. Some of the famous tourist places in Kullu are Manikaran, Manali, Malana, Bijli Mahadev, Bhekhli, Bajaura, Kasol, Kheer Ganga, Kulant Pith, Katrain, Kangra and Great Himalayan National Park. Chandrakhani pass, Jalori Pass and Tirthan Valley are the other attractions in Kullu.

Kullu Manali Airport at Bhuntar in the nearest airport at a distance of 12 km from Kullu. Joginder Nagar is the nearest narrow gauge station at a distance of 105 km from Kullu. Chandigarh is the nearest major broad gauge station at a distance of 258 km. Kullu has a major bus station which has direct buses to Delhi, Chandigarh, Shimla, Manali and Mandi.

Kullu Valley is well known for the seven day festival of Kullu Dussehra, a celebration of Avatar Lord Rama's victory over the evil king Ravana. The festival takes place in the months of October / November. The State government has accorded the status of International festival to the Kullu Dussehra, which attracts tourists in large numbers.
Internet Availability:
Good
Languages Spoken:
Hindi, Pahari, Punjabi, Kangri, English and Dogri
Major Festivals:
Kullu Dussehra (Oct/Nov)