AULI TOURISM | AULI RESORT | TOURIST PLACES TO VISIT & TRAVEL GUIDE TO AULI
Hill Station |

Adventure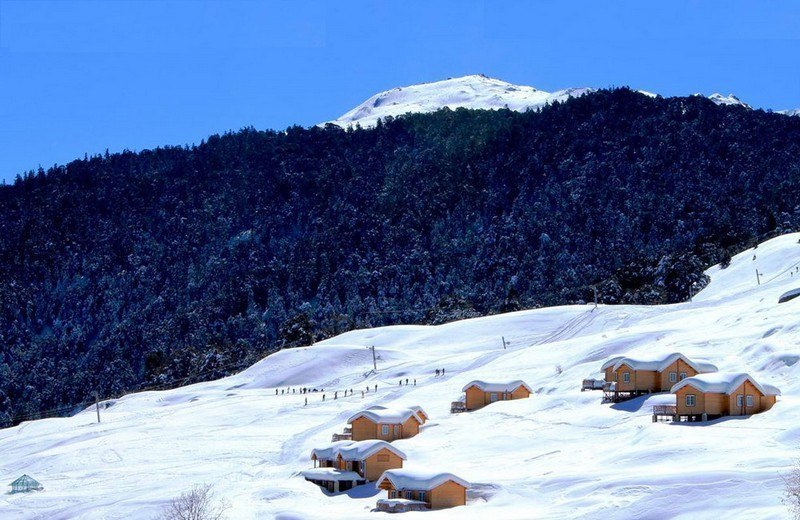 Ideal Trip Duration:
1-2 Days

Nearest City to Auli:
Dehradun (304 Kms)

Best Time to Visit Auli:
April to June & November to March

Peak Season:
December to February
At a distance of 16 km from Joshimath, 56 km from Badrinath, 262 km from Rishikesh, 304 km from Dehradun and 495 km from Delhi, Auli is a cute hill station in Chamoli district of Uttarakhand. It is one of the best ski resorts in India and one of the top Uttarakhand tourism destinations for adventure sports. Known for its snow-cladded surroundings, Auli is one of the best places preferred by many Indians during their honeymoon tour.

Auli, also known as Auli Bugyal which means meadow in Garhwali, is located at an average altitude of 2800 m in the Garhwal Himalayas. Earlier, Auli was a prominent trade centre and the trails of Auli were frequently traversed by the semi-nomadic Bhotiya tribes who maintained barter trading with Tibet for centuries. According to legend, the revered Guru Adi Shankaracharya visited Auli during 8th century AD. He built a math at Joshimath, which still is intact and is known by the name Shankaracharya Tapastali.

Auli is also a beautiful ski destination, but less known compared to Shimla, Gulmarg and Manali. It was only in the recent time, after the creation of new state Uttarakhand, Auli was marketed as a tourist destination. Today, Auli is known for its snow covered slopes and panoramic views of the surroundings. The slopes of Auli were the training ground for the Indian Paramilitary Forces and Indo-Tibetan Border Police Force.

Gurso Bugyal, Chattrakund, Kwani Bugyal, Hot Spring Point, Narsimha Mandir, Sankaracharya Tapastali of Joshimath, Nandaprayag, Rudraprayag and Pandukeshwar, Badrinath Mandir are the important tourist places in and around Auli. Excursions to Hemkund and Valley of Flowers are also popular among the travellers visiting Auli. Auli also offers majestic views of Mount Nanda Devi, Nanga Parbat, Dungagiri, Beethartoli, Nikanth Hathi Parbat and Ghori Parbat. It also boasts the Asia's longest cable car located at Gondola (4 km long).

Skiing in Auli attracts large number of tourists. Auli has been the venue of Skiing Festivals since 1986. Today it also hosts National Championships, organized by Winter Games Federation of India, in the months of February and March. The Garhwal Mandal Vikas Nigam (GMVN) provides skiing courses for beginners and professionals at Auli, which are held for 7 to 14 days from December to March. Trekking is the most popular activity in summer and it provides a wonderful opportunity to explore the Garhwal Himalayas.

Jolly Grant Airport is the nearest airport, which is about 278 km from Auli. Rishikesh railway station is situated at 262 km, serves as the nearest railway station to Auli. Joshimath is the nearest bus station to Auli which is accessible by bus service from Rishikesh, Dehradun, Nainital, Ukhimath, Chamoli, etc.

Auli has limited accommodation facilities. The GMVN Skiing and Tourist Resort is a convenient place to stay as it has all the necessary facilities. Tourists also have an option of staying in tents at the Joshimath Char Dham Camp.

The best time to visit Auli is from November to March for Skiing and April to June for trekking.
Internet Availability:
Poor
Languages Spoken:
Garhwali, Hindi and English
Major Festivals:
Auli Skiing Festival (Feb/Mar)