BADRINATH TOURISM | YATRA, TEMPLES, PLACES TO VISIT & TRAVEL GUIDE TO BADRINATH
Pilgrimage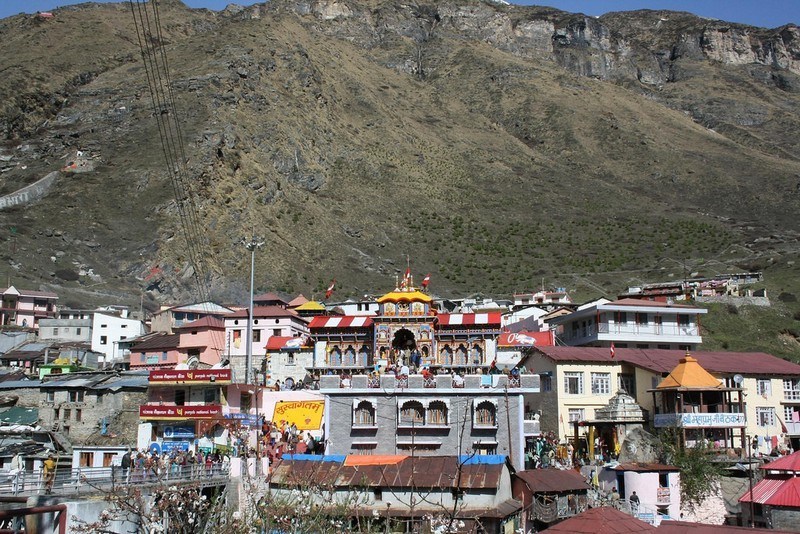 Ideal Trip Duration:
1-2 Days

Nearest City to Badrinath:
Dehradun (335 Kms)

Best Time to Visit Badrinath:
May to October

Peak Season:
May to June & September to October
At a distance of 293 km from Rishikesh, 335 km from Dehradun and 523 km from Delhi, Badrinath is an ancient holy town in Chamoli district of Uttarakhand. It lies at an altitude of 3133 m in the Garhwal Himalayan ranges along the banks of River Alaknanda near India - Tibet border. It is one of the most famous centers of pilgrimage in India and also one of the most popular Uttarakhand places to visit as part of Char Dham.

Badrinath is the most important of the four sites of famous Char Dham pilgrimage; the other three being Puri, Dwarka and Rameshwaram. It is also visited as part of Chota Char Dham Pilgrimage along with Kedarnath, Yamunotri and Gangotri in Himalayan region of Uttarakhand. Surrounded by Nar and Narayana mountain ranges and the Nilkantha peak, Badrinath has great mythical significance. This holy town is mentioned as Badari or Badarikashram in many ancient texts and scriptures. According to the epic Mahabharata, Badrinath is the site where Nara and Narayana, the dual forms of Vishnu, did meditation. It is also believed that the Pandavas passed through Badrinath on their way to heaven. Legend has it that Sage Vyasa authored Mahabharata at a cave in Mana, which is about 4 km from Badrinath.

Badrinath is famous for its Badrinath Temple that houses Lord Badrinarayan, an incarnation of Lord Vishnu. The present temple is believed to have been established by saint-philosopher Adi Shankaracharya in the 8th century. Adi Shankara discovered a Saligram idol of Lord Badrinarayan in the river bed of Alaknanda. He installed this idol in a cave nearby Tapt Kund. It was later shifted to the present temple by the King of Garhwal in the 16th century.

Badrinath is also famous for Panch Badri temples, which are Yog Dhyan Badri, Bhavishtya Badri, Adi Badri and Vriddha Badri, along with Badrinath temple. Some of the other attraction of Badrinath includes Tapt Kund, Narad Kund, Brahma Kapal, Sheshanetra, Charan Paduka, Neelkanth and Mana Village. Devprayag, Rudraprayag, Karnaprayag, Nandaprayag, Vishnuprayag and Pandukeswar are among the other pilgrimage sites on the route to Badarinath. Badrinath tourism also offers activities like trekking and mountaineering in the Garhwal mountain ranges.

The nearest airport to Badrinath is the Jolly Grant airport of Dehradun, which is 300 km away. Rishikesh railway station is the nearest railhead to Badrinath, which is situated at a distance of 293 km. Badrinath can be reached via NH-58 which connects it to Delhi and other major cities of India. Buses from Delhi, Haridwar, Kotdwar, Dehradun and Rishikesh are available throughout the year.

There are many hotels and ashrams available at Badrinath. It is preferable to stay in hotels that provide easy access to the temple and the main parts of the town. Tourists need to book the hotel in advance. Kedar-Badri Utsav, Janmashtami, Mata Murti Ka Mela, etc. are some of the main festivals celebrated here.

The best time to visit Badrinath is from May to June and again from September to October. The monsoon months must be avoided as the region is prone to landslides. Tourists are advised not to visit during winters as the region receives heavy snowfall and harsh cold conditions. The Badrinath temple is closed from November to April.
Internet Availability:
Average
Languages Spoken:
Hindi and English
Major Festivals:
Kedar-Badri Utsav (Jun),
Janmashtami (Aug/Sep),
Mata Murti Ka Mela (Sep)
Notes/Tips:

Badrinath is open only for six month every year between May and October. It is closed from November to April due to harsh winter weather conditions.