CHERRAPUNJI TOURISM | TOURIST PLACES TO VISIT & TRAVEL GUIDE TO CHERRAPUNJI
Hill Station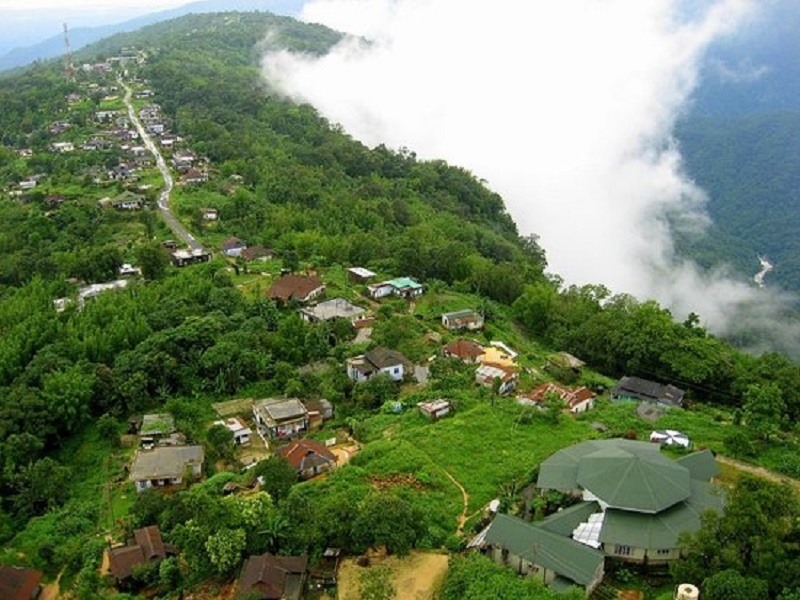 Ideal Trip Duration:
1-2 Days

Nearest City to Cherrapunji:
Guwahati (146 Kms), Shillong (54 Kms)

Best Time to Visit Cherrapunji:
September to May

Peak Season:
March to April
At a distance of 54 km from Shillong, 80 km from Mawsynram, 84 km from Dawki, 146 km from Guwahati, 292 km from Tezpur, Cherrapunji or Cherrapunjee is a small sub divisional town in the East Khasi Hills district of Meghalaya. It is one of the wettest places on the earth and among the must visit places in Meghalaya as part of honeymoon tour packages.

The original name for this town was Sohra, which was pronounced 'Churra' by the British. This name eventually evolved into the current name, Cherrapunji, which means the 'land of oranges'. According to the history, Cherrapunji is the traditional capital of a Nongkhlaw hima, an independent Khasi state. Between 16th and 18th centuries, the local residents were ruled by their tribal Syiems (chiefs) of Khyriem in the Khasi Hills. Tirot Sing was the last important Syiem of this area, who later admitted to the British in 1883 and ruled this place till independence.

Receiving an annual rainfall of about 11,777 mm, Cherrapunji happens to be the second wettest place on the planet after Mawsynram. The town receives both south-west and north-east monsoons. Despite receiving an abundant rainfall, Cherrapunji faces an acute water shortage and the inhabitants have to trek very long distances to obtain potable water. The excessive rain causes soil erosion which has deprived the land of Cherrapunji and the surrounding valleys.

Located in Meghalaya, Cherrapunji is a paradise for monsoon lovers and nature enthusiasts as it is home to several gorgeous waterfalls, beautiful limestone caves, living root bridges and other stunning natural attractions. David Scott Trail, Maswmai Cave, Mawkdok Dympep Valley, Seven Sister Waterfalls, Nohkalikai falls, and Thangkharang Park are the top places to visit in Cherrapunjee. Cherrapunji is also an ideal place for trekking and soaking up the peace that nature offers. The most popular trekking route is the one that leads to the Double Decker Living Root Bridge in Nongriat village.

Nongkrem Dance and Shad-Suk Mynsiem are the two important festivals of Cherrapunji. Nongkrem Dance is an annual dance festival celebrated for five days every year in the month of October or November. The tribes in Cherrapunji perform the Nongkrem dance with pomp and gaiety. Shad-Suk Mynsiem is a dance festival, where the Khasi people thank the Almighty for the year that went by.

Guwahati Airport is the nearest major airport which is about 166 km from Cherrapunji and is well-connected by flights with cities like Kolkata, Mumbai, Delhi, Hyderabad, Bangalore, Chennai and Jaipur. About 146 km, Guwahati Railway Station is the nearest rail head to Sohra which is well connected by train with Kolkata, Delhi, Agartala, Mumbai, Bikaner, Dibrugarh, Tambaram, Bangalore, Silchar, Trivandrum, Hyderabad, Patna, Kanyakumari, Amritsar, Chandigarh, Chennai and Jammu Tawi. Shillong is the nearest bus station from where frequent state buses run between Shillong and other regions of Assam and Meghalaya to reach Cherrapunji. Frequent state buses, cabs or taxis are available from Shillong to reach Cherrapunji.



From guest houses to resorts and from cottages to homestays, Cherrapunji has several options for accommodation. Some of these hotels and resorts are boutique properties in remote scenic locations while some are larger and closer to town.

Cherrapunji is perhaps the only place in India, which has just one season that is monsoon. The rainfall varies from heavy to medium to light, but there is no month without rain. So, the best time to visit Cherrapunji is between the months of October and May, when the weather remains cool and pleasant. It's advisable to avoid a visit to Cherrapunji during the peak monsoon season.
Internet Availability:
Poor
Languages Spoken:
Khasi, Bengali, English & Hindi
Major Festivals:
Nongkrem Dance & Shad-Suk Mynsiem