We are blessed with several beautiful hill stations in India spread across different states that are visited by millions of tourists each year. While the top hill stations in India like Shimla, Ooty, Munnar, Manali, Nainital are well known to the tourists, they have become quite expensive and crowded in peak summer season with 3-star accommodation prices going up beyond INR 4000 and food & transportation would be quite expensive in the peak seasons. Trawell.in has compiled a list of 15 equally fascinating hill stations which are at the same time the least expensive hill stations in India. These destinations are still less known summer getaways and a 3-star accommodation is available in the range of INR 2000 to 2500 (and 2-star is available in the range of INR 1500) in summer season. The cost of food and accommodation at these cheaper hill stations is also easy on the pocket.
Watch Video: Least Expensive Hill Stations in India - Video
Yercaud, Tamilnadu
Yercaud is a beautiful hill station in Salem district of Tamil Nadu and is located in the Shevaroy range of hills in the Eastern Ghats at an altitude of 1515 m. This is one of the less explored hill resorts in India, and among the best places to visit near Coimbatore.
Some of the best places to visit in Yercaud are Emerald Lake, Anna Park, Lady's Seat, Shevaroy Temple, Small Lake, Pagoda Point, Killiyur Falls and Botanical Garden. Yercaud is a picturesque hill stations on the Eastern Ghats and trekking here can be one of the most pleasurable experiences. Summer Festival celebrated in Yercaud in the month of May is a special attraction. This festival is marked by a 7-day exhibition of flowers, dog shows, boating races and a village fair.
Nearest City: Coimbatore (193 Kms)
Also Read: Popular Weekend Getaways from Bangalore
---
Wayanad, Kerala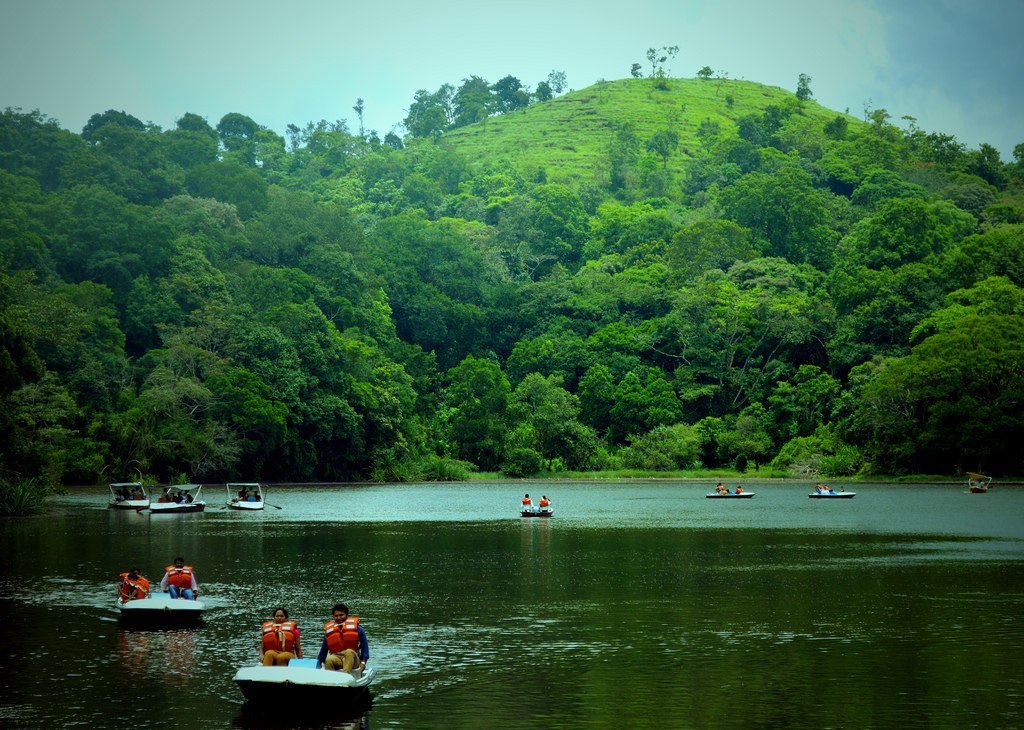 Wayanad is one of the fabulous hill stations in Kerala and also one of the most scenic places to visit near Kochi. At an altitude ranging between 700m to 2100m, Wayanad is the biggest foreign exchange earners of Kerala with its production of cash crops like pepper, cardamom, coffee, tea, spices and other condiments. Wayanad is also famous for Tea and Coffee plantations. Kalpetta, Sulthan Bathery and Mananthavady are the largest towns in Wayanad and are the base stations for visiting different tourist places in the Wayanad district. Wayanad is not as crowded as it's peers like Munnar and it's one of the cheapest hill stations in Kerala. With several rain forests, Wayanad is also a wonderful monsoon destination and one of the famous Kerala tourist places. Wayanad is one of the top attraction you must visit along with your Ooty tour packages.
Wayanad has a rich history and the hills of Wayanad have several evidences of the New Stone Age civilization. There are pictures and pictorial writings on the walls of Edakkal Caves. It has several Waterfalls (Meenmutty Falls, Soochipara Falls, Thusharagiri Falls), Dams / Lakes (Pookote Lake, Banasura Sagar Dam, Karappuzha Dam), Wildlife Sanctuaries (famous Wayanad WLS), Peaks / Trekking Destinations (Brahmagiri Peak, Chembra Peak), Hill Stations (like Lakkidi) and several Pilgrimage centers (like Thirunelly Temple). Meenmutty Falls, Pookote Lake and Chembra Peak are some of the best places to include in Wayanad tour packages.
Nearest City: Kozhikode (73 Kms)
Also Read: 7 Best Places for Tea Plantation Trails in India
---
Most Popular Tours
---
Chikmagalur, Karnataka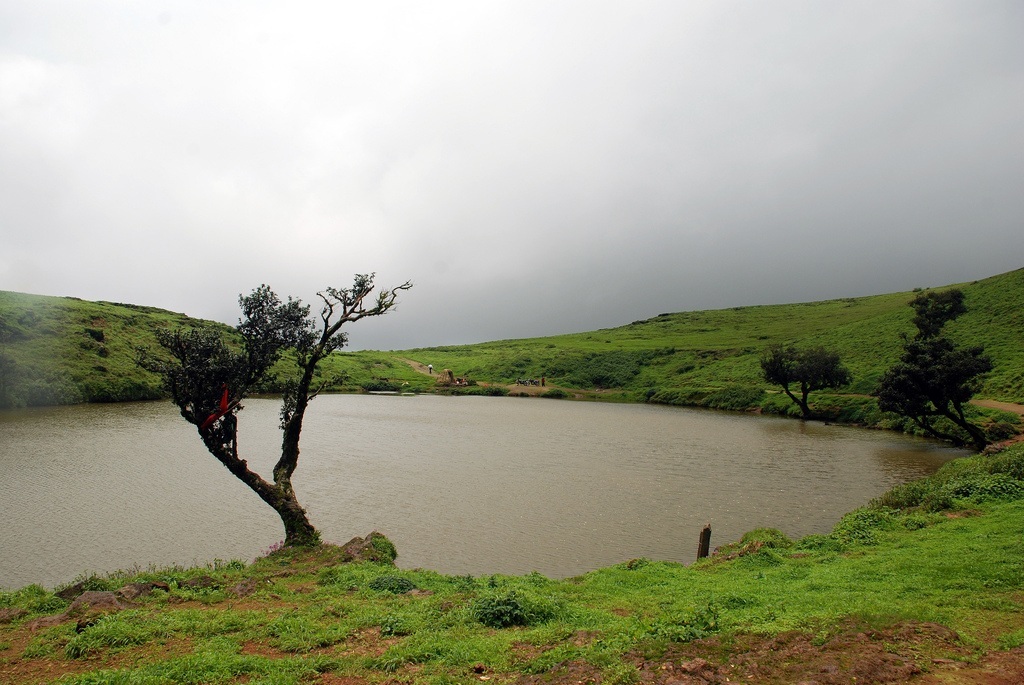 Chikkamagaluru (also known as Chikmagalur) is one of the cute hill stations in Karnataka, and among the scenic places to visit near Mysore. It lies at an altitude of 3,400 feet at the foothills of the Mulliyangiri range in the south-western part of Karnataka and the city belongs to the Malnad region of Karnataka. The Yagachi River is originated from the surrounding hills. It is one of the most amazing tourist places in Karnataka and among the popular 2-day trip near Bangalore.
It is also famous for coffee and is known as the coffee land of Karnataka. It is the place where coffee was cultivated for the first time in India. It was Baba Budan, a Muslim saint who brought coffee seeds from Yemen in 1670. Hirekolale Lake, Baba Budangiri, Mulliyangiri, Ayyanakere Lake, Belavadi, Bhadra Wildlife Sanctuary, Manikyadhara Falls, Amruthapura, and Kemmangundi are the must-include places in your Chikmagalur tour packages. It is very less visited compared to Coorg and mostly attracts trekkers due to several beautiful peaks spread around the region.
Nearest City: Mangalore (148 Kms)
Also Read: Best Places to visit near Bangalore 
---
Araku Valley, Andhra Pradesh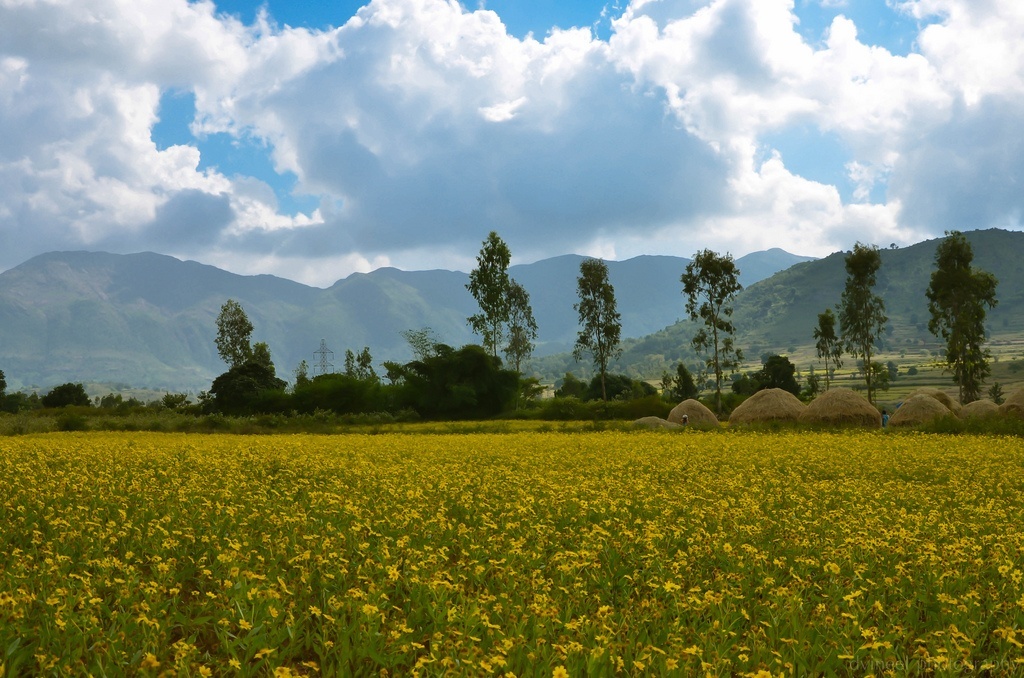 Araku Valley, popularly known as Araku, is a scenic hill station in the Vishakhapatnam district of Andhra Pradesh. Often referred to as Andhra Ooty, it lies at an altitude range of 900 to 1400 m and is the most popular hill stations in AP. This valley is surrounded by mountains like Galikonda, Raktakonda, Sunkarimetta and Chitamogondi. Jindhagada Peak, the tallest peak in Eastern Ghats is situated near Araku. It is one of the cheapest hill resorts in India and also best visited as a monsoon getaway. Araku Valley is one of the prime places to visit as part of Vizag Tour Packages.
Among the top places to visit near Hyderabad, Araku is popular for its famous coffee plantations. Borra caves, Tyda, Katiki Falls, Tribal Museum & Padmapuram Botanical Gardens are some of the interesting places to miss in a Araku Valley packages. The tourists can see tribal folk dances like Dhimsa and Mayuri. The train journey from Vizag to Araku is a memorable experience with 46 tunnels, several bridges through lush green valleys. Araku is famous for the mustard flowers that change the landscape of the valley from green to yellow in the months of November & December.
Nearest City: Vizag (112 Kms)
---
Chakrata, Uttarakhand
Chakrata is a beautiful town in Dehradun district of Uttarakhand and is situated between the Tons and Yamuna rivers, at an altitude of 2118 m. The cantonment of British Indian Army was established here in 1866 by Colonel Hume of the 55th Regiment and the troops first occupied the cantonment in April 1869. This place was a summer retreat for officials of the English East India Company. Chakrata is relatively less visited and also a cheaper alternate to other expensive hill stations in Uttarakhand like Nainital & Mussoorie.
Chakrata is another popular attraction not to miss as part of Mussoorie tour packages. Chakrata is an ideal spot for nature lovers, bird watchers, adventure lovers and wildlife enthusiasts. The hill station is rich in varied panoramic views. Kharamba Peak, at an altitude of 10,000 feet provides opportunities for climbing and skiing. The chief attraction around Chakrata is Tiger Falls and a small hamlet known as Deoban that provides views of the Great Wall of China. Hanol Mahasu Temple and the Lakhamandal are the other attractions near Chakrata.
Nearest City: Dehradun (87 Kms)
---
Kasauli, Himachal Pradesh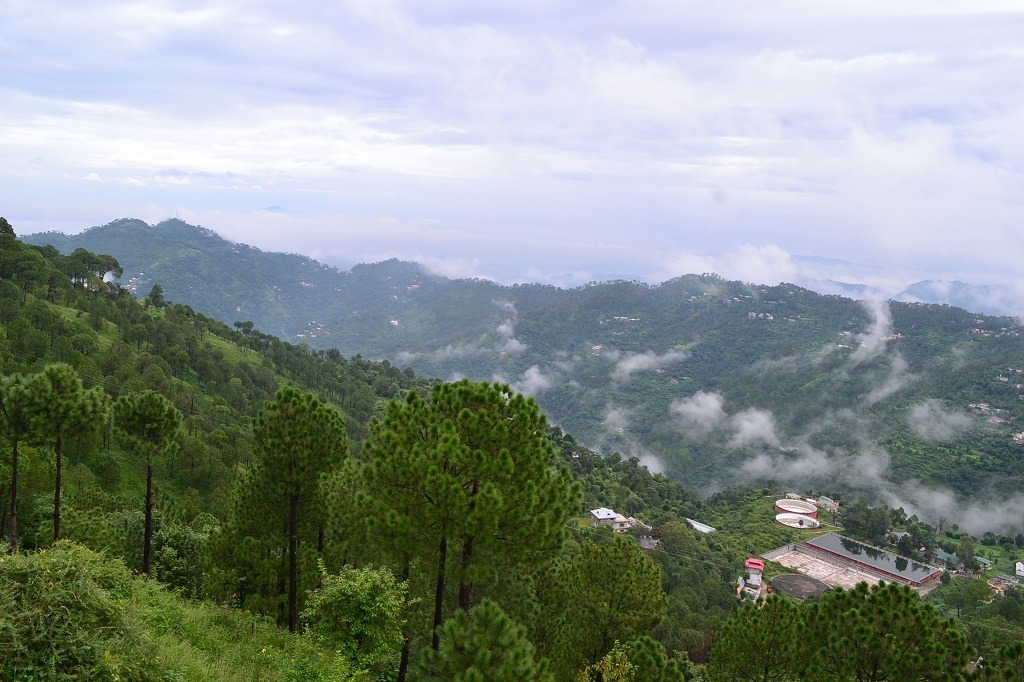 Kasauli is a picturesque hill station in the Solan district of Himachal Pradesh. At an altitude of 1,927 m, it was established by the British in 1842 as a Cantonment town. The name Kasauli came from Kausalya, a mountain stream which flows between Kasauli and Jabli. Kasauli is quite cheaper compared to popular Himachal hill stations like Shimla & Manali. It is also one of the popular hill stations near Delhi. Kasauli is one of the top attractions you must include in Shimla packages.
The town is the home of the Kasauli Brewery, which is the highest brewery and distillery in the world. Kasauli is set in the backdrop of the Dhauladhar Ranges with natural trails for long walks. Christ Church, Monkey Point, Lower and Upper Mall, Sanawar, Sabathu Fort are some of the major attractions in Kasauli. The hill station offers activities like trekking, paragliding, and camping for adventurous travellers. Kasauli is one of the top attractions you must include in Himachal packages. The best time to visit Kasauli is from April to June and September to November.
Nearest City: Chandigarh (55 Kms)
---
Valparai, Tamilnadu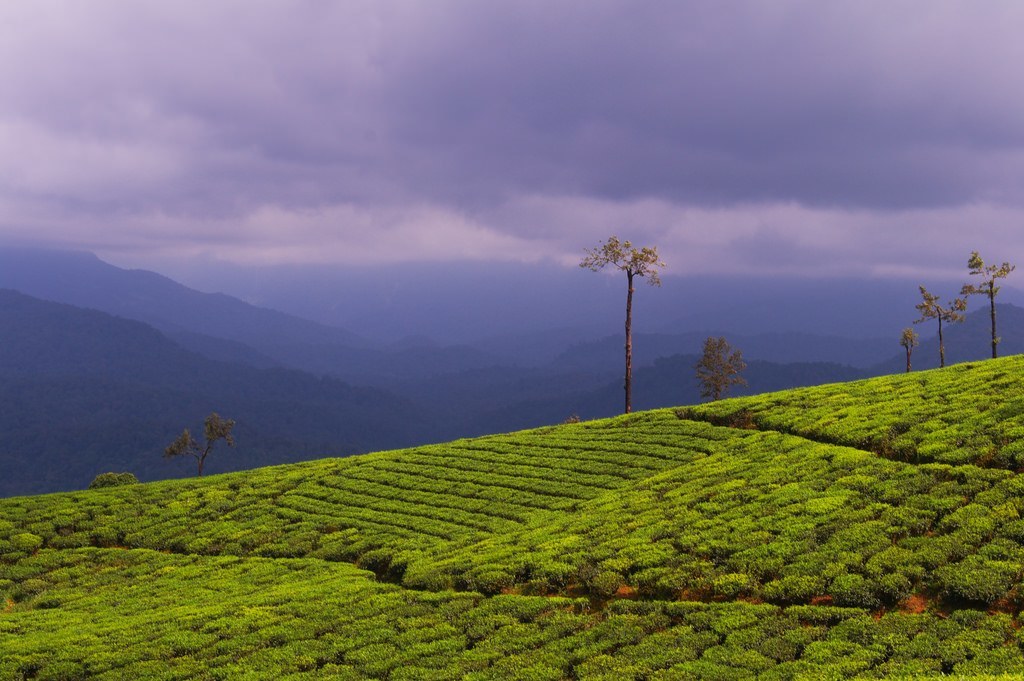 Valparai is a cute Hill Station located in Coimbatore district of Tamilnadu. It lies at an altitude of about 3,500 feet on the Annamalai Hill Range of the Western Ghats. This place has number of tea and coffee estates surrounded by thick forest. Chinna Kallar, in Valparai is one of the highest rainfall areas in India. There are around 40 steep, hairpin bends to reach Valparai from the plains of Pollachi. Upper Sholayar Dam, Nirar Dam, Aliyar Dam, Monkey Falls, Balaji temple, and Pancha Mugha Vinayagar Koil are some important places to include in Valparai tour packages. In addition to sightseeing, travellers can also engage in trekking and can also make a visit to the tea estates and Indira Gandhi Wildlife Sanctuary. It is one of the prominent places to visit near Coimbatore.
A three-day summer festival is organized at Valparai in the month of May to boost tourism. This event includes sessions for children, food festivals, cricket and football matches. Furthermore, flower shows, folk and tribal dances are also a part of this event. Due to it's relatively remote location, Valparai is not spoiled by excessive Tourism and it's also a cheaper option over popular hill stations in Tamilnadu.
Nearest City: Coimbatore (105 Kms)
Must Read: 7 Best Places for Tea Plantation Trails in India
---
Kasol, Himachal Pradesh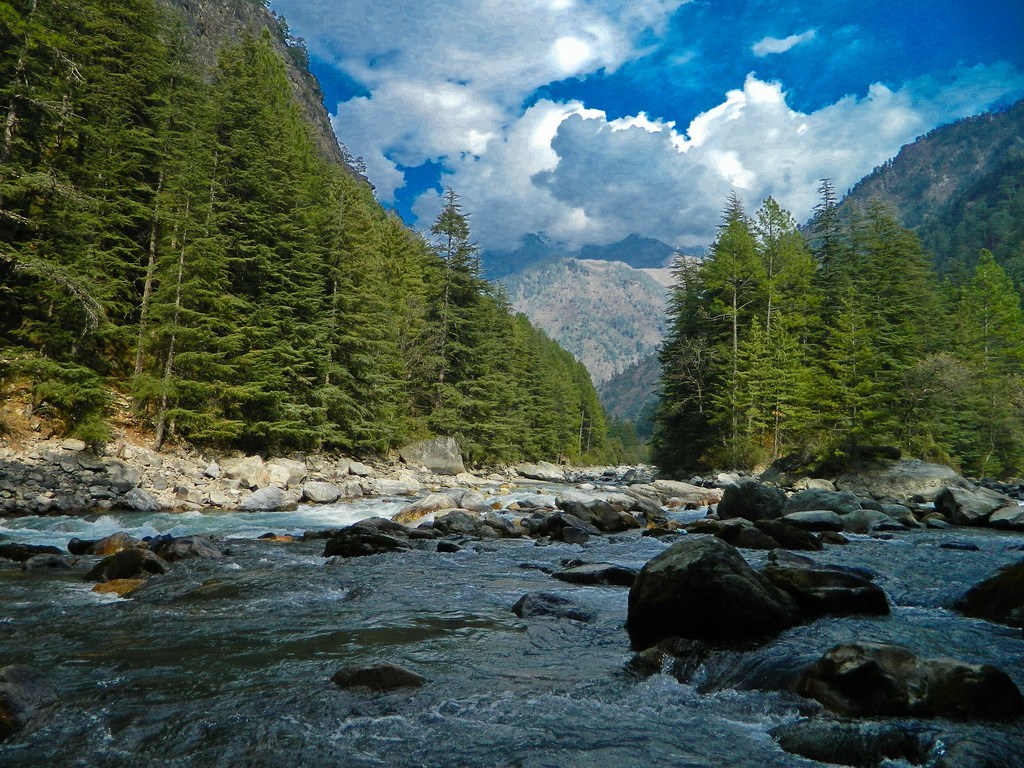 Kasol is a small village in Parvati Valley of Kullu district, Himachal Pradesh, and is situated at an altitude of 1640 m above sea level. The place is dotted with small orchards of apple, plum, peaches, pears, apricot and almonds. A mountain stream called Grahan Nallah divides the village into two parts and the stream flows into Parvati River.
Kasol is one of the top places to visit near Delhi especially for Israelis. Frequented by tourists and hippies, Kasol has everything from Reggae Bars to Internet Cafes and cheap guest-houses. Kasol is an ideal destination for backpackers, trekkers and nature enthusiasts due to its scenic beauty, untouched mountains and great climate throughout the year. The Parvati River abounds with trout fish and is the perfect place for angling and white water rafting. Kasol is also base for trekking trails like Kasol – Malana Trek, Kasol – Kheer Ganga Trek or Kasol to Tosh. Accommodation and food are very cheap in Kasol and several tourists stay for weeks enjoying the nature and trekking. Kasol is situated on the way to popular Manikaran.
Nearest City: Chandigarh (291 Kms)
---
Lansdowne, Uttarakhand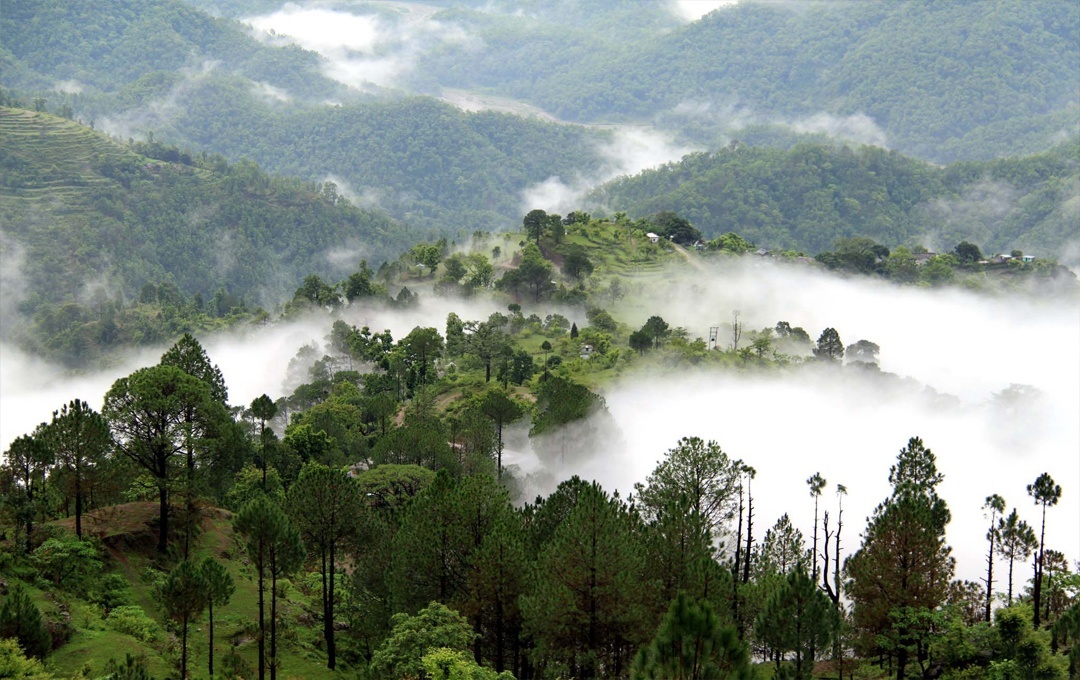 Lansdowne is a small hill town in Pauri Garhwal district of Uttarakhand. It lies at an elevation of 1706 m above sea level and is surrounded by thick oak and pine forests. It was a popular tourist places in India for the British and they built a cantonment here. Lansdowne is named after its founder Lord Lansdowne, the Viceroy of India between 1888 and 1894. Lansdowne is quite less expensive in terms of accommodation and food compared to Nainital & Mussoorie. It is one of the best weekend getaways from Delhi and also one of the top tourist places in Uttarakhand.
Garhwal Regimental Museum, St. Mary's Church, St. John's Church, Durga Devi Temple, Kaleshwar Mahadev Temple, Tip-in-Top, Bhim Pakora, Bhulla Tal, Tarkeshwar Mahadev Temple and Bhairav Garhi Temple are the important tourist places in Lansdowne. It is also an ideal place for trekking and nature walks. Bird watching, boating and paddling are the main activities that visitors can indulge in Lansdowne. The annual festival Shardotsav, celebrated during the season of autumn is a grand draw of tourists. Explore Lansdowne tour packages offered by Trawell.in.
Nearest City: Dehradun (143 Kms)
---
Yelagiri, Tamilnadu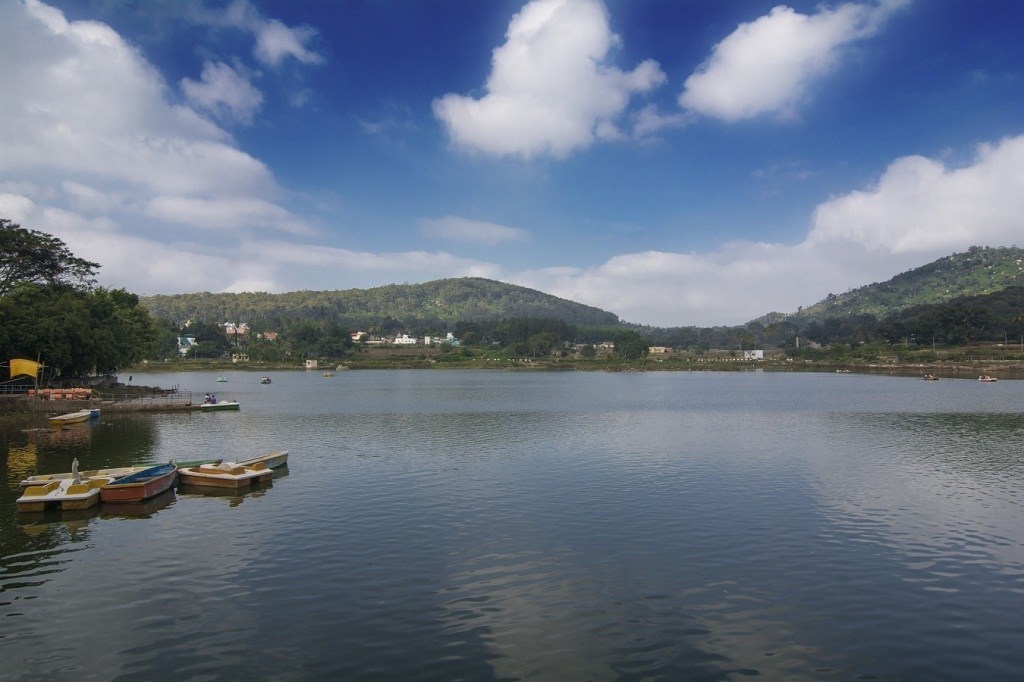 Yelagiri is a hill region in Vellore district of Tamil Nadu. This is one of the famous weekend getaways from Bangalore, and among the famous places to visit near Chennai. Yelagiri is a cluster of 14 hamlets lie between four mountains spread over an area of 30 sq. km having an altitude of 3500 feet. The highest point in Yelagiri is the Swamimalai Hill, standing tall at 4,338 feet with spectacular views. The Punganur Lake is a manmade lake and one of the popular attractions of the region. Paragliding is another sport that's drawing visitors. The Velavan Temple, Jalagamparai Waterfalls and Nature Park are the other attractions in Yelagiri. Yelagiri is another popular attraction not to miss in a Tamilnadu Tour Packages.
Yelagiri Summer festival celebrated in May end is organized by the Tamilnadu Tourism Department. The beauty of Yelagiri is still untouched and it's still one of the less visited and least expensive hill stations in South India. Explore Yelagiri tour packages offered by Trawell.in.
Nearest City: Bangalore (178 Kms)
Related tours: Most Popular South India Tour Packages
---
Kausani, Uttarakhand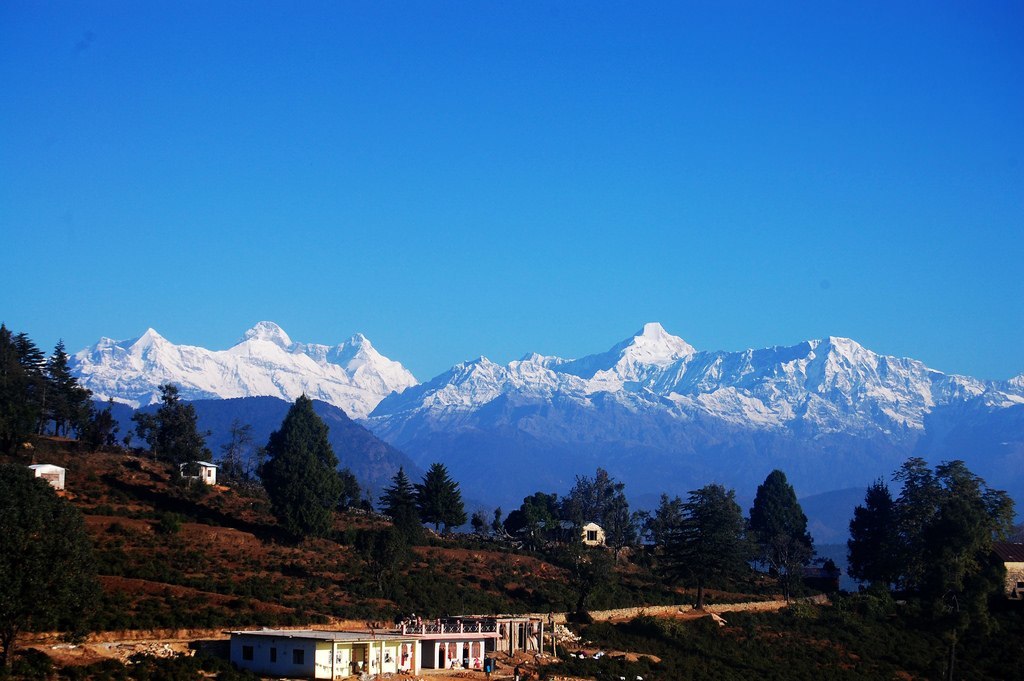 Kausani, originally known as Valna, is a Himalayan hill town located in Bageshwar district of Uttarakhand. It lies atop a ridge at an altitude of around 1890 m amidst dense pine trees overlooking Someshwar valley on one side and Garur and Baijnath Katyuri valley on the other side. Mahatma Gandhi called this place the Switzerland of India due to similarity in landscape. It is one of the cheapest hill stations in North India and among the must include places in your Nainital tour packages.
Kausani is famous for its scenic splendor and its spectacular 300 km wide panoramic view of Himalayan peaks like Trisul, Nanda Devi and Panchchuli. Anashakti Ashram is the most famous place in Kausani. In 1929, Mahatma Gandhi stayed here for 14 days while scripting his book Anasakti Yoga and was greatly impressed by its environs. Lakshmi Ashram, Sumitra Nandan Pant Gallery, Rudradhari Falls, Kausani Tea gardens, Baijnath group of temples and Bageshwar are the important places of interest to include in Kausani tour packages. Kausani also offers a lot of activities for adventure lovers like trekking, rock climbing, etc. Pindari Glacier Trek, Sunder Dhunga Trek and Milam Glacier Trek are some of the popular trekking areas.
Nearest City: Delhi (412 Kms)
---
Gangtok, Sikkim
Gangtok, the capital of Sikkim, is a hill town and one of the most popular places in north-east India. It is situated on the lower slopes of the Himalayan range at an elevation of 1,650 m. Once an important trade route between Tibet and India, today Gangtok is a busy administrative and business center. It rose to prominence after the construction of Enchey Monastery in the year 1840, as it then became a popular pilgrimage for followers of Buddhism.
Gangtok is known for its scenic beauty and striking views of Mount Kanchenjunga, the third highest peak in the world. There are many tourist places in Gangtok and is well-known as the land of monasteries. Himalayan Zoological Park, Kanchenjunga National Park, Tsomgo Lake, Saramsa Garden, Ganesh Tok View Point, Tashi View Point, Shingba Rhododendron Sanctuary, Nathula Pass, Seven Sister Waterfalls, Changu Lake, Enchey Monastery, Rumtek Monastery, Hanuman Tok, and Yumthang valley are some tourist places to visit in Gangtok. Though Gangtok is a city, the accommodation prices are quite cheaper compared to other popular hill resorts and cities in India. Gangtok is one of the must include places in North East tour packages.
Nearest Airport: Bagdogra Airport (126 Kms)
---
Aizawl, Mizoram
Aizawl or Aizwal, a charming hill station, is the capital of Mizoram in North East India and is situated on a ridge 1132 m above sea level. The 112 years old town is also the center of administration containing all the important government offices, state assembly house and civil secretariat. Aizawl is located above the Tropic of Cancer with the Tlawng river valley to its west and the Tuirial river valley to its east.
Aizawl is a favoured destination of solitude seekers and it offers ample opportunities for sightseeing, recreation and adventure. One of the highlighting characteristics of the region is timber houses positioned between profusion of flowers. Some of the attractions in Aizawl are the State Museum, Durtlang Hills, Khawnlung Wildlife Sanctuary, Mini Zoological Garden, Burra Bazar, Tamdil Lake, Solomon's Temple and Vantawang Falls. Chapchar Kut, Min Kut and Pawl Kut festivals are hosted in the city, which is celebrated with zeal in the traditional Mizo style. Aizawl is quite a big city with several accommodation options and the prices are quite cheaper too.
Nearest Airport: Aizawl Airport (41 Kms)
---
Shillong, Meghalaya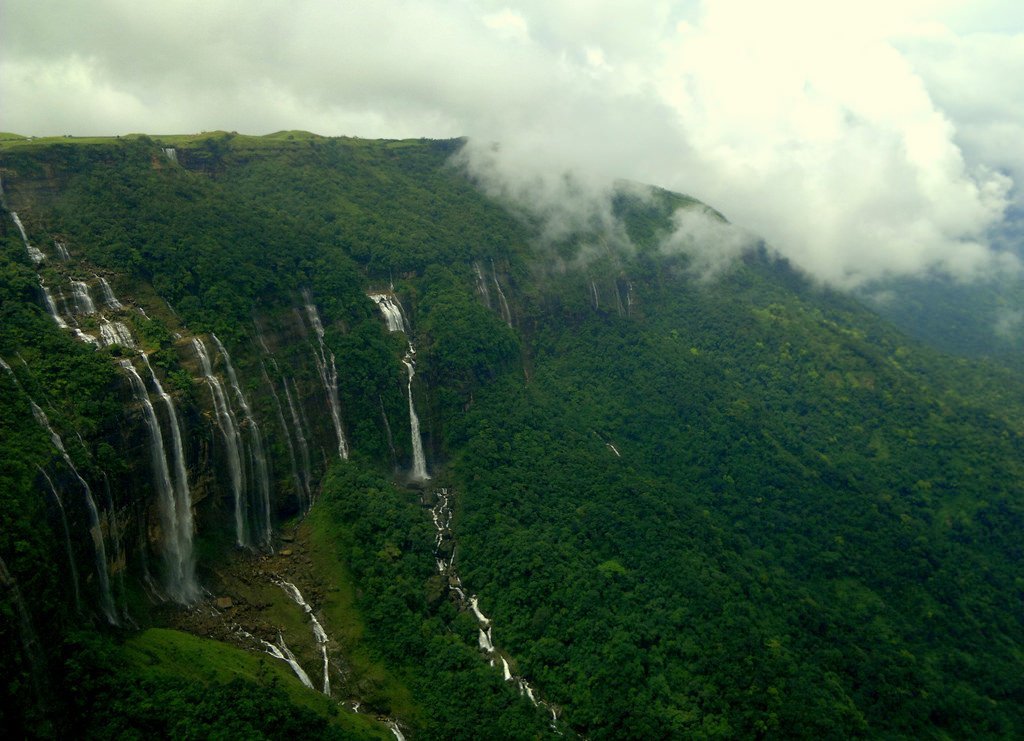 Shillong is the capital city and a hill station located in the north – eastern state of Meghalaya. Also known as the Abode of Clouds, it is one of the smallest states in India. It is the headquarters of the East Khasi Hills district and is situated at an average altitude of 1,496 m, with the highest point being Shillong Peak at 6,449 feet. Shillong remained the capital of Assam until the new state of Meghalaya was formed in 1972.
The British called Shillong the 'Scotland of the East' because of its beautiful lakes, waterfalls, pine forests and green mountains. There are several interesting places to visit in Shillong including Umiam Lake in Barapani, Shillong Golf Club, Bara Bazaar, Botanical Survey of India Orchidarium, Wards Lake, Lady Hydari Park and Zoo, Meghalaya State Museum, Shillong Peak, Cathedral of Mary Help of Christians, Grotto Church, All Saints Church and Butterfly Museum. Shillong also houses several waterfalls, the prominent ones being Spread Eagle Falls, Crinoline Falls, Elephant Falls, Beadon Falls and Bishop's Falls.
Nearest Airport: Shillong Airport (30 Kms)
---
Amboli, Maharashtra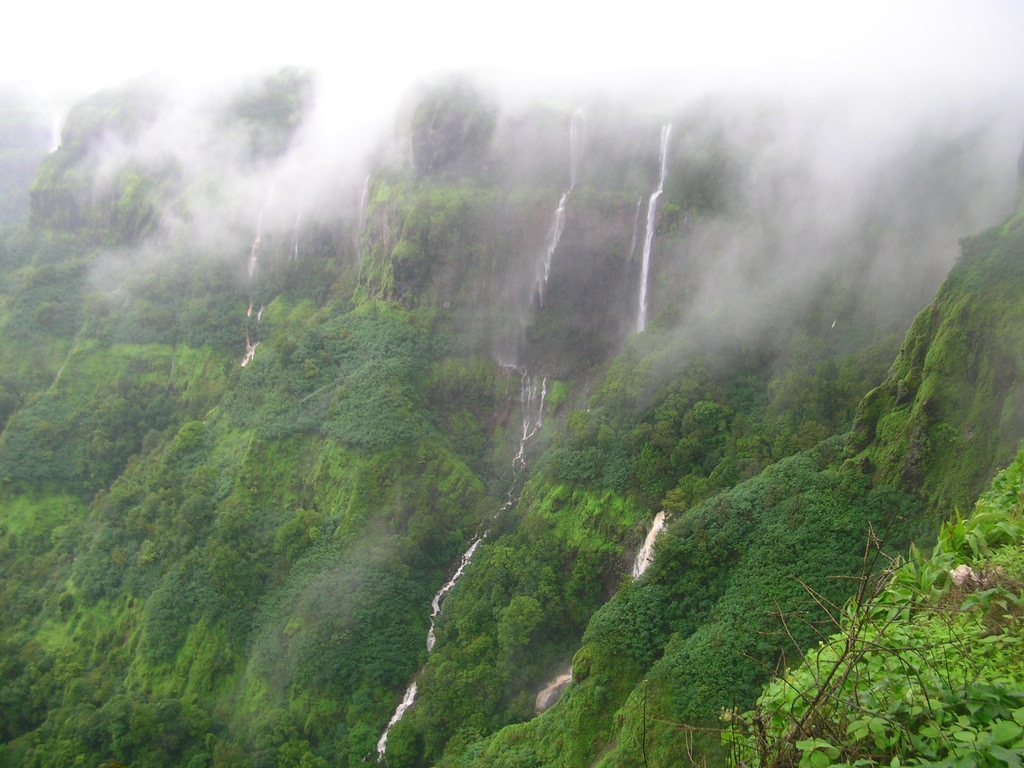 Amboli is a small hill stations in Maharashtra situated at an altitude of 2200 feet. It is the last hill station before the coastal highlands of Goa. The Konkan coast lies on one side of Amboli, whereas valleys are found on the other three sides. A British Colonel Westrop made a major contribution to the development of Amboli as a hill resort. Amboli is an idyllic place that comes alive in monsoon when the area is abounding with waterfalls and mist. Amboli receives an annual rainfall of about 750 cm, wettest region in Maharashtra. It is one of the top places to visit near Mumbai.
The sunset point, Amboli Waterfall, the origin of Hiranyakeshi River, Shirgaonkar Falls, Nagatta falls and Mahadevgad Fort are worth visiting. Amboli has many viewpoints, like the Sea View Point, the Kavelsad Point, the Parikshit Point and the Mahadevgad Point. Located 10 km from Amboli, the Bauxite Mines are another attraction. The best time to visit Amboli is between October and February, when the waterfalls can be seen gushing down from the hills. Amboli is a cheaper alternate to quite expensive Mahabaleshwar & Lonavala, the top places to visit near Pune.
Nearest City: Panaji (88 Kms)
---
Santhi is an avid traveler and primary contributor to the blogs at Trawell.in. She has explored most of the states in India and gained vast knowledge on tourist destinations in India and abroad. She also contributes content to other travel websites.