As we all know, Delhi, the capital city of India, is renowned for its history and culture. It has some amazing historical monuments, glorious temples, top notch restaurants and bustling markets. Apart from these, Delhi is also a sought after destinations for food lovers as it renders tempting delicacies. The sheer diversity of food in the capital city always attracted food lovers from all parts of the world. Particularly, Street food stands favorite among the locals and outsiders who have lived in Delhi for years. Delhi streets offer everything for food lovers ranging from mouthwatering Chole Bhature to delicious Biryani, from crispy Samosa to spicy Momos, from tangy Golgappe to Indian-style noodles and from butter Parathas to cheesy Rolls.
Trawell.in presents the list of 12 best street food places to try in Delhi here.
Book Here: Car Rentals in Delhi
Paranthe Wali Gali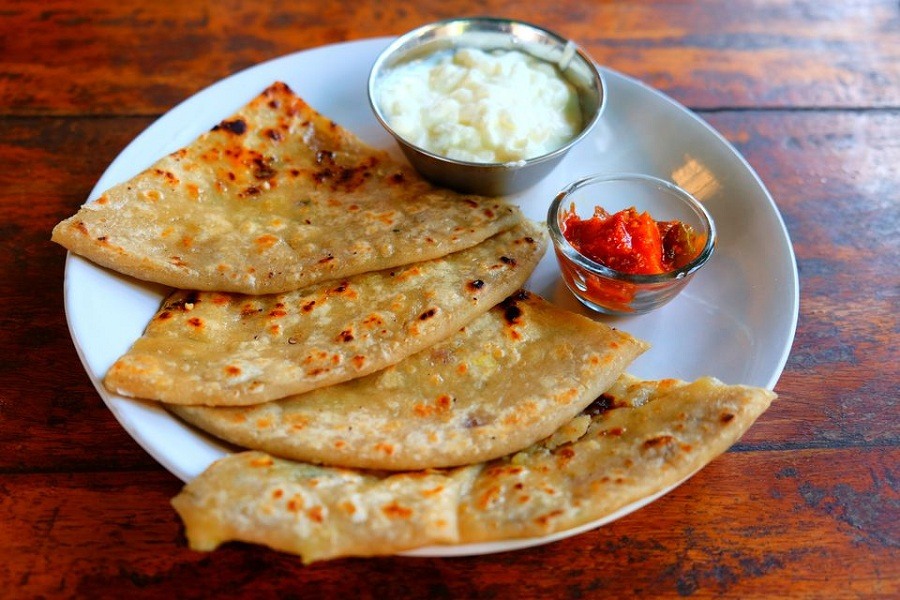 Settled within the narrow lanes of Old Delhi's Chandni Chowk, Gali Paranthe Wali or Paranthe Wali Gali is renowned for the huge number of shops selling parantha that is a fried Indian bread. The parantha shops opened up here in the 1870s since then it has been a paradise for vegetarians. There are many varieties of paranthe which can be stuffed with potatoes, green peas, cauliflower, radish, paneer, dry fruits and even leftover veggies and lentils. These parathas are usually served with vegetable curry, butter, chutney and pickles. Pandit Gaya Prasad Shiv Charan, Pandit Kanhaiya Lal & Durga Prasad's Parantha Shop and Pandit Babu Ram Devi Dayal's Parantha Shop are some of the popular shops here to find some delicious paranthe.
Also Read: Places to visit near Delhi
---
Khan Market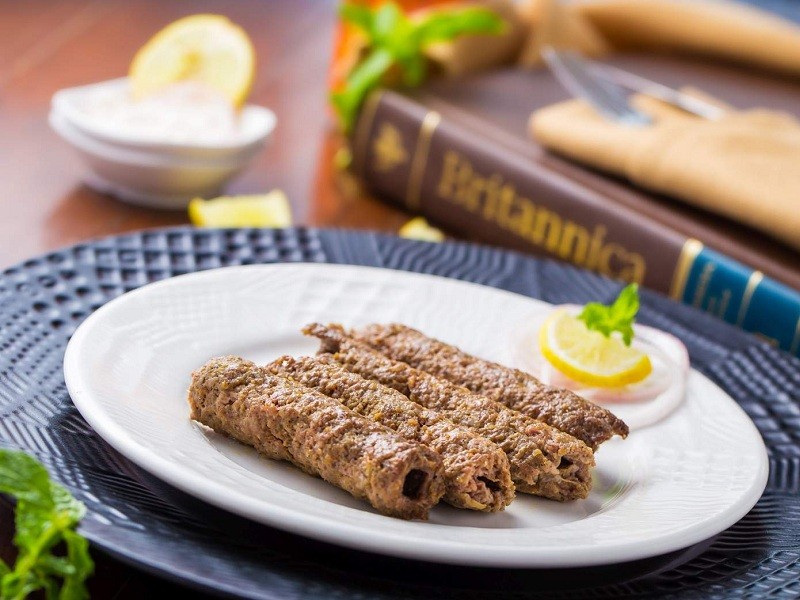 Named after Khan Abdul Ghaffar Khan, Khan Market is an upscale market located in South Delhi, close to India Gate. A hub of branded showrooms, expensive designer boutiques, upscale jewelers, it is one of the best shopping areas in Delhi. Apart from these, Khan Market is also known for its trendy cafes and umpteen restaurants & bars. The most sought after place to gorge on non-vegetarian food in Khan Market is Khan Chacha. It will serve the best rolls, kebabs, rotis and much more! Prices are little on the higher end, but with such amazing taste, it is worth every bite! Big Chill Cafe, Soda Bottle Opener Wala, Azam's Mughalai, Mamagoto, Side Wok, and Sham Di Hatti are some top food joints in Khan Market.
---
Most Popular Delhi Tours
---
Delhi University's North Campus

Delhi University's North Campus is one of the best places to eat in Delhi where one can find amazing food joints which sell from street food, snacks and fast food. This place is bustling with students from the University as the food here is diverse, cheap and delicious. Spicy chicken winglets and Fried pork momos at Momo's Point , Milk Shake at Ricos, Cholley Bhature at Chache Di Hatti, Tandoori Momos at QD's Restaurant, Cheese Bomb Burger & Butter Chicken Pasta at Big Yellow Door and Lassi at Bille di Hatti are the must try while you are in North Campus. Don't miss Cholley Bhaturey at Chacha Di Hatti as it is counted among the best places to have cholley bhaturey in Delhi.
---
Jama Masjid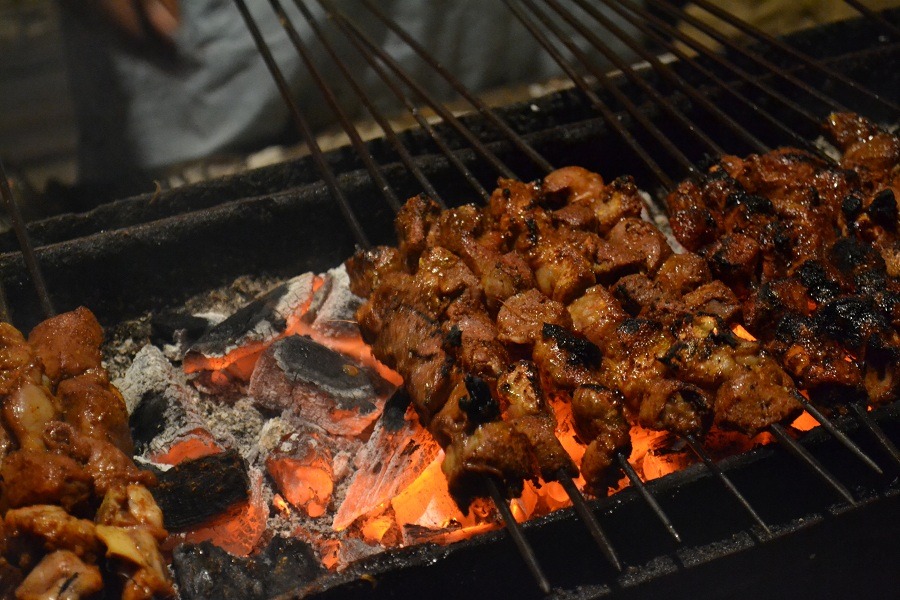 Jama Masjid is an iconic structure in Delhi and also one of the must include in Delhi Tour Packages. Besides its pilgrimage & historical importance, Jama Masjid in Delhi is quite a bliss for street food lovers. The area around Jama Masjid in Old Delhi has more than a hundred street food stalls. It is a heaven for non-vegetarians as it has some of the best eating places in Delhi. From keema samosas, to grilled botis and from kebabs to jalebis, no foodie who has gone to Jama Masjid has ever come back unhappy. Butter Chicken at Aslam Chicken Corner, Paneer Jalebi & Khoya Samosa at Kallan Sweets, Shahi Tukda at Cool Point, Chicken Changezi at Al Jawahar, Kebabs at Qureshi Kebab Corner, Desi Fried Chicken at Haji Mohd. Hussain and Mutton Burra Kebab at Karim's are the must try dishes at Jama Masjid while you are in Delhi.
---
Dilli Haat
Apart from traditional clothes, jewellery, and handicrafts from the different states of India, Dilli Haat is known for its diverse culinary options. Offering authentic cuisine from different states of India, Dilli Haat has numerous stalls representing different states of the country where you can satisfy your taste buds with different variety of dishes that too at decent price. There are 17 different state stalls maintained by the tourism authorities of their respective states. Singju at Manipur Stall, Bhapa Iilish at West Bengal Stall, Assam Thali, Sev Puri at Maharashtra Stall, Galawati Kebab at Madhya Pradesh Stall, Pyaz Kachori at Rajasthan Stall, Pork Raja Mirchi at Nagaland Stall, Momo at Arunachal Pradesh Stall and Handi Biryani at Hyderabad Stall are the most popular dishes one must try at Dill Haat.
---
Chandni Chowk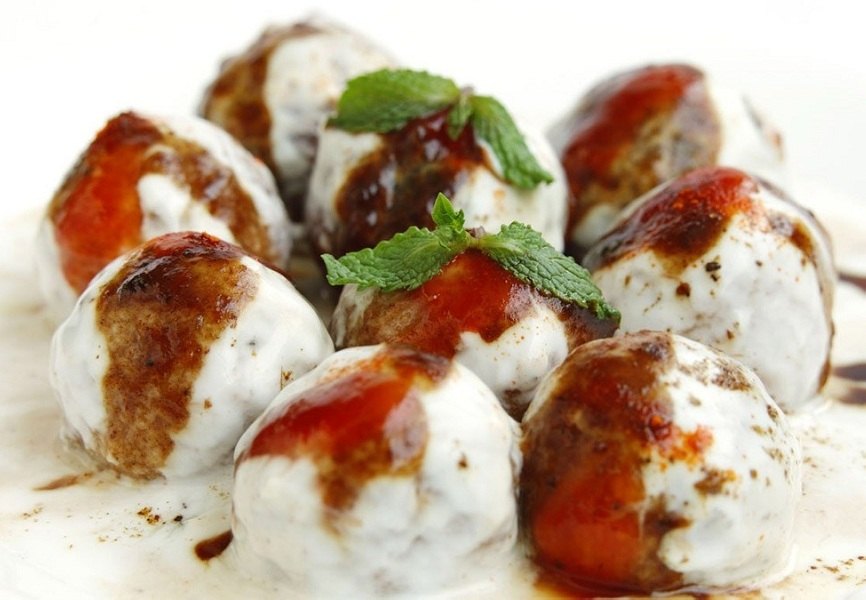 Chandni Chowk in Old Delhi is kind of a culinary heaven for street food lovers as it shares an intimate relationship with Mughal era food. The streets of Old Delhi are a turbulence of activity, sometimes overwhelming for the sheer density of people and establishments. In fact the first thing that you notice here is the strong aromas emanating from the street side eateries, some so famous that they command queues at meal times. Here, the food is served sumptuously garnished with culinary secrets that have been passed down through generations. Fruit Chat at Bishan Swaarop Chaat Corner, Dahi Bhalla at Natraj, authentic Chat in Lala Babu Chat Bhandar and Kulfi at Kuremal Mohan Lal Kulfi Wale are some must try dishes at Chandni Chowk.
---
Safdarjung Enclave
Safdarjung Enclave is one of the posh areas of Delhi, which implies an equally swanky list of eateries along with fully-fledged DDA market. From the iconic Rajinder Da Dhaba to the north Indian cuisine of Spice Angan, there are so many eateries where people of all ages love indulging in the food. Rajinder Da Dhaba at Safdarjung Enclave is a popular Dhaba-style restaurant which serves delicious non-vegetarian dishes. One must try the chicken malai tikka, mutton barra, mutton curry and their signature kalmi chicken here. CAFÉ DELHI 29, The Categorical Eat Pham, Bamboo Shoots and Bubblegum and Mizo Diner are the other exemplary North Eastern food outlets where one have a different delicacies from the far eastern wing of the Country like River snails with smoked pork, Manipuri fish curry, duck thali, Rawtuai Kan, Sanpiau and more.
---
Paharganj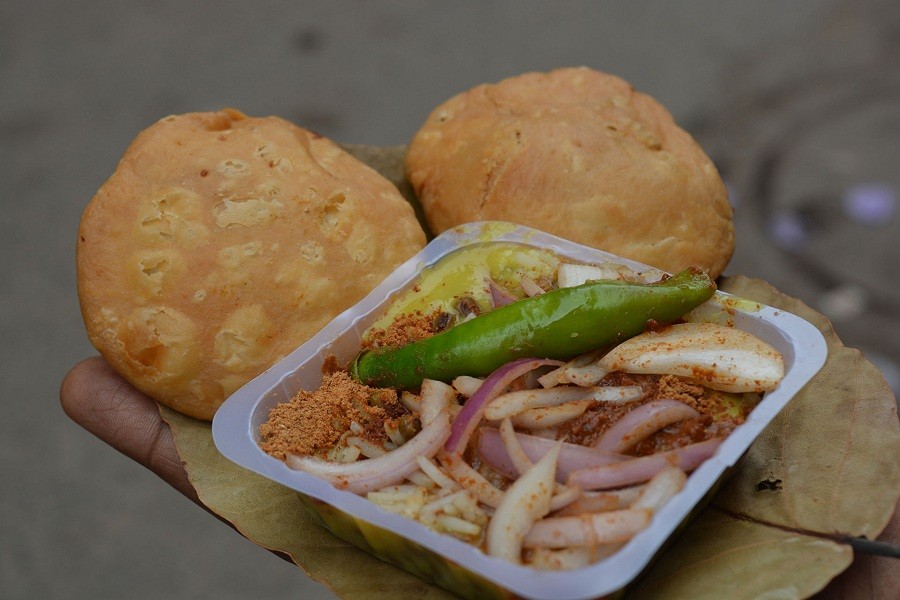 Paharganj, a locality in Delhi near the New Delhi Railway Station, is synonymous with budget hotels and guest houses which cater largely to foreign backpackers. Once considered a hippie haven, it has a string of restaurants, cafes and bars which serve a range of local as well as international cuisine. Sita Ram Diwan Chand in Paharganj is famous throughout Delhi for their delicious street specials like Chole Bhature and chats. It serves delicious Chole Bhature, along-with onions, pickle and green chillies. One can also try Samosas at Bikaner Sweet Corner, crunchy Kachoris at Multan Moth Bhandar, Naans at Kashmir Sweet Shop, Sushi and Egg rolls at The Shim Tur, Nepalese thali at Everest Café and Pollo pizza at Sam's Cafe while in Paharganj.
---
Lajpat Nagar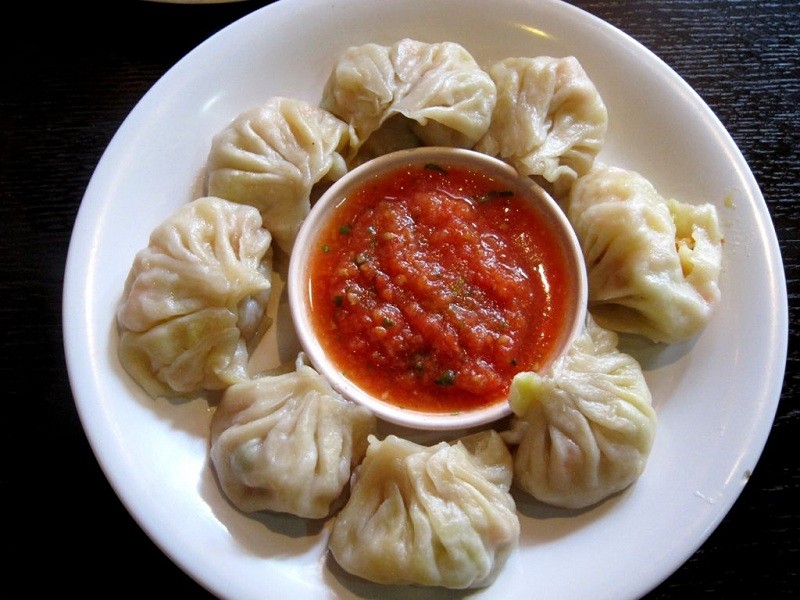 Named after Lala Lajpat Rai, Lajpat Nagar is a very busy place as well as a commercial hub in South Delhi. Central Market is the main shopping hub in Lajpat Nagar that boasts of lines of street shops selling everything from hair clips to slippers. Besides unlimited shopping options, food joints too play a vital role in creating a complete experience at this market. Small, efficient eateries made delicious snacks which are craving-worthy dishes that are often reminisced over by patrons near and far. Moong dal ke pakode in front of Rama Palace, Pav bhaji & Vada pav at Jhakkas Pav bhaji, Chinese Chaat at Golden Fiesta, Momos & Chilly potato at Avantika and Dahi Bhalle are must try while you are in Lajpat Nagar area of Delhi.
---
Karol Bagh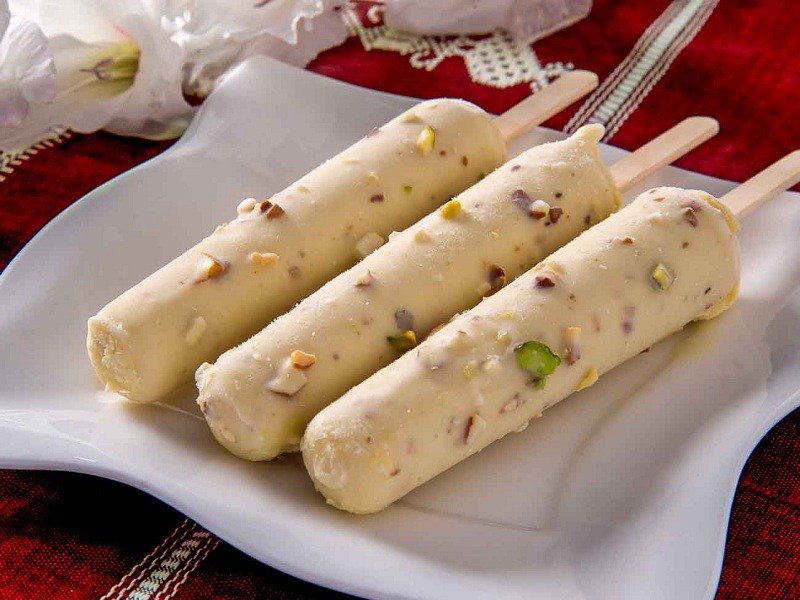 Karol Bagh is a residential-cum-commercial neighborhood located in the heart of West Delhi. Synonymous with populous markets like Ajmal Khan Road and Ghaffar Market, the place has managed to build its identity as a major food hub as well. From street food to shakes and from fast food to dhaba style and restaurants, Karol Bagh is one place where you can satisfy your hunger to the fullest. Chole Bhature and Kulfi at Roshan Di Kulfi, Shakes at Anjlika, Butter Chicken & Khameeri Roti at Changezi, Rolls at Art of Spices and Tandoori Fish at Ganesh Machhiwala are some must try delicacies while you are in Karol Bagh.
---
Nizamuddin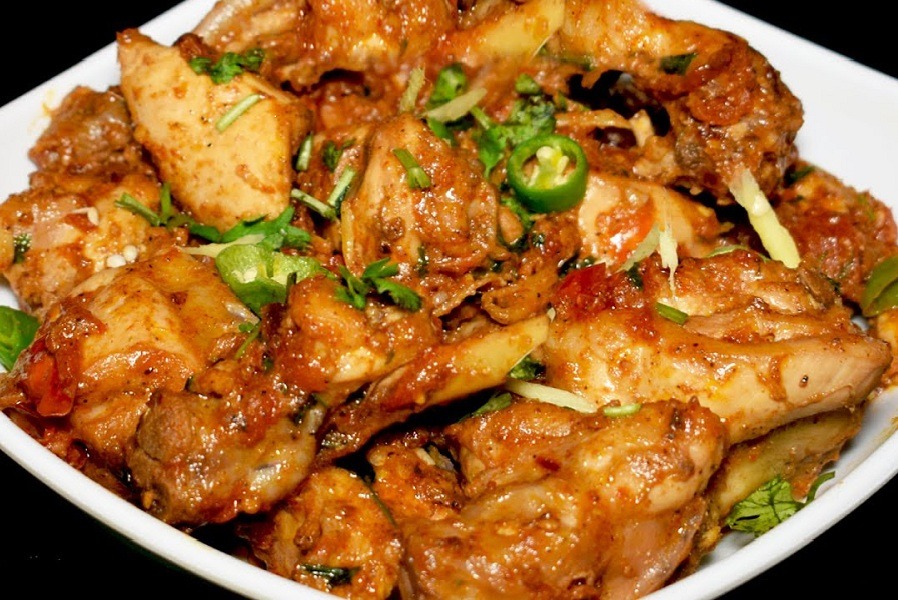 Nizamuddin, one of Delhi's oldest settlements, is an iconic spot because of its celebrated Hazrat Nizamuddin Aulia Dargah, one among the popular places to visit in Delhi. Besides its heritage, one can find many eateries in every nook and corner of this area. Nizamuddin is indeed a heaven for food lover and one of the best areas to try out different types of street food ranging from delicious kebabs to sweets to Mughlai delicacies. Dahi Butter Chicken at Kit Care Kebab Corner, Kebabs at Karim's and Ghalib Kabab Corner, Chicken Tangdi Kebab & Karahi Chicken at Al Quresh and Kheer from Nasir are the must try dishes at Nizamuddin area of Delhi.
---
Connaught Place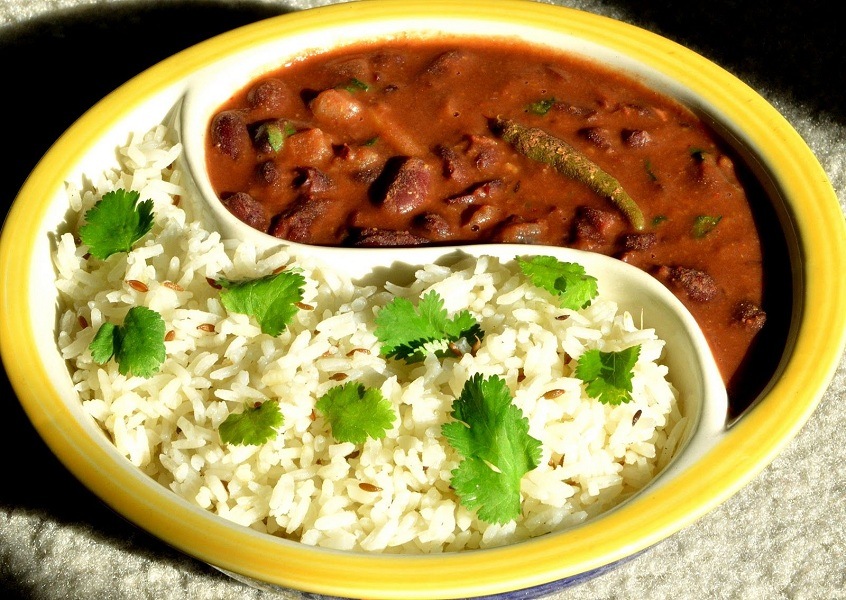 Connaught Place is one of the most happening places and among the best places to have best street food in Delhi. The classic Georgian architecture, the all-white airy vibe and its iconic eateries, the place take you back to a different era. CP has many places that serve best street food in Delhi and are worth visiting. From fancy rolls to the delicious local rajma chawal, one can relish all kinds of cuisines here. Amritsari Kulcha at Kulcha King, Rajma Chawal at Jain Chawal Wale, Thai Wonton soup at Wengers, Bhelpuri at Odeon Bhelpuri Bhandar, Keema Roll at Halka Fulka and snacks at Embassy Snack Corner are must try dishes that are renowned for its taste.
Santhi is an avid traveler and primary contributor to the blogs at Trawell.in. She has explored most of the states in India and gained vast knowledge on tourist destinations in India and abroad. She also contributes content to other travel websites.