ANDAMAN ISLANDS TOURISM | BEACHES,PLACES TO VISIT & TRAVEL GUIDE TO ANDAMANS

Beach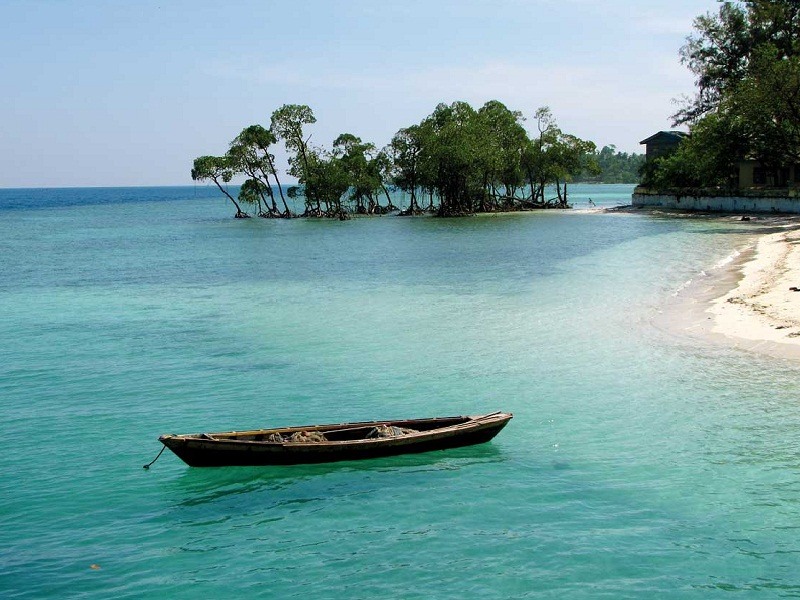 Ideal Trip Duration:
3-5 Days

Nearest City to Andamans:
Port Blair (0 Kms)

Best Time to Visit Andamans:
November to March

Peak Season:
December to February
The Andaman & Nicobar Islands form an archipelago in the Bay of Bengal between India and Myanmar. Most part of the Andaman & Nicobar Islands is a Union Territory of India, while a small part in the north of the archipelago, including the Coco Islands, belongs to Myanmar. Port Blair is the capital town and the tourist hub in Andaman Islands. Andamans are one of the popular destinations for honeymoon tours.

The archipelago is divided into two groups of islands - the Andaman Islands and the Nicobar Islands. Andaman & Nicobar Islands stretch over a length of more than 800 km from North to South. It consists of about 572 islands out of which only around 36 islands are inhabited. Of these, only 9 islands in the Andaman Islands are open for tourists while the Nicobar Islands are inaccessible to tourists. Non-Indian nationals need special permit to visit Andaman Islands.

The Andaman & Nicobar Islands have been inhabited for several thousand years. The original inhabitants of the islands are many tribal groups like Great Andamanese, Jarawa, Onge and Sentinelese people, who have had no contact with any other people. The Marathas annexed the islands in the late 17th century AD. In the early 18th century, the islands were the naval bases of Maratha admiral Kanhoji Angre. The British finally annexed Andaman & Nicobar Islands in the 19th century who used it as the prison for Indian freedom fighters. During British Raj, the islands were referred to as Kalapani for their notorious penal settlement.

The Andaman Islands are divided into South, Middle and North Andaman. The islands are important for their unique ecosystem and are known for their evergreen tropical rainforests, pristine beaches, gorgeous corals, fascinating marine life, and adventurous water sports. The Cellular Jail, Chatham Saw Mill, Mount Harriet, Mahatma Gandhi Marine National Park, Radhanagar Beach in Havelock Island, Neil Island, Long Island, Baratang, and North Bay Island are the important tourist attractions of Andamans.

The sea around the Andaman Islands offers excellent scope for water sports. Andaman Water Sports Complex offers water surfing, skiing, water scooters, snorkeling, scuba diving, etc. These Islands are also famous for adventure tourism like trekking and camping.

The Veer Savarkar International Airport is located in the capital town of Port Blair, which is about 3 km from Port Blair Central Bus Stand. Port Blair has direct flights from Chennai, Mumbai, New Delhi, Kolkata and Bangalore. Regular passenger ship services are available to Port Blair from Chennai, Kolkata and Visakhapatnam. There are three to four sailings every month from Kolkata and Chennai to Port Blair and only one sailing for Visakhapatnam in a month. The voyage through ship takes about 50 to 60 hours during fair weather.

There are several accommodation options in Andaman & Nicobar Islands to cater all types of vacation budgets and tastes. There are luxury hotels, premium hotels, budget accommodation, private and government lodges at affordable rate.

The climate of Andaman & Nicobar Islands is tropical and humid throughout the year. The best time to visit the Andaman & Nicobar Islands is from November to March while the peak season is from December to February.

Ferry Timings:

Havelock to Port Blair: 9 AM & 4.30 PM

Port Blair to Havelock: 6.20 AM & 2 PM

Havelock to Neil Island: 2.45 PM

Ferry Cost: Rs. 500 for Adults & Rs. 100 for Child (0 - 2 Years)
Internet Availability:
Good
Languages Spoken:
Bengali, Tamil, Telugu, Malayalam, Hindi & English
Major Festivals:
Island Tourism Festival (Jan), Beach Festival (April), Music Festival (Aug), & Film Festival (Nov)
Notes/Tips:

No permit is needed for Indians to visit Andamans while all Foreign Nationals need a Restricted Area Permit (RAP). Permits can be obtained from Indian Missions Overseas; Immigration Offices at Mumbai, Chennai, Kolkata and Delhi. The permit is usually valid for 30 days.