Are you a wildlife enthusiast and love to live on the edge of thrill and excitement? Nothing beats staying in a wildlife resort amidst the wilderness and verdant landscapes. While a jungle safari through the dense forests, spotting of animals and camp in raw nature are of course far more exciting than they could be described in words. Thanks to the several wildlife sanctuaries in India that are worth witnessing. With the increasing interest of the wildlife lovers, a large number of resorts and jungle camps are mushrooming around these wildlife reserves across the country. These resorts provide the best opportunity to watch wildlife from close quarters even while being equipped with modern amenities and comforts. Scroll on to find out the 10 best wildlife resorts in India and get ready to enjoy the thrilling experience as part of India Holiday.
Bandipur Safari Lodge, Bandipur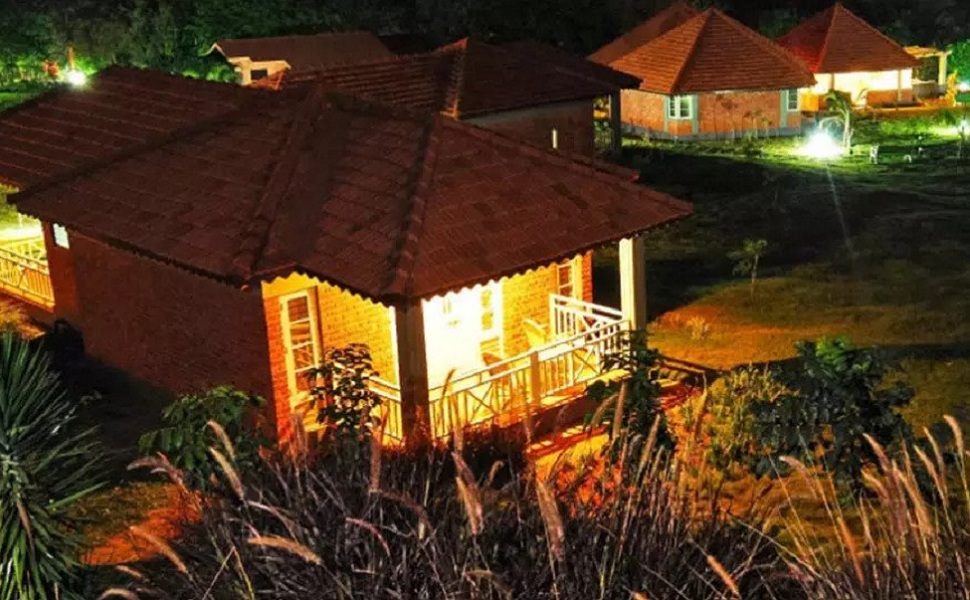 Nestled at the foothills of the Nilgiris, Bandipur has always been on the agenda of tiger enthusiasts and can be visited as part of Mysore Tour Packages. It is one of the 30 Tiger Reserves in India and also one of the last refuges of the endangered Asiatic wild elephants. Bandipur is one of the top places to visit in Karnataka for wildlife enthusiasts.
The Bandipur Safari Lodge is one of the few wildlife resorts in India that allows a visitor to explore the wilderness with a sensitive and curious attitude. Built in contemporary architectural style with all the modern comforts, the resort has only 22 rooms namely The Gaur Room, The Elephant Room, The Tiger Room, etc. There are no television sets and air conditioning to maintain the tranquility and natural harmony at the lodge. The highlights of a stay at Bandipur Safari Lodge are the Jungle Safari in open-top jeeps, nature walks, bird-watching and wildlife photography in these unspoilt environs along with a trained and experienced naturalist as a guide.
Location: On Mysore – Ooty Highway
Nearest City: Mysore (80 km)
Also Read: Wildlife Sanctuaries in Karnataka
---
Kabini River Lodge, Nagarhole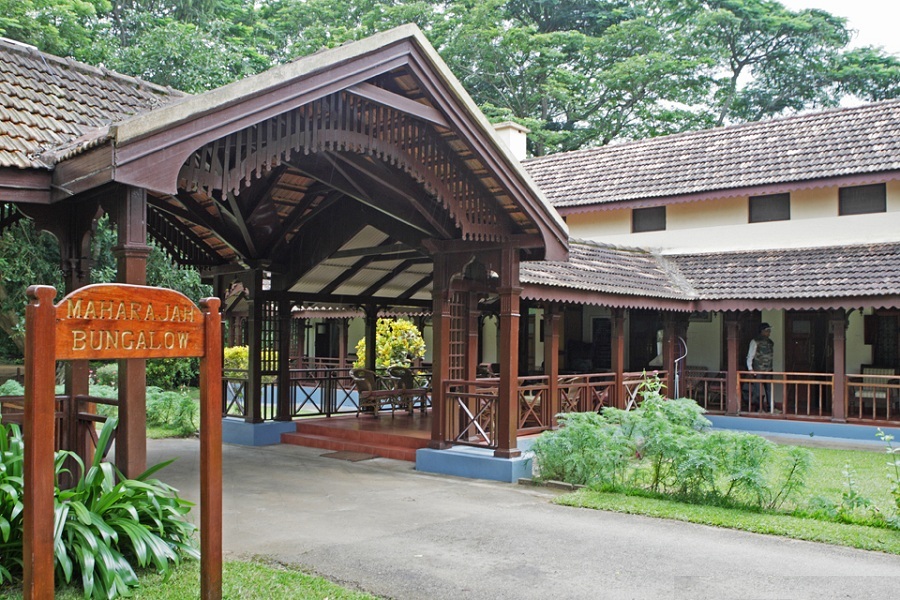 Named after Kabini River, the Kabini River Lodge is located on the southern fringes of the Nagarhole National Park, one among the most visited national parks in India, and among the best places to experience Karnataka Tourism. Part of the Nilgiri Biosphere Reserve, Nagarhole is a haven for wildlife enthusiasts and can be visited as part of Coorg Tour Packages. The 54 acres of property on the bank of Kabini River is a perfect getaway for nature lovers as it beckons with the promise of elephants, gaur, deer and a rumour of tiger. Rated as one of the Top 5 Wildlife Resorts in the World by the British Tatler's Travel Guide, this former hunting lodge of Mysore rulers speaks of erstwhile elegance and comes with comforts like pleasant accommodation, a well-stocked bar, and even a fully-equipped conference room. The resort also offers ayurvedic treatments for those who seek rejuvenation in the truest sense. A morning and evening jeep safari or even a boat ride down the River Kabini reward you with sightings of herds of elephants, crocodiles, and many birds. For the most adventurous hearts, the resort offers trekking, river rafting, coracle rides and much more. This is one of the best properties of Jungle Lodges Resorts by JLR.
Location: Karapura
Nearest City: Mysore (80 km)
                                       Book Here: Top Resorts in Coorg
---
Spice Village, Periyar National Park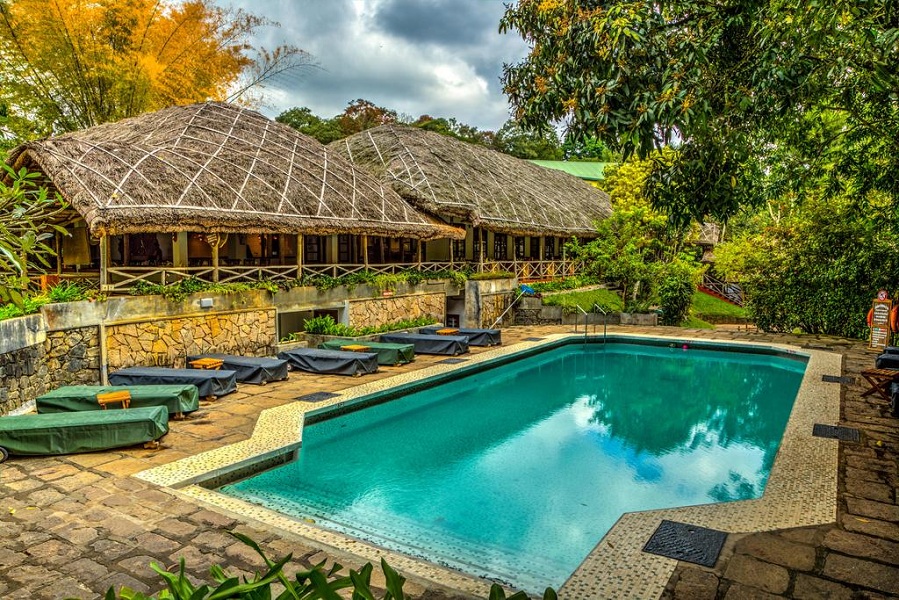 An eco-friendly CGH Earth property, Spice Village in Thekkady evokes the essence of a mountain tribal village of Kerala as it is modeled on the dwellings of the native Manan tribe. Set amid 14 acres of spice plantation just outside Periyar Tiger Reserve, the resort offers a harmonious experience of living amid nature. The entrance to the buffer zone of Periyar Sanctuary is a five-minute walk away from the property.
Though traditional in its conception, the resort provides every comfort a traveler could wish for like luxurious accommodation, mouth-watering cuisine, and warm hospitality. It has 52 individual tribal style thatch roof cottages, a swimming pool, a conference hall, games room, and an Ayurvedic treatment center. The rooms are spacious and are adorned terracotta tiled floors, wooden beds, and chairs. The interesting thing about Spice Village is a garden filled with an abundance of spice trees, fruits, rare herbs, and flowering plants. The Kerala resort also offers some activities include boat safaris through the national park, forest treks, bird watching, visiting a local tribal village, and cookery demonstration.
Location: Kumily
Nearest City: Kochi (143 km)
---
Wild Planet Jungle Resort, Mudumalai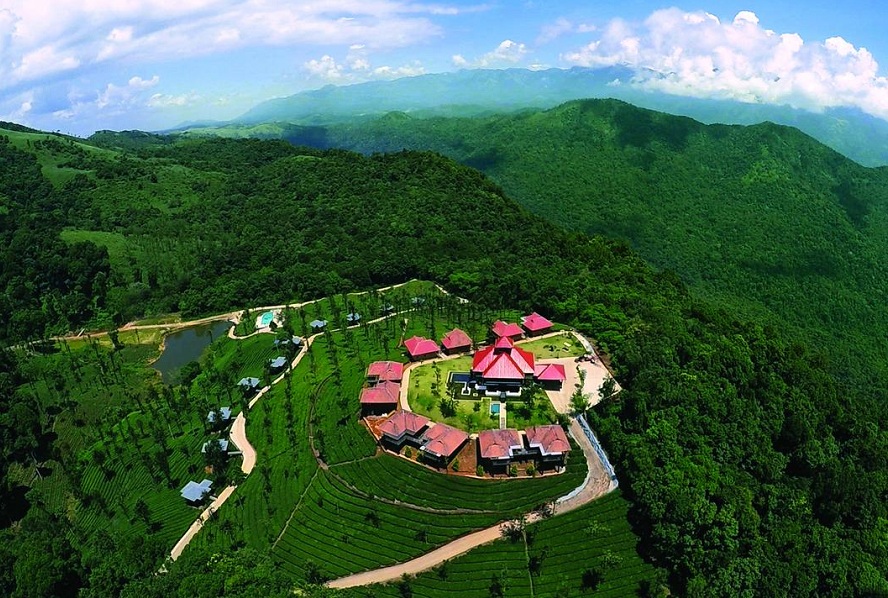 Hectic life in the bustling cities makes you realize the need to be close to nature. The easiest option for a city dweller for the rejuvenation is to pick a resort amidst greenery. Situated between Wayanad Hills and Mudumalai Wildlife Sanctuary, the Wild Planet Jungle Resort at Devala is one of the ideal places for the purpose in Kerala. This is an eco-friendly premium plantation resort located in the middle of tea plantations nestled amidst the dense Nilgiris rainforests. At Wild Planet Resort, guests will find unprecedented solitude, serenity, relaxation, and refreshment.
Book Here: Resorts in Wayanad
Set in 100 acres of land, the Wild Planet Resort has 36 luxury cottages of four categories named– Hilltop Cottage, Valley View Cabin, Jungle Log House and Kenya Tent House. These rooms are well furnished with all modern amenities. The resort also offers activities such as open jeep safari in Nilgiri Rainforest, angling, zip-line, monkey crawling, kayaking, archery, and mud ride. Visitors interested in a longer trek can head to the hill named Churulimala nearby. If you are lucky you can even sight elephant herds wandering along the grasslands on the hills. You can also plan sightseeing to Wayanad or Ooty from here.
Location: Devala
Nearest City: Calicut (100 km)
---
Ranthambore Forest Resort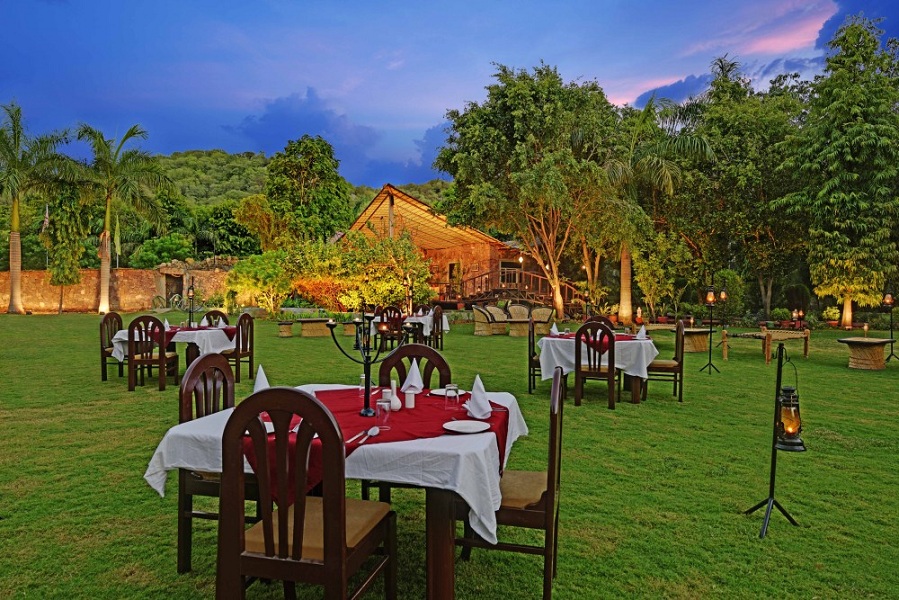 Who does not get thrilled with the idea of a jungle camp amid most adventurous and breathtaking settings and within close proximity of a tiger reserve? Ranthambore Forest Resort is one such jungle resort to fulfill this fantasy. A short distance from Ranthambore National Park, the resort offers one of the most luxurious experiences to the guests those looking for a lavish stay in their endeavor to explore the wilderness of Ranthambore National Park as part of Rajasthan Tour Packages.
An ideal getaway for wildlife enthusiasts, Ranthambore Forest Resort is a heritage-style property taking its cue from the palaces of Rajasthan. Spread over five acres, the resort has spacious rooms well fitted with all contemporary comforts and a restaurant which serves mouth-watering Rajasthani delicacies to its guests. On the other hand, the resort offers several facilities such as a Spa center, golf course, Conference room, several games, pool, campfire, and so on. Jungle safari in Ranthambore National Park presents guests with a truly enchanting experience.
Location: Sawai Madhopur
Nearest City: Jaipur (162 km)
---
Dhikala Forest Lodge, Corbett National Park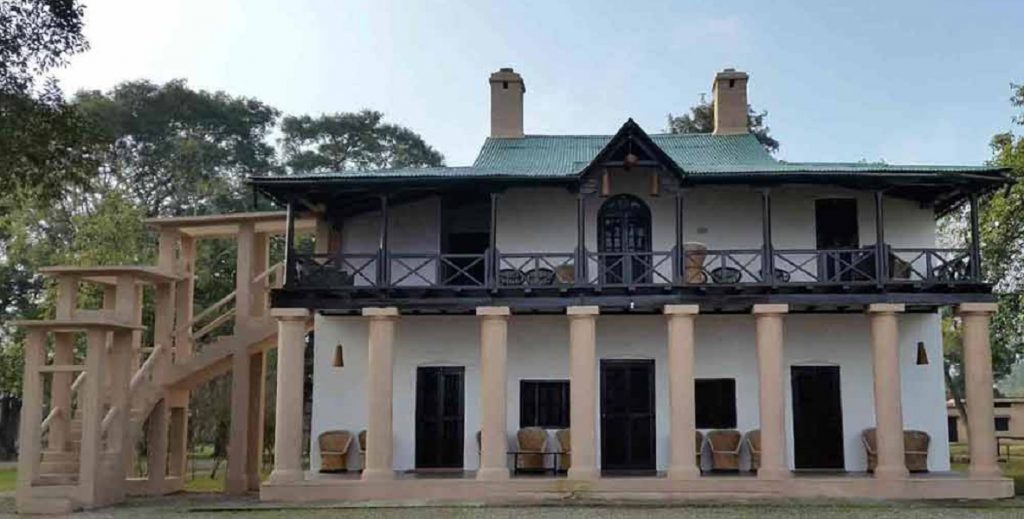 Strategically located in the core area of Corbett National Park, Dhikala Forest Lodge is highly popular among wildlife enthusiasts and lovers of raw nature. Dhikala is largest and the prime tourism zone of Corbett National Park consisting of large grasslands, river beds, Sal and mixed forests. The various streams of Ramganga River are the lifeline of this zone not only adding the beauty to the forest but also supports a variety of wildlife in the zone. Dhikala also acts as seasonal home to a large population of Asiatic elephants and a good density of wild tigers. Jim Corbett is one of the must visit tourist places in Uttarakhand.
Maintained by the Forest Department, the Dhikala Forest Lodge has 32 rooms segregated into 6 wings such as Old Forest Rest House, Old Range Quarters, New Forest Rest House, Annexe Rooms, Cabin Rooms, and Hutment Rooms. Though being in the core of the forest, this resort has been equipped with basic facilities that ensure a comfortable stay. The forest lodge provides you the amazing opportunity to stay inside one of the oldest tiger reserves in the world and experience the amazing nightlife of the forest so book your stay, safari and guide well in advance. Jim Corbett is commonly visited along with Nainital Tour Package.
Location: Corbett National Park
Nearest City: Delhi (261 km)
---
Maneland Jungle Lodge, Gir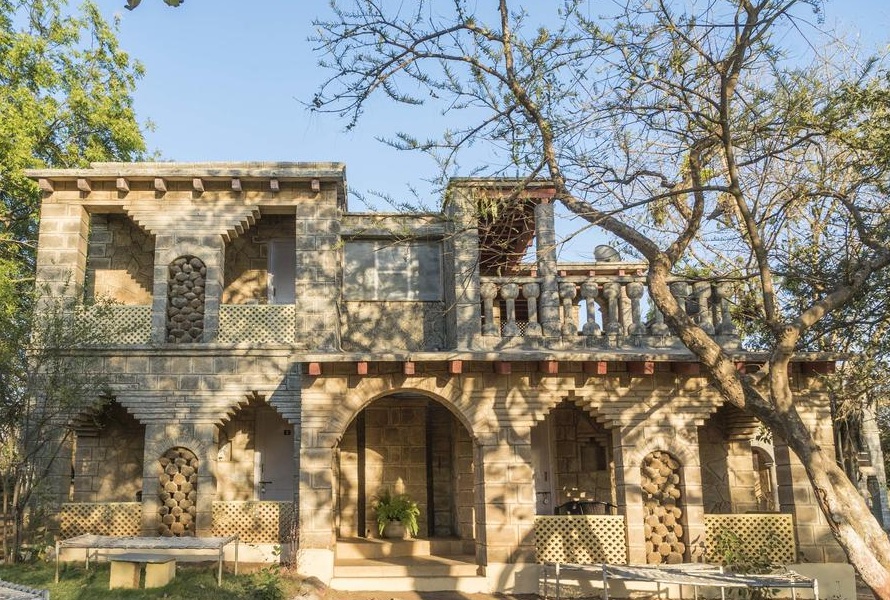 Living in a jungle lodge or wildlife resort amidst the lush forests sandwiched cozily in the dense wilderness would be the most exciting and momentous experience for a wildlife lover. For such an ideal experience book your stay at Maneland Jungle Lodge located at the edge of the world-renowned Gir National Park, the only home of the Asiatic lion, a majestic wild creature who doesn't hide from visitors & whose population has now crossed 300.
Sprawling over 5-acre land, the resort was constructed aesthetically with local techniques and natural materials around the wildlife of Gir Forest. The lodge has 17 cottages beautifully designed with classic furniture and latest interior. It has a conference hall, landscaped swimming pool, and games room. Besides, the Maneland Jungle Lodge makes all the arrangement for guests like booking of jeep safari, elephant safari and guide service to view the lion's land of Gir. Even, the resort arranged some special lion spotting programs for the wildlife adventurous people. Gir is among the must visit tourist places in Gujarat.
Location: Sasan Gir
Nearest City: Junagadh (54 km)
---
Banjaar Tola, Kanha
Situated along the banks of translucent Banjaar River, the Taj Banjaar Tola is a tented camp close to Mukki entrance gate of Kanha National Park. The towering sal trees and grasslands filled with crystal clear pools, Kanha reminds the raw wilderness of the African landscape. The park is home to major animals including the Barasingha or swamp deer, Indian wild dog and the most famed the Indian Tiger. A lavish stay in Banjaar Tola resorts provides a great chance to explore the beautiful jungle of Kanha National Park and learn about the rich biodiversity of Central India. It is among the top destinations for wildlife in India.
The Taj Banjaar Tola Lodge is spread on an area of 90 acres land. The lodge offers two luxurious tented camps, each one having nine elegant suites designed in a contemporary style with pressed bamboo wall panels, gorgeous bamboo floors, and locally crafted furniture. The furniture used inside the suites gives a glimpse of beautiful tribal art and culture of nearby Chattisgarh. The key highlight of each suite has its own private deck overlooking the river which offers panoramic views of the wilderness beyond. Besides its magnificent accommodation and other luxury amenities, the resort offers an unforgettable wildlife tour with perfectly trained naturalists. Being one of the top places to visit in Madhya Pradesh, Kahna attracts large crowds from different parts of the world.
Location: Mukki
Nearest City: Jabalpur (150 km)
---
Baghvan Jungle Lodge, Pench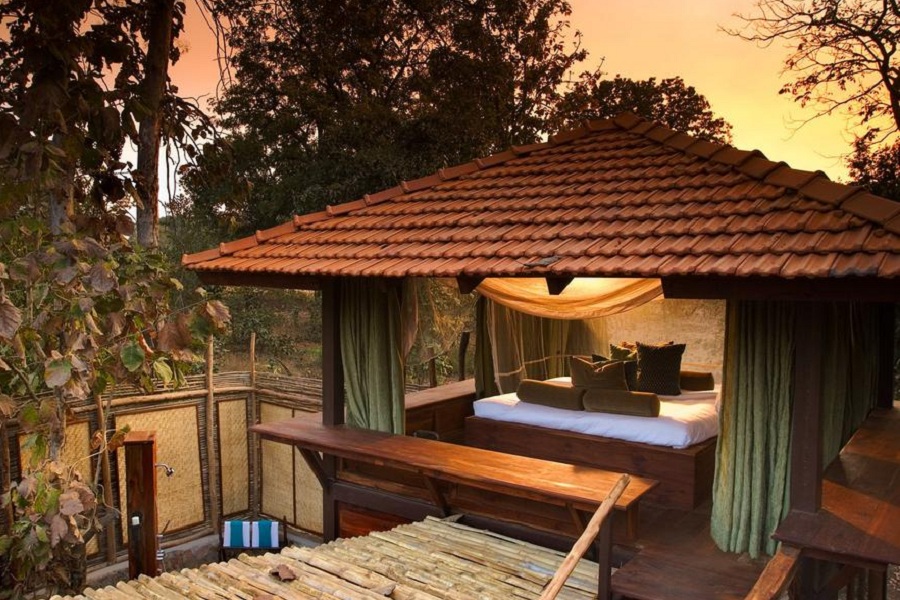 Located at the edge of Pench National Park, Baghvan Jungle Lodge is an exotic wildlife resort maintained by Taj Group. Offering tented accommodation, the resort pampers its guests with unmatched luxury and high-class facilities amidst the dense forests of Central India. True to its name, the greenery, high-quality facilities, good hospitality services, and delicious food really make the tour of Pench National Park pleasurable.
The lodge features 12 charming safari-style canvas tents alongside a picturesque dry riverbed, a palatial swimming pool and an interactive kitchen that serves delicious, authentic Indian food. Reminiscent of the 1950's ambiance, each bungalow comes with its own rooftop machan, indoor and outdoor shower areas and a private sit-out surrounded by the woods. The guest areas are equipped with delicate Parsi tiles, woven hyacinth furniture, high ceilings, deep welcoming sofas, and giant ebony chests. You can head over to the National Park to spot some rare animals during your stay. Explore our Pench Tour Packages.
Location: Awargani
Nearest City: Nagpur (92 km)
Also Know: 27 Best Wildlife Tours in India
---
Tree House Hideaway Resort, Bandhavgarh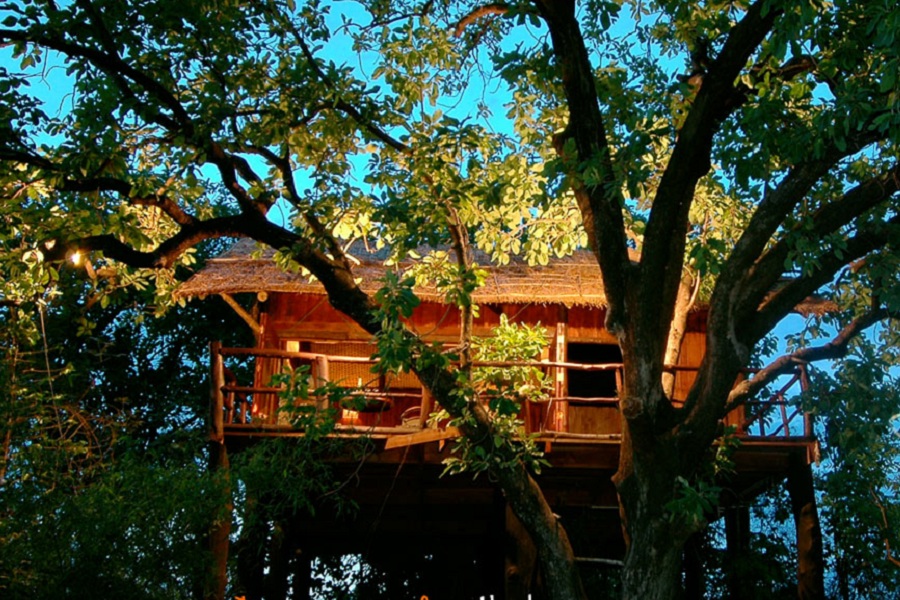 Situated near Tala gate of Bandhavgarh National Park, the Tree House Hideaway Resort is an impeccable jungle retreat and a perfect destination for those who wish to spend a few days amidst the thick forests of Bandhavgarh. A stay in these exclusive tree houses set amidst lush greenery will relive your childhood memories. For the wildlife enthusiast, this is the perfect location due to a varied species of birds, reptiles, and animals that stroll around the trees in the premises. Bandhavgarh is one of the most popular national parks in India.
Spread over an area of 21 acres, the resort has 5 specially crafted tree houses namely Mahua, Tendu, Peepal, Banyan, and Palash. These hideaways are a fusion of contemporary design and traditional jungle living with earth tones and eco essentials. All the tree houses have modern attached bathrooms, a well-stocked bar, split ACs, mosquito netting, a library, writing tables, etc. It also has a Machaan overlooking a water hole which is frequented by wildlife. Besides, the resort also offers Jungle Safaris into deeper jungles of the famed Bandhavgarh Tiger Reserve, cycling and picnics in the park periphery, village visits, craft workshops, etc. Check out our Bandhavgarh Tour Packages.
Location: Vijarhia
Nearest City: Jabalpur (170 km)
Santhi is an avid traveler and primary contributor to the blogs at Trawell.in. She has explored most of the states in India and gained vast knowledge on tourist destinations in India and abroad. She also contributes content to other travel websites.