RANTHAMBORE NATIONAL PARK | PLACES TO VISIT & SAFARI IN RANTHAMBORE

Wildlife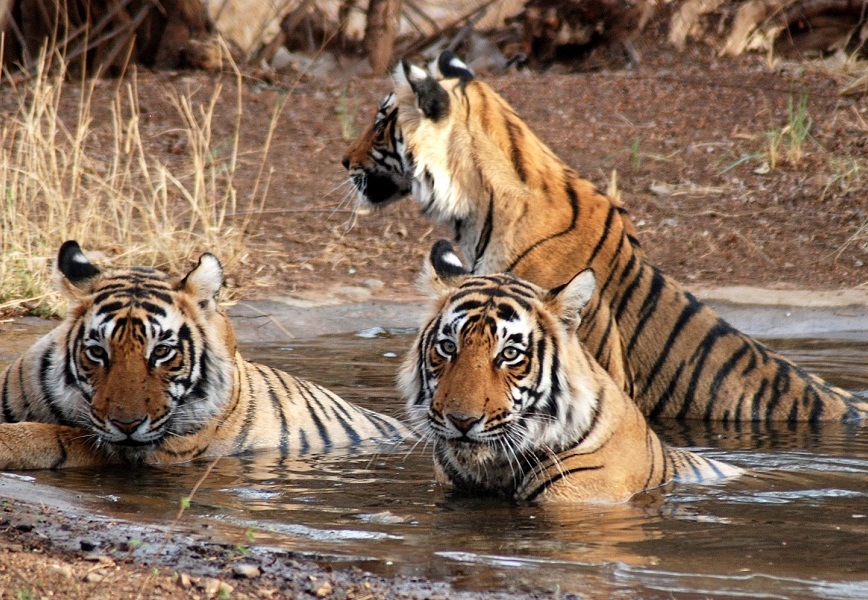 About Ranthambore National Park

Ideal Trip Duration:
1-2 Days

Nearest City to Ranthambore National Park:
Jaipur (162 Kms)

Best Time to Visit Ranthambore National Park:
October to June

Peak Season:
March to May
At a distance of 8 km from Sawai Madhopur, 140 km from Kota, 162 km from Jaipur, 268 km from Agra, 271 km from Ajmer, 368 km from Delhi, 413 km from Udaipur, and 448 km from Jodhpur, Ranthambore National Park is situated in the Sawai Madhopur district of Rajasthan. It is one of the largest and most renowned national parks in India, and among the must include places in Rajasthan tour packages.

Ranthambhore was established as the Sawai Madhopur Game Sanctuary in 1955 by the Government of India and was declared one of the Project Tiger reserves in 1974. Ranthambore became a national park in 1981. In 1984, the adjacent forests were declared the Sawai Man Singh Sanctuary and Keladevi Sanctuary, and in 1991 the tiger reserve was enlarged to include the Sawai Man Singh and Keladevi sanctuaries. It is one of the major tourist places near Jaipur.

Among the must include places in India wildlife tours, the Ranthambore National Park was once the hunting ground of the Maharajas of Jaipur. The rivers Chambal in the South and Banas in the North bound the Ranthambore National Park. The landscape of the park is formed of massive rock formations, steep scarps, perennial lakes, and streams. It is named after the historic Ranthambhore fortress, which lies within the park. The Padam Talab, Raj Bagh Talab, and Malik Talab are the prominent water bodies in the park.

Spread over an area of 392 sq. km, the park is majorly famous for its tigers and is one of the best locations in India to watch the majestic predators in its natural habitat. The park is divided into 10 zones for safari. Apart from tigers, visitors can also spot a large variety of animals including sloth bear, leopard, caracal, jackal, fox, hyena, mongoose, dainty chital, sambar deer, the blue bull antelope or nilgai, rhesus macaque, langur, and an incredible variety of birds as part of Ranthambore National Park tour packages. The park also has a large number of reptiles like snub-nosed marsh crocodiles, desert monitor lizards, tortoise, banded kraits, cobras, common kraits, Indian pythons, rat snakes, Russell's vipers, saw-scaled vipers, and the Indian chameleon.

Ranthambore is also counted as a famous heritage site because of the pictorial ruins that dot the wildlife park. Ranthambore Fort, Jogo Mahal, and Rajbagh are some of the best places to visit in Ranthambore National Park. Apart from the wildlife, visitors can also visit Trinetra Ganesh Temple, Rajiv Gandhi Regional Museum of Natural History, Kachida Valley, Ranthambore School of Art, Lakarda and Anantpura, and Bakaula at Ranthambore. This National park is a wildlife enthusiast and photographer's dream. It offers excellent accommodation and internal transportation facilities. Safari rides are added feature of the Ranthambore National Park. There are two options of vehicles for the safari: 20 seater open top canter or 6 seater open top gypsy. Each ride lasts for about three hours.

The nearest airport to Ranthambore is Jaipur which is about 148 km from Ranthambore. Sawai Madhopur Junction, which is about 8 km from the park, is located on the Delhi - Mumbai trunk route. It has good connectivity with Delhi, Jaipur, Indore, Ranchi, Ajmer, Udaipur, Agra, Kota, Puri, Bikaner, Ahmedabad, Mumbai, Chennai, Coimbatore, Mysore, Jodhpur, Hyderabad, Amritsar, Haridwar, Lucknow, Guwahati, Trivandrum, Patna, Dehradun, and Bhopal. Sawai Madhopur Bus Stand is the nearest bus station, which is about 9 km from Ranthambore National Park which has direct bus connectivity with Udaipur, Jaipur, Alwar, Jodhpur, Ajmer, Kota, and Tonk.

The park remains open every year from October to June and closed during monsoon season from July to September. The best visiting season of Ranthambore National Park is during the months of March - May.

Safari Timings: 6.30 - 9.30AM &3.30 PM - 6.30 PM in summer, 7 AM - 10.30 PM & 2.30 PM - 6 PM in winter

Bus Safari: Rs. 900 for Indians & Rs. 1900 for Foreigners

Jeep Safari: Rs. 1500 for Indians & Rs. 2500 for Foreigners
Internet Availability:
Poor
Languages Spoken:
Hindi, Mewari, and English
Major Festivals:
Details Not Available
Notes/Tips:

Entry Fee & Safari Charges are subject to change by the management without any prior notice.