PENCH NATIONAL PARK | WILDLIFE SAFARI & TRAVEL GUIDE TO PENCH

Wildlife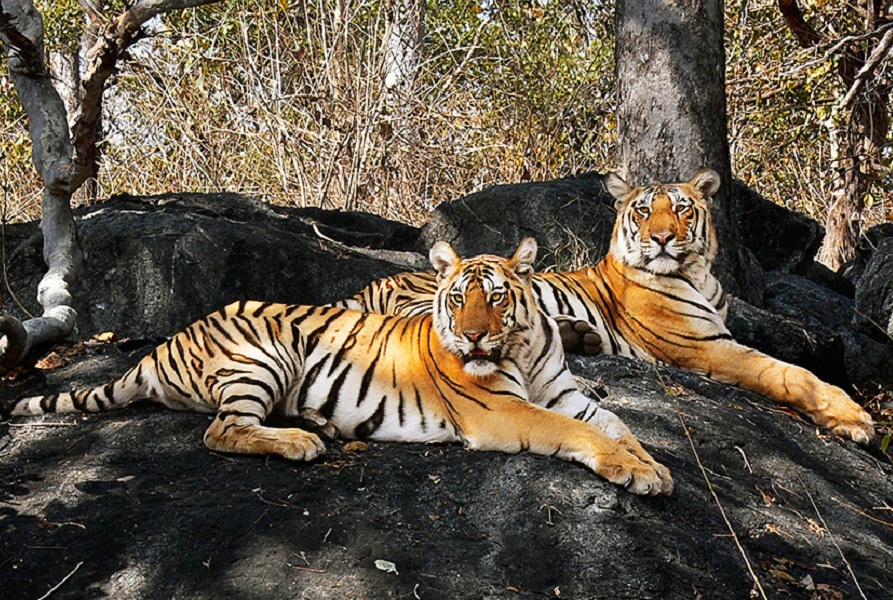 About Pench National Park

Ideal Trip Duration:
1-2 Days

Nearest City to Pench National Park:
Nagpur (92 Kms)

Best Time to Visit Pench National Park:
October to June

Peak Season:
November to February
At a distance of 4 km from Turiya, 14 km from Khawasa, 58 km from Seoni, 90 km from Chhindwara, 92 km from Nagpur, 196 km from Kanha National Park, 201 km from Jabalpur, 324 km from Raipur, and 410 km from Bhopal, Pench National Park is straddle across two states - Madhya Pradesh and Maharashtra. Located in Seoni and Chhindwara districts of Madhya Pradesh, it is one of the top national parks in India and among the prominent places to visit as part of Madhya Pradesh tour packages.

Named after Pench River that divides the park into two halves, Pench was notified as a sanctuary in 1977. Then in 1983, it was declared as a national park and in 1992, a Tiger Reserve. It became the 19th project tiger reserve in India. The total area of the Pench is about 1179 Sq. km, of which the core area is 411 sq. km while the buffer area is about 768 Sq. km. The terrain of the park is undulating, with most of the area covered by small hills and tropical moist deciduous forests.

Laden with rocky trails, wooded hills, glassy rivers, and gushing streams, the beauty of Pench National Park is so enchanting that it has sparked one of the best creations of Rudyard Kipling- The Jungle Book. The area of the present Pench Tiger Reserve has also been described in Ain-i-Akbari, a 16th-century document written by Abu'l-Fazl ibn Mubarak (the Emperor Akbar's vizier). Renamed as 'Indira Priyadarshini Pench National Park' in 2002, it was awarded the 'Best Maintained Park' in 2011 and attracts tourists from all over the world.

The Pench National Park has served as the cozy nest of numerous wild creatures including the Royal Bengal tiger. As per Tiger Census 2019, there are about 53 tigers in the park, 39 species of mammals, 13 species of reptiles, 3 species of amphibians. Besides tigers, chital, sambar, nilgai, wild boar, jackal, Indian leopard, sloth bear, Indian wolf, wild dog, striped hyena, gaur, four-horned antelope, and barking deer are the commonly seen wildlife in the park. Also, the park harbors more than 210 species including several migratory ones.

The national park sitting close to Madhya Pradesh and Maharashtra consists of around 12 entry gates. The entry gates falling under Madhya Pradesh are namely Turia, Karmajhiri, Wolf Sanctuary, Rukhad, Jamtara, and Teliya while the gates falling under Maharashtra are Khursapar, Sillari, Saleghat, Kolitmaara, Chorbahuli, and Surewani. Turia & Sillari Gates are the most popular out of all the gates.

The Pench Jungle adventure seems to be incomplete without taking the awe-inspiring wildlife safari in Pench National Park. The park authorities offered four types of safaris to its visitors - Jeep Safari, Canter Safari, Night Safari, and Elephant Safari. Permits for day visits to some zones are available online on Park website while the others are booked at the park's ticket window. Unlike Kanha National Park, there is no zoning in Pench but there is state-zoning which means if you enter the jungle from Madhya Pradesh side, you cannot enter the Maharashtra part and vice versa. Single-seat bookings are only offered on Madhya Pradesh side of the Park.

The park opens for jungle safaris from 1st October to 30th June every year. The peak season to visit the park is from October to February as the climatic conditions are excellent. However, the months from March-June are ideal for better Tiger sightings due to the drying of most vegetation in Pench. The park remains closed on every Wednesday Evening and on the occasion of Holi and Diwali.

Being a major wildlife hub, Pench has ample options for accommodation right from backpacking budget to Luxury stay. The hotels provide clean basic amenities, good veg & non-veg meals, and so on. There are also Madhya Pradesh tourism department rest houses available for stay.

Dr. Babasaheb Ambedkar International Airport, Nagpur is the nearest airport which is about 102 km from Pench. About 94 km from Pench, Nagpur Railway Station is the nearest railhead and has well-connected trains from all the major cities of India. Khawasa on Jabalpur - Nagpur Highway is the nearest bus stand which is about 14 km from Pench National Park Turia Gate. It has direct bus connectivity with Nagpur, Jabalpur, and Seoni. From there, one can hire jeeps to reach Pench.

Safari Timings: 6 AM - 11 AM & 3 PM - 6 PM from October - June, closed during monsoon months, every Wednesday evening, during Holi & Diwali, Night Safari - 5.30 PM - 8.30 PM

Safari Permit Fee: Rs. 250 for Single Seat in Jeep, Rs. 1500 per Whole Jeep (max 6 Persons). Jeep hiring cost & guide cost extra (around 2500 per jeep and 480 per guide).

Note: Safari cost changes frequently
Internet Availability:
Poor
Languages Spoken:
Hindi, Gondi Marathi & English
Major Festivals:
Details Not Available
Notes/Tips:

Pench National Park is closed from 1st July to 15th October every year while some buffer zones are open throughout the year.