BANDHAVGARH NATIONAL PARK | WILDLIFE SAFARI & TRAVEL GUIDE TO BANDHAVGARH

Wildlife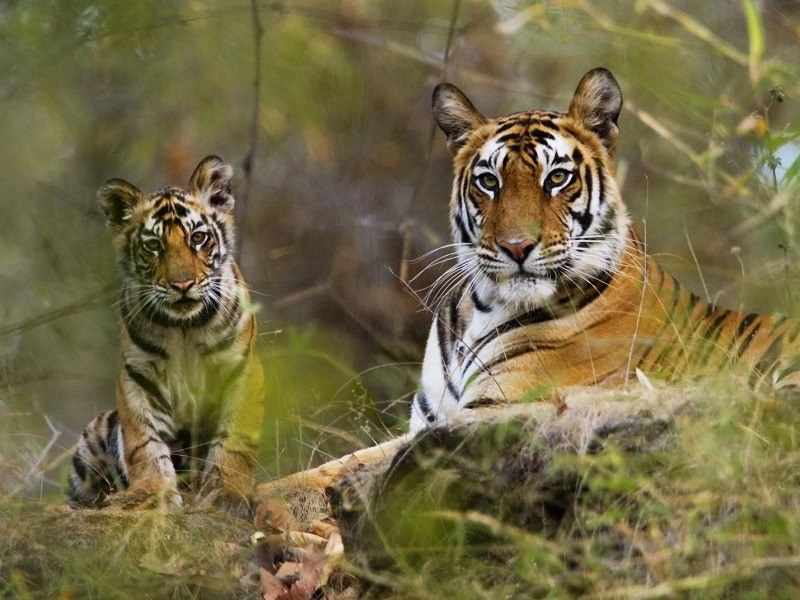 About Bandhavgarh National Park

Ideal Trip Duration:
1-2 Days

Nearest City to Bandhavgarh National Park:
Jabalpur (169 Kms)

Best Time to Visit Bandhavgarh National Park:
October to June

Peak Season:
November to February
At a distance of 1 km from Tala Bus Stand, 33 km from Umaria, 80 km from Shahdol, 129 km from Satna, 165 km from Rewa, 169 km from Jabalpur, 423 km from Nagpur, 452 km from Bhopal and 625 km from Patna, Bandhavgarh National Park is a national park located in Umaria district of Madhya Pradesh. Situated in Vindhya Hills, it is one of the renowned national parks to visit as part of India wildlife tour, and among the best places to visit as part of Madhya Pradesh tour packages.

Famous for its rich population of white tigers, Bandhavgarh National Park used to be the former hunting reserve of the Maharaja of Rewa. It was declared as a national park in 1968 with an area of about 105 sq. km. In 1982, the area of the park was increased to 448 Sq. km by adding Khitauli and Maghadhi ranges to Tala range, the original Bandhavgarh National Park. Along with Panpatha Sanctuary, Bandhavgarh was declared a tiger reserve under the project tiger network in the year 1993. It is one of the prominent wildlife places to visit near Indore.

Bandhavgarh is a legendary place that has much historical importance. The national park got its name from an ancient fort situated on a hillock of the Vindhya ranges of Umaria. The name Bandhavgarh is derived from the word 'bandhav' which means brother and 'garh' meaning fort. It is believed that Lord Rama gifted this amazing fort to his younger brother Lakshmana. Also, the fort lets you explore several man-made caves with inscriptions and rock paintings that exhibit a 2000-year-old rich historical past.

Covering over an area of about 1536 sq. km, the park is dived into 6 zones. Out of these, Tala, Khitauli, and Maghadhi are the core zones whereas Damokhar, Johila, and Panpatha are the buffer zones. The topography of Bandhavgarh supports a moist deciduous forest, grasslands, woodlands, scrub-thorn arid forests, tropical forests, rocky hills, plateaus, meadows, and valleys. Also, there are more than twenty streams that rise or flow through the park.

Bandhavgarh is known to have the highest density of Royal Bengal Tigers in the world and the frequent sightings of royal tigers make this national park a must-visit for all wildlife enthusiasts. One can spot more than 22 species of mammals including Common Langurs, Rhesus Macaque, the Asiatic Jackal, Bengal Fox, Sloth Bear, Ratel, Gray Mongoose, Striped Hyena, Jungle Cat, and Leopard as part of Bandhavgarh tour packages.

The park has three gates, namely Tala, Magadhi, and Khitauli. Out of these three, Tala gate is the most popular as it has more chances of tiger spotting. These are closed for visitors during the monsoon months while the buffer zones Dhamokhar, Panpatha, and Johila are opened throughout the year. Jeep safaris are conducted in all zones while Canter Safari is available only in Maghadhi and Khitauli Zones.

The park authorities offered three types of safaris to its visitors - Jeep Safari, Canter Safari, and Elephant Safari. Permits for day visits to these zones are available online on the Park website. The Jungle Safari is done only with vehicles registered with the park administration as private vehicles are not allowed inside the park. It is always advisable to book safaris before arrival, especially during weekends.

Since Bandhavgarh is a major hub for tourists and wildlife lovers, there are many accommodation options which include Government Guest Houses, budget hotels, and luxury resorts.

Jabalpur Airport is the nearest airport which is about 158 km from Bandhavgarh and it has well-connected flights from Mumbai, Kolkata, Ahmedabad, New Delhi, and Hyderabad. About 33 km from Bandhavgarh, Umaria is the nearest rail head and has well-connected trains from Bilaspur, Rewa, Bilaspur, Durg, Gondia, Barauni, Chhapra, Jabalpur, Jaipur, New Delhi, Vizag, Hyderabad, Jammu Tawi, Chirmiri, Indore, Ajmer, Durg, Katni, and Bhopal. Private and State-run buses and taxis are available from Umaria, Katni, Satna, and Rewa to Tala, Bandhavgarh.

Though the buffer zones are opened throughout the year, the park opens its core areas for tourists from 1st October to 30th June every year. The peak season to visit the park is from October to February as the climatic conditions are excellent. However, the months from March-June are ideal for better Tiger sightings due to the drying of most vegetation in Bandhavgarh.

Safari Timings: 6.30 AM - 11 AM & 2.30 PM - 5.30 PM from Oct - Feb and 6 AM - 10 AM & 3 PM - 6 PM from Mar - June, Closed on every Wednesday evening, on Holi

Safari Permit Fee: Rs. 250 for Single Seat in Jeep, Rs. 1500 per the Whole Jeep (max 6 Persons), Rs. 360 for Guide, Rs. 2500 for Jeep & Rs. 1000 for Person for Elephant Safari
Internet Availability:
Average
Languages Spoken:
Hindi, Bagheli & English
Major Festivals:
Details Not Available
Notes/Tips:

The core areas of Bandhavgarh National Park remain closed from 1st July to 15th October every year while the Buffer Zones are opened throughout the year.