MAHABALIPURAM (MAMALLAPURAM) TOURISM | PLACES TO VISIT & TRAVEL GUIDE TO MAHABALIPURAM

Heritage |

Beach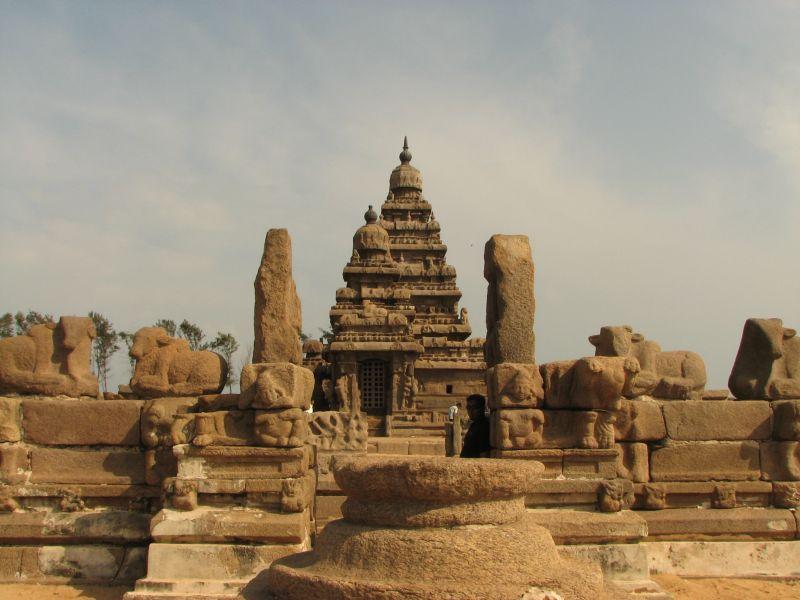 Ideal Trip Duration:
Full Day

Nearest City to Mahabalipuram:
Chennai (58 Kms)

Best Time to Visit Mahabalipuram:
October to March

Peak Season:
December to February
At a distance of 57 km from Chennai, 65 km from Kanchipuram, 96 km from Pondicherry, 420 km from Madurai, and 290 km from Trichy, Mahabalipuram (also called Mamallapuram) is situated in Kanchipuram district of Tamil Nadu. It is one of the major heritage sites in Tamilnadu, and one of the best places to experience Tamilnadu Tourism.

Mahabalipuram is known for its historical monuments, sculptures, scenic beauty, culture, and tradition. Built-in 7th century CE, shore temples are the prominent attractions that can be visited as part of Mahabalipuram tour packages. These temples built largely during the reigns of Narasimha Varman and his successor Rajasimha Varman, showcase the movement from rock-cut architecture to structural buildings. The mandapas and the rathas shaped as temple chariots are made from the granite rock face, while the famed Shore Temple, erected half a century later, is built as a structured temple with huge blocks of rocks following wonderful architecture.

This UNESCO World Heritage Site was the second capital of the Pallava kings of Kanchipuram. It is an ancient historic town and was a bustling seaport during Pallava kings in 7th Century AD. According to the legend, it has been named after the demon king Mahabali who was renowned for his generosity. Some maintain that it has been named Mamallapuram after the Pallava King Narasimha Varman I, a great wrestler with the title Mamallan.

Mahabalipuram art can be divided into four categories: open air bas-relief, structured temples, man-made caves and rathas (chariot temples). The famous Arjuna's Penance and the Krishna Mandapa adorn massive rocks near the centre of the village. The beautiful Shore Temple towers over the waves, behind a protective breakwater. Sixteen man-made caves in different stages of completion are also seen, scattered through the area. The striking feature is that all the sculptures here are monolithic - giant structures carved from single rocks. Thirukadalmallai temple, Cholamadal Artist's Village, Mahabalipuram Beach, Tiger Cave and Crocodile Bank serve as popular picnic spots for people here. Mahabalipuram can also be visited as part of Pondicherry tour packages.

One of the prominent festivals celebrated here is the Mamallapuram Dance Festival, which is organized by the Department of Tourism every year during December - January. As part of the festival, various dance forms are showcased including Bharatanatyam, Kuchipudi, Kathakali and Odissi.

The nearest airport to Mahabalipuram is in Chennai, located about 50 km away. The nearest railhead is in Chengalpattu, close to 30 km from Mahabalipuram. It has trains from Chennai, Pondicherry, Kanyakumari, Mumbai, Trivandrum, Kanchi, Tirupati, Ernakulum, Villupuram, Rameshwaram and Jodhpur. Buses arrive here from either Koyembedu (CMBT) or Tiruvanmiyur (in Chennai) and Kanchipuram and Pondicherry.

The best time to visit Mahabalipuram is from October to March while the peak season is from November to February. Usually it takes one full day to visit Mahabalipuram.
Internet Availability:
Poor
Languages Spoken:
Tamil, Telugu, English
Major Festivals:
Mamallapuram Dance Festival
Pongal
The Sthalasayana Temple Festival