ALIBAUG TOURISM | TOURIST PLACES TO VISIT & BEACHES IN ALIBAUG

Heritage |

Beach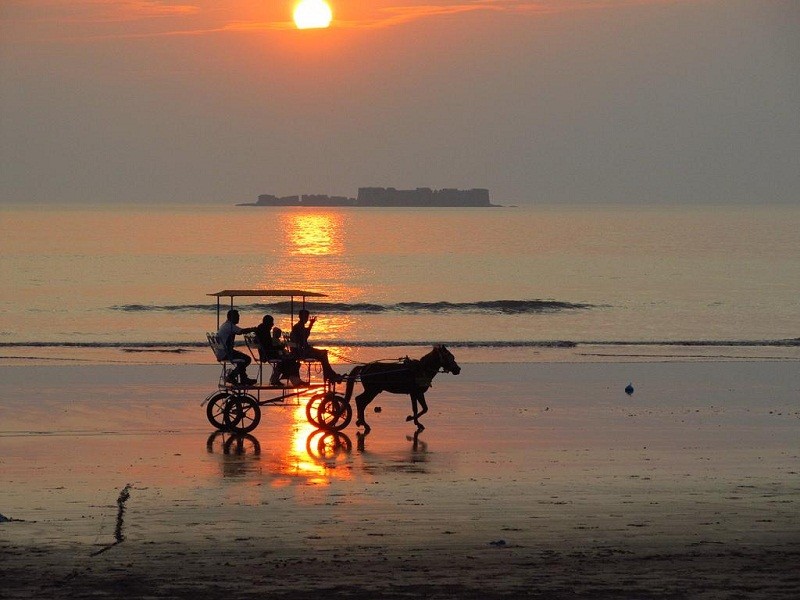 Ideal Trip Duration:
1-2 Days

Nearest City to Alibaug:
Mumbai (102 Kms)

Best Time to Visit Alibaug:
October to March

Peak Season:
December to January
At a distance of 75 km from Lonavala, 102 km from Mumbai, 143 km from Pune, 170 km from Mahabaleshwar, and 272 km from Ganpatipule, Alibaug, or Alibag is a coastal town in the Raigad district of Maharashtra. It is one of the popular Maharashtra tourist places, and among the famous places to visit near Mumbai.

Alibaug is surrounded by sea on three sides, it is very commonly known as the 'Goa' of Maharashtra. The town was founded in the 17th century by Kanhoji Angre who was the naval chief during the reign of Shivaji Maharaj. Earlier, Alibaug was known as Kolaba, attributed to the Kolaba Fort, among the must include places in Alibaug Tour Packages. Legend has it that a wealthy Muslim named Ali owned many plantations hence the town derived its name Alibag.

Alibaug has witnessed many historic battles including the one at Varsoli between Siddis and Kanhoji Angre. Another was aggression on Kolaba Fort by the English and Portuguese jointly, which they lost. Next was the battle of Chaul between the British and Sakhoji Angre which Sakhoji won and held them captive in Kolaba Fort. Alibag and its surrounding villages are the historic hinterlands of Bene Israeli Jews. There is a synagogue in the 'Israel Ali' area of the town. It can also be visited along with Mahabaleshwar packages, and Lonavala tour packages.

Located in the Konkan region of Maharashtra, Alibaug is well known for its beautiful beaches and ancient forts. Among the various Alibaug tourist places, Alibaug Beach, Kihim Beach, Akshi Beach, Mandwa Beach, Kashid Beach, Varsoli Beach, Nagaon Beach, and Murud Beach are the popular beaches in Alibaug. Visitors can also visit Khanderi Fort, Kolaba Fort, Murud -Janjira Fort, Vikram Vinayak Temple or Birla Temple, Magnetic Observatory, and Korlai Fort. Alibaug is one of the most popular tourist places that one must visit as part of Konkan packages.

There are many options for tourists to reach Alibaug. Mumbai Airport is the nearest airport which is about 101 km from Alibaug. Pen Railway Station is the nearest railhead which is located at a distance of 28 km from Alibaug. It has regular trains from Mumbai, Ratnagiri, Sindhudurg, and Diva Junction. Mumbai Chhatrapati Shivaji Terminus is the major railhead situated at a distance of 102 km from Alibaug. Alibaug is well connected by bus with Mumbai, Lonavala, Pune, Ratnagiri, and Kolhapur. Alibaug can also be reached by ferry from the Gateway of India in Mumbai.

Homestays, resorts, and hotels are available in Alibaug to suit every budget. Locals also offer rooms in their houses for visitors to stay.

The best time to visit Alibag is from October to March while November to February is the peak season.
Internet Availability:
Good
Languages Spoken:
Marathi, Hindi, Konkani and English
Major Festivals:
Details Not Available