KONARK TOURISM | SUN TEMPLE | PLACES TO VISIT & TRAVEL GUIDE TO KONARK

Heritage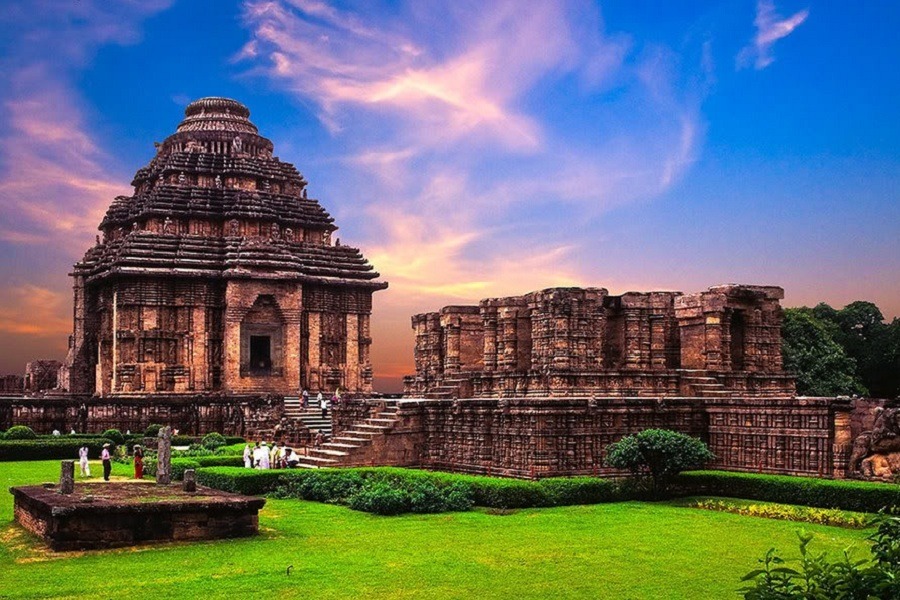 Ideal Trip Duration:
Full Day

Nearest City to Konark:
Bhubaneswar (61 Kms)

Best Time to Visit Konark:
October to March

Peak Season:
November to February
At a distance of 36 km from Puri, 61 km from Bhubaneswar, 111 km from Ratanpur, 394 km from Rourkela, 408 km from Jamshedpur, 462 km from Vizag, 482 km from Raigarh and 522 km from Ranchi, Konark is a small town in Puri district of Odisha along the coast of Bay of Bengal. Renowned world over for the Sun Temple, Konark is one of the top tourist destinations in Odisha and also one of the popular places of heritage in India.

The name Konark is derived from two Sanskrit words - Kona meaning angle and Arka meaning sun, in reference to the temple which was dedicated to the Sun God. Also known as the Black Pagoda, the Sun Temple was built in black granite during the reign of Narasimhadeva-I. The temple resembles the mythical chariot of the Sun God and is a UNESCO World Heritage Site since 1984. The temple is now mostly in ruins, and a collection of its sculptures is housed in the Sun Temple Museum, which is run by the Archaeological Survey of India.

Konark Tourism presents a multitude of attractions that fascinate tourists from all over the world. Konark Beach, Ramachandi Temple, Kuruma, Astranga Beach, Varahi Devi Temple at Chaurasi and Maa Mangala Devi Temple at Kakatapur are some popular places to visit in Konark apart from Sun Temple. Konark was also one of the few places in India to experience a total solar eclipse.

Besides the magnificent Sun Temple, Konark is also famous for Konark Dance Festival. This five day long cultural extravaganza is one of the most famous classical dance festivals of India which attracts tourists from all over the world. It presents a delightful ecstasy of the ancient classical dance forms like Odissi, Bharatnatyam, Kathak, Kuchipudi, Manipuri and the local Chhau dance. The celebrations happen with the backdrop of the Sun temple, adding grandeur and magnificence to the whole program. Besides this, Konark also hosts the Sun Festival, where devotees offer prayers to the Sun God by taking a dip in the sea.

Biju Patnaik Airport, Bhubaneshwar is the nearest airport which is about 62 km from Konark. It is well connected by flights with Bangalore, Mumbai, New Delhi, Chennai, Kolkata and Hyderabad. Puri is the nearest railway station which is about 36 km from Konark and it has trains from Patna, Rourkela, Mumbai, Bikaner, Howrah, Tirupati, Guwahati, Okha, Bangalore, Haridwar, New Delhi, Jodhpur, Ahmedabad, Chennai, Surat, Ajmer, and Shirdi. Konark is well connected by buses with Puri and Bhubaneswar. Puri is the nearest major bus station, which is about 36 km from Konark.

Konark has limited accommodation options to stay. Travellers can find mid-range to budget hotels in the city. Government accommodation is also available at the Panthanivas Yatri Nivas run by the OTDC. Puri and Bhubaneswar offer more choices because they are considered to be more famous travel destinations.

The best time to visit Konark is from September to March. Summers are very hot and humid and should be avoided.

Internet Availability:
Poor
Languages Spoken:
Oriya, Bengali, Hindi & English
Major Festivals:
Konark Dance Festival & Sun Festival