AURANGABAD TOURISM | TOURIST PLACES TO VISIT & TRAVEL GUIDE TO AURANGABAD

Heritage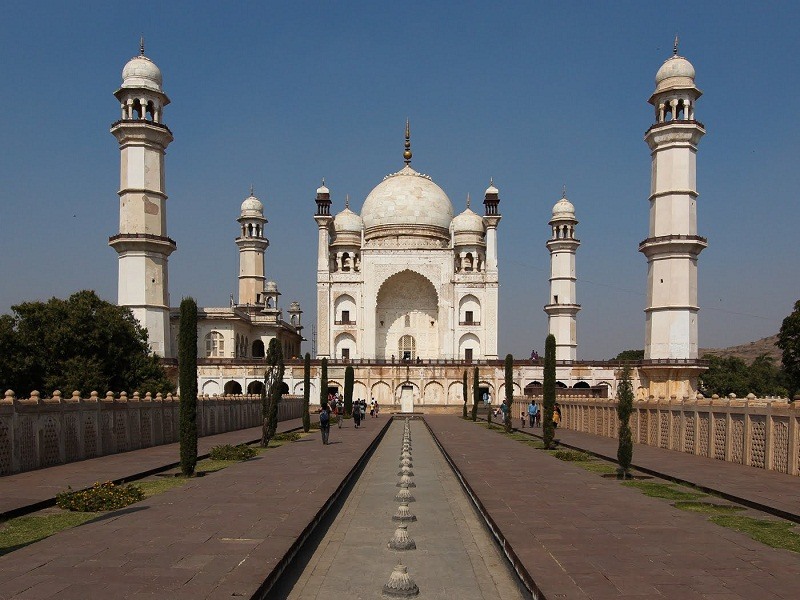 Ideal Trip Duration:
1-2 Days

Nearest City to Aurangabad:
Aurangabad, Mumbai (350 Kms)

Best Time to Visit Aurangabad:
October to March

Peak Season:
December to February
At a distance of 108 km from Shirdi, 181 km from Nashik, 232 km from Pune, 350 km from Mumbai, 482 km from Nagpur, and 534 km from Hyderabad, Aurangabad is a historical city and the administrative headquarters of the Aurangabad Division or Marathwada region in Maharashtra. In 2010, the Maharashtra Tourism Minister declared Aurangabad to be the tourism capital of Maharashtra. It is one of the top places to visit as part of Maharashtra tour packages.

Popularly known as the City of Gates, Aurangabad is among the prominent historical places to visit near Pune. The city was founded in 1610 AD by Malik Ambar, the Prime Minister of Murtaza Nizam Shah of Ahmadnagar and his son Fateh Khan changed the original name Khadki to Fatehnagar. The areas around Aurangabad were under the control of Delhi Sultanates, Bahamani Sultans, Nizam Shahis, Mughals, and Hyderabad Nizams. With the capture of Daulatabad by Mughals in 1633 AD, the Nizam Shahi dominions, including Fatehnagar, came under the possession of the Mughals. In 1653 when Prince Aurangzeb was appointed the viceroy of the Deccan for the second time, he made Fatehnagar his capital and called it Aurangabad. After Aurangzeb, the city became part of the princely state of Hyderabad until 1956 AD when it was merged with the Bombay state and eventually the state of Maharashtra in 1960 AD.

Named after the Mughal emperor, Aurangzeb, Aurangabad is a tourist hub of Maharashtra. The city is surrounded by many historical monuments, including the world-famous Ajanta - Ellora Caves, which are UNESCO World Heritage Sites. Daulatabad Fort, Bibi ka Maqbara, Jama Masjid, Panchakki, and the 52 gates are the important tourist attractions in Aurangabad. There are also several temples, mosques, museums, and even some gardens to explore as part of Aurangabad tour packages.

Aurangabad is well connected by air, rail and road to other parts of country. Aurangabad Airport is the nearest airport which is about 10 km from Aurangabad. It has regular flights from Hyderabad, Mumbai, Pune, and Delhi. Aurangabad Railway Station is directly connected to many parts of the country including major cities like Delhi, Mumbai, Pune, Nagpur, Vijayawada, Shirdi, Okha, Rameshwaram, Nagarsol, Hyderabad, Vizag, Tirupati, Chennai, Amritsar, and Okha. Aurangabad Central Bus Station is the main bus station, which is around 3 km from Aurangabad Railway Station. It is well connected by bus with Pune, Mumbai, Shirdi, Nashik, Hyderabad, Bangalore, Goa, and Nagpur.

The best time to visit Aurangabad is from October to March while the peak season is from November to February.
Internet Availability:
Good
Languages Spoken:
Marathi, Hindi, Urdu and English
Major Festivals:
Aurangabad Festival, Buddha Jayanti & Maha Shivaratri