PONDICHERRY TOURISM | TOURIST PLACES TO VISIT & TRAVEL GUIDE TO PUDUCHERRY

Beach |

City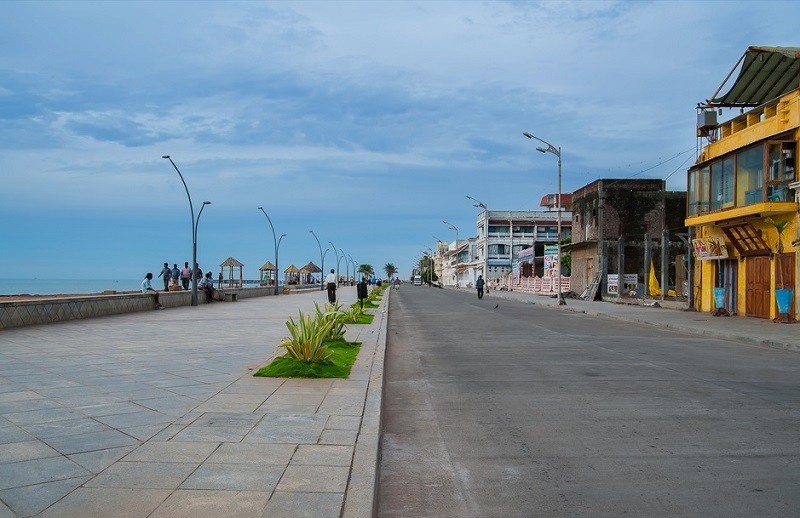 Ideal Trip Duration:
1-2 Days

Nearest City to Pondicherry:
Pondicherry

Best Time to Visit Pondicherry:
October to March

Peak Season:
December to January
At a distance of 170 km from Chennai, 204 km from Trichy, 233 km from Tirupati, 335 km from Madurai, 639 km from Trivandrum, 578 km from Kanyakumari, 96 km from Mahabalipuram, 368 km from Bangalore and 564 km from Kochi, Pondicherry or Puducherry is a city and capital of the Union Territory of Pondicherry and is one of the most popular tourist destinations you must include in honeymoon packages. It is among top 2 day trip from Bangalore and Chennai. Pondicherry is located along the Coromandel Coast of Bay of Bengal.

The Union Territory of Puducherry comprises of four coastal regions namely Puducherry, Karaikal, Mahe and Yanam. Puducherry and Karaikal are situated on the East Coast of Tamil Nadu, Yanam in Andhra Pradesh and Mahe on the West Coast in Kerala.

According to legend, Pondicherry was known by the name Vedapuri and this place is also believed to be the abode of the revered sage, Saint Agasthya. Pondicherry had trade relations with Rome during 1st century AD. Roman pottery excavated from Arikamedu near Pondicherry dates back to 1st century AD. Pondicherry was ruled by the Pallava dynasty in 4th century AD followed by different southern dynasties like the Cholas, Pandyas, Vijayanagar kings and later by the Sultanate of Madurai.

The unique location of Pondicherry captured the attention of Portuguese, Dutch, English and French. Pondicherry came under the rule of the French in 1673 and since then it became the site for the battle between the British and the French. Pondicherry remained as the capital of French India for about 300 years, before it attained its independence in 1954. It was in 2006 that the name Pondicherry was changed to Puducherry, which means 'New Village' in Tamil language.

The city is separated into two quarters known as French quarter and the Indian quarter. The French quarter is characterized by building of typical colonial architecture and the latter boasts of ancient Tamil styles and designs. The strategic location, awe-inspiring natural beauty, coupled with its French past and cultural heritage make Pondicherry a major tourist destination. Pondicherry is also famous for its serene beaches. Hotel de Vile, French War Memorial, Puducherry Museum, Aayi Mandapam, Auroville Ashram, Sri Aurobindo Ashram, Promenade, Chunnambar Resort, Old Light house, Romaine Rolland Library are some of the major Places to visit in Pondicherry.

The nearest airport is at Chennai, which is about 148 km away. Pondicherry Railway Station is well connected with cities like Chennai, Kanyakumari, Tirupati, Bangalore, Villupuram, Howrah, Mumbai, New Delhi and Mangalore. Villupuram Junction is the nearest major railway junction, about 39 km from Puducherry. It has trains from Chennai, Madurai, Mumbai, Rameswaram, Tirunelveli, Trichy, Mangalore, Karaikal, Tirupati, Nagercoil, Kanyakumari, Trivandrum, Delhi, Bangalore, Kolkata, Bhubaneswar and Varanasi. Pondicherry is well connected by bus with Chennai, Villupuram, Coimbatore, Trichy, Madurai, Bangalore, Trivandrum, Calicut, Palakkad, Thrissur and Ernakulum.
Internet Availability:
Good
Languages Spoken:
Tamil, French, English
Major Festivals:
Bastille Day (July 14th), Masi Magam Festival (Full moon day in Masi - Feb/Mar)
Notes/Tips:
The best time to visit Pondicherry is between the months of October to March, while the peak season is from November to January. It usually takes 1-2 full days to explore Pondicherry.

Masquerade, Bastille Day, Masimagam Festival, Pongal and Villianur Temple Car Festival are the prominent festivals celebrated in Pondicherry.