PAPIKONDALU TOURISM | PLACES TO VISIT & TRAVEL GUIDE TO PAPIKONDALU
Hill Station |

Backwaters |

Nature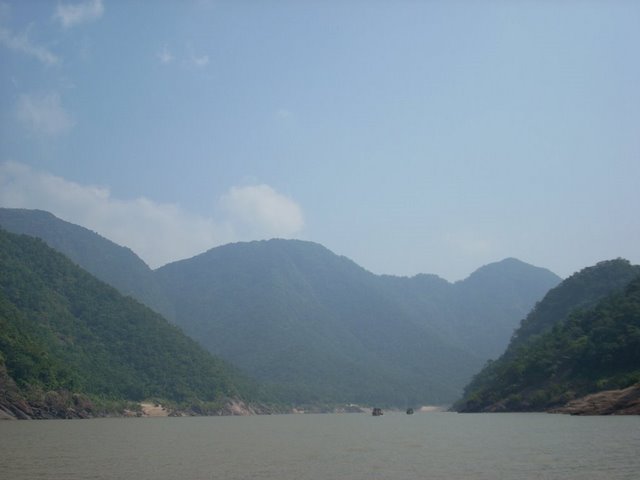 Ideal Trip Duration:
1-2 Days

Nearest City to Papikondalu:
Vijayawada (180 Kms), Vizag (260 Kms)

Best Time to Visit Papikondalu:
October to January

Peak Season:
October to December
At a distance of 60 km from Rajahmundry, 180 km from Vijayawada, 20 km from Polavaram, 260 km from Vizag & 410 km from Hyderabad, Papi Kondalu is a breathtakingly beautiful hill range bounded by River Godavari in the state of Andhra Pradesh. Papi hills are a set of three hills which form a beautiful gorge on the Godavari River spread across East Godavari and West Godavari districts. Entire area of Papi Kondalu is covered by tropical rain forests and it was recently declared as a protected National Park and is one of the top places to experience the Tourism in Andhra Pradesh. Papikondalu is one of the top attractions you must include in Vizag tour packages.

The original name for this hill range was 'Papidi Kondalu'. Papidi is a rough translation for partition in Telugu. It is believed that the place was visited by Lord Rama and goddess Sita during their exile. Papi Kondalu has to be reached by boat from Rajahmundry, Pattisam (35 km from Rajahmundry), Polavaram (40 km from Rajahmundry), Kunavaram (50 km from Bhadrachalam) or Sriram Giri (60 km from Bhadrachalam). The boat service from Rajahmundry to Bhadrachalam is a wonderful experience and it is operated in post monsoon season.

Apart from enjoying the view of the hills, valley and waterfalls, tourists can engage in activities like camping and trekking. There are several sights that fall on the way like Perantallapalli, Gandipochamma Temple and Pattiseema. Several tribal communities have made their dwellings on these hills whose main occupation is agriculture, fishing and making handicrafts. There is a waterfall at Munivaatam that is a popular tourist attraction.

The boat rides usually include full-day trips starting from Rajahmundry/ Pattisam / Polavaram / Kunavaram / Sriram Giri with break at Perantallapalli and back. Both AP Tourism and Private operators offer these tours from Rajahmundry. There are also one-way trips between Rajahmundry/ Pattisam/Polavaram and Kunavaram/Sriram Giri. There are few private operators who offer 2 day trips from Rajahmundry with overnight stay at Kollur Bamboo Resort. Trips usually start early morning between 6 to 9 AM. One has to book the boat and the huts in advance through tourist agencies or AP Tourism.

The Rajahmundry Airport at Madhurapudi (70 km away) has limited domestic services from Chennai, Madurai, Vijayawada, Bangalore and Hyderabad. Rajahmundry is well connected to other neighboring cities of Andhra Pradesh & Telangana by road and rail. It has trains from Hyderabad, Vijayawada, Vizag, Chennai, Bangalore, Mumbai, Bilaspur, Trivandrum, Kochi, Kakinada, Nagercoil, Bhubaneswar, Tirupati, Puri, Kolkata, etc.

The city has 4 bus stations. The main APSRTC Bus complex is located on the Morampudi Road. The other three bus stands are Kotipalli Bus Stand in Innispet, Gokavaram Bus Stand in Aryapuram, and the Kakinada Bus Stand near Kambalcheruvu. It is connected by bus with Chennai, Bangalore, Vizag, Tirupati and Hyderabad.

The best time to visit Papi Kondalu is from October to January while the Peak Season is from November to December. Usually Papikondalu is visited from Rajahmundry as a day trip or two day trip with night stay at Kollur Camp.
Internet Availability:
Internet Not Available
Languages Spoken:
Telugu, Hindi
Major Festivals:
Details Not Available