RAJAMUNDRY TOURISM | TOURIST PLACES TO VISIT & TRAVEL GUIDE TO RAJAMUNDRY

Backwaters |

Nature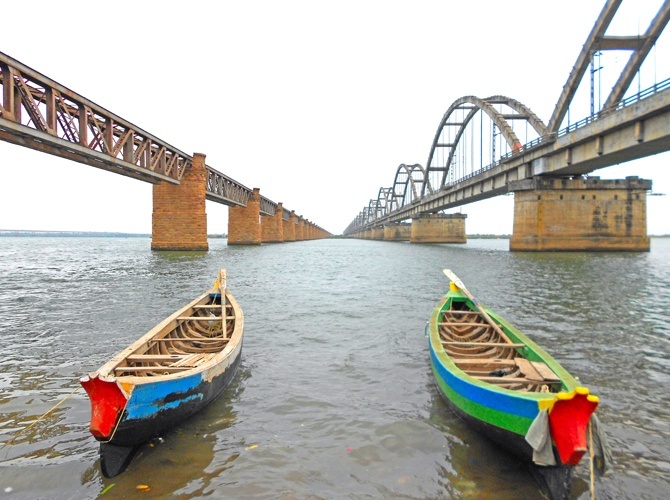 Ideal Trip Duration:
1-2 Days

Nearest City to Rajahmundry:
Rajahmundry, Vijayawada (154 Kms)

Best Time to Visit Rajahmundry:
October to February

Peak Season:
October to December
At a distance of 154 km from Vijayawada, 207 km from Vizag, 186 km from Guntur, 64 km from Kakinada, 151 km from Machilipatnam and 430 km from Hyderabad, Rajahmundry, formerly called as Rajamahendravaram, is a beautiful city located on the banks of Godavari River in Andhra Pradesh. It is also known as the 'cultural capital' of Andhra Pradesh and is one of the popular Tourist places in Andhra Pradesh. It is the birth place of Adikavi Nannayya who developed script for Telugu language. Rajamundry is one of the top attractions you must include in Vizag tour.

Rajahmundry is ranked amongst the oldest cities in the Indian subcontinent. The earliest rulers of the region were the Eastern Chalukyas. It was built by Chalukya king Rajaraja Narendra during 11th century. It was part of the Madras Presidency and was made into the District of Rajahmundry in the year 1823, during the British rule.

Rajahmundry is a blend of various qualities like picturesque landscapes, monuments of cultural importance, ancient temples and adventurous tourist spots that make the place unique, interesting and suitable for tourism for all ages. This is one of the major Pushkara Ghats on Godavari River. Pushkaras, held once every 12 years, is a holy congregation which sees millions of devotees taking a dip in the River Godavari. The last Pushkara was held in 2015. Godavari Bridge, Sir Arthur Cotton Museum, Dowleswaram Barrage, Kadiam Flower Nurseries, Papikondalu, Maredumilli Eco Tourism, Dindi and Pattiseema are some of the tourist places around Rajahmundry. Apart from the temples and film shootings around Godavari, this place is also known for Pulasa Fish, found only during monsoon season.

Rajahmundry is primarily a pilgrimage center due to the presence of a large number of temples in the city. Iskcon Temple / Gowthami Ghat, Sri Bala Tripura Sundari Temple, Kotilingeswara Temple, Draksharamam Temple and Markandeya Temple are the important pilgrimage centers around Rajahmundry. It is also famous for boat trips. The cruise on river Godavari from Rajahmundry to Rajahmundry (via Papikondalu) is one of the best tourist attractions in Andhra Pradesh.

The Rajahmundry Airport at Madhurapudi (17 km from city) has limited domestic services from Chennai, Madurai, Vijayawada, Bangalore and Hyderabad. Rajahmundry is well connected to other neighboring cities of Andhra Pradesh & Telangana by road and rail. It has trains from Hyderabad, Vijayawada, Vizag, Chennai, Bangalore, Mumbai, Bilaspur, Trivandrum, Kochi, Kakinada, Nagercoil, Bhubaneswar, Tirupati, Puri, Kolkata, etc.

The city has 4 bus stations. The main APSRTC Bus complex is located on the Morampudi Road. The other three bus stands are Kotipalli Bus Stand in Innispet, Gokavaram Bus Stand in Aryapuram, and the Kakinada Bus Stand near Kambalcheruvu. It is connected by bus with Chennai, Bangalore, Vizag, Tirupathi and Hyderabad.

The best time to visit Rajahmundry is from October to February, while the peak season is from October-December. Usually it takes 1-2 full days to explore all the places in Rajahmundry.

Internet Availability:
Good
Languages Spoken:
Telugu, Hindi, English
Major Festivals:
Details Not Available