AMARAVATI TOURISM | TOP PLACES TO VISIT & TRAVEL GUIDE TO AMARAVATI

Heritage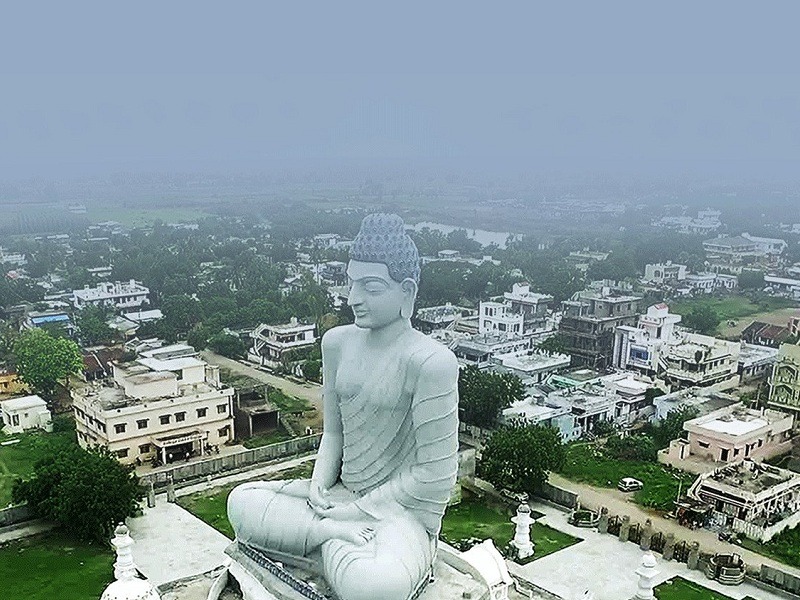 Ideal Trip Duration:
Full Day

Nearest City to Amaravati:
Vijayawada (38 Kms), Guntur (33 Kms)

Best Time to Visit Amaravati:
October to March

Peak Season:
November to February
At a distance of 33 km from Guntur, 38 km from Vijayawada, 111 km from Machilipatnam, 162 km from Khammam, 178 km from Nalgonda, 178 km from Bhadrachalam, 194 km from Rajahmundry, 270 km from Nellore, 274 km from Hyderabad, 403 km from Vishakhapatnam, 450 km from Anantapur, Amaravati is a popular historical town situated on the southern bank of Krishna River in Guntur district of Andhra Pradesh. It is the new capital of Andhra Pradesh state and one of the popular pilgrimage sites for Hindus as well as Buddhists.

The town gets its name from Amareshwara or Amaravati temple, dedicated to Lord Shiva. The town has been mentioned in the Indian epics as Dhanyakataka and Andhranagari. It was also served as the capital of the Satavahanas, who ruled Andhra Pradesh from the 2nd century BCE to the 3rd century CE. Later it was ruled by several major dynasties like Andhra Ikshvakus, the Pallavas, the Cholas, the Kakatiyas, the Delhi Sultanate, Musunuri Nayaks, Bahmani Sultanate, Vijayanagara Empire, Sultanate of Golconda and Mughal Empire successively before the founding of the Nizam of Hyderabad in 1724. It was ceded to France in 1750 but was captured by England in 1759. It was briefly captured by Hyder Ali, but remained under British rule for the majority of time since the 1780s. Amaravati is currently the de-facto capital of the state of Andhra Pradesh, following its bifurcation from Telangana in 2014.

Amaravathi has gathered attention from all over the world because of the Amareshwara Temple that is situated here. Amaravathi is also famous for being the site of the one of the greatest Buddhist Stupas ever built. This stupa is believed to have been built during the reign of Emperor Ashoka (269-232 BC) under Mauryan Empire. It was in Amaravati that Lord Buddha preached and conducted the ceremony of Kalachakra. The proof of all this exists in the text of Vajrayana, which historically establishes the fact that Amaravati, was much in existence even during the 500 BCE. Amaravati Archaeological Museum, Mangalagiri Temple, Amaravati Mahachaitya, Undavalli Caves, and Kondaveedu Fort are some of the popular places to visit in Amaravati.

There are a few accommodation options available in Amaravati whereas Vijayawada and Guntur are the nearest places to get the better accommodation options that range from budget to luxury hotels.

Vijayawada International Airport is the nearest airport which is about 59 km from Amaravati. It has well flight connectivity with Mumbai, New Delhi, Hyderabad, Bangalore, Chennai, and Vishakhapatnam. Vijayawada Junction, about 38 km, is the nearest railhead to Amaravati which has well rail connectivity with Puri, Vishakhapatnam, Kamakhya, Chennai, Coimbatore, Sambalpur, Lucknow, Bhubaneswar, Bilaspur, Tirupati, Karimnagar, Dharmavaram, Hyderabad, Raichur, Jaipur, Puducherry, Mumbai, Tirunelveli, Kochi, Pune, Bidar, Howrah, Hubbli, Bangalore, Machilipatnam, Thiruvananthapuram, Ajmer, Patna, Delhi, Jabalpur, Patliputra, Dibrugarh, Rajahmundry, Guntur, Purulia, and Agartala. From Vijayawada, one can either hire a taxi or opt for a bus to reach Amaravati. Amaravati is well-connected by bus with Guntur, and Vijayawada while Vijayawada Bus Station is the major bus station to Amaravati which has direct bus connectivity with all major towns and cities of Andhra Pradesh and Telangana.

Amaravathi experiences a tropical climate, with hot summers and mild winters. The best time for a visit to Amaravathi is in the winters, especially the months from October to March when the climate is pleasant and the ambience is lovely. The summers are unbearably hot, and the monsoons, although lovely and inviting, might dampen your plans if the rainfall is more than normal.
Internet Availability:
Average
Languages Spoken:
Telugu, Hindi & English
Major Festivals:
Shivaratri & Buddha Purnima