SRIKALAHASTI TOURISM | SRI KALAHASTI TEMPLE & TRAVEL GUIDE TO SRISAILAM
Pilgrimage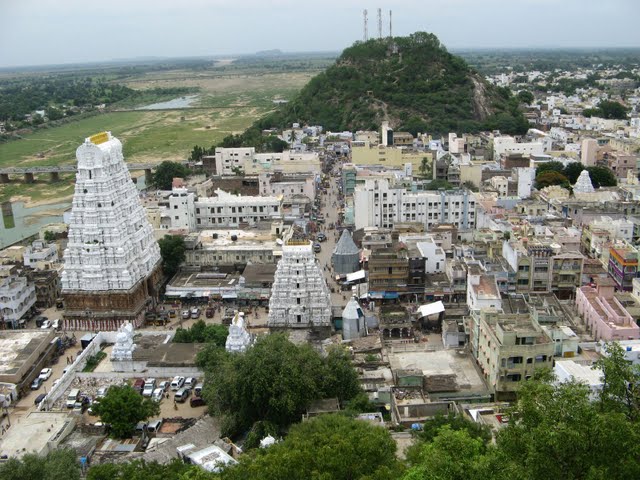 Ideal Trip Duration:
4 Hours/Half Day

Nearest City to Srikalahasti:
Tirupati (37 Kms), Chennai (113 Kms)

Best Time to Visit Srikalahasti:
October to March

Peak Season:
November & February to May
At a distance of 37 km from Tirupati, 113 km from Chennai, 291 km from Bangalore, 375 km from Vijayawada and 552 km from Hyderabad, Srikalahasti, popularly known as Kalahasti is one of the ancient and most important Shiva Kshetras situated in Chittoor district of Andhra Pradesh. Srikalahasti is famous for Srikalahasteeswara Temple (referred as Srikalahasti Temple) built in 10th century. The entire temple was carved out of the side of a huge stone hill. Srikalahasti is among ideal weekend getaways from Chennai city for a two day trip and also one of the top places to experience AP Tourism.

Srikalahasti got its name from three words - 'Sri' meaning a spider, 'Kala' meaning a serpent and Hasti meaning an elephant, as these three creatures are believed to have worshipped Lord Shiva at this place and attained salvation. It is located on the banks of the River Swarnamukhi, which is a tributary to River Pennar, one of the major rivers in South India. The ancient Shiva temple of Srikalahasti finds reference in the three ancient epics the Skanda Purana, Shiva Purana and the Linga Purana. According to Skanda Purana Arjuna came to this place to worship Kalahasteeswara (Lord Shiva) and met Rishi Bharadwaja on the peak of a hill.

The temple of Kalahasteeswara is one of the most impressive Siva temples in India. This temple features 120 feet high enormous and ancient gopuram over the main gate. The entire temple is carved out of the side of a huge stone hill. The initial structure of this temple was constructed by Pallava kings in the 5th century. Chola kings renovated the temple and constructed the main structure in 10th century. The outer walls and the 4 gopurams were constructed in the period of Sri Veera Narasimharayar of Vijayanagara kingdom. The main gopuram and the 100 pillar mandapam were constructed by Krishna devaraya, the great Vijayanagara king in 1516.

Sri kalahasti is regarded as one of the Pancha Bhoota Sthalams of Lord Shiva; the other four includes Tiruvannamalai, Thiruvanaikaval, Chidambaram and Kanchipuram. The place is representative of the Vayu Sthalam or the Element of Air. This temple is also associated with Rahu and Ketu, two of the nine celestial bodies in the Indian astrological scheme. It is believed that a visit to this temple will provide relief to those who have the planet Rahu in inimical positions in their horoscopes.

This small town is dotted with many small and big temples; most of which were constructed during the reign of Pallava, Chola and Vijayanagara kings. Srikalahasti is associated with Bhakta Kannappa, one of the greatest devotees of Lord Shiva how offered his eyes to the lord. The festival of Maha Shivaratri is celebrated with great zeal in February to March.

Renigunta is the nearest airport (26 km from Kalahasti) which serves direct flights from Delhi, Hyderabad, Chennai as well as Bangalore. Kalahasti Railway Station is well connected with Hyderabad, Kakinada, Machilipatnam, Vizag, Bangalore, Karimnagar, Patna, Kochi, Puri and Bilaspur. Buses are available from Srikalahasti to the adjacent cities like Tirupati, Chennai, Vizag, Bangalore, Vijayawada and Hyderabad.

Timings: 6 AM to 9 PM.
Internet Availability:
Average
Languages Spoken:
Telugu, English, Hindi, Tamil
Major Festivals:
Maha Shivaratri (Feb/Mar),
Kartika Poornima (Nov)
Notes/Tips:
The best time to visit Srikalahasti is from October to March while the Peak Season is November & February to May. Usually it takes half day to visit Srikalahasti.

Timings: 6 AM to 9 PM. Rahu Ketu Pooja Timings: 6:30 AM to 8:30 PM. Amavasya is the best day to perform Rahu Ketu Pooja.