HARIHARESHWAR TOURISM | TOURIST PLACES TO VISIT & BEACHES IN HARIHARESHWAR
Pilgrimage |

Beach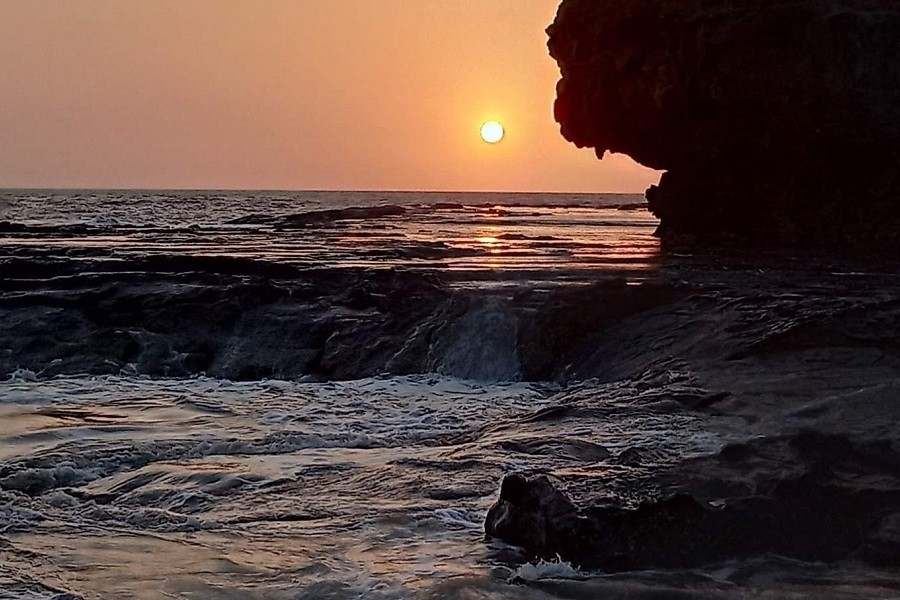 Ideal Trip Duration:
1-2 Days

Nearest City to Harihareshwar:
Mumbai (213 Kms), Pune (175 Kms)

Best Time to Visit Harihareshwar:
October to March

Peak Season:
December to February
At a distance of 19 km from Shrivardhan, 61 km from Dapoli, 95 km from Raigad, 114 km from Chiplun, 122 km from Alibaug, 132 k from Mahabaleshwar, 159 km from Lonavala, 175 km from Pune, and 213 km from Mumbai, Harihareshwar is a coastal town in Raigad district of Maharashtra, India. It is one of the popular weekend getaways from Mumbai, and among the must-visit places as part of Konkan packages.

Situated on the Konkan coast, Harihareshwar is surrounded by four hills named Harihareshwar, Harshinachal, Bramhadri, and Pushpadri. The river Savitri enters the Arabian Sea from the town of Harihareshwar. This is one of the best Maharashtra beach destinations. This beach town is often called Southern Kashi because it is home to the Harihareshwar temple dedicated to Lord Shiva. The town is said to have been blessed by Lord Shiva. Hence Harihareshwar is often referred to as Devghar or 'house of God'.

Harihareshwar is a treat for people looking for spiritual relief or a beach holiday. Harihareshwar alone has two beaches; one, a straight beach about 2.5 km long in front of Harihareshwar Temple, and the other beach is about 2 km in an L shape just in front of MTDC Resort. The black sandy beach of Harihareshwar is a place where tourists claim to have experienced unmatched silence and peace on the quiet, unpolluted beach bed as part of Harihareshwar Tour Packages. The sea at Harihareshwar is almost always turbulent. The coast is rocky and the force of the waves considerable. Tourists can enjoy speed boat rides and water scooter rides at this beach.

Harihareshwar comes across as a pleasant surprise with some of the most peaceful and beautiful beaches along the Konkan Coast. Harihareshwar Beach, along with Shrivardhan and Diveagar Beaches forms a popular weekend beach destination from Pune and Mumbai. Diveaghar Beach & Temple, Kondvil Beach, Kelshi Beach, Velas Beach, Srivardhan Beach, Bankot Fort, and Ganesh Gully are some of the prominent places to visit in Harihareshwar.

Mumbai Airport is the nearest airport which is about 207 km from Harihareshwar. Pune Airport, located at a distance of approximately 181 km from the town can also be an option for travelers traveling through airways. About 60 km, Mangaon is the nearest railhead to Harihareshwar and has trains from many cities like Madgaon, Mumbai, Kochuveli, Sriganganagar, Okha, Ratnagiri, Kochi, Sawantwadi, and Mangalore. Mumbai Chhatrapati Shivaji Terminus & Pune Junction are the major railway stations situated at a distance of 213 km & 175 km from Harihareshwar. You can get down at any one of these stations and then make their way to Harihareshwar by booking a taxi. Harihareshwar is well connected by bus with Mumbai, Lonavala, Pune, Alibaug, Ratnagiri, Dapoi, and Srivardhan.

Being a popular beach town, the town of Harihareshwar has a lot of accommodation options in the form of resorts, guest houses, and homestays. Maharashtra Tourism Development Corporation has a resort on the south beach. Authentic Konkani dishes full of flavor and original elements are sure to be enjoyed here. One must try the famous and refreshing Kokam Sharbat here. Since this is a temple town, most common eateries are vegetarian, but you will find non-vegetarian menus at a few joints as well as options from a typical North Indian cuisine.

October to March is the best time to visit Harihareshwar when the weather is pleasant and suitable for sightseeing. While December-February is considered the peak season for tourism in Harihareshwar as the town celebrates the festival of MahaShivratri in February which attracts tourists from all around. The summers in Harihareshwr are quite warm, followed by a humid monsoon and pleasantly cool winters.
Internet Availability:
Average
Languages Spoken:
Marathi, Hindi, Konkani & English
Major Festivals:
Maha Shivratri