GANPATIPULE TOURISM | TOURIST PLACES TO VISIT & BEACHES IN GANPATIPULE
Pilgrimage |

Beach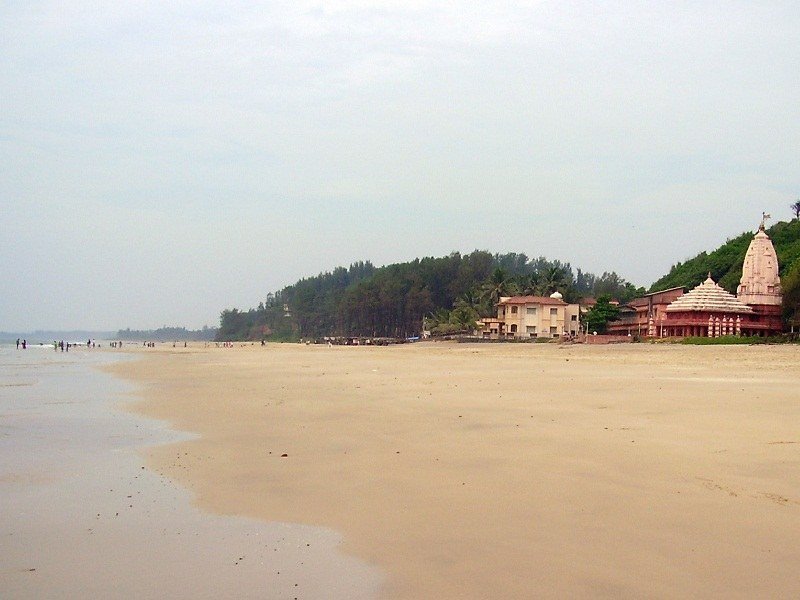 Ideal Trip Duration:
1-2 Days

Nearest City to Ganpatipule:
Mumbai (345 Kms)

Best Time to Visit Ganpatipule:
October to March

Peak Season:
December to January
At a distance of 24 km from Ratnagiri, 152 km from Kolhapur, 193 km from Mahabaleshwar, 207 km from Satara, 291 km from Lonavala, 307 km from Pune, and 345 km from Mumbai, Ganpatipule is a small pilgrimage & beach town located in the Ratnagiri district on the Konkan coast of Maharashtra in India. This is one of the top places to visit in Maharashtra and also one of the best places to visit near Pune.

The town is mainly known for its 400 years old temple of Lord Ganapati which is the prime attraction in Ganpatipule tour packages. The idol of Ganesha is believed to be a monolith that was self-incarnated and discovered over 1600 years ago. The Ganesha Temple in Ganpatipule is unique because it is one of the few temples in the country in which the presiding deity faces west. Known as 'Paschim Dwar Devata', it is one of the Ashta Ganapati Temples of India and among the prominent places of pilgrimage in Maharashtra. The temple is at the base of a hill, and pilgrims walk around (pradakshina) the hill as a mark of respect.

There are two legends associated with the name of Ganpatipule town. According to one legend, after being insulted by a local lady, Lord Ganapati moved to Pule from his original abode of Gule. Thus the region was named Ganpati-Pule. According to another belief, the town got its name from the white sand (or Pule in Marathi) from which the idol of Ganesha was formed. Ganpatipule can be visited along with Mahabaleshwar as part of Mahabaleshwar packages.

Ganpatipule is home to some of the most spectacular beaches that can be visited as part of Konkan tour packages. It is an ideal getaway that attracts peace-seekers, beach lovers, and pilgrims alike. Ganpatipule is one of the only two white sand beaches in Maharashtra, the other being Kashid Beach. The Ganpatipule Beach is clean and the sea is also clear though swimming is not advisable because of the rocky stretches. However, it is an ideal spot for sunbathing and mesmerizing sunsets. Ganpatipule also offers water sports between the months of November and May.

There are many other tourist places in Ganpatipule apart from the beaches and the Ganapati Temple. Malgund about 2 km from Ganapatipule is the birthplace of the famous Maratha poet Keshavsut and houses a memorial of the great poet. Gaywadi beach near Malgund village is the hub of water sports activities in Ganpatipule. Jaigad Fort, Prachin Konkan Museum, Arey Ware Beach, Guhagar Beach, and Velneshwar are other prominent places in Ganpatipule.

Ganpatipule has several resorts and hotels but the facilities offered by most hotels are ordinary. State-owned MTDC also runs a holiday resort near the beach.

Mumbai Airport is the nearest airport, which is about 343 km from Ganpatipule. Ratnagiri Railway Station is the nearest railhead about 30 km from Ganpatipule. Ratnagiri has train connectivity with Mumbai, Goa, Patna, Pune, Kochi, Trivandrum, Delhi, Mangalore, Tirunelveli, Bikaner, Amritsar, Dehradun, Chandigarh, Kochuveli, Porbandar, Ajmer, Coimbatore, and Madgaon. Ganpatipule is well connected by bus with Ratnagiri, Mumbai, Pune, and Kolhapur.

The best time to visit Ganpatipule is from September to February while the peak season is from November to January.
Internet Availability:
Poor
Languages Spoken:
Marathi, Hindi, Konkani and English
Major Festivals:
Ganesh Chaturthi