MURUDESHWAR TOURISM | TOURIST PLACES TO VISIT & TRAVEL GUIDE TO MURUDESHWAR
Pilgrimage |

Beach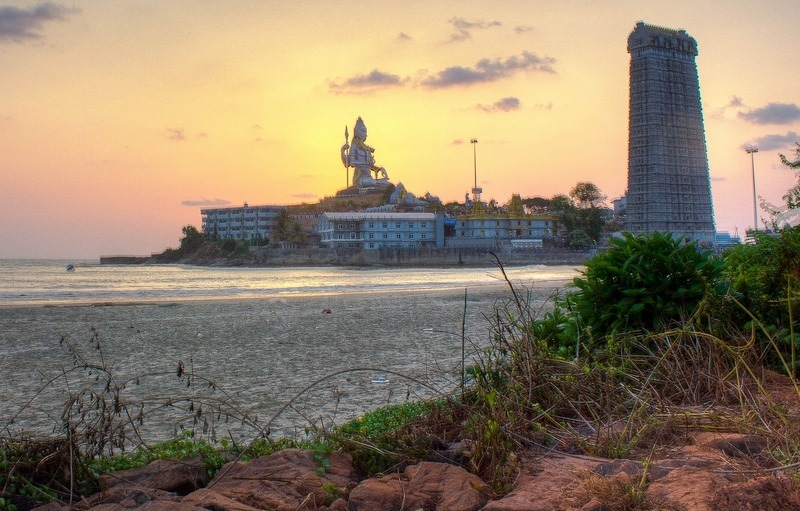 Ideal Trip Duration:
1-2 Days

Nearest City to Murudeshwar:
Mangalore (162 Kms)

Best Time to Visit Murudeshwar:
October to February

Peak Season:
December to January & May to June
At a distance of 76 km from Gokarna, 113 km from Karwar, 162 km from Mangalore, 188 km from Shimoga, 214 km from Panjim, 219 km from Hubli, & 497 km from Bangalore, Murudeshwar is a well-known pilgrimage town located in the Uttara Kannada district of Karnataka. Situated between Honnavar and Bhatkal, it is one of the most must include places in Karnataka Tour Packages, and among the places to visit near Mangalore.

The Murudeshwar town was earlier known as 'Mrideshwara'. It was later renamed as Murudeshwar after the construction of the Murudeshwar temple, one of the famous places of pilgrimage in India, and among the must-include places in Murudeshwar tour packages. According to the legend, Ravana brought the Atma Lingam from Mount Kailash. Lord Ganesha using his trick fooled Ravana on his way to Lanka and put down the Linga on the ground at Gokarna. Angered by this, Ravana tried to uproot and destroy the Linga. The broken pieces of the lingam were cast away. The covering cloth of the lingam fell at Kanduka Giri and the Murudeshwar temple was built at the site. Murudeswar can be visited along with Gokarna tour packages.

Murudeshwar is famous for the world's second-tallest Shiva statue (123 ft) & tallest temple tower (249 ft) of Murudeshwar Temple. The sea on three sides surrounds the temple towering on the small hill called Kanduka Giri. This is a great place to watch the sunset. Murudeshwar Fort, Murudeshwar Beach, and Netrani Island are the other places prominent Murudeshwar Tourist Places. Sirsi, Karwar, Gokarna, Kollur, Udupi, Mangalore, Dharmasthala and Subramanya are the nearby attractions here.

Mangalore International Airport is the nearest airport which is 160 km away from Murudeshwar. Murudeshwar Railway Station lies on the Konkan Railway. It has trains from Mangalore, Trivandrum, Bangalore, Karwar, and Mumbai. Murudeshwar is well connected by bus from Bangalore, Mangalore, Karwar, Shimoga, Hubli, Pune, and Mumbai.

Maha Shivaratri during February is an important festival celebrated here with much devotion and religious rituals.

The best time to visit Murudeshwar is from November to February. Usually, it takes 1-2 days to explore the important places in and around Murudeshwar. There are also 4-5 days Udupi tour packages. that cover Murudeshwar, Gokarna, and Udupi.
Internet Availability:
Good
Languages Spoken:
Kannada, Tulu ,Hindi and English
Major Festivals:
Maha Shivaratri (Feb/Mar)