MANDVI TOURISM | TOURIST PLACES TO VISIT & TRAVEL GUIDE TO MANDVI

Beach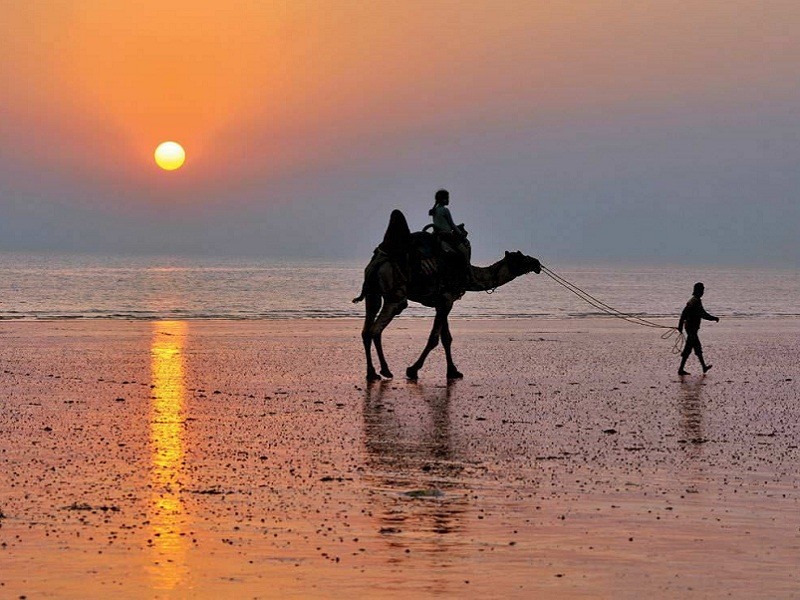 Ideal Trip Duration:
1-2 Days

Nearest City to Mandvi:
Bhuj (64 Kms), Ahmedabad (386 Kms)

Best Time to Visit Mandvi:
October to March

Peak Season:
November to February
At a distance of 64 km from Bhuj, 100 km from Gandhidham, 141 km from Rann of Kutch, 281 km from Rajkot, 386 km from Junagadh, 386 km from Ahmedabad, 506 km from Vadodara, 625 km from Udaipur, and 638 km from Surat, Mandvi is a little town on the coast of the Arabian Sea in the Kutch district of Gujarat. Situated at the estuary where the river Rukmavati meets the Gulf of Kutch, Mandvi is one of the popular beach destinations in Gujarat and among the top places to include in Gujarat packages.

Famous for its ship-building and cottage industries, the port town of Mandvi was founded in 1580 AD by Rao Khengarji, the first Jadeja ruler of Kutch. The city Mandvi was named after Sage Mandavya, who lived here. It was a major trade center of the time. The town was built within a walled fortress that had an 8 m high wall, many gates, and 25 bastions. Presently the wall is almost destroyed, but one can see the largest bastion on the southwest which still acts as a lighthouse.

In the peak of maritime trade, before the arrival of steamboats, Mandvi was a prosperous town and a profit-making center of the Kutch state, surpassing the capital city of Bhuj in terms of wealth. This place happened to be a famous seaport in Gujarat before the rise of Mumbai or Surat as ports and it had trade links with South Africa, China, Malaysia, Zanzibar, and Japan. This port was also a point of entry to the states of Marwar, Sindh and Malwa. The town has a four-hundred-year-old ship-building industry, which was started by the rank of Kharva. The town began to decline with the advent of steamboats, but the tradition of shipbuilding is still carried on, by hand on the banks of the Rukmavati River.

Being a seaside town, Mandvi has been blessed with pleasant weather all the year through. The vast expanse of its clean beaches had made it a popular destination even in ancient times. The Rulers of Kutch State made it their summer retreat and built the beautiful Vijay Vilas Palace here, among the must-include places in Mandvi tour packages. Besides, Shyamji Krishna Varma Memorial, 72 Jainalaya, and Mazar-e-Noorani are the other famous places to visit in Mandvi. Mandvi is also a well-known center for the production of country crafts.

About 63 km from Bhuj, Rudramata Airport is the nearest airport to Mandvi and is well connected by flights with Mumbai while Ahmedabad Airport is the nearest international airport which is about 406 km from Mandvi. Bhuj Railway Station, which is about 64 km from Mandvi, is well connected by trains with Palanpur, Pune, Dadar, Ahmedabad, Kolkata, Shalimar, and Mumbai. Mandvi is well connected by bus with Ahmedabad, Gandhidham, Bhuj, Rajkot, Dwarka, and Vadodara.

Defined by azure seas and swaying palms, Mandvi has many accommodation options from budget hotels for those who look for economical options to star hotels that provide the ultimate in style and opulence.

The best time to visit Mandvi is from October to March as the summer months in March tend to be harsh and rains can be torrential. Uttarayan is the most popular festival celebrated in Gujarat as well as in Mandvi. International Kite Festival is being celebrated in the city of Mandvi for some years on this occasion. At this festival, many professional kite flyers from different countries come here to showcase different kites. People from various states of India also take part in the festival and fly beautiful kites.
Internet Availability:
Average
Languages Spoken:
Gujarati, Kutchhi, Hindi and English
Major Festivals:
Uttarayan