JOG FALLS TOURISM | TOURIST PLACES TO VISIT & TRAVEL GUIDE TO JOG FALLS

Waterfall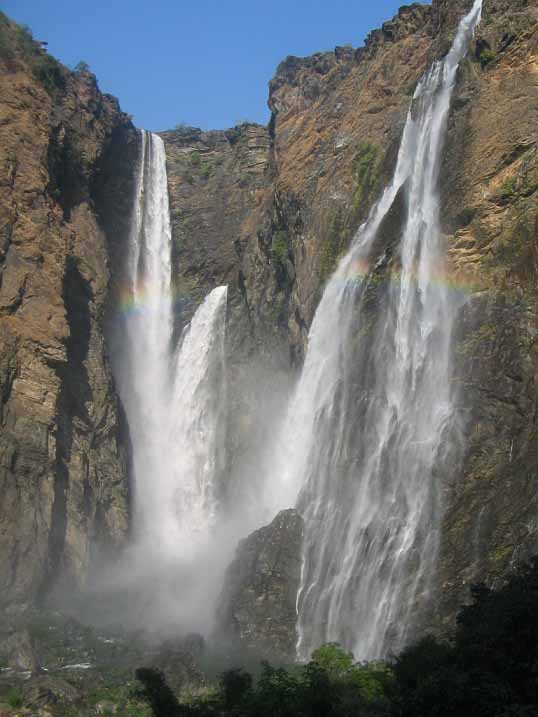 Ideal Trip Duration:
4 Hours/Half Day

Nearest City to Jog Falls:
Hubli (161 Kms)

Best Time to Visit Jog Falls:
October to January

Peak Season:
October to January
At a distance of 400 km from Bangalore, 105 km from Shimoga, 161 km from Hubli, 87 km from Murudeswar, 150 km from Karwar, 31 km from Sagar, 60 km from Sirsi & 21 km from Siddapur, Jog falls is the one of the highest plunge waterfall in India situated in Shimoga district of Karnataka State. Locally known as Geruoppe Falls, Gersoppa Falls and Jogada Gundi, this is one of the best waterfalls near Bangalore to visit as part of Karnataka holiday packages.

Jog Falls is one of the most beautiful waterfalls in India and one of the top destinations of Karnataka Tourism. This is formed over the Sharavathi River falling from a height of 253 m (830 ft).The Sharavathi River flowing over a very rocky bed about 250 yards wide, 253 m deep and the water comes down in four distinct falls known as Raja, Rani, Rover and Rocket. The four cascades merge to form the huge waterfall. The Raja Fall pours in one unbroken column sheer to the depth of 830 ft. Halfway down it is encountered by the Rover, another fall, which rushes violently downwards to meet the Raja. A third fall, the Rocket, shoots downwards in a series of jets; while the fourth, the Rani, is a quiet fall over the mountain side.

There is a view point near parking area which also has few shops available. A narrow path from view point leads to bottom of the falls. The walk is steep & little difficult and takes about 45 minutes one way. The view is amazing from the bottom and the showering sizzles of the falls at bottom are really worth the effort (water bottles are sold in midway of the trek path). However, the path is mostly inaccessible or dangerous during peak monsoons and it's suggested to go down only in winter & summer seasons.

Hubli Airport is the nearest airport which is 171 km away from Jog Falls. The nearest railway station is at Shimoga at a distance of around 105 km from Jog Falls. The Shimoga Railway Station is well connected to Mysore, Bangalore, Birur and Talguppa. Jog Falls is accessible by bus from Sagar and Siddapur. Sirsi is also a good base station to visit Jog Falls & other places around.

The best time to visit Jog Falls is from August to January while the peak season is from September to December. Usually it takes half day to visit Jog Falls.

Internet Availability:
Internet Not Available
Languages Spoken:
Kannada, Hindi, English
Major Festivals:
Details Not Available