SHILLONG TOURISM | TOURIST PLACES TO VISIT & TRAVEL GUIDE TO SHILLONG
Hill Station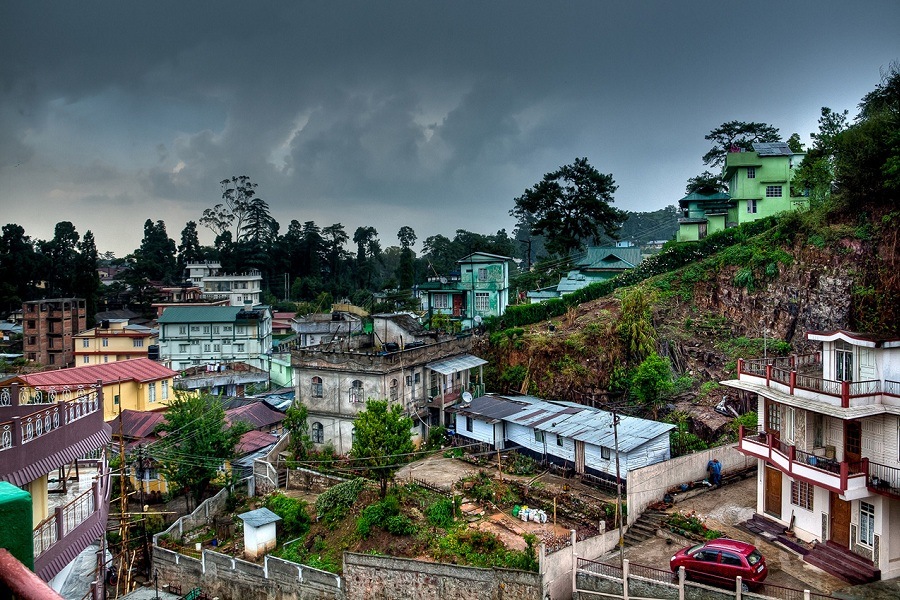 Ideal Trip Duration:
2 Full Days

Nearest City to Shillong:
Shillong, Guwahati (98 Kms)

Best Time to Visit Shillong:
September to May

Peak Season:
March to April
At a distance of 98 km from Guwahati, 377 km from Dhaka, 414 km from Kohima, 420 km from Cooch Behar, 572 km from Siliguri, 594 km from Darjeeling, 631 km from Gangtok and 1116 km from Kolkata, Shillong is a mesmerizing hill station in East Khasi Hills district of Meghalaya in India. Shillong is the capital city of Meghalaya as well as the headquarters of East Khasi Hills district. It is one of the most picturesque hill stations in India and among the must include places in your honeymoon tour packages.

Perched at an attitude of 1496 m, Shillong is situated on a plateau bounded by the Umiam gorge on the north, Diengiei Hills on the northwest, and the hills of the Assam valley on the northeast. Shillong Peak is the highest point in Shillong with an altitude of 6449 feet. The city gets its name from the deity Shyllong or Lei Shyllong, who is worshipped at the Shillong Peak. The British fondly called Shillong the 'Scotland of the East' as the rolling hills around the town reminded the European settlers of Scotland.

Earlier a small village, Shillong became the new civil station of the Khasi and Jaintia hills in 1864 CE. In 1874, it became the capital of composite Assam under British rule due to its favorable location between the Brahmaputra and Surma valleys. Shillong remained the capital of Assam till 1969 when the autonomous state of Meghalaya was formed. In 1972 CE, Meghalaya turn out to be a full-fledged state and Shillong was made its capital.

The exciting mountain peaks, colourful tribal culture, beautiful landscapes, crystal clear lakes and breathtaking waterfalls, making Shillong a popular tourist destination in North East India. Elephant Falls, Sweet Falls, Umiam Lake, Ward's Lake, Shillong Peak, Lady Hydari Park, Shillong Cathedral, Air Force Museum and Don Bosco Museum are the top places to visit in Shillong. Shillong also houses Mawsynram, the wettest place on Earth and Mawlynnong, the cleanest village in Asia. It is also a hub of education in the North East because of the many renowned educational institutions.

Shillong Airport, also called as Umroi Airport is the nearest airport which is about 30 km from Shillong. It has direct flights from Kolkata. Guwahati Airport is the major airport which is about 120 km from Shillong and is well-connected by flights with cities like Kolkata, Mumbai, Delhi, Hyderabad, Bangalore, Chennai and Jaipur. About 98 km, Guwahati Railway Station is the nearest rail head to Shillong which is well connected by train with Kolkata, Delhi, Agartala, Mumbai, Bikaner, Dibrugarh, Tambaram, Bangalore, Silchar, Trivandrum, Hyderabad, Patna, Kanyakumari, Amritsar, Chandigarh, Chennai and Jammu Tawi. Shillong is well connected by road with Guwahati, Silchar, Dharmanagar and Karimganj.

Shillong is often called as 'India's Rock Capital' due to the great passion for music among the inhabitants of the city. Shad Suk Mynsiem Dance, Nongkrem Dance, Behdeinkhlam Festival, Wangala Festival and Autumn Festival are the important festivals celebrated with great pomp and fervor in Shillong every year.

The best time to visit Shillong is from the months of September to May. During these months, the weather is extremely pleasant with moderate rainfall. Shillong looks beautiful and refreshing during the monsoon season (June-August), but torrential rain may disrupt travel plans.
Internet Availability:
Average
Languages Spoken:
Khasi, Bengali, English, Hindi, Assamese & Nepali
Major Festivals:
Nongkrem Dance Festival, Behdeinkhlam Festival, Wangala Festival and Autumn Festival