MANTRALAYAM TOURISM | RAGHAVENDRA SWAMY TEMPLE & TRAVEL GUIDE TO MANTRALAYAM
Pilgrimage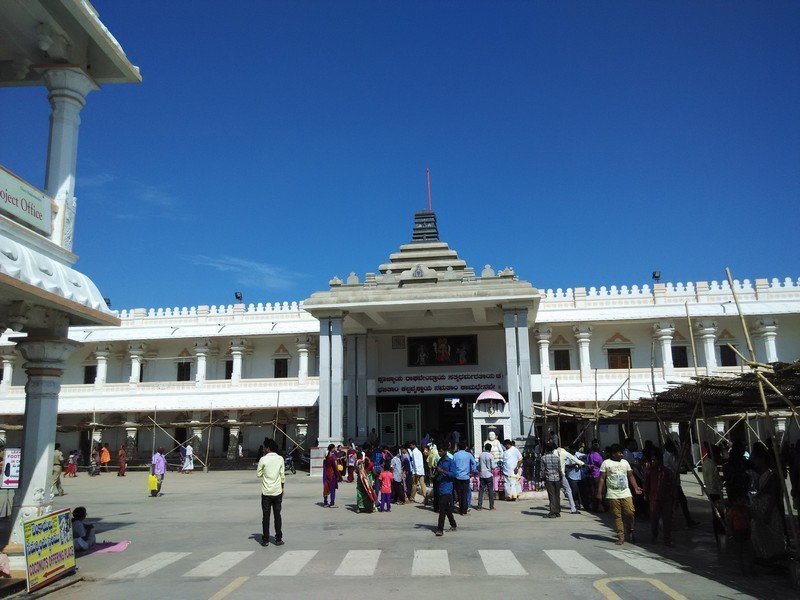 Ideal Trip Duration:
Full Day

Nearest City to Mantralayam:
Kurnool (74 Kms), Hyderabad (253 Kms)

Best Time to Visit Mantralayam:
August to March

Peak Season:
August to September
At a distance of 74 km from Kurnool, 148 km from Nandyal, 49 km from Adoni, 43 km from Raichur, 253 km from Hyderabad, 301 km from Hubli, 402 km from Bangalore and 416 km from Vijayawada, Mantralayam, also known as Manchale or Mantralaya is situated in Kurnool district of Andhra Pradesh. This is the place where the Vaishnava saint Sri Guru Raghavendra took Jeeva Samadhi (tomb) and is also one of the popular Places to visit in Andhra. Mantralayam is situated near the border of Karnataka and Andhra Pradesh along the banks of River Tungabhadra, a chief tributary of River Krishna.

Mantralayam is associated with the famous saint Sri Guru Raghavendra Swamy, renowned Hindu saint and philosopher. Sri Guru Raghavendra Swamy, lived between 1595 and 1671 was an influential saint in Hinduism. Followers of the saint consider him to be an incarnation of Bhakta Prahallada, who was saved by Vishnu in the avatar of Narasimha. Sri Raghavendra Swamy is said to have performed many miracles during his lifetime and has a large following even today. Mantralayam is a small and peaceful town situated on the banks of the River Tungabhadra and gets thousands of devotees from all over the country. He also served as the head of Sri Mutt of Kumbakonam from 1621 to 1671.

Mantralayam is also popular for Manchalamma Temple located near the Samadhi Temple, inside the Mantralayam Mutt complex. It is a custom at Mantralayam that the devotees offer prayers at the Manchalamma Temple before visiting the Samadhi Temple. As per records, the barren land around Mantralayam along the river banks of Tungabhadra was handed over to the Mutt of Sri Raghavendra Swamy by Nawab Siddi Masud Khan of Adoni. Panchamukhi Anjaneya Temple, Chinna Tumbalam, Bichchali and Alampur are the nearby attractions to Mantralayam.

The male devotees who want to perform Pooja themselves have to wear dhoti. While male devotees paying normal visit have to remove their shirt and female devotees have to wear Sarees or other traditional cloths.

Accommodation is provided by the Mutt near the temple and room charges vary between Rs. 200 to Rs. 1000 per day (online booking not available yet). Private hotels and lodges also provide accommodation. It is advised to book the accommodation in advance as the place attracts devotees throughout the year.

Hyderabad Airport is the nearest airport, 236 km from Mantralayam. The nearest railway station is Mantralayam Road Station on Madras-Raichur route, which is about 15 km away from Mantralayam town. It has train connectivity with Bangalore, Coimbatore, Varanasi, Aurangabad, Ahmedabad, Tuticorin, Shirdi, Mumbai, Hyderabad, Dadar, Nagarcoil, Chennai, Kolhapur, Kanyakumari, Nanded, New Delhi, Gulbarga, Mysore and Tirupati. Mantralayam is well connected by bus with Bangalore, Kurnool, Raichur, Hyderabad, Tirupati and Chennai.

Usually it takes one full day to visit Mantralayam and nearby places.

Darshan Timings: 6 AM to 8:30 AM, 9:30 AM to 2 PM & 4 PM to 9.30 PM.

Internet Availability:
Poor
Languages Spoken:
Telugu, English, Hindi
Major Festivals:
Maharathostavam / Car Festival (Aug/Sep),
Sri Raghavendra Swamy Aradhanostavam (Aug)
Notes/Tips:
Maharathostavam / Car Festival and Sri Guru Raghavendra Swamy Aradhanostavam are the famous festivals of Mantralayam. Darshan of main temple usually takes about an hour, but can go up to 2-3 hours on special occasions.

The best time to visit Mantralayam is from August to March while the peak season is from August to September.