MANALI TOURISM | TOURIST PLACES TO VISIT & TRAVEL GUIDE TO MANALI
Hill Station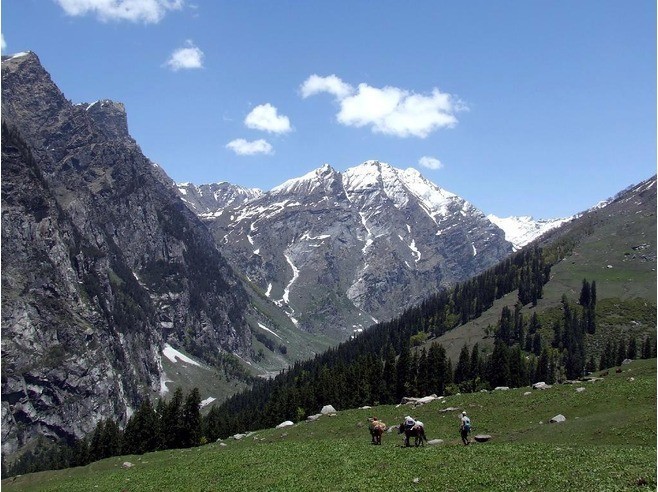 Ideal Trip Duration:
3 Full Days

Nearest City to Manali:
Shimla (255 Kms), Chandigarh (295 Kms)

Best Time to Visit Manali:
April to June & October to December

Peak Season:
December to January & May to June
At a distance of 40 km from Kullu, 255 km from Shimla, 295 km from Chandigarh, and 545 km from Delhi, Manali is a breathtakingly beautiful hill station nestled in the mountains of Himachal Pradesh near the northern end of the Kullu Valley. Kullu Manali is one of the top hill stations in India, and among the top tourist places in Himachal.

Manali is renowned for its snow-covered mountains, scenic beauty, history, and culture. It is located at an altitude of 2050 m and is spread along the banks of the river Beas. Often referred to as the 'Valley of the Gods', Manali is one of the popular places to visit near Delhi. Naggar Castle, Hidimbi Devi Temple, and Rohtang Pass are among the must include places in Manali tour packages.

Manali is named after the Hindu lawgiver Manu. The word Manali is derived from Manavalaya meaning the abode of Manu or 'Home of Manu'. According to the legend, sage Manu stepped off his ark in Manali to recreate human life after a great flood had overwhelmed the world. The Old Manali village has an ancient temple dedicated to sage Manu.

Some of the famous tourist places in Manali are Solang valley, Rohtang Pass, Hidimba Temple, Bhrigu Lake, Vashist Temple, Manu temple and Great Himalayan National Park. Manali also has many Buddhist monasteries that are worth visiting. Enfield point, Manali Gompa, Manu Temple, Naggar Castle, Nehru Kund and Zana Waterfalls are the other famous places to visit in Manali.

Manali is famous as a honeymoon destination among Indian tourists. Manali is also famous for adventure sports like skiing, hiking, mountaineering, Paragliding, rafting, kayaking, and mountain biking. Paragliding in Manali is an unforgettable experience.

September to March is the best time to visit Manali. Most of the adventure sports are conducted during June to September period.
Internet Availability:
Good
Languages Spoken:
Hindi, Pahari, Punjabi, Kangri, English and Dogri
Major Festivals:
Dussehra (Sep/Oct), Hidimba Devi Festival (May), Doongri Forest Festival (May/June), Winter Carnival (Jan/Feb), Spring Festival (Apr), Lohri Festival (mid Jan)