Delhi, the capital city of India, is a very popular tourist destination. It is rapidly being witnessed as the growing tourist attraction alluring national as well as international travellers. Enjoying the perfect weekend in the enchanting and awe-inspiring places is certainly a rising trend in the metro cities today. People of Delhi often wish to celebrate their weekend away from the hustle-bustle of the city. The inhabitants of the city have a plethora of options to engage themselves with long lasting memories.
Here is a comprehensive list of places to visit near Delhi within 300 km range which is an exciting mix of hill stations, religious places, historical towns, heritage sites.
Nainital, Uttarakhand

Situated in the Kumaon foothills of Himalayas, Nainital is a beautiful hill station in Uttarakhand well-known for its striking beauty and natural splendor. Commonly known as the Lake District of India, Nainital is one of the top hill stations in India and also the most popular weekend getaways from Delhi. Situated at an altitude of 1938 m, Nainital derives its name from Naini Lake and the town is spread around this beautiful Lake. The highest point is Naina Peak or China Peak, with an elevation of 2,615 m. Surrounded by mountains on three sides, Nainital is also one of popular honeymoon destinations in India.
The picturesque charm of this pristine hill station attracts large number of tourists every year to spend pleasant and unforgettable vacations amidst the tranquil and scenic ambiance. Nainital Lake, Naina Devi Temple, Mall Road, Naina Peak, Snow View Point, Kainchi Dham, Raj Bhavan, High Altitude Zoo, Bhimtal and Sattal are among the must include places in your Nainital tour packages. Naini Lake has facilities for boating and yachting. The best time to visit Nainital is from March to May & December to February.
Distance from New Delhi: 294 km
Must Read: Romantic Places to visit on Valentine's Day
---
Mathura, Uttar Pradesh
Mathura, the birthplace of Lord Krishna, is an ancient city situated on the banks of River Yamuna in Uttar Pradesh. It is one of the seven cities (Sapta Puri) considered holy by Hindus; the other six are Ayodhya, Haridwar, Varanasi, Kanchipuram, Ujjain and Dwarka. It is popularly known as the Brajbhoomi, the sacred land of Lord Krishna. The Sri Krishna Janmabhoomi Temple is home to a prison cell called Garbha Griha that is believed to be the exact birthplace of Lord Krishna. One of the cultural as well as religious weekend getaways near Delhi, Mathura still echoes tales of Lord Krishna's youth.
Apart from Sri Krishna Janmabhoomi Temple, Dwarkadheesh Temple, Gita Mandir, Kusum Sarovar, Vishram Ghat and Jama Masjid are the top places to visit in Mathura. The Government Museum in Mathura is one of the best museums and attracts people with archaeological interest. The museum has some of the best collections of artifacts from the Gupta and Kushan period (400 BC-1200 AD). Holi and Janmastami are the major festivals celebrated in Mathura. The Holi festival attracts national and international tourists to this town. Tourists can also visit nearby Barsana where the interesting tradition of Lath Mar Holi is observed.
Distance from New Delhi: 159 km
---
Most Popular Tours
---
Agra, Uttar Pradesh
Agra, the land of the Taj Mahal, is situated on the banks of River Yamuna in the state of Uttar Pradesh. Agra is one of the most popular tourist destinations of the World and also one of the best heritage sites in India. Agra is included on the Golden Triangle tourist circuit, along with Delhi and Jaipur and also one of the top places near Delhi.
The city houses many ancient temples, mosques, forts, mausoleums, tombs and historical monuments. The Taj Mahal, one of the Seven Wonders of the World, is an immense mausoleum of white marble, built between 1632 and 1653 by order of the Mughal emperor Shah Jahan in memory of his favorite wife Mumtaz Begum. Apart from the Taj Mahal, Agra Fort, Fatehpur Sikri, Akbar's Tomb-Sikandra, Swami Bagh Samadhi, Jama Masjid and Ram Bagh are the other important tourist attractions not to miss in a Agra tour packages.
Distance from New Delhi: 214 km
---
Jim Corbett National Park, Uttarakhand
Jim Corbett National Park is India's oldest and most popular National Park situated in Nainital district of Uttarakhand. It is the natural hub of many wild animals, especially the Bengal tigers. Situated in the foothills of the majestic Himalayas, it is one of the best weekend getaways from Delhi and also one of the top places to visit in India. Jim Corbett National Park has been divided into 5 different zones, Bijrani, Dhikala, Jhirna, Durgadevi, and Dhela. Bijrani, Dhikala and Durgadevi zones are closed from 15th June to October while Jhirna and Dhela are remain open throughout the year. The Park is one of the best wildlife sanctuaries in Uttarakhand and also top places to visit in Nainital.
Jim Corbett National Park is one of the best managed and protected areas in the country and attracts thousands of Indian and Foreign visitors each year. It is home to around 50 species of trees, 580 bird species and 25 reptile species. The park is also home to wide variety of wildlife including Tigers, Elephants, Chital, Sambar Deer, Nilgai, Gharial, King Cobra, Muntjac, Wild boar, Hedgehog, common Musk Shrew, Flying fox and Indian Pangolin. Bijrani Jeep Safari, Jhirna Jeep Safari and Bijrani Elephant Safari are the famous activities one can do at the Park. The pictorial and wonderful view of the park captivates the attention of the tourists and provides an unforgettable experience.
Distance from New Delhi: 261 km
Also Read: Top Wildlife Sanctuaries in India
---
Jaipur, Rajasthan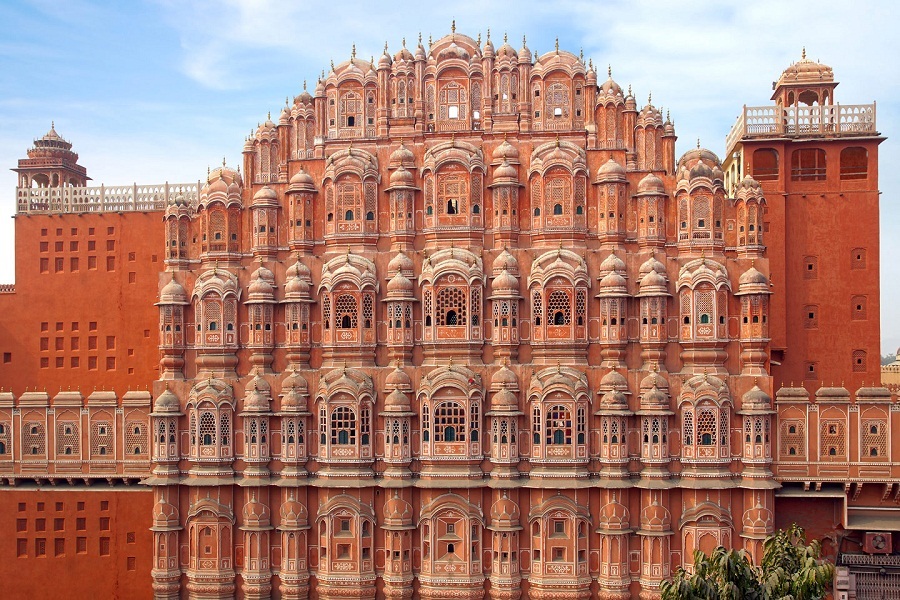 Jaipur, also known as the Pink City, is the capital of Rajasthan in India. Along with Delhi and Agra, Jaipur forms the Golden Triangle Tour. It is one of the popular tourist places to visit in India and serves as a gateway to other tourist destinations in Rajasthan such as Jodhpur, Jaisalmer and Udaipur.
Jaipur, among the top Tourist Places in Rajasthan, attracts numerous visitors from all over the world due to its rich heritage and culture. Amber Fort, Sheesh Mahal, Ganesh Pol, Hawa Mahal, Jal Mahal, Nahargarh Fort, City Palace etc. are the important places to visit in Jaipur as part of Jaipur tour packages. Bairath, Karauli, Ranthambore National Park and Bagru are the nearest attractions. Jaipur is also famous for its beautiful jewellery, fabrics, shoes also known as mojari and spacious gardens.
Distance from New Delhi: 268 km
Also Read: Top 10 Indian Destinations Popular with Foreign Tourists
---
Rishikesh, Uttarakhand

Rishikesh is a holy city on the banks of the River Ganges at the foothills of the Himalayas in Uttarakhand. It is one of the top pilgrimage places to visit in India and among the best tourist places in Uttarakhand. Renowned as the adventure capital of India, Rishikesh is the gateway to the upper Garhwal region. It is the starting point for the Char Dham Yatra (Gangotri, Yamunotri, Badrinath and Kedarnath).
Rishikesh attracts huge number of tourists and pilgrims from all parts of the country to offer their prayers at this holy site. Rishikesh has several famous ashrams and temples. Triveni Ghat, Parmarth Niketan, Neel Kanth Mahadev Temple, Kailash Niketan Temple and Bharat Mandir are the important pilgrimage sites in Rishikesh. Rishikesh is now world famous as a Yoga Capital of the World. Rishikesh is also popular among adventure tourists as it offers several activities like mountain biking, bungee jumping and white water rafting. Rishikesh is also base for several trekking trails in Uttarakhand.
Distance From New Delhi: 233 Kms
---
Mussoorie, Uttarakhand
Mussoorie is a popular hill station in Dehradun district of Uttarakhand State and also one of the best hill stations in Uttarakhand. Mussoorie is situated atop a horseshoe crest on the mountains of Garhwal at an average altitude of 1880 m. Mussoorie offers commanding views of the underlying Doon Valley and the magnificent Himalayas. The highest peak in the region is Lal Tibba in Landour, at an elevation of over 2,275 m. Mussoorie is called the gateway to the Yamunotri and Gangotri. It is one of the most visited summer getaways in Uttarakhand and also one of the best hill stations near Delhi.
Kempty Falls, Camel's Back Rock, Mall Road, Cloud's End and Bhatta Falls are some of the best places to include in Mussoorie packages. Mussoorie also offers adventure and shopping opportunities. Tourists can enjoy horse riding or a leisurely walk across Camel's Back Road and a rope-way ride to the top of Gun Hills. Snow Adventure Zone offers adventure activities like Sky Ride, Valley Crossing, Zip Swing, Paragliding, Night Camping & Safari.
Distance from New Delhi: 278 km
---
Fatehpur Sikri, Uttar Pradesh
Fatehpur Sikri is a deserted fort city in Agra district of Uttar Pradesh, India. UNESCO declared this complex as a World Heritage Site in 1986. It is one of the best heritage sites in India and also one of the popular tourist places near Delhi. Akbar, the greatest Mughal Emperor, was commissioned Fatehpur Sikri in 1569 AD. The city was constructed to honour a Sufi saint, Sheikh Salim Chisti, who used to live in a cavern on the ridge at Sikri. This city served as the capital of the Mughal Empire from 1571 till 1585 AD.
Fatehpur Sikri is one of the best preserved collections of Indian Mughal architecture. The complex was built with an amalgamation of Indian, Persian and Islamic architecture. The city is bounded on three sides by a 6 km long wall, which is fortified by towers and has seven gates. It consists of beautiful palaces, halls, and mosques. The complex has various structures such as Jama masjid, Buland Darwaza, tomb of Sheikh Salim Chisti, Khas Mahal, Panch Mahal, Khwabgah, Diwan-i-Khas, Anup Talao and Diwan-i-Am.
Distance from New Delhi: 223 km
---
Rajaji National Park, Uttarakhand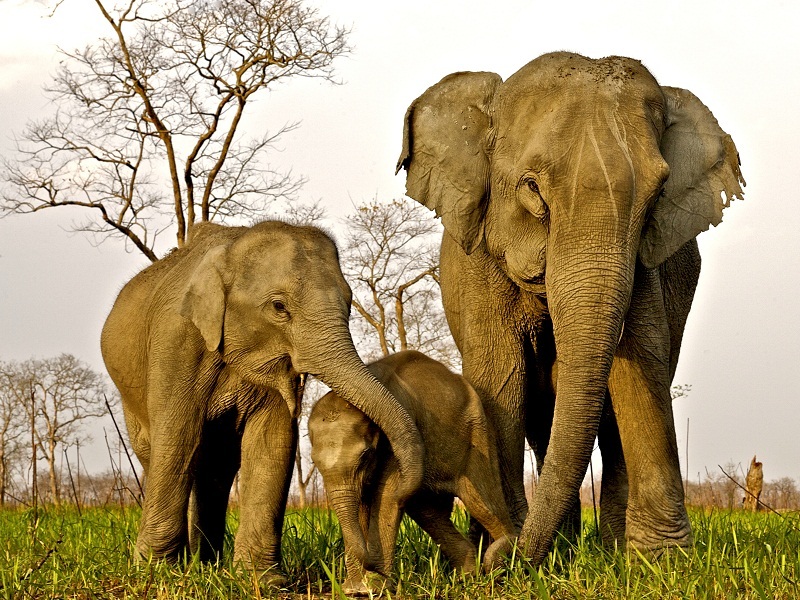 Rajaji National Park is a Tiger Reserve situated at the edge of the sprawling Dehradun Valley. The park is spread over an area of 820.42 sq. km in Dehradun, Haridwar & Pauri Garhwal districts of Uttarakhand. Combining three sanctuaries, Chilla, Motichur and Rajaji, the Rajaji National Park was established in 1983 and named after the famous freedom fighter and the last Governor-General of India Sri C. Rajagopalachari, popularly known as Rajaji. This park is one of the famous wildlife sanctuaries in Uttarakhand and also one of the best wildlife places near Delhi.
The Rajaji National Park is situated along the Shivalik ranges in the Himalayan foothills and bordered by Haridwar, Dehradun and Chillawali. The park has a wide variety of fauna with over 23 mammal and 300 bird species. With large number of elephants, the park is also home to the tiger, leopard, Himalayan bear, Sambar and wild boar, antelopes such as the Nilgai, Goral, Jackal, Hyena, Jungle Cat, Leopard, Civets, Pythons, Cobra and the Monitor Lizard. The forest department arranges facilities for wild safari inside the park which enables the visitor to experience the flora and fauna. The Park opens between 15th November and 15th June every year. The best time to visit is December to March.
Distance from New Delhi: 217 km
---
Haridwar, Uttarakhand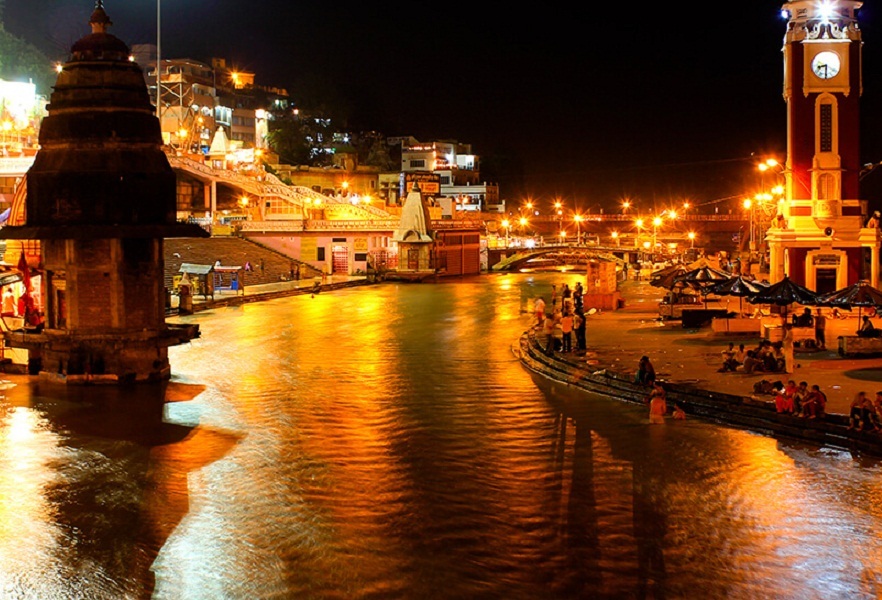 Haridwar or Hardwar is an ancient religious city on the banks of River Ganges in Uttarakhand. Haridwar is one of the popular pilgrimage sites in India and also one of the best tourist places to visit around Delhi. Haridwar, literally translated as Gateway to God, is one of the seven holiest places for Hindus. It is the place where river Ganga descends to the plains. Haridwar is one of the venues for famous Kumbh Mela which takes place once in every 12 years.
Har-ki-Pauri is the most important place of Haridwar where thousands of people take a dip in the holy waters of the Ganges. Chandi Devi Temple, Mansa Devi Temple at Bilwa Parvat, Vaishno Devi Temple, Bharat Mata Temple, Maya Devi Temple, Bhimgoda, and Shanti Kunj are some of the important historical shrines in Haridwar. Rishikesh, Sapt Sarovar, Triveni Ghat, Kanva Rishi Ashram, Chila Wildlife Sanctuary are the other nearby attractions.
Distance from New Delhi: 219 km
---
Lansdowne, Uttarakhand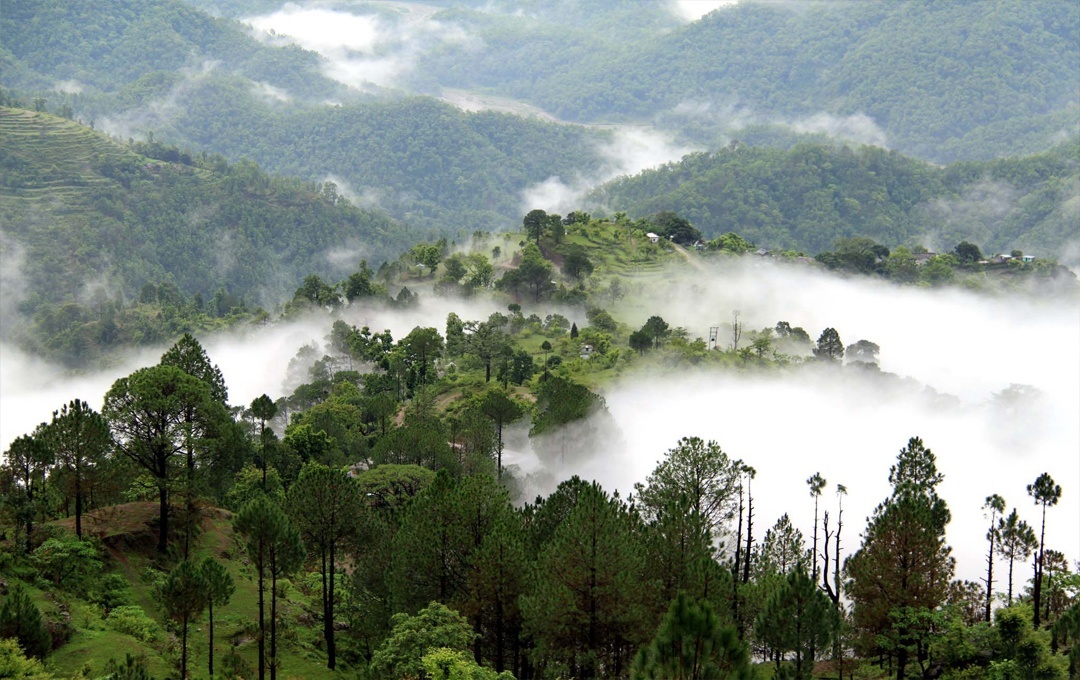 Lansdowne is a small hill town in Pauri Garhwal district of Uttarakhand. It lies at an elevation of 1706 m above sea level and is surrounded by thick oak and pine forests. It is a popular hill resort in Uttarakhand for the British and they built a cantonment here. Lansdowne is named after its founder Lord Lansdowne, the Viceroy of India between 1888 and 1894. Lansdowne is one of the hill stations near Delhi and also one of the least expensive hill stations in India.
Garhwal Regimental Museum, St. Mary's Church, St. John's Church, Durga Devi Temple, Kaleshwar Mahadev Temple, Tip-in-Top, Bhim Pakora, Bhulla Tal, Tarkeshwar Mahadev Temple and Bhairav Garhi Temple are the important tourist places in Lansdowne. It is also an ideal place for trekking and nature walks. Bird watching, boating and paddling are the main activities that visitors can indulge in Lansdowne. The annual festival Shardotsav, celebrated during the season of autumn is a grand draw of tourists.
Distance from New Delhi: 247 km
---
Vrindavan, Uttar Pradesh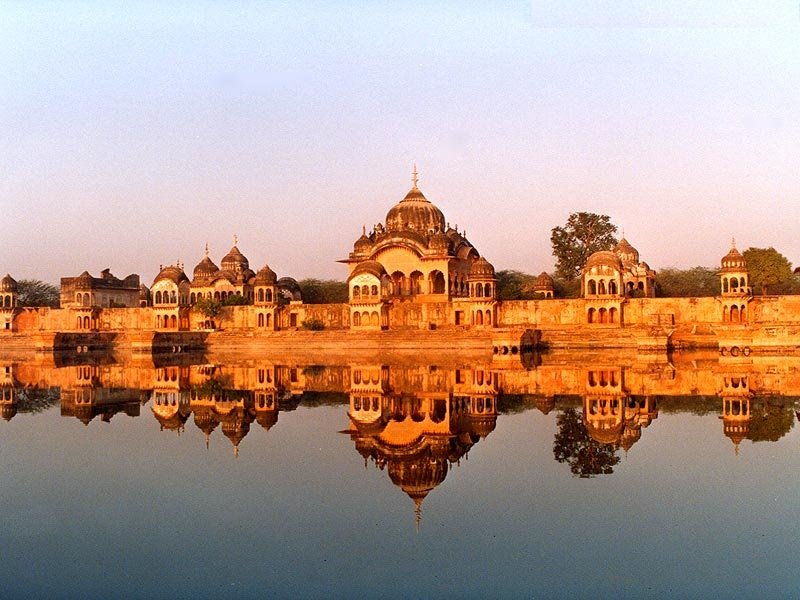 Vrindavan is another pious town in Mathura district of Uttar Pradesh, where Lord Krishna is believed to have spent his mischievous childhood. Situated on the banks of the River Yamuna, Vrindavan is where Krishna performed the famous Rasleelas with his Gopis. Vrindavan is one among the popular places where Janmashtami is celebrated and also one of the best places near Delhi. Vrindavan is a major pilgrimage center for the Hindus and also one of the most prominent sites for ISKCON, the association of Krishna devotees.
Vrindavan is home to about 4,000 temples. Ranganathji Temple, ISCKON Temple, Radharaman Temple, Banke Bihari Temple, Govind Dev Temple, Madan Mohan Temple, Radha Vallabh Temple, Nidhivan Temple and the Pagal Baba Temple are the popular and most visited Vrindavan temples. Vrindavan is one of the top places to celebrate Holi in India. The Holi festival attracts national and international tourists to this town. Tourists can also visit nearby Barsana where the interesting tradition of Lath Mar Holi is observed. Barsana is the place where Krishna's consort Radha was born.
Distance from New Delhi: 159 km
---
Dehradun, Uttarakhand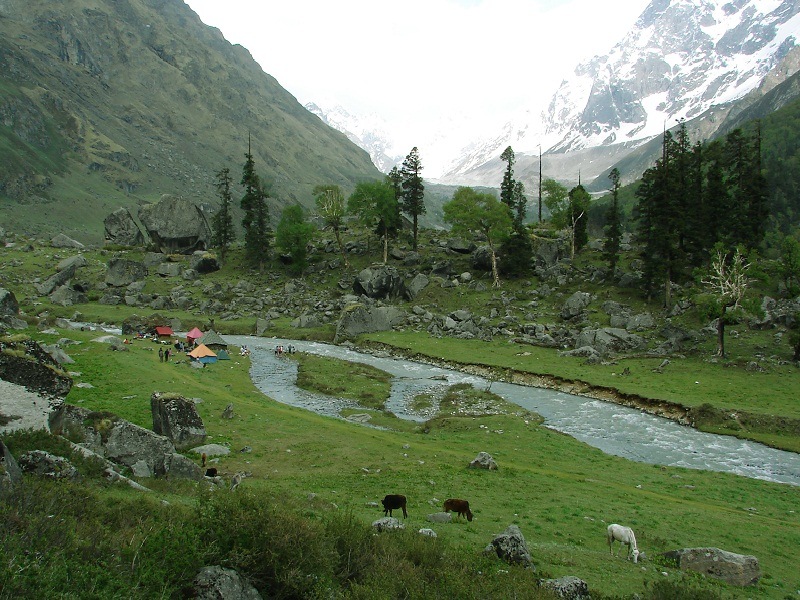 Dehradun is the capital city of Uttarakhand and also the headquarters of Dehradun district. Lies at an altitude of 2100 feet, Dehradun is located in Doon Valley at the foothills of Himalayas nestled between two of India's mightiest rivers – the Ganges on the east and the Yamuna on the west. It is one of the well-known destinations to experience the Uttarakhand Tourism and also one of the popular hill stations near Delhi.
Dehradun is famous for its picturesque landscape and pleasant weather. Dehradun is the gateway to the famous hill stations of Mussoorie, Nainital and the pilgrimage spots of Haridwar and Rishikesh. Some of the other attractions of the region are Tapkeshwar Temple, Santala Devi Temple, Tapovan, Rajaji National Park, Malsi Deer Park and several others. Dehradun is also a haven for adventure enthusiasts. Various activities like trekking, paragliding, skiing and water sports can be experienced in Dehradun.
Distance from New Delhi: 249 km
---
Alwar, Rajasthan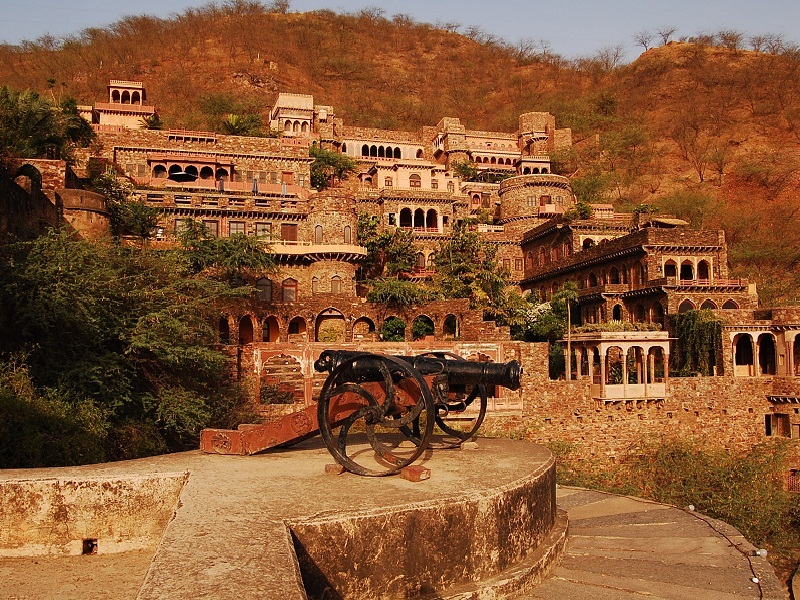 Alwar is a historical city and also the administrative headquarters of Alwar district in Rajasthan. Alwar is part of National Capital Region (NCR) and is one of the popular tourist places near Delhi. Alwar is situated between small hills of Aravalli range and has great historical importance. It was founded in 1049 by Maharaja Alaghraj. A Rajput state for a long time, Alwar gained reputation as a remarkable seat of art and culture under the patronage of Maharaja Pratap Singh. Alwar is one of the top attractions you must include in Rajasthan packages.
Alwar is famous for beautiful lakes, grand palaces, magnificent temples and towering forts. Bala Quila or Alwar Fort, City Palace, Vijay Mandir Palace, Siliserh Lake and Palace, Moosi Maharani Ki Chhatri, Tripolia, Moti Doongri, Bhangarh Fort, Company Bagh, Government Museum, Tomb of Fateh Jung, Kalakand Market, Neemrana Fort and Naldeshwar are the important attractions of Alwar. The Sariska Tiger Reserve is located in the Aravalli hills only a few kilometers away from Alwar, Rajasthan.
Distance from New Delhi: 158 km
Also Read: 8 Largest Forts in Rajasthan You Must Visit
---
Kasauli, Himachal Pradesh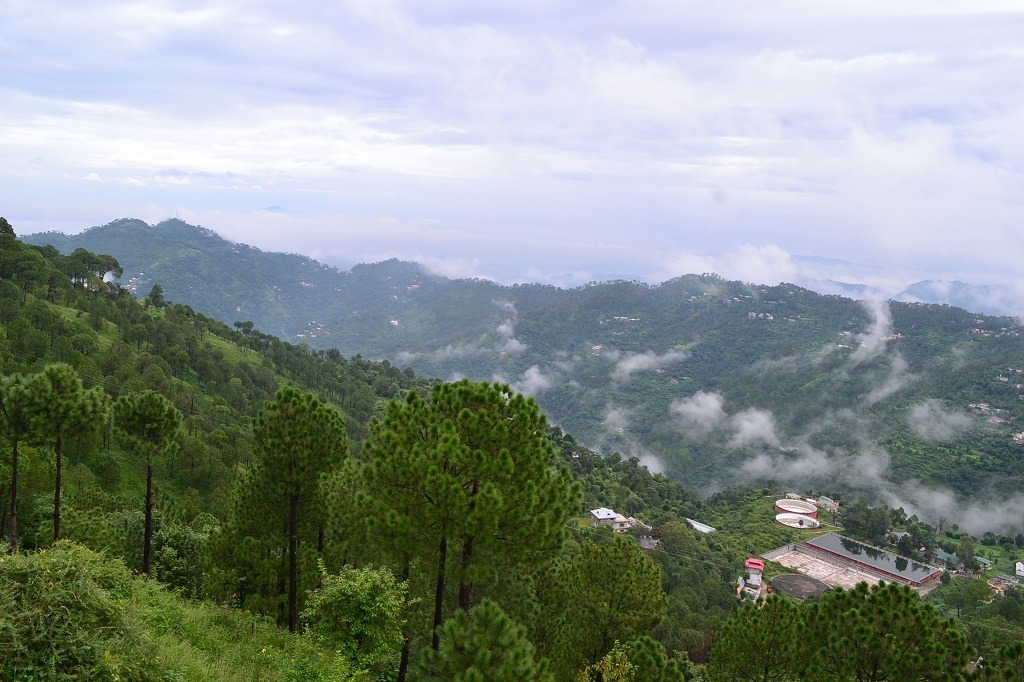 Kasauli is a picturesque hill station in the Solan district of Himachal Pradesh. At an altitude of 1,927 m, it was established by the British in 1842 as a Cantonment town. The name Kasauli came from Kausalya, a mountain stream which flows between Kasauli and Jabli. Kasauli is quite cheaper compared to popular Himachal hill stations like Shimla & Manali. It is also one of the nearest hill stations to Delhi. Kasauli is one of the top attractions you must include in Himachal holidays.
The town is the home of the Kasauli Brewery, which is the highest brewery and distillery in the world. Kasauli is set in the backdrop of the Dhauladhar Ranges with natural trails for long walks. Christ Church, Monkey Point, Lower and Upper Mall, Sanawar, Sabathu Fort are some of the major attractions in Kasauli. The hill station offers activities like trekking, paragliding, and camping for adventurous travelers. Kasauli is one of the top attractions you must include in Himachal tour packages. The best time to visit Kasauli is from April to June and September to November.
Distance from New Delhi: 298 km
---
Bharatpur Bird Sanctuary, Rajasthan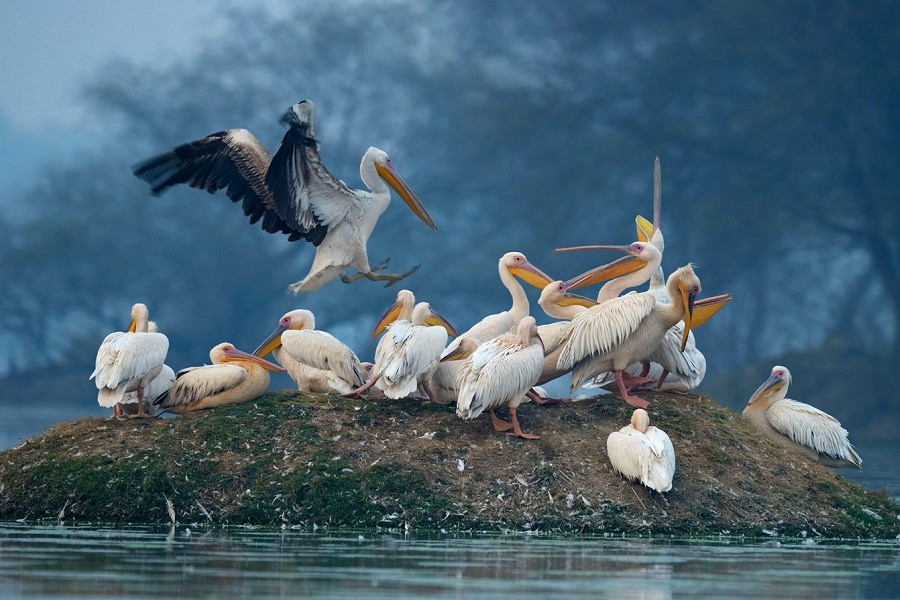 The Keoladeo National Park, formerly known as the Bharatpur Bird Sanctuary, is situated in Bharatpur, Rajasthan. It is among the famous places to visit near Delhi. The park is located around a man-made wetland and was created in the 18th century by Maharaja Suraj Mal of Bharatpur. Formerly the private duck shooting reserve of the Maharajas of Bharatpur and the British Officials, this site was established as a bird sanctuary on 13th March 1976 under the name of Bharatpur Bird Sanctuary. Later on 10th March 1982, the site was designated as a national park and was named Keoladeo Ghana National Park. In 1985, the Park was declared as a UNESCO World Heritage Site.
One of the finest bird parks in the world, Keoladeo, the name derives from an ancient Hindu temple, devoted to Lord Shiva, which stands at the center of the park. Spread over an area of 29 sq. km, the park is home to more than 230 resident and migratory birds. The park is most famous for its species of birds, including Cranes, Spoonbills, Herons, Pelicans and the rare Siberian Cranes. Every year thousands of migratory waterfowl visit the park for breeding etc. It is also an excellent place to watch mammals like Golden Jackal, Striped Hyena, Fishing Cat, Jungle Cat, Nilgai, Sambar, Blackbuck and wild Boar. Government Museum, Bharatpur Palace, Lohagarh Fort, and Deeg Palace are some places of interest near Bharatpur. It is among popular places of wildlife in Rajasthan.
Distance from New Delhi: 209 km
---
Bulandshahr, Uttar Pradesh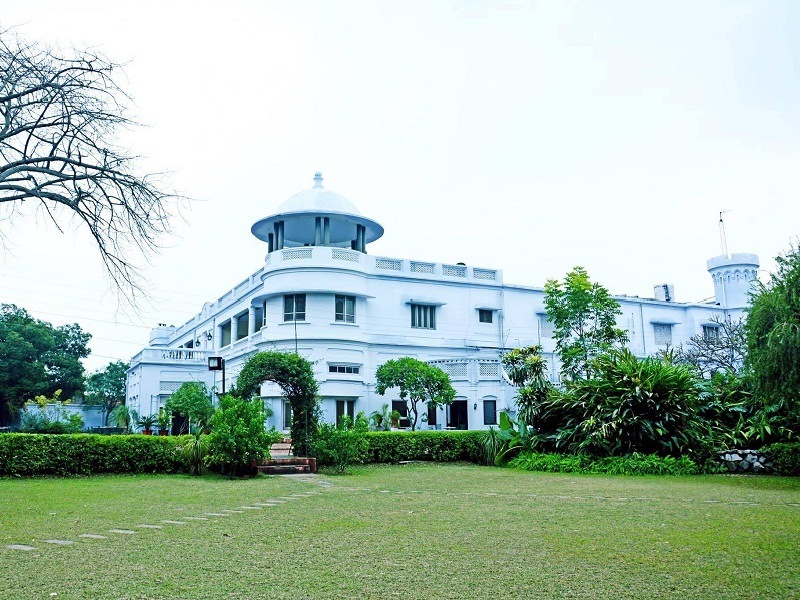 Bulandshahr is a town and headquarters of Bulandshahr district in Uttar Pradesh. It is a part of the Delhi National Capital Region (NCR) and one of the top places around Delhi for a day trip. The city was earlier called Barn city and since it was perched on a highland, it also came to be known as the High City. Subsequently, the city got the name Bulandshahr, which in Persian means High City.
The ancient ruins found at places like Bhatora Veerpur and Ghalibpur offer glimpse into the past of Bulandshahr. There are several other important places in the district from where antiquities have been retrieved. Several artifacts are preserved in the Lucknow State Museum. Some of the places of interest include Ahar, Belon, Garhmukteswar, Kuchesar, Unchagaon and Sikandrabad.
Distance from New Delhi: 85 km
---
Chandigarh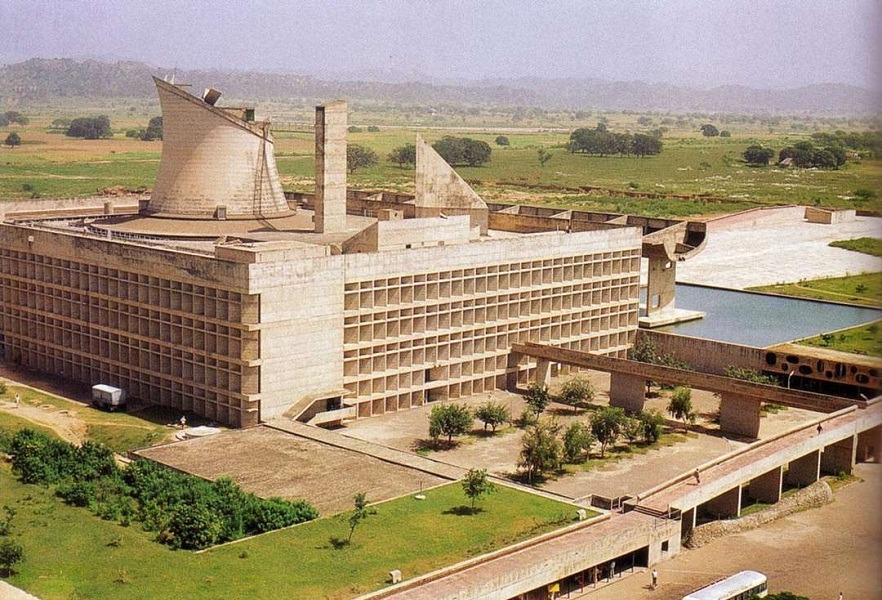 Placed at the base of the Shivalik Ranges, Chandigarh is popular for being the first-planned city of the India. This fabulous city is the administrative capital of both Haryana and Punjab and is the perfect option to plan a weekend getaway from Delhi. It is a union territory, directly under the administration of the Government of India. The city has been named after Goddess Chandi. It is the main hub from which tourists travel to the Kullu – Manali region.
Chandigarh is known for its urban design and architecture that was done by architects like Le Corbusier, Maxwell Fry, Pierre Jeanneret and Jane Drew. This clean city is dotted with a number of tourist attractions and receives a decent footfall of tourists, all round the year. Sukhna Lake, Rock Garden, Pinjore Gardens, Leisure Valley and Capitol Complex are the popular tourist attractions in Chandigarh. The Rose Garden is Asia's largest Rose Garden and is spread over 30 acres of land having over 1600 different species of roses.
Distance from New Delhi: 253 km
---
Bhangarh, Rajasthan
Bhangarh is one of the medieval forts located at Bhangarh town in Alwar district of Rajasthan. This fort was built in 1613 by Madho Singh, who was the son of Man Singh of Amber, a great Mughal General. The fort is considered to be one of the most haunted places in India and also one of the top historical places near Delhi. Because of the numerous ghostly experiences and happenings in the fort premises, villages have sprung up far away from the fort. The Archeological Survey of India has put up a board on the fort gate that it is prohibited to stay inside the fort area after sunset and before sunrise.
Bhangarh Fort, now in ruins, is surrounded by a ruined wall. It has four gates namely Lahori Gate, Ajmeri Gate, Phulbari Gate and Delhi Gate. Inside the fort, there is a Dancer's Haveli and Jauhari Bazar. Natural springs, waterfalls, gardens, havelis, banyan trees and temples of Lord Someshwar, Gopinath, Mangala Devi and Keshava Rai can also be found in the fort. There is also a secluded chhatri, atop an elevated hill that overlooks the town and fort of Bhangarh.
Distance from New Delhi: 247 km
---
Hansi, Haryana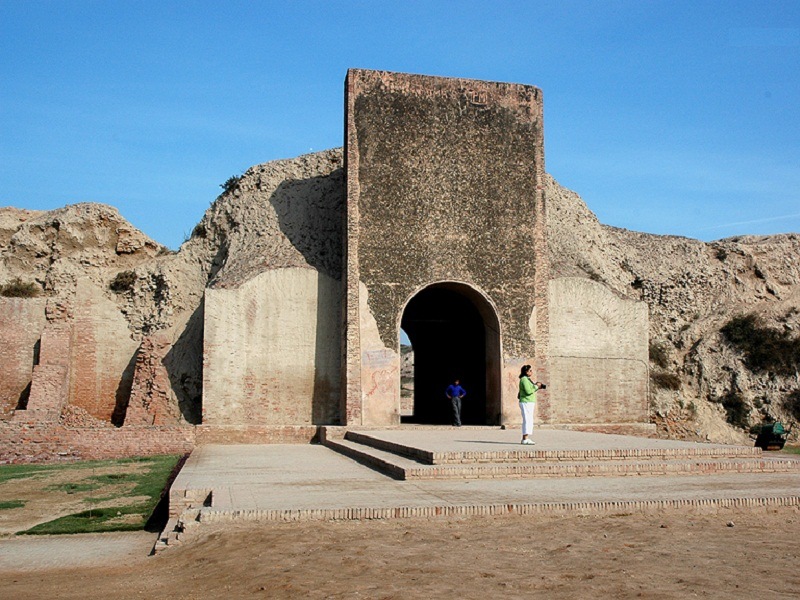 Hansi is an ancient fort town situated in the Hisar district of Haryana. Hansi, once a prosperous city, is now a famous tourist destination near Delhi owing to its ancient forts and historical monuments. Hansi has 5 entry points. The Delhi Gate is on the east, Hisar is on the west, the Gosain Gate is in the north-west and the Barsi and Umra Gate are on the south and south-west respectively. The most prominent among these is the Barsi Gate built by Alauddin Khilji in the year 1304, which is located towards the center of Hansi Bazaar.
Hansi was once the center of sword manufacturing and trading company which was established by King Prithvi Raj Chauhan. These swords were famous for their excellent quality in the Middle East countries. Today, Hansi is a well-known destination among historians due to the famous relics that belong to the bygone era. Hansi is a favourite among archeologists as well since the Hisar district to which Hansi belongs to, was once the seat of the Harappa civilization. Coins, painted grey wares, etc. of the Yaudheya dynasty (500 BC – 1200 AC) were excavated from the ancient fort city of Hansi. Some of the prominent centers of tourist attraction at Hansi are the Barsi Gate, Hansi Fort, Fort of Prithvi Raj Chauhan, etc.
Distance from New Delhi: 148 km
---
Santhi is an avid traveler and primary contributor to the blogs at Trawell.in. She has explored most of the states in India and gained vast knowledge on tourist destinations in India and abroad. She also contributes content to other travel websites.