FATEHPUR SIKRI | TOURIST PLACES TO VISIT & TRAVEL GUIDE TO FATEHPUR SIKRI

Heritage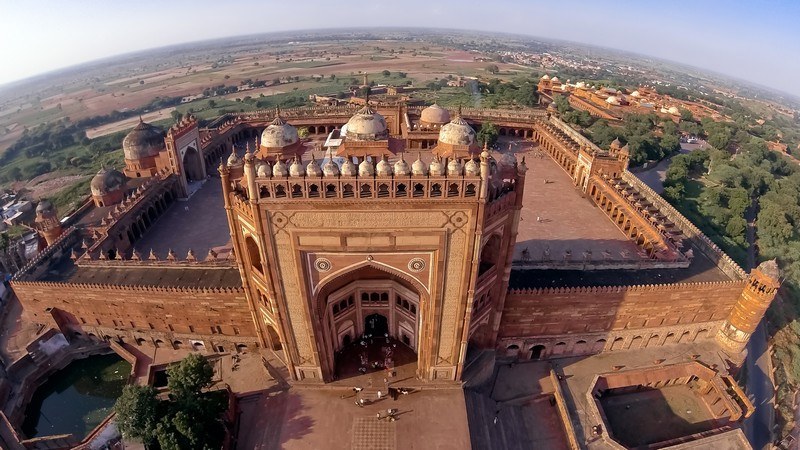 Ideal Trip Duration:
Full Day

Nearest City to Fatehpur Sikri:
Agra (37 Kms)

Best Time to Visit Fatehpur Sikri:
November to March

Peak Season:
March to May & December to January
At a distance of 37 km from Agra, 223 km from Delhi and 209 km from Jaipur, Fatehpur Sikri is a deserted fort city in the Agra District of Uttar Pradesh, India. UNESCO declared this complex as a World Heritage Site in 1986. It is one of the popular place to visit along with Golden Triangle tour and also among ideal weekend getaways from Delhi & Noida cities.

Akbar, the greatest Mughal Emperor, was commissioned Fatehpur Sikri in 1569. The city was constructed to honour Sufi saint, Sheikh Salim Chisti, who used to live in a cavern on the ridge at Sikri. Akbar revered him very much as the Saint had blessed him with a son who was named Salim in 1569. Akbar shifted his capital from Agra to Sikri in 1571 and named the city as Fatehabad meaning victorious. This city served as the capital of the Mughal Empire from 1571 till 1585 and was later called Fatehpur Sikri. However, 15 years after it was established, the court had to be moved out of Fatehpur Sikri because of acute shortage of water. In 1619 Emperor Jahangir camped here for three months while a plague raged in nearby Agra. The city was refurbished to host the coronation of Muhammad Shah in 1719. After that, the city was largely abandoned until Lord Curzon, Viceroy of India for the British from 1898 to 1905, sponsored an archaeological survey and restoration efforts.

Fatehpur Sikri is one of the best preserved collections of Indian Mughal architecture. Designed as per Mughal architecture, with an amalgamation of Indian, Persian and Islamic architecture, this city has a rocky ridge, which is 3 km long and 1 km wide. The entire city is built using locally quarried red sandstone, which is also known as Sikri sandstone.

Sikri was the first planned city of the Mughals. The city is bounded on three sides by a 6 km long wall, which is fortified by towers and has seven gates. It consists of beautiful palaces, halls, and mosques. The complex has various structures such as Jami masjid, Buland Darwaza and tomb of Sheikh Salim Chisti; Khas Mahal, Panch Mahal, Khwabgah, Diwan-i-Khas, Anup Talao and Diwan-i-Am.

The nearest Airport is Agra Airport (also known as Kheria Airport), 35 km from Fatehpur Sikri. Fatehpur Sikri Railway Station has trains from Agra, Ratlam, Bayana, Kota, Mumbai, Muzaffarpur and Gorakhpur. Agra Cantonment Railway is the nearest major train terminus, which is about 37 km from Fatehpur Sikri. It is well connected by bus with Agra, Jaipur, Kota and neighboring towns. Alternatively, taxis can be hired from Agra city to reach Fatehpur Sikri.

The best time to visit Fatehpur Sikri is from November - March when the temperature is moderate.

Complex Entry Fee: Rs.20 for Indians and Rs.260 for Foreigners. Foreign visitors, who purchase Agra Development Authority's Toll tax ticket of Rs.500 for Taj Mahal, need not to purchase any other toll tax ticket, if he/she visits the monuments like Agra Fort, Fatehpur Sikri, Akbar's Tomb, Itimad-ud-Daulah's tomb on the same day.

Timings: 6 AM to 6 PM. Closed on Friday.
Internet Availability:
Average
Languages Spoken:
Hindi, English
Major Festivals:
Details Not Available